Necklines are the first thing that grabs attention of the onlookers or passers-by when you are out among people. If your neck pattern is improper, your whole appearance can get messed up. Whether or not your neckline is perfect can be decided by your body type or face structure. It is important to consider these two factors as well as your outfit before choosing the kind of neckline for yourself. A perfect neckline can perfectly enhance your body and overall appearance.
New Look Awaits You This Winter
Winter season is approaching and almost everyone remains excited during this time for they expect to buy something out of the box and of completely new fashion. Each of us expects to see something in the market that could bring a good change in our lifestyle and look. The upcoming winter holds for you high neck salwar kameez.
Perfect Look for Every Occasion
Wear a sleek and decent look with high neck suits that are even comfortable in the cold season. The choice of color and fabric is endless and depends upon you. If you are looking for a smart traditional outfit for a casual event, pick the cotton fabric. If you are seeking something that could fit a lush wedding function, go for the georgette or net or velvet or brocade option with flared bottom.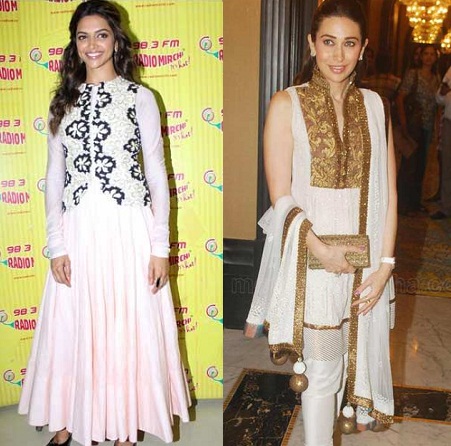 Ceaseless Variety that's Timeless
While high neck salwar kameez suits are sure to turn heads to you, these equally ensure to create a rage among larger masses for a long, long time. Pair a high neck design with sleeveless suit or full sleeve one. They make just a perfect combination and provide the wearer a sober look and yet playful.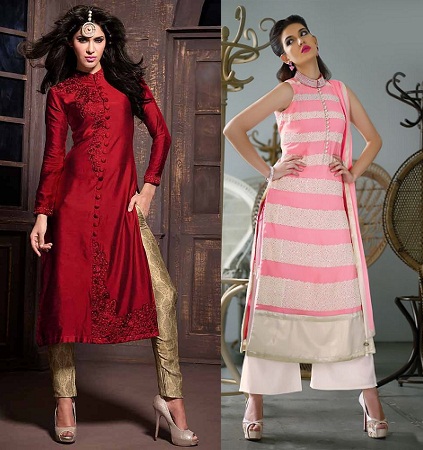 The design range is wide in terms of your taste and preference as well as color and look. Whether you pick blue, pink, violet, wine, or turquoise, it is solely your choice how you want to win everyone.
Collar – A Neck Design of A Million Dollar
High neck can further be of different designs, including the collar neck design. And to your surprise, no design is any lesser than other when it comes to offering you a perfect outlook for a party. Different retail shops, whether online or offline, provide you various options in terms of collar too. You are free to choose between a Chinese collar and an angrakha collar.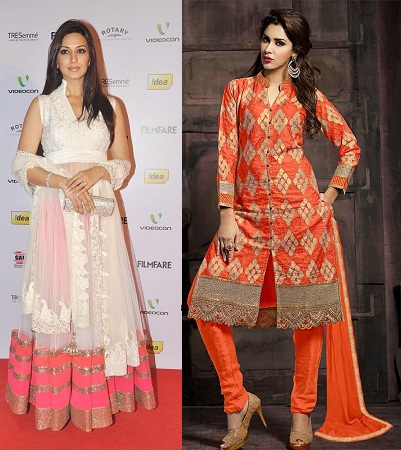 Complement Your Look
Pair this kind of neck design with contemporary jewellery without looking at your age, if you really want. Otherwise, collar and high necks do not demand donning any kind of jewellery along. You can simply team such suits with beautiful danglers, or earrings, and wear Meenakari bangles that give you a complete smart look.
Trendy and Stylish
High neck collar salwar kameez looks delicate and seems to have been made for light winters in particular. And if you wear sarees more than suits, high neck blouses are equally in trend, which leave a retro yet modern impact. Sarees never go out of fashion, and neither are high neck designs likely to fade away any soon.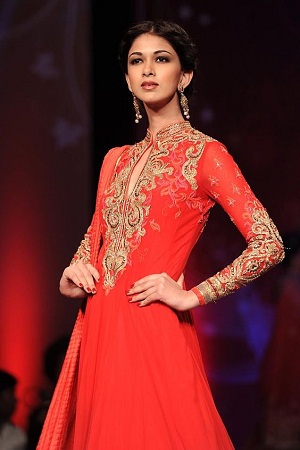 Extended Collar Neck Designs
Chinese collar and angrakha collar are among the most popular designs that fit any kind of salwar kameez, and each of these suit designs with collar neck create the same magic. These salwar suit designs include:
Capri pant salwar kameez
Churidar salwar kameez
And all of these are commonly chosen by women, especially those who are working. Collar design is perfect for working women because these offer a formal as well as charming look.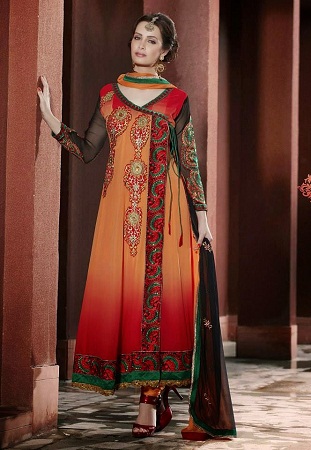 The Style that Never Goes Wrong
There is no doubt in the fact that Indian women carry an all-different charisma when they put on any kind of salwar kameez. A suit is considered as the most proper Indian outfit. For decades and centuries, this outfit is in trend, and for many decades and centuries to come, this fashion is to go nowhere due to the versatility this ethnic outfit offers in terms colors, fabrics, styles, and designs.
The Real Meaning of Collar Neckline and Who Should Wear It!
The collar neckline is that which sits high up on your neck to cover it with a collar that's band-like. Some people also call it as a Nehru collar and a Mandarin collar.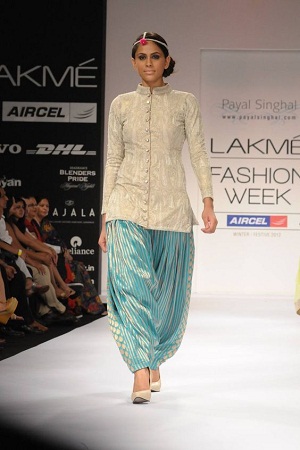 Here's what body type it suits and why:
A collar neckline can be a simple slit in your kurti's neck. Normally, the split is secured at the kurti's top with either a hook and eye or a button and loop.
The best part of collar neck is that it fits all ages. Women with small busts can wear it to enhance their chest area. However, women with larger bust area should try and avoid such a neckline.
Thin and long-necked women can easily don a collar neck salwar kameez. However, women with short neck should choose something else over this design.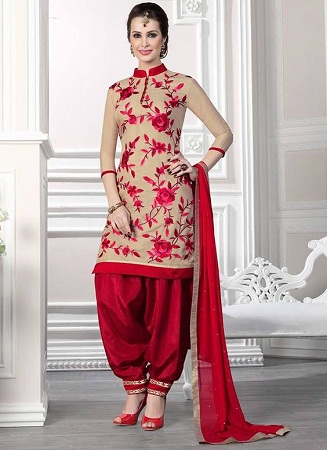 Sophistication Promised with High and Collar Necklines
Don't think twice before choosing the high or collar neck if sophistication is something you love to showcase through your personality. Simplicity is the first and foremost feature that comes packed with this kind of salwar kameez, which is followed by elegance due to the style they carry. Collar and high necklines have left behind many other new designs. This design is being carried worn by a lot of celebs too at different events.
Take Counsel of Your Designer for Your Desired Look
Collar and high neck are such designs that easily go with resham embroidery, sequins, and imperial zari work. Your designer can suggest you how to use these on your salwar kameez. It looks amazing across the borders or down the neckline or even along the yoke of your kurta. Mostly, the anarkali suits are stitched in these designs which have flared and flowing bottoms like gowns.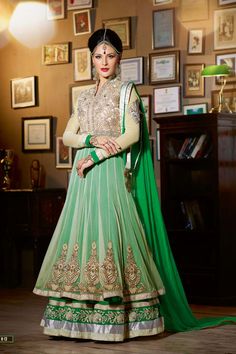 Wearing the collar neck alone is not enough. Rather, you need to carry yourself well to bring that chic feel for yourself and others. Purchasing collar necks and high neck suits is easy with various online shopping portals and retail shops around you selling the same in abundant variety. You can pick one as per your choice, budget, and body type. Adorn it with traditional or modern jewellery and be the limelight of any gathering.