Add the jazz and class to your everyday outfits with stylish blazers. With 18 different looks to experiment with, look stunning and gorgeous this season!
The Versatile Clothing- Stylish Blazers
A good blazer should be essential attire in every woman's wardrobe. They are very professional and versatile and can be paired with a trouser or skirts. Blazer sorts of dresses up your look and add a feeling of chic and sophistication. With the evolving fashion trend, the blazers are not those with giant shoulder pads but have become quite different.
Different Kinds of Blazers
Boyfriend blazers- this is one of the most popular styles of women's blazers. It is longer and loose than other modern blazers. It gives a casual, chic look. Roll up the sleeves and leave the jacket open to complete the look. Many boyfriend blazers have liners that go well with a good fabric. The shoulders of this blazer are fitted. You can wear them with skinny jeans, jeggings, leggings and shorts.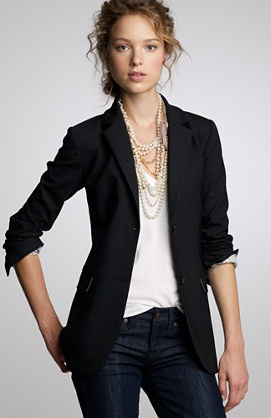 Cropped Blazers- It is also a popular kind of blazer. A cropped blazer ends at or around the waist area. It accentuates a tall, slender body frame. You can wear it to your workplace or casual outings too. A smart cropped jacket goes well with jeans, shorts, skirts and tights.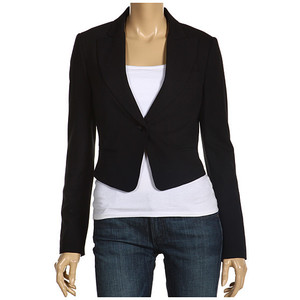 Fitted Blazer- A fitted blazer gives a more classic and an updated look. Because of its attractive shape, it goes perfect on any figure. It should fit correctly, neither too tight nor loose.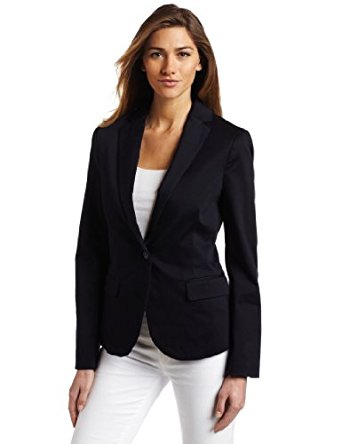 Belted Blazer- Adding belt to a blazer creates a waistline. It is suitable for professional look. It looks smart with a pencil skirt or slim fitted jeans. A woman with thicker waist should go for this option to create the illusion of a thinner waistline.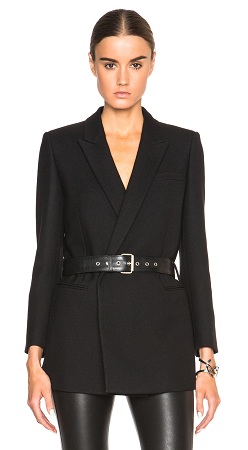 Classic Blazer- it is quite a normal kind of blazer with normal cut and style. This is generally perfect for older women who prefer a simple, classic look. Pair it up with skinny jeans and some accessories.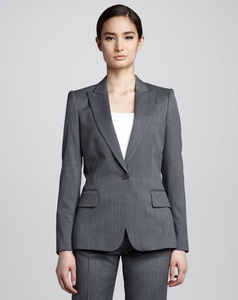 A jacket may look too formal or bulky and a cardigan can seem to be too relaxed but a blazer is just perfect.
The Classic 18 Shades of Blazers
Blazers with Rolled Up Sleeved Flannels-If you wish to look stylish without compromising on the comfort that comes from casual outfit, this is probably the best option you have. Try out blazer with rolled up sleeves.

Blazers with Jeans and a Plain T-shirt- It is the most casual look. It is very sophisticated and versatile. Make sure they both are slim fitting and do not opt for more than two bold colours. Pair it with skinny or fitted jeans. Also, you can combine a patterned T-shirt with a neutral shade blazer.

Blazer with Pants- This is the most iconic style perfect for professional look. A dark coloured pant with the same shade of blazer and a contrasting top looks class apart. Wear heels to add that extra zing.

Crop Top and Skirt– A blazer on the crop top looks elegant. If you do not feel confide t enough to carry a crop top, this is perfect. This way your stomach is not much visible and the effect is more like a subtle cut. A skirt adds that chic vibe to the whole look.

The Boho Chic Look with Casual Tee and Jeans- If you want to go low key, a blazer over graphic tee is perfect for that casual, weekend look.

Maxi Skirt and a Short Blazer- For a stylish, polished look, you can't go past a well tailored blazer. The cropped style blazer balances out the length of the skirt. If your maxi dress is printed, go for a monochrome shade in contrast with the print colour.

A Tight, Short Dress- For a formal occasion, choose a dress with rich fabric and pair it with luxe blazers to make it look fashionable. You can also wear long blazers with mini dresses that looks like an overcoat outfit altogether.

A Lace Shirt and Colourful Skirt- A smokin' hot lace top with midi skirt looks amazing. Add glamour to your look with a bright blazer. The masculine piece combined with a feminine piece makes for a cute contrast. Choose from plenty of designs and colours.

Go for Bright Colours- A bright coloured blazer looks good in both office and parties. Choose bold colours which are not too loud. Make sure the colour of your top is basic so that your blazer pops out. Go for blue, black, red and white. A printed short or skirt can complete your look.

Blazers with Mix Prints or Polka Dots- Mix prints give a bold avatar to the look. Go for z leopard printed blazer or polka dots with stripes. Stick to basic shades of black and white. Wear with a simple top to tone down your print which may look overboard otherwise with a printed top.

Summer Dress and Tights- A summer dress with tights and a long blazer is a trendy option. The long blazer skims the bottom of the short dress. The fitted, structured blazer on summer dress looks chic and sophisticated.

Blazer over a Cardigan and a Shirt- A bold colour blazer over a knit cardigan and a plain shirt are perfect for fall and winter season. You can also wrap a waist belt on your cardigan and leave the blazer opened for that formal look.

Fitted Blazer with Loose Boyfriend Jeans- A long blazer is great for covering up that saggy bottom. It doesn't make your jeans look sloppier.

Leggings– A proper fitting legging with a stylish blazer is a dressier option. A black legging with a white blazer looks classic and a no nonsense outfit.

Monochrome Blazers- Get dressed for your work in style with cool, monochrome shades which are ideal every day. Choose colours like black or grey. Pair it up with peplum top and sleek trousers.

Blazers with Shorts- If you are looking for a quirky way to jazz up your summer look, try shorts with blazers. It looks fresh and pretty chic. You can choose patterned shorts with a neutral blazer or boxer kind shorts with tweed blazers.

Styling a Blazer with Pencil Skirts- A good basic blazer with a fitted pencil skirt looks modest and yet gives a right amount of sex appeal! It is a classic office look.

Blazer with Palazzo Pants- A nice structured blazer looks perfect with palazzos since they are wide and flowy so it sets a balance to the whole outfit.