When heading out for any party or just beginning with your normal routine, choosing the right outfit for the day won't be enough. In order to appear ravishing and all set for your day, styling your hair properly is of great vitality. Your hairstyle not only helps to define your appearance but also makes you feel comfortable and give you self-confidence. A perfect hairstyle complements your look whether you wear makeup or not. You may step out without caking your face but you wouldn't head for anything without having your hair properly kept.
Different people have different hair type in terms of texture, length, thickness, colour, etc. Different hair types call for different hairstyles for long hair, curly hair, wavy hair, straight hair, thin and thick hair. Everyone may not be a hair stylist but one should possess sufficient skill to work on oneself and get a new look every time with a different hairstyle.
Following are different hairstyles for different types of hair:
Hairstyles for straight hair
Women that possess straight hair feel that their hair type is very boring as they cannot give them different and appealing look. Like the changing fashion season, you should also change the style of your hair to avoid having the same look every time. Below mentioned hairstyles would suffice you if you wish to treat your boring straight hair in a different and exciting way:
Sleep Pompadour: This beautiful hairstyle looks beautiful and adds dimension to perfectly straight locks. In order to pull out this glamorous style, start back combing the front underneath section of your hair and then pull the portion back into a half ponytail, securing it with bobby pins.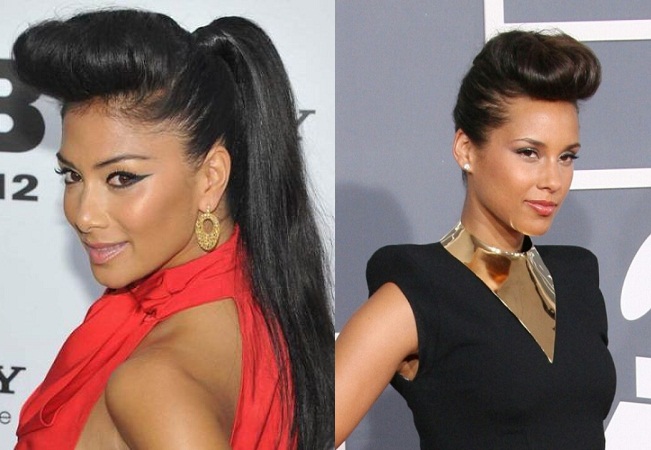 French Braided pony: If you wish to have your hair tied neatly for a workplace or during hotter weather, this hairstyle works perfectly well. Start by French braiding your hair from one side of your head and work it till the ends of your hair. Pull all of your hair, including the French twist and tie them neatly into a pony.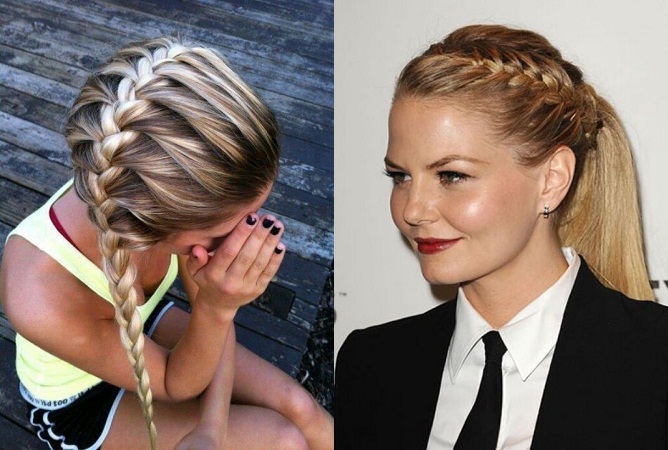 Waterfall braid: Straight hair tends to slip out quickly from wherever they are placed. Waterfall braid is a great solution to this as it holds the hair in place at different angles and gives the fine appearance.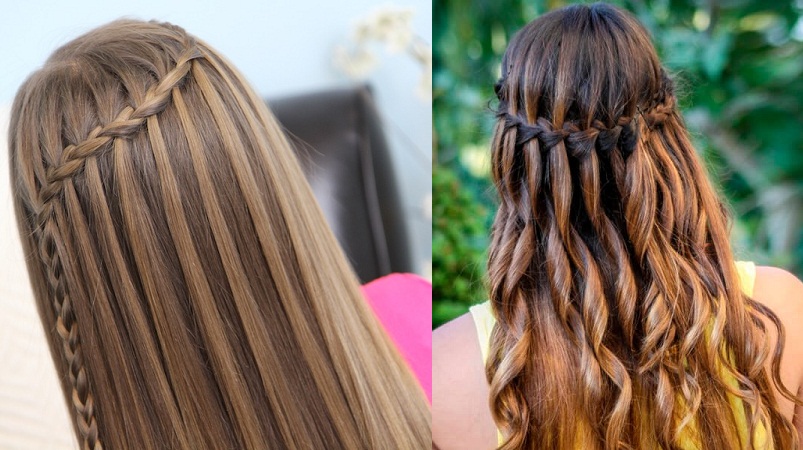 Sleek straight half up-do: This super gorgeous hairstyle works as magic for any and every occasion. The smoothed hair is back combed and half up-done. This hairstyle works perfectly well for medium to long straightened hair.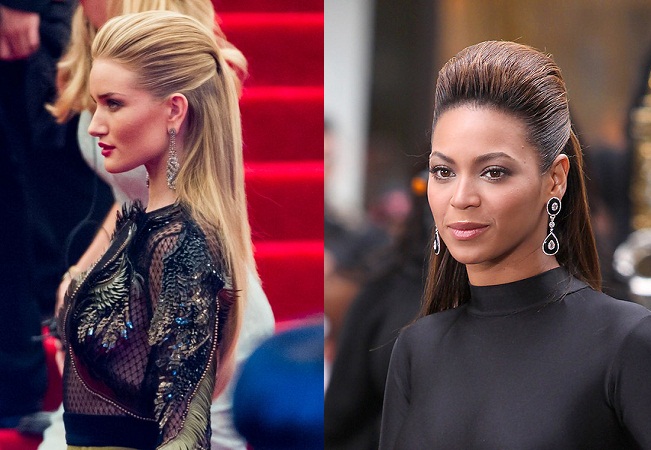 Unkempt up-do: A messy up-do is in vogue and can be pulled out for any outing, wedding ceremony or other formal and informal event. This hairstyle suits well with mesmerizing accessories such as flowers, bobby pins, headbands, etc.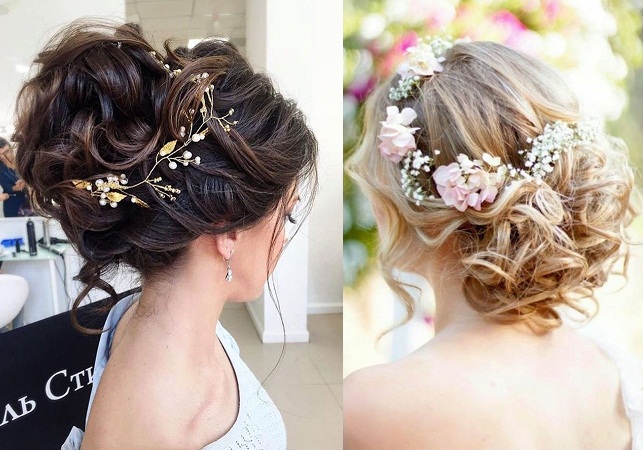 Boho kind straight hair up-do: Not so clean and not so messy, this boho style updo is perfect for hair that is not washed for a day or two to hold the braids together in place. This hairstyle can be made with a ball gown or even your casuals.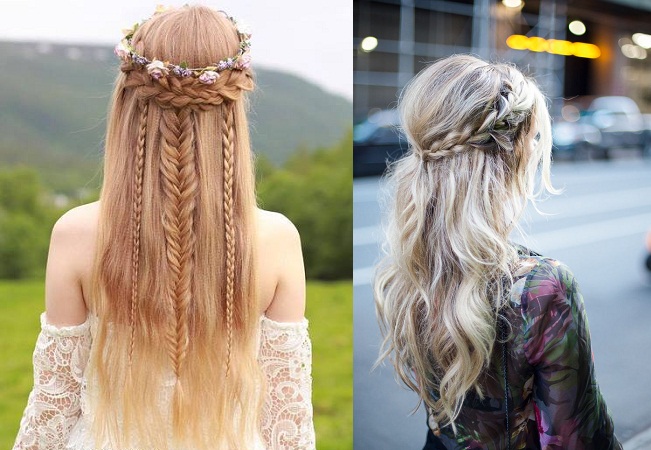 Hairstyles for wavy hair
Gone are the days when women longed for perfectly straight and smooth hair. The trend calls for messy beach waves that add to the naughty and appealing glimpse of your character. Wavy hair is much easier to pull any hairstyle that you wish to for almost any occasion. Following are some of the hairstyles for wavy hair of any length:
Volumized ponytail: Wavy hair gives the illusion of bouncy and heavy hair. Thus, you can have a ponytail with a pouf. You must divide your crown area into three sections and start back combing them to get a nice pouf. Tie the remaining part of your hair into a ponytail and make another ponytail just above the previous one and tie them together with an elastic band. This hairstyle can be pulled off for your office look, for a dance party or any other daily occasion.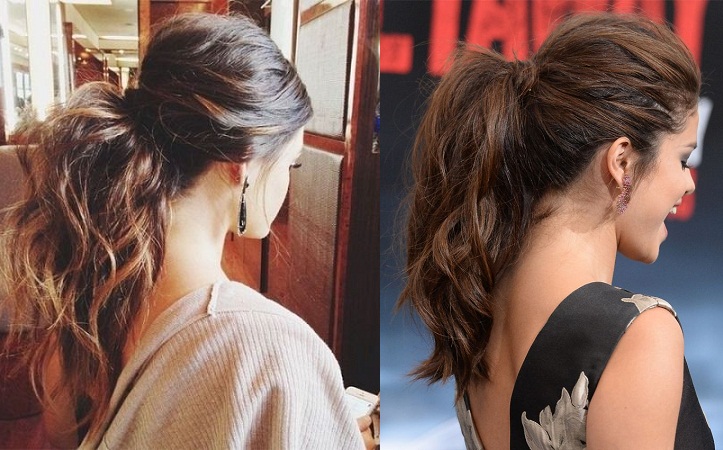 Let your bangs down: Those possessing wavy hair who have no time to set their hair, this is an easy way out. Just flip your head upside down, apply some mousse and blow dry. Tousle along as you run your dryer and bang, you'll be ready with your wavy bouncy flowy hair.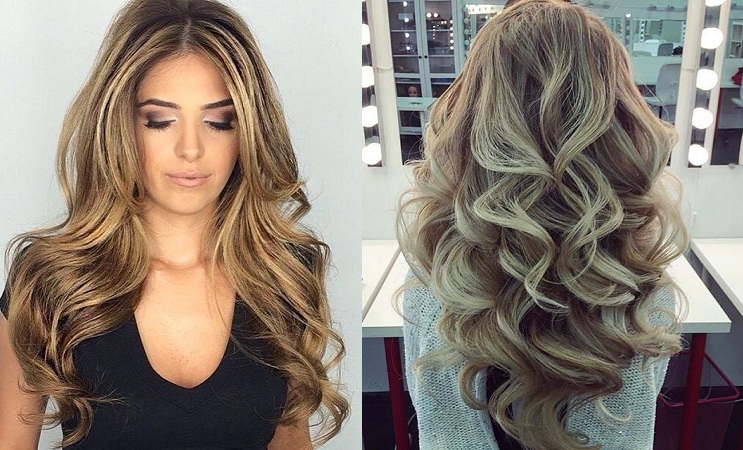 Boho undone up-do: For not so formal look, this hairstyle looks stunning and sensuous. Just pull your hair into a side partition and make a loose ponytail. Let this pony curl up into a bun and secure it with bobby pins. The loose bangs from one side of your face are sure to skip the heartbeats of the gazers.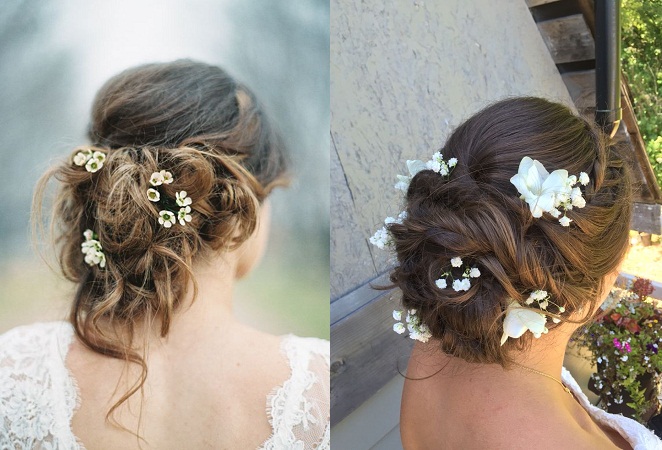 Pretty knot at the nape: Using the art of back combing and tucking, this amazing look can be achieved. Some strands of your hair can be left loose and curled up with an iron curler to soften up the look. This look works well for a daily routine or can be pulled off for a day at college or an outing with friends.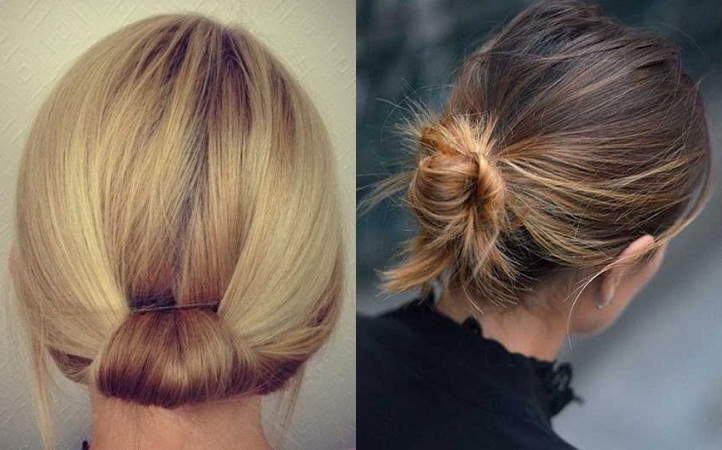 Side braid with a curly bun: This is usually a kind of formal hairstyle but you can make it messy as well by simply avoiding using much of the hair spray or mousse. Start by braiding a headband from a side partition. Back comb the crown area and secure the braid to the other end of your head at the nape with bobby pins. Leave some loose bangs and curl the remaining hair into a bun using a curler and secure them neatly.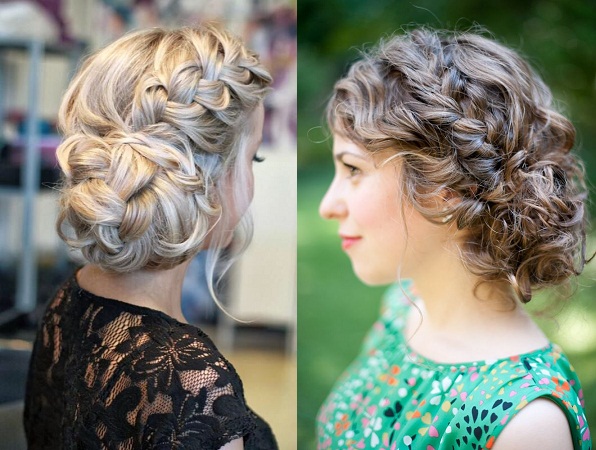 Side thick braid: A normal fishtail braid can be more bouncy and voluminous by pulling your hair onto the opposite side of a usual partition and loosening the strands of your hair. Later, these loose strands can be tamed with the use of hairspray.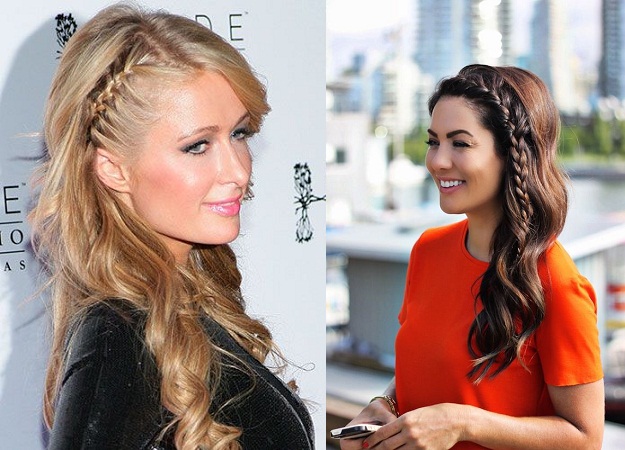 Twist and pin half up: You can make a center or side partition and twist your hair from one end and pin it at the back of your head. This hairstyle clearly displays your amazing waves and displays a breath-taking hairstyle that can be worn for any occasion.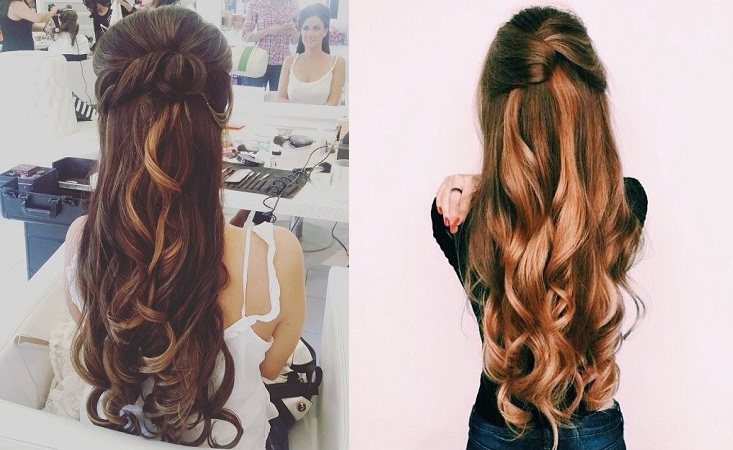 Hairstyles for curly hair
Everyone wishes to be blessed with naturally curly hair as these have that extra oomph to add to the gaze of the person. But those possessing extremely curly hair may find it difficult to manage them. There are various options when it comes to hairstyling. Varied length can be tried, accessorizing can be done, leaving open and making up-does allow you to experiment with your looks and bang on with an all new style and appearance.
Following are some of the hairstyles that are well suited for curly hair ladies that can be tried for different occasions:
Crowned knot: Pull some part of your hair from either side and tie a knot at the back of your head. Then pull another section just below the above knot and ties both the knots together. This hairstyle looks cute and can be pulled off for any party or wedding or just for an evening out with your love.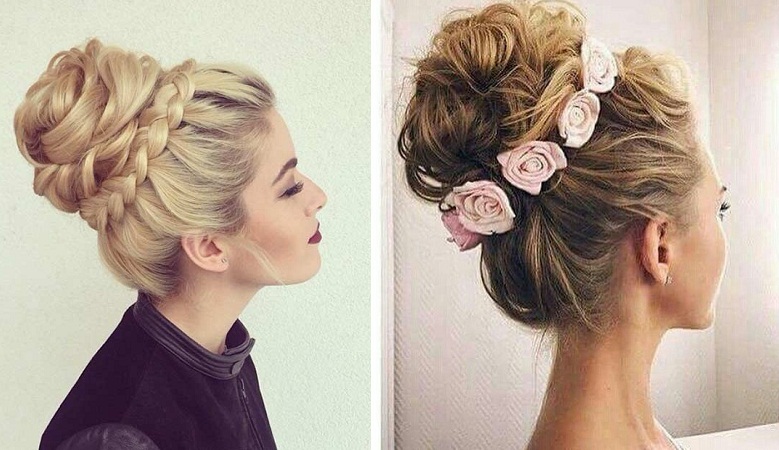 Twisted crown: Take a small section of hair from either side of your head and twist it back to form a crown. Leave some hair loose at the frame of your face for a messier look. This hairstyle looks absolutely gorgeous with a gown or a pretty small dress.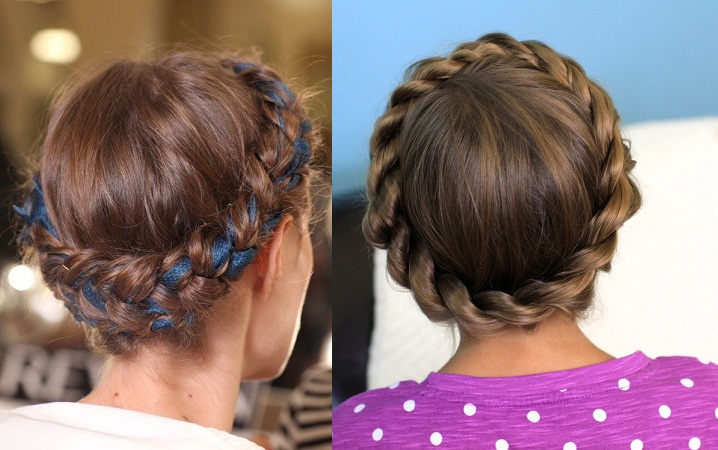 Sky high ponytail: When you wish to tie up your hair for a workplace or do not want your strands to mess up with you during a certain part of the day, try the ultra-high ponytail that is done at the crown area. Just gather all your locks and tie them with an elastic. Secure bobby pins on either side to add bounce to your pony. This style works extremely well at pageants and other events too.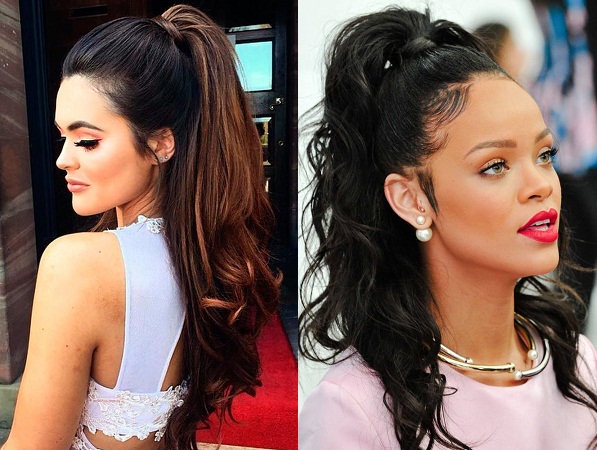 Illusionary ponytail: This faux style works wonders for unwashed hair. Pull some section of your hair from down the nape and secure it at the center of your hair with bobby pins. Section by section secure your hair and this will turn into an illusionary ponytail.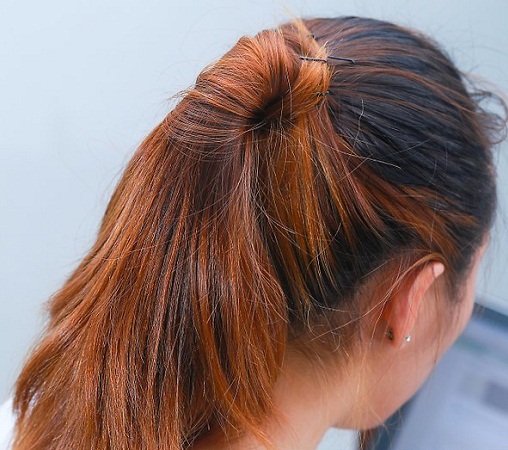 Messy half bun: Half buns look amazingly well on every hair type and texture and this is why the trend of half bun still prevails. Take the section of your hair just above your ears and make a ponytail. Coil this ponytail into a bun and secure it with bobby pins. Do not worry about it being messy as it looks chic anyway.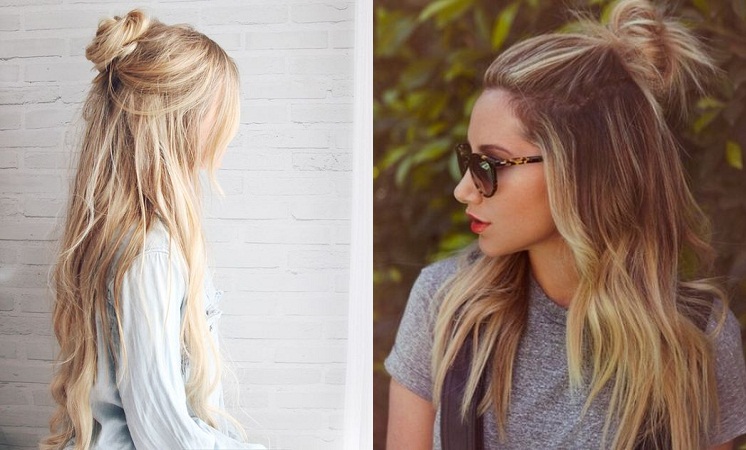 Two part up-do: Divide your hair into two sections- the crown area and the remaining section. Create a ponytail with the back section of your hair and leave the crown area unkempt.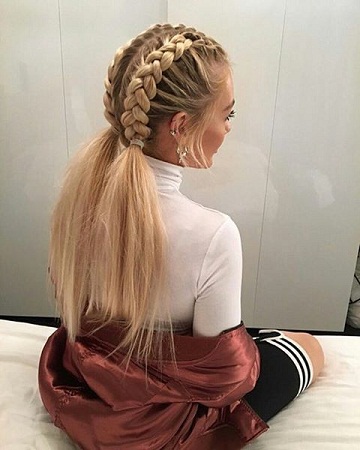 Side fishtail braid: Since curly hair is really bouncy, a really thick side fishtail braid can be made possible if you know the tact and the art. In order to make it more stylish and messy, leave some strands loose at the frame of your face. You can add beads and accessories to your beautiful braid.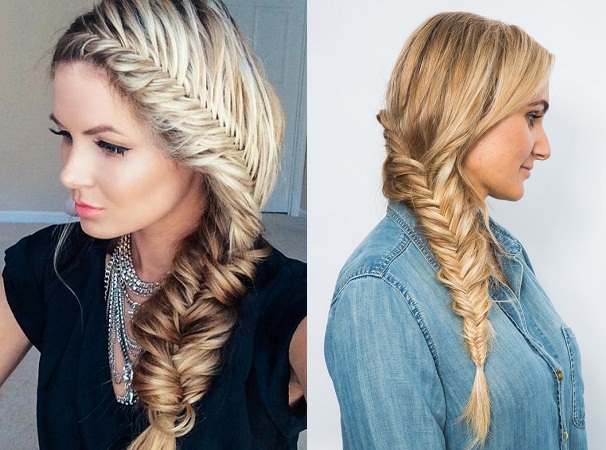 Illusionary bun: This is super easy and if you are getting late for your office or some appointment, this hairstyle is to your rescue. Leaving some strands loose around your face, tie all of your hair into a high ponytail and then reverse the ponytail inside out and secure with bobby pins. This will create the illusion of messy bun.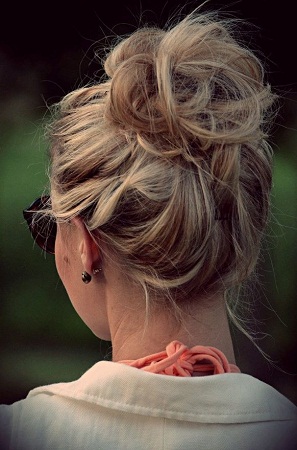 Hairstyles for long hair
Long hair may just be a dream for some ladies but those who have it must flaunt it. Long hair may be tough to manage but give the look of an absolute diva and gorgeous fairy of some fairy tale. Proper care is required to maintain long and strong locks. In order to rock the occasion every time with your new look, try the following hairstyles:
Loosened braid: Try wearing a loosened braid that starts from your shoulder, leaving the layers loose till neck. Fishtail braid or French braid or a normal three-layered braid can work well. Tie the end with a ribbon or an elastic. This hairstyle is equally amazing for those possessing straight, wavy or curly long hair.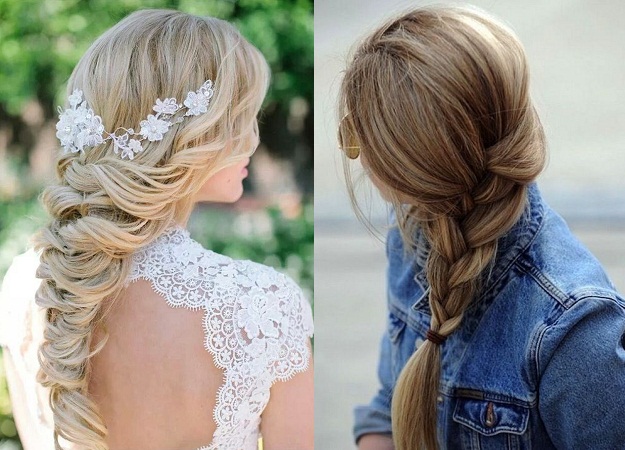 Pin up from the front: Tuck those short layers sideward using bobby pins and let your long locks flow from behind your ears. This trick works well when you don't want your hair to disturb you and yet wish to leave them open.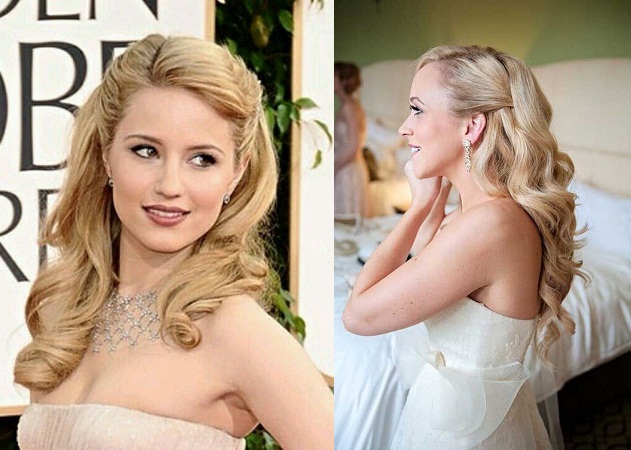 Multi-layered mix: Layers are in vogue that gives a perfect frame to your face and the long locks are cut asymmetrically to give an astounding effect. This hairstyle has lured the hearts of many women and can be pulled off on any hair type.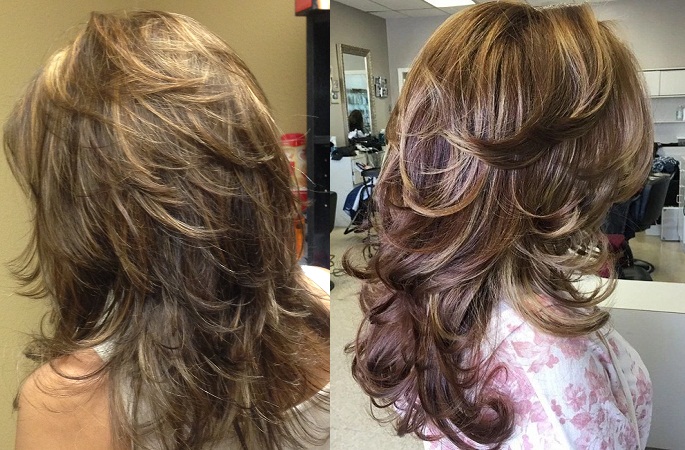 Side partitioned flowy bangs: Nothing is more soothing and gorgeous than your hair left loose with a side partition to exhibit sensuality and modesty at the same time. curly, wavy and straight long hair look amazingly well when left loose.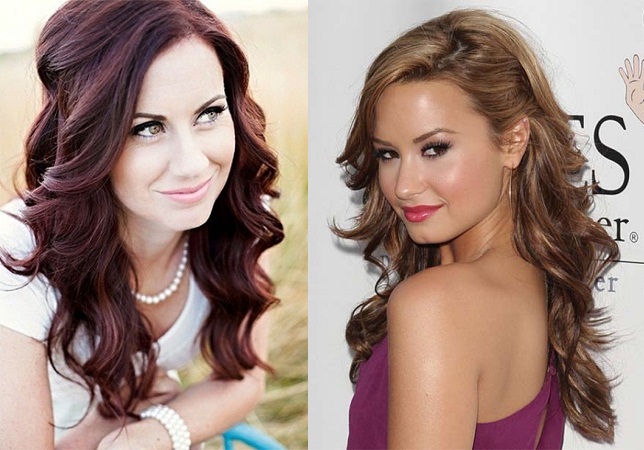 Braided bun: Buns appear stunning when pulled off with a gown or any formal and informal dress. Try braided the crown area of your hair from side partition and tuck it with a bobby pin. Divide the remaining section of your hair into two parts and make a bun either by curling it inwards or coiling it. Secure all the sections of your hair using bobby pins and use some hairspray to keep your bangs in place.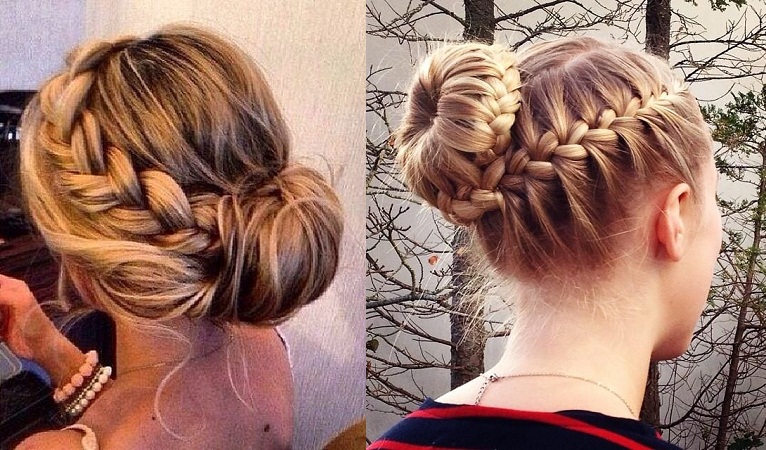 Side ponytail: If you wish to show the back of your dress or flaunt your backless dress, this hairstyle is a wonderful choice. Just pull all your hair at the back and tie into a ponytail using elastic. Take few strands from the ponytail and wrap around the elastic. Sweep your hair to one side and bang you are ready to rock your new look.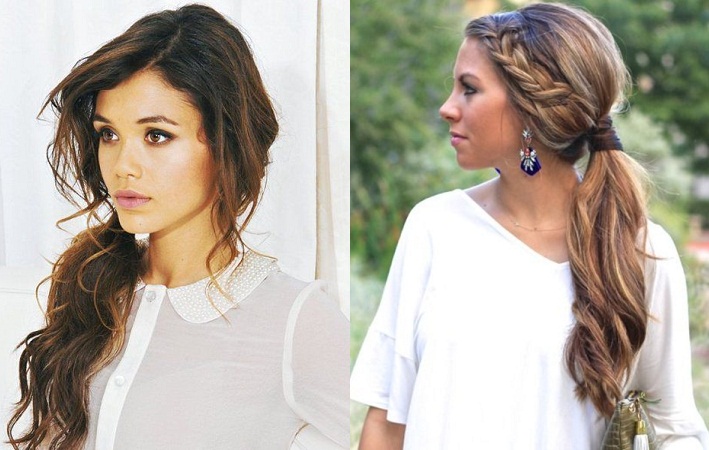 Hairstyles for short hair
Short hair is easy to manage and fun to play with. During hot weather, you do not want to feel itchy and irritated by your hair. So, getting them trimmed nicely is the best way to keep the unnecessary sweat at bay. For those that don't have enough time to keep oiling and taking care of their locks, keeping their hair trimmed is the best way.
Following are some of the hairstyles and haircuts that are sure to lure the lovers of short and trimmed hair:
A-line amber bob: This hairstyle just involves asymmetrical haircut that asks for layers till chin from one end to the ear on another end. Since you may be too busy to make a hairstyle every day, this just calls for keeping your hair open and flowy.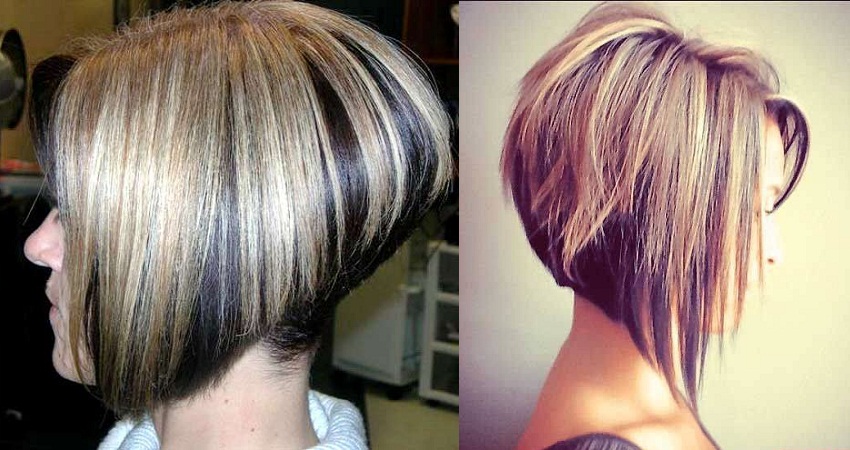 Choppy pixie cut: This hairstyle looks absolutely charming on a woman of any age. In order to make it more sexy, elegant and modern, add some colours to your bangs. This hairstyle can be worn with both formals and casuals, at the workplace and at the party.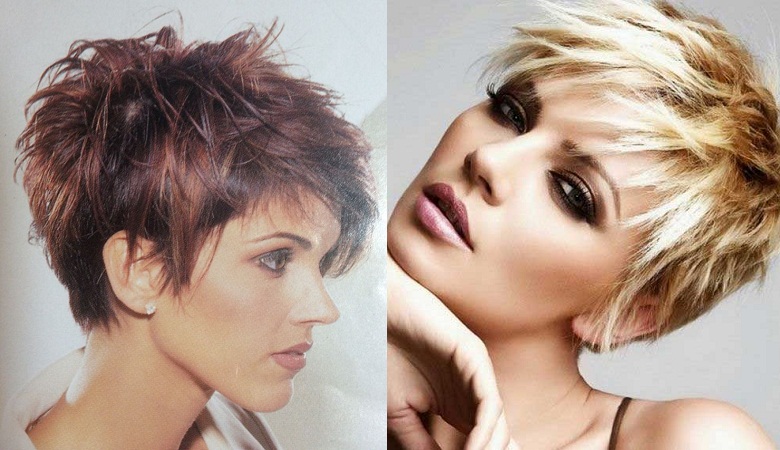 Messy twisted hairstyle: Instead of having your hair falling on your face all the time, do not pin them simple. Rather, make two parallel twists and secure them with bobby pins.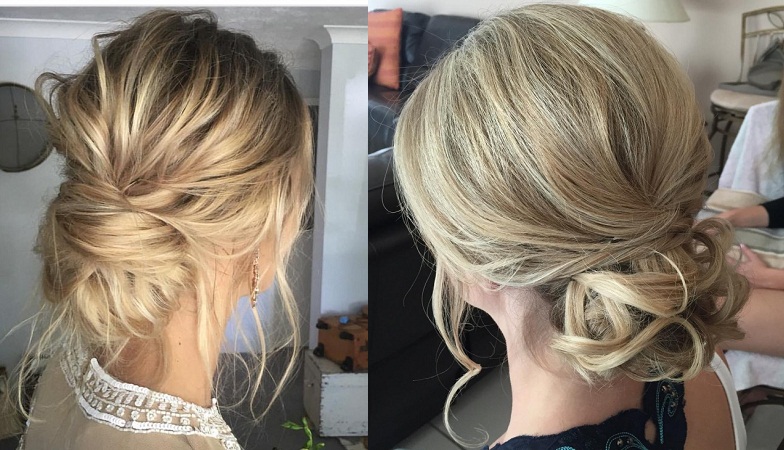 Curly layered bob cut: Loose curls appear absolutely fabulous on cropped layered hair. You do not need to tuck them or pin them and go anywhere with your stunning and astonishing gaze.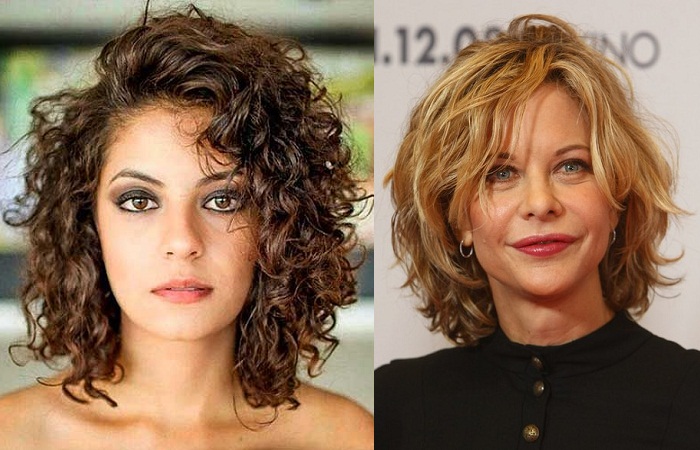 Above mentioned latest hairstyles for all hair types are sure to make you look super chic and amazing for your routine as well as an occasion. Since hairstyles and haircuts play a major role in shaping your looks and identity, so one must be careful and picky while selecting the type of hairstyle you wish to admire.