Women are very conscious about their tresses. And why not! After all, hair makes all the difference in the overall look. It has the power to transform any woman's personality and enhance her beauty. That is why women consider their tresses as their crowning glory.
You can experiment a lot with your hair. You can give it a new hair cut, hair style or a new color. Though everyone is bestowed with a natural hair color by birth which more or less looks good on every individual. But if you don't like your natural hair color then you have the option to change it.
The good news is that trendy hair colors are right now in fashion. And you can also try out new hair colors like celebrities if you are bored of the same color all these years. But the important thing is that whatever color you do you must carry it with grace and confidence. If you can carry it confidently then go ahead and try out something new on your hair color. Listed here are some of the hair color ideas that are trending right now. Be bold and get ready to boost the look you were seeking since long.
Strong Streaks Hair Color
Subtle yet impactful, strong streaks look very elegant on any woman. It even imparts the hair thicker and voluminous look. In this hair color style, a small section of hair is colored below the roots. Golden color streak can be done to give a soft look to the hair. Golden streaks look good on long and dark colored hair. And for short hair, you can opt for light red highlights along the hair to give an attractive, thick and voluminous appearance.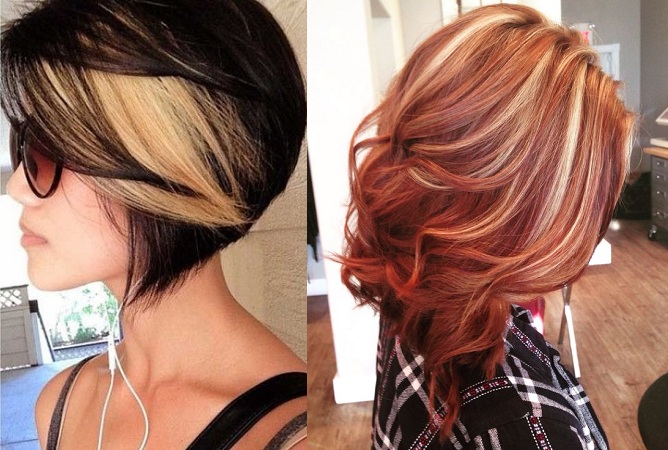 Baby Light Hair Color
Baby hair color provides a nice volume and dimension to the hair. It basically looks good on shoulder length hair. However, you can also try it on long hair. In this hair color style, a small section of the hair is highlighted providing a soft and mild look to the base of the hair strand. The best part of this hair color is that it is easy to maintain which is the top most concern for many women. You can be carefree and relax when you do this hair color.
Red Hair Color
Soft red color is very much in trend. Many celebrities and film stars wear this color. But this color doesn't look good on every skin tone. Different shades of red like copper, golden and deep reds and fiery red are so much in trend.
But these shades don't look nice on dark skin tones and even look artificial. So, you need to be cautious while opting for these colors and consult your hair stylish before applying. The red tones basically provide the blonde appearance which suits very fair skin.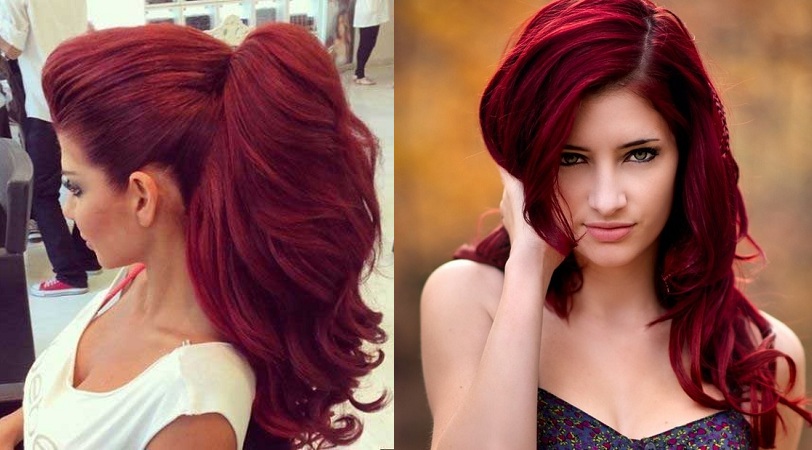 Brown Hair Color
Shades of brown like deep brown provide an elegant and classy look to the personality. It looks natural and even enhances the overall beauty of a woman. Brown shades are very warm and they impart a glow on the skin. You can go for golden shades which suit wheatish skin. Ash brown shades also look beautiful on darker skin tones.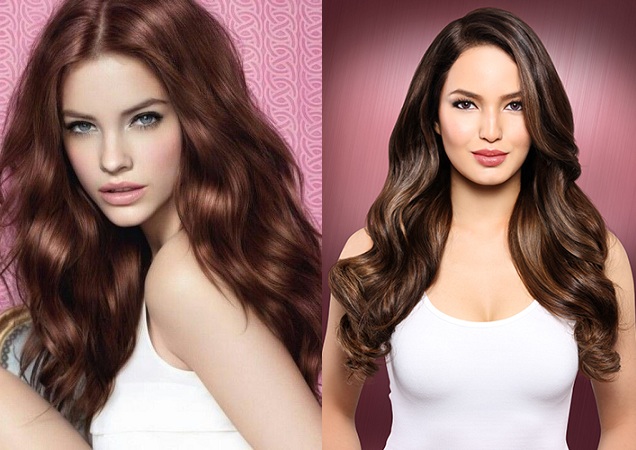 Toasted Blonde Hair Color
Light blonde shade looks polished yet natural. It appears rich and warm and quite natural. This hair color is good for both short and long hair length. It doesn't look over highlighted and provide a dimension to the face. If you have light skin tone and you are seeking to change your hair color then you can go for this trendy color for an out of the crowd look.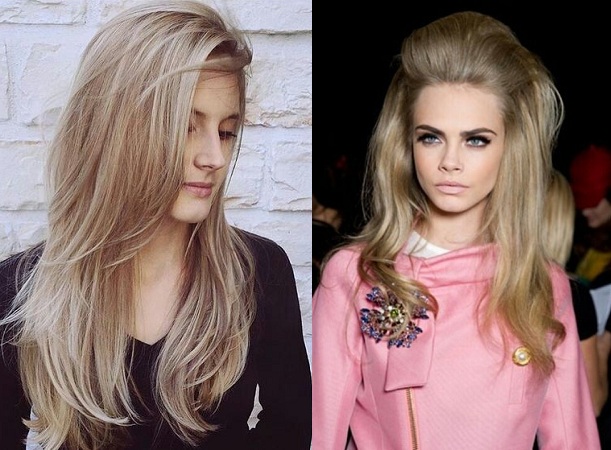 Subtle Ombre Hair Color
This hair color looks super cool on any skin tone. You can wear this color both in length as well as short hair. In this shade, the end of the strands is provided a smidge lighter shade than the crown hair. The transition of the shade from the top to the bottom is smooth and invisible.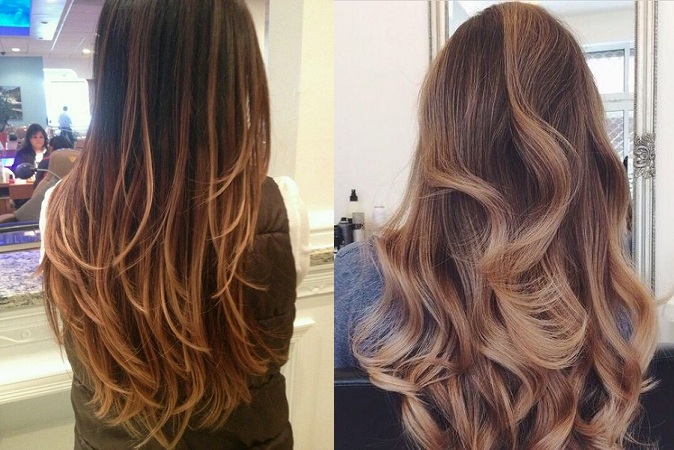 Reflective Raven Hair Color
Celebrity like Krysten Ritten gracefully carries this hair color. It suits best for extremely fair skin tone. The brown and black skin ladies can also wear this color, it doesn't look bad on them either. This shade is a black shade and it makes the hair appear shinny. Get this shade done if you are a black lover. After all, black never goes out f fashion.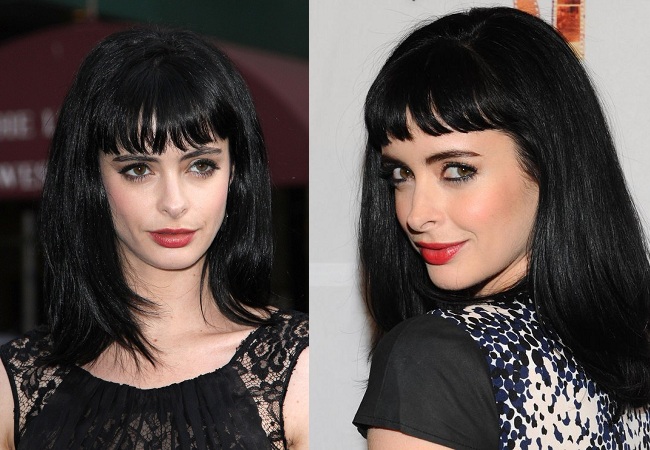 Auburn Hair Color
If you are reluctant to try the red shade, then you can try auburn color which is a lighter shade of red. It provides a chic and stylish look. It looks gorgeous on neck length hair. But can also be applied on long and mid-length hair. Try this color this autumn and witness a new you.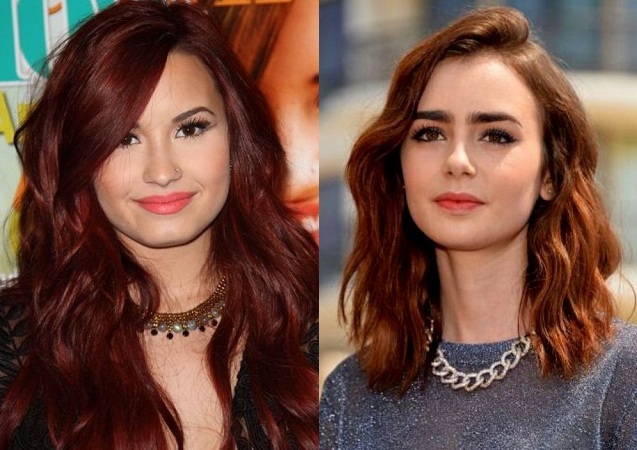 Platinum Hair Color
As the platinum metal is the costliest metal and as everyone can't afford it, so is this hair color. The style quotient of this hair color is so high that everyone can't afford to carry it. This color suits short hair cuts. It suits best in a pixie cut. You can go ahead with this cut if your social circle is high profile or if you working in media or glamour industry.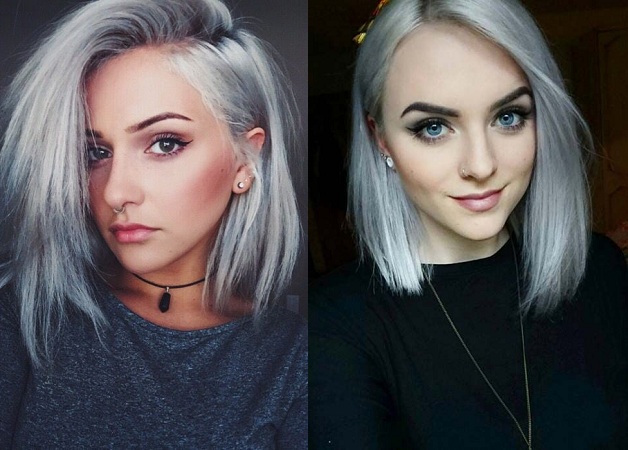 Peaches & Cream Hair Color
Here is another chic and unique hair color for all fashion freak ladies. This hair color is a combination of light peach and cream color. The peach color is applied on the upper hair strands tapering little below and then the color is followed by cream shades at the lip of the hair strand. This color is the best for those who want to try something different with the hair color. So, go ahead ladies to flaunt the color and enjoy the envy eyes upon you.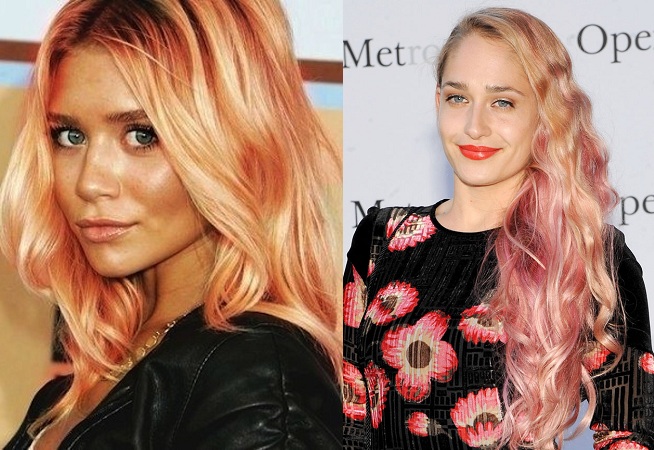 Millennial Pink Hair Color
Pink is the favorite color of girls for clothes. But if you are very much obsessed with pink color then you can now boast it on your hair too. Introducing here is the millennial pink shade for hair that may woo many ladies out there.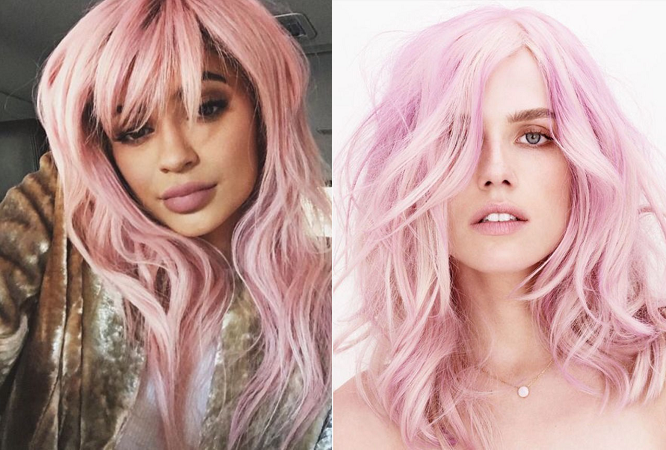 Blorange Hair Color
Blorange is currently very much in the trend. Actually, combination two or more color on hair is catching up trend lately. Like other color combination mentioned above, blorange is also a big hit among girls. Blorange is the color between blonde and ginger and thus it exudes the brilliant shine on the hair. It looks great on long, short and mid-length hair. If you are looking for a trendy hair color then you can go for this color without giving it a second thought.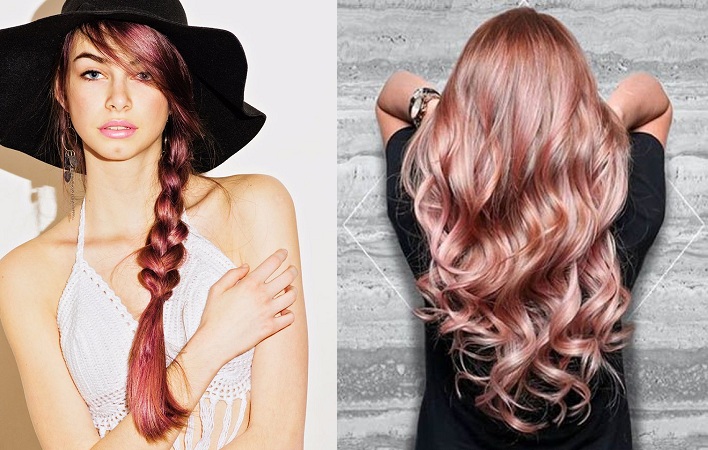 Blonde-Gray Hair Color
Bored of the same single brown, burgundy or blonde color, here is something interesting that can catch your attention. Hybrid colors! Yes, if you are bold enough to carry something unique and chic then try out this blonde-gray hybrid. This kind of color is the new trend in the fashion industry.
In this combination, the base of the hair strand is kept black and the later part of the strand is colored with the blonde-gray color combination. It is better to try out this color in short hair as it appears marvelous in short length hair. The blonde-gray combination suits the fair skin tone. So, all the fair skin ladies out there try this color and experience the lovely makeover like never before.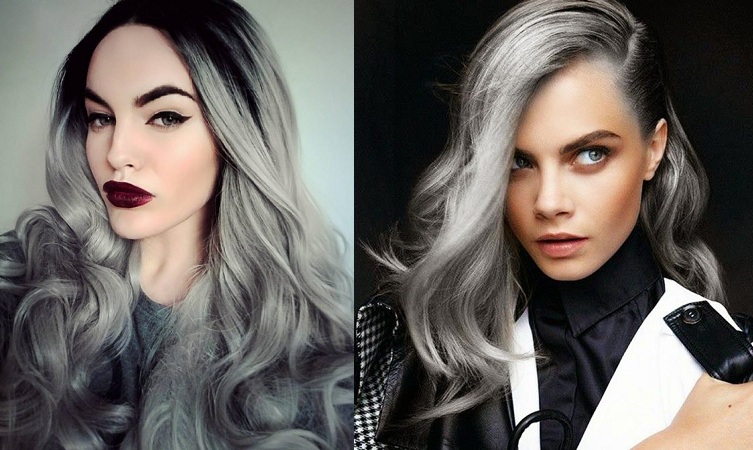 Snow White Blonde
Snow white blonde hair color is the modification of the platinum and blonde hair color. So, the snow white blonde appears whiter and less yellow, unlike the traditional blonde hair color. This exotic hair color is currently in trend and many celebrities have this hair color. Though it looks very chic and unique, you need to take preventive care before you apply this color on your hair. If your hair already been through bleaching and highlights then must take a deep hair care treatment before you apply the color.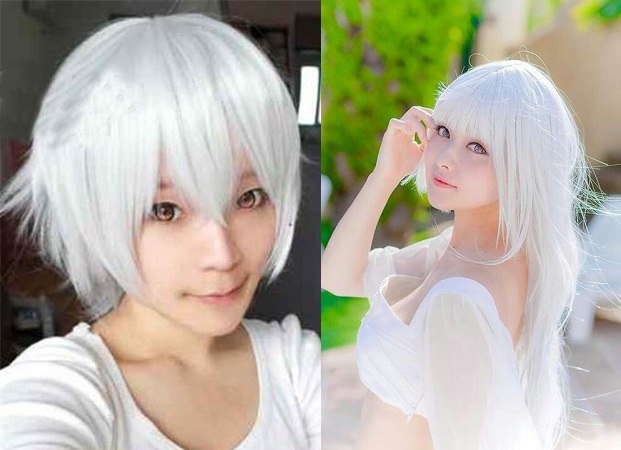 Cool Cast Hair Color
A mixture of two or three colors is very much in the fashion trend nowadays. Coloring only single hair color is the thing of past. Women now like to try different color combinations on their tresses and they carry them confidently too.  Sometimes these complex color combinations take more than 10 hours for bleaching. Just imagine how much hard work a hair colorist put in to achieve the desire shade. Much more than we can ever imagine! Cool cast is also a combination of hair color with glossy white bleach and cream highlights followed by a patch of violet or blue color. Another best combination is opal shade with a touch of pink and lavender.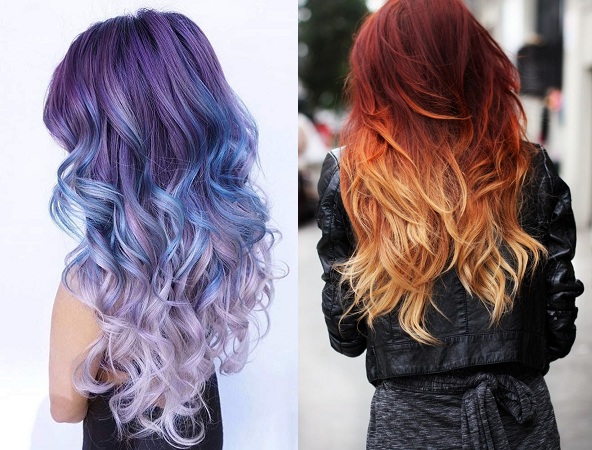 Blue Hair Color
Blue color may sound little out of the box or peculiar on hair. But currently blue is also used as hair color. Not the entire hair strand but the small patches of hair are colored with blue color. A small section of hair is colored blue followed by black color in between. So, it doesn't give a full and strong blue tinge but light and subtle blue shades. Try out the color to stand out in the crowd and be a fashion icon.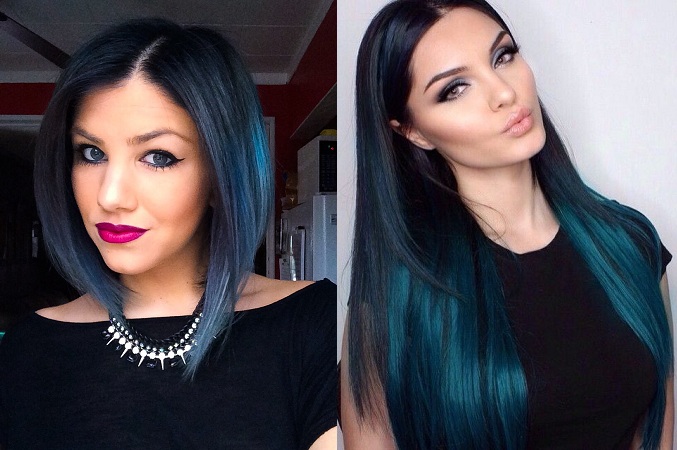 Opal Color Options 
Opal is light shade which needs very intricate hair coloring procedure. Mostly celebrities adopt this color as the maintenance cost is very high which everyone can't afford. It looks best in combination with the light shades of blue, green and violet. Try this color if you can afford to look fashionable, stylish and unique in the crowd. This hair color is sure to grab attention in any social event. Even better, if you have long hair as the look is enhanced in long tresses than on short hair.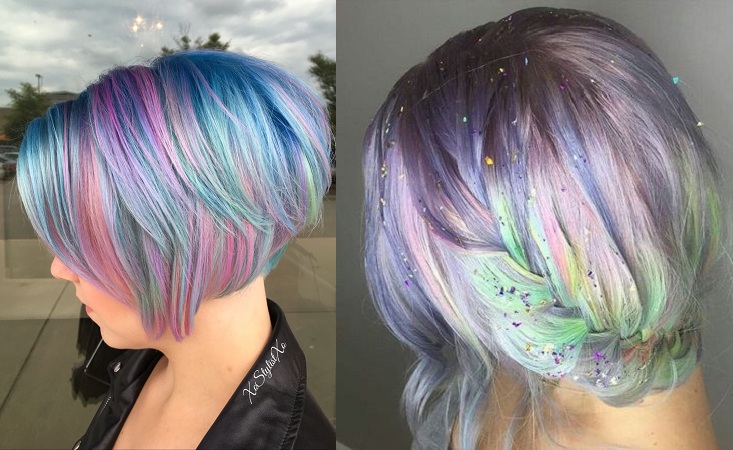 Pixel Hair Color
In the modern digital age when everything is digitized, how can the field of fashion remain untouched with the pinch of digitization? You might have seen computerized digital prints on fabric in many fashion shows. Now these prints have even made their way to the local markets. Similarly, hair color is also not untouched. Pixel hair colors have made their entry into the world of hair colors. Though only fashion models have been seen to adorn these colors, days are not far when common public will be seen with these hair colors. In pixel hair color, the base color is mostly black, brown or burgundy and on the base color the pixel colors are highlighted.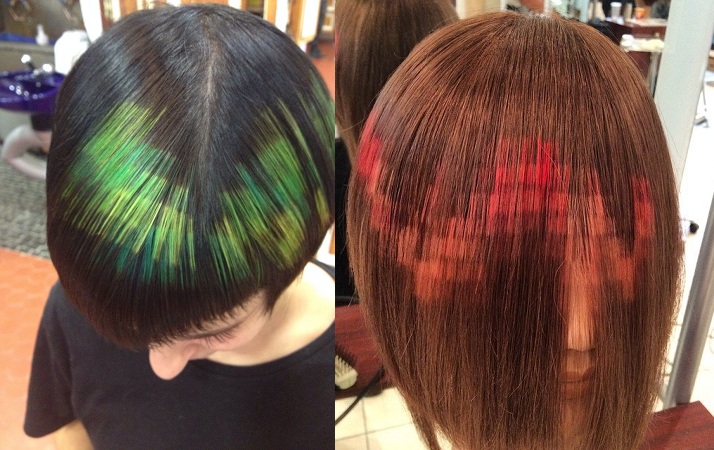 Pearl Blonde Hair Color
Blonde hair color is very common. But the blonde color with a twist is the new trend. Blonde hair color is now mixed with other colors to give it a distinct look. Pearl has a very soft and mild effect and when mixed with blonde gives totally different and exotic shade. But this combination doesn't look good on dark colored as the shade is very light and looks contrast. So, only the fair complexion ladies can carry this color and look gorgeous in it.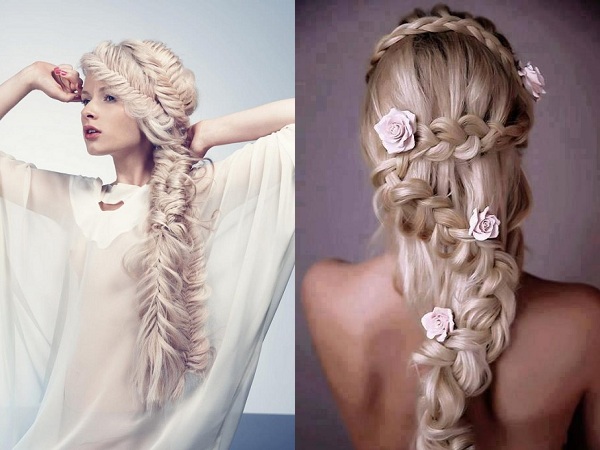 Chocolate Blonde Hair Color
Here is another blonde combination for the summer months. The warm chocolate brown shade goes very well with the base blonde color. The dark and light shade combination actually highlights the hair like no other color. And surprisingly, it is one of the best blonde hair color combination for all ages. Try the color this summer and be the cynosure of every social event. Flaunt your hair and the praises of your friend and family will blow your mind away.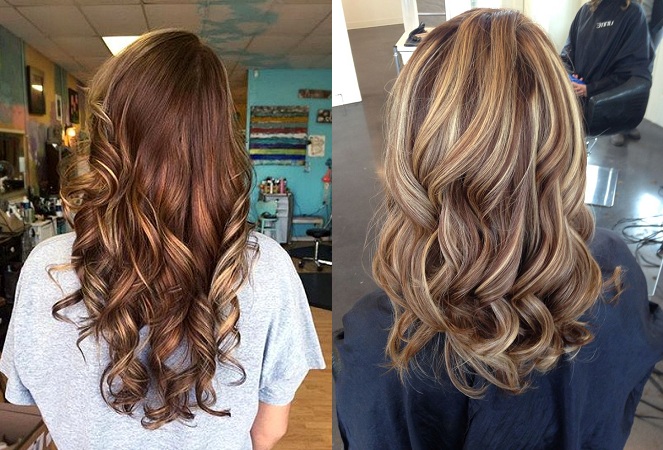 Cherry Brown Hair Color  
Cherry brown is a very enticing color and on hair, it just looks amazing. The lush cherry shade with a brown dye and a touch of red or violet on the tip of the hair shaft is enough to steal the show. Your hair with cherry brown combination looks very attractive and so are you. Go cherrylicious this summer and see the heads turning towards you like never before.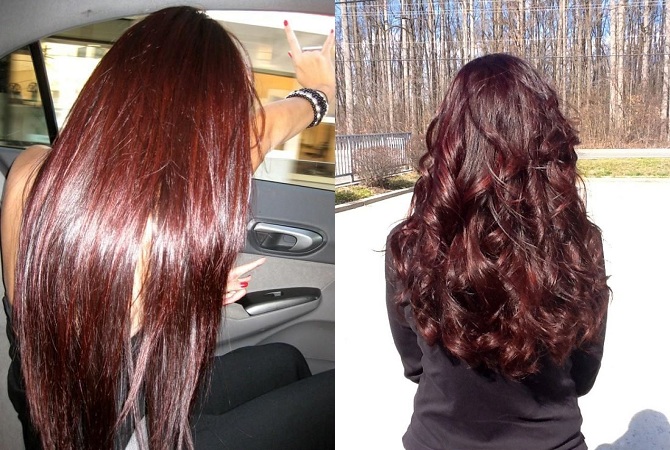 Copper Blonde Hair Color
The hair color combination with blonde shade is non-ending. Now we have the copper touch to the evergreen blonde color. The copper and blonde color both provides a highlighted appearance which is quite flashy. Therefore, this color combination is mostly adorned by fashion models and celebrities.