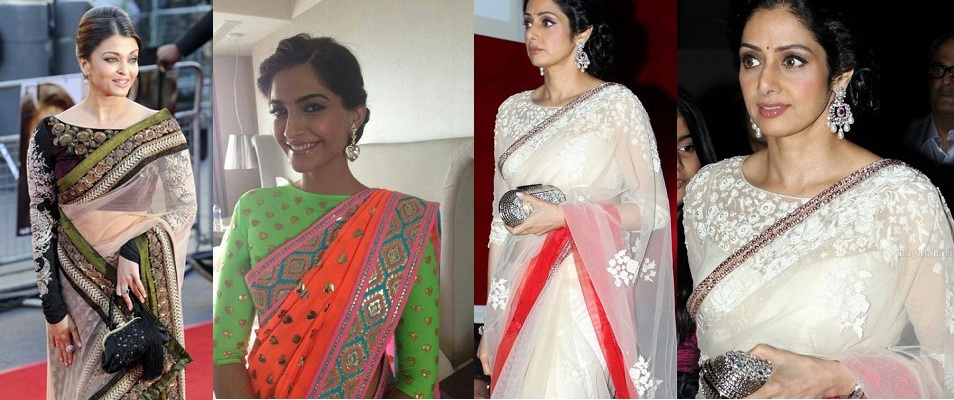 Silk, the ultimate wedding and formal saree in India has the image of a traditional wear amongst the Indian women as it is worn in a traditional style with a traditional blouse. However, time is changing fast and with that preferences too are changing. Design, style and look on many fabrics like georgette, crepe, cotton etc have changed over a period of time in unison with the changing times and therefore have become preferred choice amongst sari designers to create designer sarees and blouses with them.
Changing look of the Silk Sari
Look and design on silk is also changing with times and manufacturers are introducing new styles on the fabric. However the fabric continues with the traditional tag and sarees still being worn as traditional wear rather than a fashion wear. Today, times have changed and with women becoming independent and fashion conscious, they are trying new ideas to wear the exclusive silk saree in ways that they look as beautiful and gorgeous as ever while at the same time they are trendy and smart.
Since saree and blouse team up to give the overall look to the ensemble, women have chosen to change the style of blouses to wear with silk sarees to give them a trendy look. Blouses come in a number of designs and it is usually the choice of a woman to decide the style and design of blouse that she wants to wear with a silk sari.
Different Blouse Designs for Silk Saris
Some of the designs are conventional styles and are used when you want to give a traditional look to your ensemble, while some designs are stylish and modern and they exude a trendy look to your saree. Amongst the most popular designs that are worn with silk saris are high neck collar design, high neck without collar design, V neck design, round neck design, square neck design, Chinese collar design, boat neck design and many more. However, amongst all designs boat neck blouse design gives a trendy look to silk saree like nobody else.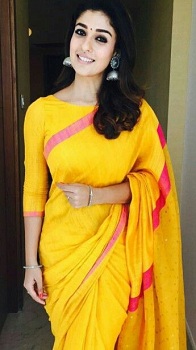 Boat neck blouse designs are increasing in popularity every day as they can be worn by women of all body shapes and complexion with regular sarees as well as with party wear silk saris. Another great thing about boat neck is that this design can be incorporated in almost any dress, western or Indian and it looks equally good on every dress. This neck design is not only making waves in Indian fashion scene, but also creating a lot of euphoria and interest in western fashion world as well.
Bollywood Celebrities Sporting Boat Neck Blouses
Today, a lot of Bollywood celebrities can be seen sporting boat neck blouses with silk and other types of sarees in all kinds of formal and informal functions in the Bollywood circle and outside as well. Some of the actresses that have recently been spotted wearing this blouse design include Deepika Padukone, Priyanka Chopra, Ileana D'Cruz, and Kareena Kapoor Khan, Kajol and Divya Khosla in different Bollywood and other functions.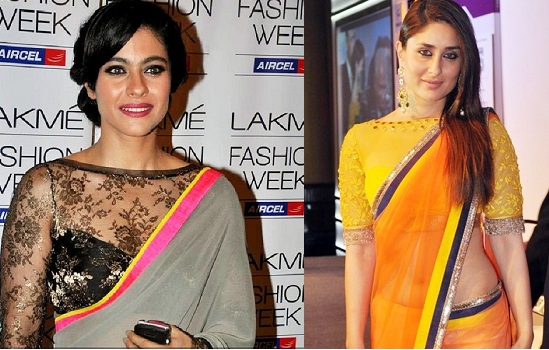 Boat neck blouse designs are classy and not monotonous like many other blouse designs. They have their own charm and exude confidence and beauty in the woman wearing this design. Although the design is best suited for women with narrow shoulders with slender necklines; it is equally good for women with broad shoulders as they can wear it with broader neck design. The design is also popular as many of the Indian women prefer not to show cleavage which this design does pretty well, but want to be a part of latest fashion.
Hereunder are some of Boat neck blouse designs that give trendy look to sarees as well as western dresses.
Simple Boat Neck Design
This is a simple design that can be worn with regular sarees for home and office wear. The design looks beautiful and elegant while at the same time provides confidence to the women as it covers the cleavage portion.
Boat neck blouse design with sheer fabric
This design is very popular amongst the designers as most of the formal dresses and blouses that are made today have sheer on the top. The sheer on the top adds glamour to the blouse as it allows you to give a hint of the skin while covering it at the same time. Blouses with this design can be designed in a number of ways with or without sleeves or sheer at the back or without sheer at the back.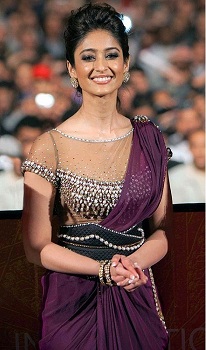 Boat neck blouses with sheer sleeves are a huge rage in the fashion world as they are very different from blouses of other neck designs. The sheer sleeves look very classy with this design and if the sleeves are embroidered or embellished they can make you the queen of the entire party.
Embellished boat neck with transparent sleeve
Boat neck design itself is very classy but when it is embellished at the neck line and has transparent sleeves, the blouse looks amazing and gorgeous. For an embellished boat neck blouse you can choose light weight fabrics like crepe and georgette as a heavier fabric blouse will make the neck line heavier to make the blouse fall in the front exposing the cleavage. You can get the embellishment done with a number of items like stone, beads, pearls, sequin, mirror work and embroidery.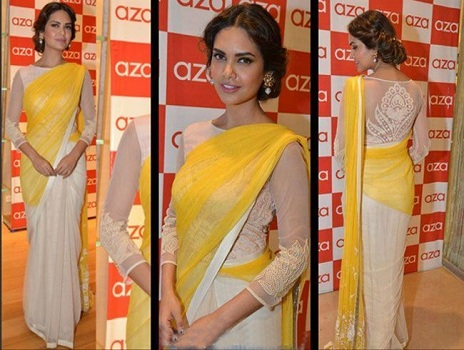 Transparent sleeves are the fashion of today and every woman wants to have transparent sleeves either of net or sheer in her blouse or dress. With a boat neck blouse design transparent sleeves is a rage as you can have a variety of transparent sleeve designs to pair with the blouse. You can have a three quarter sleeve that is very hot amongst women or long sleeves blouse design. You can embellish the sleeves at the end just like the neckline to make the blouse even prettier.
Boat neck blouse design with stylish back pattern
The real look of a blouse is beautiful when every aspect of the blouse looks outstanding and different from rest of the crowd. Therefore, not only the front or neckline with sleeve need to be beautiful and outstanding, the back of the blouse also needs to be equally good and different.
Like many other blouse designs, boat neck blouse design also offers a wide variety of designs on the back to make the blouse look beautiful and outstanding. Some of the most preferred back patterns that the elite and celebrities get on their blouses are the keyhole back design, round back design, backless blouse design, backless with sheer at the back design, circle and v- shape back design.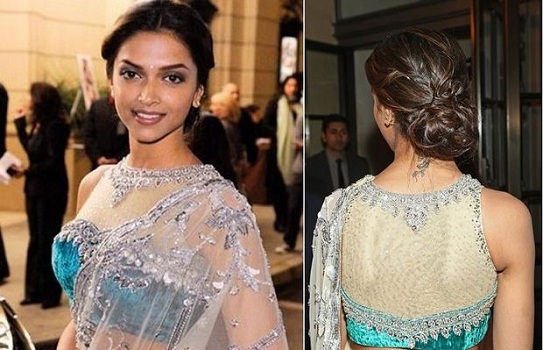 The backless blouse design with boat neck blouse is a huge rage and is worn by many in formal and elite parties. This back design goes very well with silk saree as it gives a trendy yet conventional look to the woman. Boat neck with sheer pattern is also a highly popular design and you can wear the design to become a center of attraction in the party.
Stone Embellishment at the Back
Embellishment is high on fashion and especially the stone embellishment. All dress and sari designers are very high on stone embellishment that most of their creations have this embellishment in some measure or the other. The best part of stone embellishment is that stones of so many shapes, sizes and colors are available in the market that you can ask the designer to embellish your blouse with a stone of your choice in shape, size and color.
Apart from embellishment in the front, neck and sleeves, back embellishment of the blouses is also very popular. These stones come in a variety of colors and are shiny in nature that provides glamour to the blouse.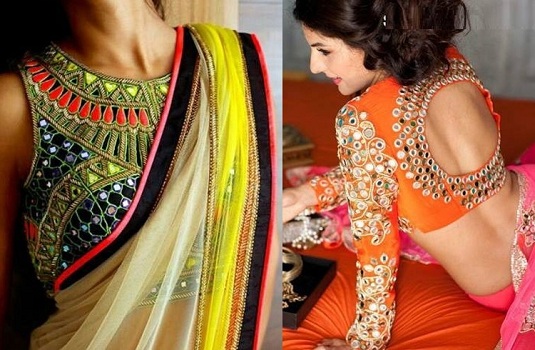 Sequins Blouse Pattern
Sequins are very much popular amongst women. They love the sequin work so much that you can find many of their dresses whether it is a saree, a suit, a lehnga, a choli or a blouse embellished in sequin work in their wardrobe. Sequin work is very intricate and when done properly offers a lot of glamour and beauty to the blouse. You can either get full boat neck blouse embellished in the work or a part of it.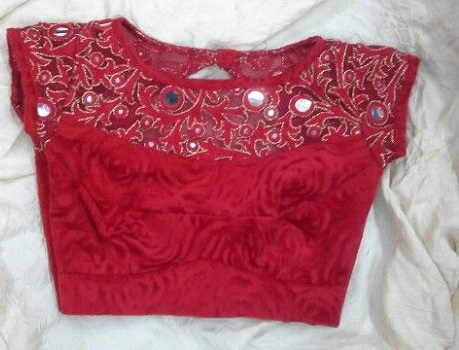 Cut work boat neck blouse design
Cut work is very trendy fashion and is followed by women that love fashion to the core and want to do things differently both with themselves and with their dressing. Boat neck blouse offers this liberty to use cutwork on the blouse with style. You can either go for a full blouse cutwork that includes the neck, the sleeves, the front and the back or you can also go in for cutwork in part of the blouse to give a different look to the blouse and your silk saree.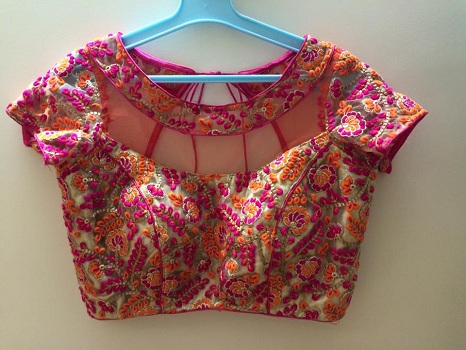 Off shoulder boat neck blouse with full sleeves
Off shoulder blouse is again a very trendy fashion that is followed by selected few that are daring enough to show skin with the blouse. Off shoulder is very popular in western wear and many girls sport this design, but very few wear this design with a saree as you need to have style and attitude to carry off this design with style.
Off shoulder blouse with a silk saree will definitely give a trendy look to the saree and will surely make you the center of attraction in the entire party.