It is often said that Bengal is the home of culture, festivals, food, creation and artistry. Well yes Bengal has always inspired people from different parts of India and abroad to come and join the rich cultural heritage of creation and art. Seldom will anyone find an art that does not have its influence or presence in Bengal. Right from literature, to paintings, to craftsmanship it is all there in Bengal with a touch of its own culture. Weaving has been a big part of Bengal since olden days. Since cotton is one of the major crops of this are this natural fibre has been in use since ancient times. Whether it is a drape or clothing material cotton has dominated Bengal weaving for centuries now.
Bengalis generally use natural fibres to make clothes. Natural fibres like cotton silk and jute are largely used in making clothes and not to forget sarees. Yes, sarees are an important part of Bengal culture now. The sarees that are designed, created and woven in Bengal are not only different but holds an impressive place in the hearts of women from all around the world. Some of the most popular and famous Bengal sarees include Tangail, Bengal Tant, Murshidabad silk, Jute sarees, Jamdani, kantha, Batik printed sarees, Tussar sarees, Garad sarees and many more. So let us get into the little details of these sarees from Bengal.
Bengal Tant sarees
This is one segment of saree that dominates the Bengal weaving scenario. Yes, Bengal cotton or Bengal tant is one of the most loved sarees in Bengal and in the whole of India. The hand weaving of these sarees is done following a unique technique that was developed in the ancient Bengal. While it used to be simple designs and motifs nowadays complex patterns and designs are being used in the hand weaving of these sarees to make it look really attractive. Places like Fulia, Tangail, Shantipur etc are the hub of tant sarees of Bengal. Each of these places has their own distinctive style of weaving. The sarees are a great wear for summers.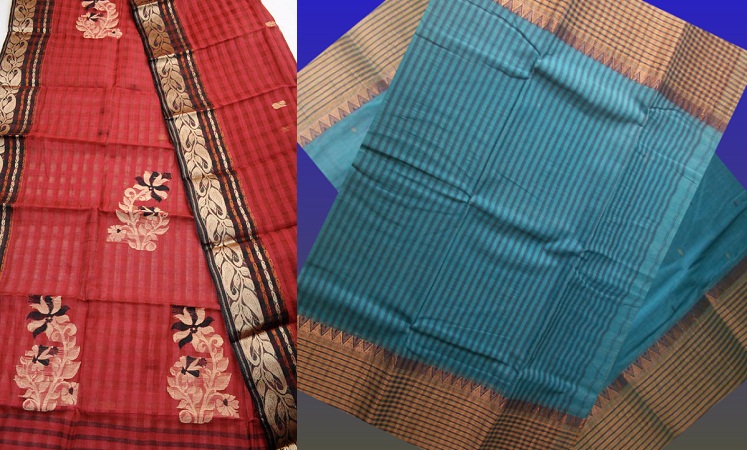 Murshidabad Silk
Murshidabad silk or pure silk sarees as they are fondly called are made from natural silk fibres. The rich history of silks of Murshidabad helps us understand that Bengal has been weaving pure silk sarees since the ear of Nawabs of Bengal. The famous Baluchari work was first introduced in Murshidabad silk sarees that has human and animal figures as motifs. Silk threads are used on the saree body to weave these patterns. Murshidabad is also famous for printed silk sarees. Block prints, tie and dye, floral prints are quite commonly used on these silk sarees. The best thing about these sarees is that they are available in a wide spectrum of colours and designs which make women spoilt for their choices.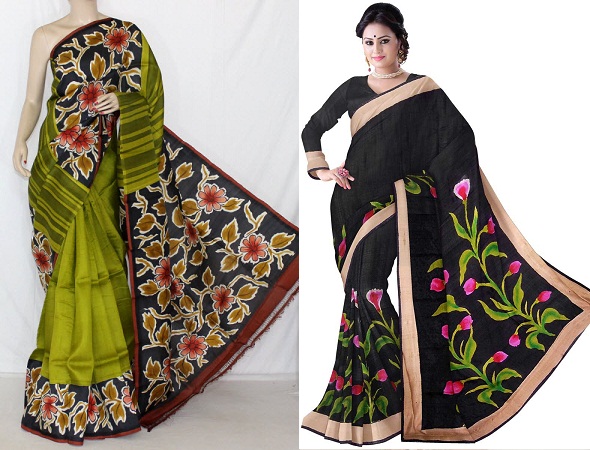 Jute sarees
Jute is produced in abundance in West Bengal and thus the creative minds of this region did not waste any time to get the best out of this inexpensive natural fibre and turn them into jute silk sarees. Jute silk is extracted from jute fibres which are usually quite coarse. Chemicals are used on these extracted silk to make them smooth and silky. Jute sarees have become quite popular these days with Ghicha and Kosha silk dominating the market. Bengal has its own line of jute silk sarees which are unique in their own ways. Hand prints and vegetable prints are normally used on these sarees which are hand woven.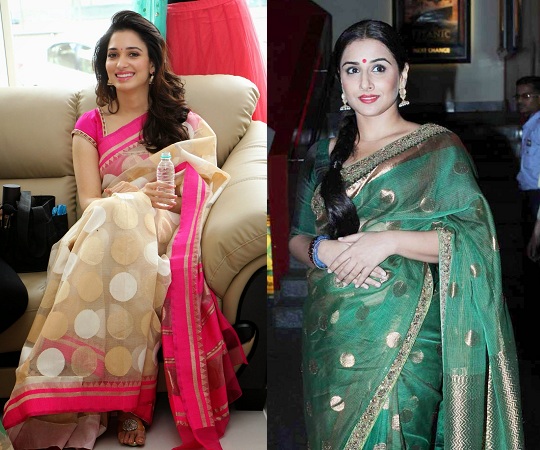 Jamdani Sarees
Jamdani is a style of weaving that is done on the loom brocade. This weaving style was originated in Bengal and now produced in Dhaka, Bangladesh. Finest of cotton threads popularly known as muslin is used in the weaving of this material. Jamdani sarees are an asset for all Bengali women. Jamdani sarees are beautifully hand woven by expert weavers from Bengal. Nowadays the Jamdani weaving is done both on cotton and muslin. Muslin jamdani is a favourite among women around all around the world. The sheer thin fabric along with the creative artistry makes these sarees a hot favourite.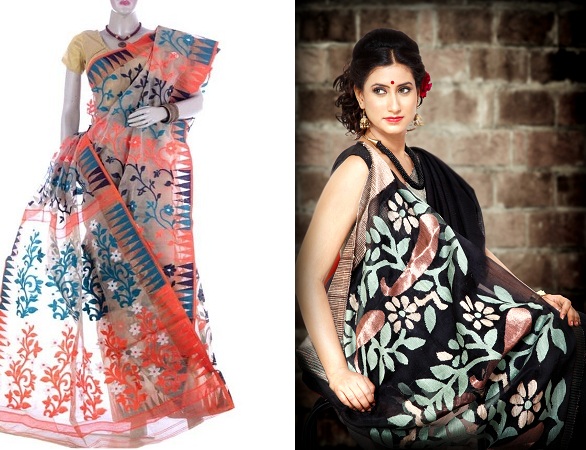 Batik Printed sarees
Batik print is a specialized version of the tie and dye technique. This technique of tie and dye was first developed and introduced in Indonesia. However batik prints got popular with their introduction in Shantiniketan where students started learning about this tie and dye technique of printing. These prints are done both of silk and cotton and they are usually done using a combination of bright colours. Batik print sarees are quite popular in Bengal for its everyday usability and fast colours.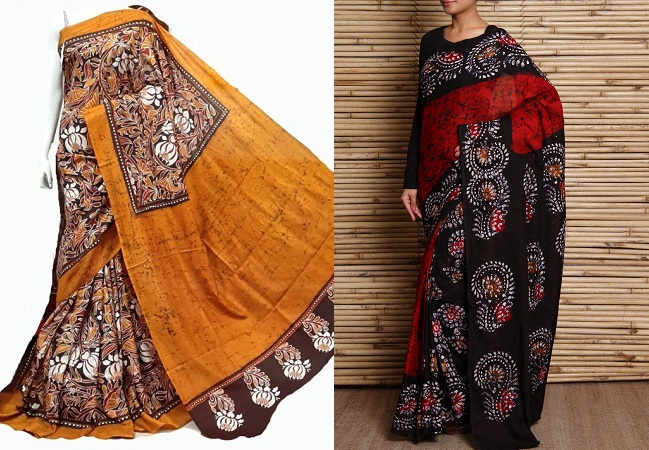 Kantha sarees
This is one of the most loved and adored sarees of Bengal that has reached almost all corners of the world. Katha is completely handmade sarees. Silk and tussar is mainly used as the body on which kantha stitches are used to decorate the saree. Each of these sarees takes a long time to get completed. The designs are intricate and the cost of these sarees depends on the volume and finesse of the work done on them. Multi coloured cotton threads are used in stitching these sarees. These sarees definitely shows the creativity of Bengal at its best.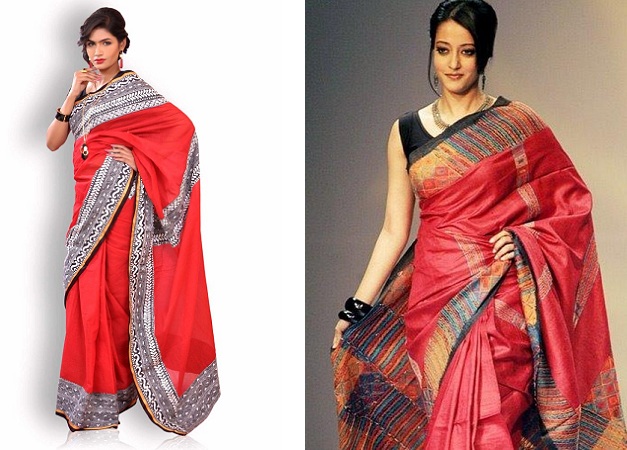 Garad sarees
Garad silks are one of the most revered Bengal sarees. These silks are produced in Bengal and are quite commonly used for puja and other auspicious occasions. Garad means white and these sarees are made of white body with red border and very typical of Bengal sarees. The motifs and patterns that are used in these sarees are completely Bengali and it represents Bengal in its own sense. Garad silk in made from Tussar and it is never dyed with any other colour apart from keeping it white. It is a must have for all Bengali women and especially married women.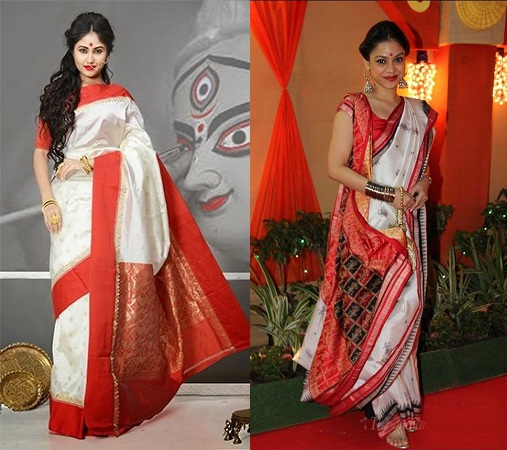 Conclusion
With such an impressive and awesome line of sarees from Bengal it becomes a must have situation for every women to collect some of these fabulous drapes for themselves. Well it is needless to say that nothing can beat the sophistication and elegance of natural fibres and since Bengal sarees get dominated by these awesome natural fibres it becomes a collectible for every woman. The mesmerising designs and texture of these sarees never goes out of style and it is handed over from one generation to another.