A saree is not only a traditional wear in the Indian sub continent, but also a very big fascination for all the women in this part of the world. The drape has been an integral part of the culture and one can find several references, both visual and written about the way a saree being draped by women in different periods of time.
Different types of sarees have evolved from then to today representing the people and their way of life in the designs and prints on them. There are many different types of sarees that are prevalent in the market but most of the sarees find their name and popularity in the region where they are made.
One of the most popular and an epic love story of a Bong woman is a Tant Saree. Bong woman means a Bengali woman and no matter where she is born or brought up and irrespective of her social status, she simply loves a Tant Saree. Mamata Bannerjee, the chief minister of Bengal, Bipasha Basu, Soha Ali Khan and an eternal list of dignitaries are just an example to express a Bengali woman's love for the saree.
History of the Saree
The earliest record of Tant saree weaving can be traced back to the 15th century in Shantipur, district Nadia, West Bengal. The art of Tant saree weaving received huge royal patronage from the Mughals and was used for draping by the common man in the period. The art continued to flourish even during the British period however modern weaving techniques came much later after India gained Independence in 1947.
Partition of Bengal saw migration of many Hindu weavers from Tangail, Bangladesh, come and settle in Fullia, a town neighbouring Shantipur and in Hoogly and Burdwan. These weavers brought with them their ancestral weaving traditions and today they weave some of the finest varieties of Tant sarees in the country.
Speciality of Tant Sarees
Synonymous with Bengal cotton handloom, Tant sarees are one of the most popular sarees to be worn by women in Bengal and Bangladesh. Beauty of these sarees is that they are made from pure cotton and are very light in weight and are very airy to suit the climate of the region. As the entire region is very hot during summers, women prefer to wear light weight and airy sarees that look beautiful, trendy and are also comfortable to their skin.
A great beauty of the saree is that although it is traditional, it is also very trendy. It is made in a variety of designs, prints and embroidery so that it can be draped in all occasions.  While going to the office or for a formal party or a casual outing, these sarees are a hot favourite any time. Tant sarees are adorned by different types of motifs like the Sun, flower, geometrical figures, nature figures, animals etc. In keeping up with the new trends these sarees now come with zari border also. They are no more just simple cotton sarees but are embellished to make them more attractive to the present woman.  The border of these sarees is heavier than the border of other sarees as the weaves are very fine and prone to tear in the long run.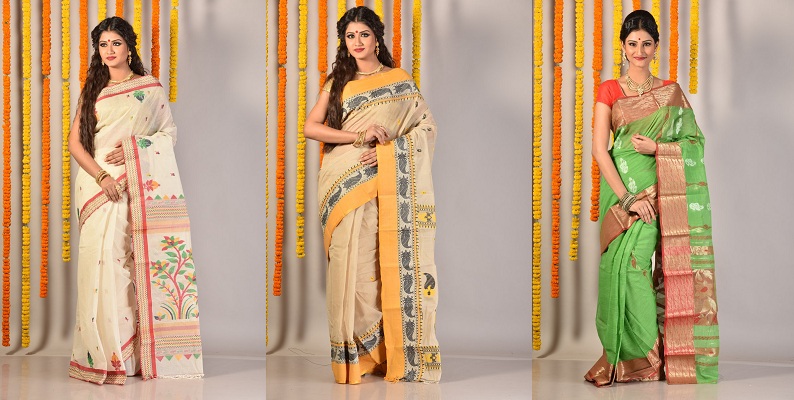 Why Bengali Women Love Tant Sarees
Bengali or the Bong women are in complete love with Tant sarees because they have seen their great grandmother, grandmother, mother and each of the women that they meet wear the saree over generations.  These sarees are a part of their culture that they sacredly want to protect at all costs. Then again Bengal is a very hot and humid state and both men and women prefer to wear clothes that allow air to pass through and are comfortable to their skin.
In addition to the fine weaves and good cotton, Tant comes in a variety of colours with some having hand painting while some adorned with appliqué work. Each saree has mean count of 100 which denotes the number of threads per square inch of warp and weft and is usually 6 meter long instead of the regular 5.5 meter with a wide border of 1.5 to 2 inches in the colours of green, blue, grey and black.
Tant Sarees in Durga Puja
Durga Puja is a very auspicious time in Bengal when every Bengali woman wants to wear her best dress along with jewellery and make up. If you ever have a chance to go to Bengal during the Puja festival you can find most of the Bengali women wearing Tant saree in different shades and colour. These Tant sarees are popular amongst Bong women during Durga Puja because they identify themselves with the culture and also because Bengal is a very hot and humid state and these sarees provide women the feeling of air as the saree is very airy.
Suits the purse of all women
One of the biggest draw towards Tant saree is that they come in a wide variety of prices to suit the pocket of every household. Price of these sarees depends largely on the work done on the saree. While an ordinary and plain saree can be made in a day, a fine saree with fine work and good border may take up to 6-7 days to complete.
Available Online
With the advent of online culture in the country, Tant sarees are available offline as well as online. Many online stores like Flipkart, Jabong, and Amazon have large varieties of Tant sarees on their stock lists while you can also buy Tant sarees from many other online stores based in Bengal. Here you can get a wide variety of these sarees with or without blouse and Petticoat. These stores have Tant sarees to suit the pocket of every customer, therefore you only have to choose your design and colour and they will dispatch the saree to your house.
Simple Maintenance
Tant sarees are easy to buy and maintain. Before washing the saree for the first time it should be soaked in warm water mixed with rock salt so that less colour is lost in subsequent washes. In regular use very mild detergent should be used and care taken not to dry it in direct sunlight.