Summer is truly the season of fashion. If you love to experiment with your styling and embrace something new, summer will let you do that. Be it the color or design, the special tops, dress or ethnic wear with a fusion twist let you try out something unique every single day. Each year, fashion industry and designers bring out their collection that challenges the old ones and leads women to a bit more fashionable.
The current trend
While considering the current trend of Indian fashion industry and analyzing the sales report of leading Indian fashion retail market, it is quite evident that today's women are not confined in showcasing their ethnic appearance only. Rather they are trying out every other westernized option to prove the point that anyone can be fashionable.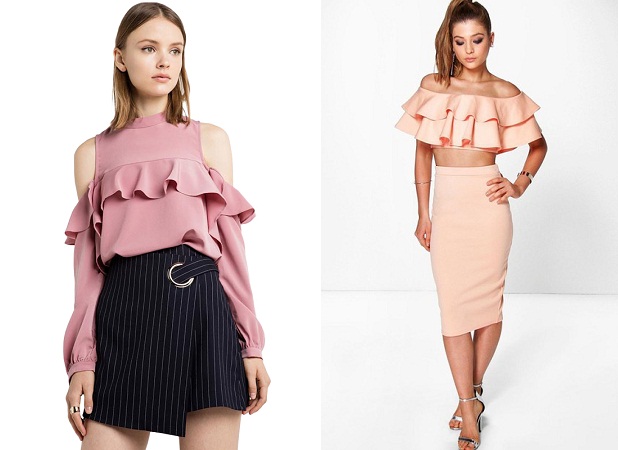 Among the many trends that came and go over the time, the trend of ruffled tops has turned out to be the most promising one. The main reason behind this trendy top has been so popular is the rising demand of designer off shoulder tops. When it comes to wearing off shoulders, nothing can beat its perfect sync with that of the ruffled design.
Tips on styling the ruffled tops
Popular among youngsters, the tops are still restrained majorly within the territory of the western market because there are still a group of women who feel that they might not be able to carry the top in style and end up looking a mismatch. Here are a few tips of styling ruffled tops to make sure you don't feel afraid of accepting the most popular fashion trend of the era.
It is a dress that can bring out your femininity. Team it up with a midi skirt, put on heels and accessorize your look with a handbag along with a pair of goggles. The combination fluffy skirt and a striped ruffled top are sure to make you look more girly yet smart.

Do you detest the feminine look? Well, with ruffled tops, you can go more casual. Pair with boyfriend denim and save a peppy look for yourself.

If you are planning to wear off shoulder ruffled tops, consider teaming it up with a bold piece of necklace. It will accentuate your neckline, lending you a more striking appearance.

Ruffled crop tops are the most popular ones among the whole lot. It lets you remain comfortable and sporty for all day. Team it up with a pair of rugged jeans and printed sneakers to look your casual best.

Denim skirts and shorts look extremely stylish when complemented with a ruffled top of similar color. Make sure when you are going for such a combination, you need to keep the accessories minimized.

Some people have a misconception that ruffled tops are not for plus sized women, whereas the real fact it looks absolutely mesmerizing and cute on plus sized women as they team it up with a skirt, release their hair and carry a handbag of alternative color.

High-neck ruffled top is also quite popular among the young crowd. Women tend to look stunning when they pair it up with a pencil skirt and a pair of pointy shoes. Don't forget to don a pair of sunglasses for looking prettier than ever.

Going for prints along with the solid colored ruffled tops will be a wise decision on your part. It will give you an edgy look if you synchronize the prints of the tops by teaming it with bottoms carrying different prints.
Conclusion
Be it a formal party or a casual outdoor with friends, ruffled tops will successfully add a special tone to your styling once you learn to style it accurately. Hope, the designers will bring out more interesting designs and patterns to personify and bring out the real essence of today's women.