Look good, feel glamorous with the uber cool off shoulder suits. The evergreen salwar kameez just got trendier with off shoulder neckline.
The Indian fashion trend is elegant and chic. The modern fashion trend reinvents from the ethnic styles and designs. It is one of the most elegant and graceful attires. Whether it is a gorgeous anarkali suit, a classic salwar kameez or an authentic designer saree, the rich heritage of the Indian culture is omnipresent. Also, now you have the fusion of western style into Indian designs which has attracted a lot of people and making it a trendy fashion statement.
Trends that Inspire Designers!
The talented creativity of the fashion designers leaves you no dearth of choosing the innovative style of dresses. And with Bollywood, you are spoilt for choice. The B-town divas are a true inspiration for the beautiful Indian dresses which gives us ideas to experiment with our looks and be fashionable.
The Hues and Shades!
What makes an ethnic salwar suit stand out- the combination of bright colours and the intricate patterns and prints? You will always look perfect in it wherever you carry it. Go lovely hues of purple or pink for a truly feminine touch. Be unique with black and grey or gold and silver accents for festivals and weddings. For the contemporary feel, go for a yellow or an orange shade. If you want to experiment and look bold, try navy blue, coral pink or mahogany green. You can also go undertone with shades like beige, white and muted yellows.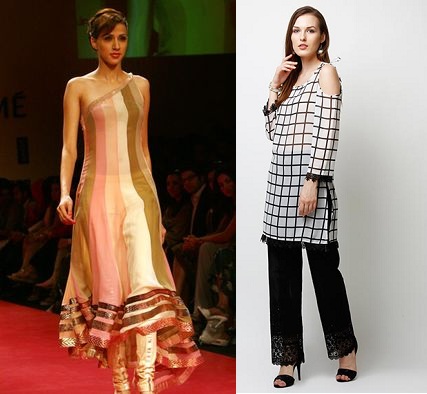 Salwar Kameez Never Goes Out of Style!
When it comes to casual and formal, nothing can beat a sassy salwar kameez. Perfect for all body types, it is a gracious outfit. Be it any occasion, you can never go wrong with a simple and stylish salwar kameez. It is a comfortable three piece outfit- the long tunic is called the kameez, the bottom trouser is the salwar and a flowing, matching dupatta. Salwar suits have long been in trend in India and are now evolving all around the globe. The trendsetting prints, the amazing phulkari designs or the sheer simplicity of the outfit makes it a popular choice among all. Make a vivid look with cuts in v neck, round neck, asymmetric cuts and deep necklines.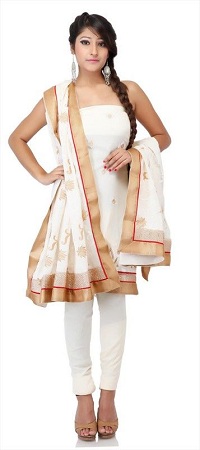 Get that Desi Avatar!
What makes it versatile is its cut, colour, fabrics and embellishment style. If you have a wedding to attend, choose a designer kameez with a bright colour salwar; for parties and dinners, go for light shades and simple designs and the traditional Punjabi style for every day wear.
An excellent set of salwar kameez will flatter your body and the overall look. If you are looking for an elegant look, pair up your kurta with a classic pant or dhoti pants. If you want to make it simple or crisp, go for a normal salwar. The traditional Punjabi salwar has lots of pleats which makes it look ruffled up and glamorous.
Variety of Salwars
Dhoti Salwars- It is the latest in salwar trends. It is inspired from the Indian dress- dhoti. The number of layers and pleats on this salwar gives it a gorgeous look. They are slightly slanted in shape, more of asymmetrical.

Churidar Salwars- It is a very convenient option. It has less pleats and so one can flaunt the curvaceous legs.

Patiala Salwars- It is the traditional Punjabi salwar. The pleats of this salwar go all the way down to the cuff end. They are quite free to move in.

Afghani Salwars- They have a balloon kind silhouette, wider above the cuffs and the cuffs are narrowed at the ankle.

Palazzo Salwar- It is the most common indo- western trend in salwar. They are very graceful and classy. Unlike churidars, they do not cling to your legs and form a parallel frame.

Dress Knowing Your Body Type!
There are some amazing dresses that suit only a specific body type and off shoulder suits are one of them. It is known as Bardot. It is the neckline that starts with your armpits. The trend is for those who love to flash skin. There are hundreds of styles that show more of back, arm or shoulder. The looser, frilly style the most common.
Your shoulder provides the frame to your neckline so you have to be careful before donning an off shoulder dress. The off shoulder dress is where you have no sleeve shoulder of only one shoulder. In this suit, only one shoulder is bared. The other kind of suit has both the shoulders flashed in style. Baring the shoulder is the new hot trend because it is quite flattering. If you have toned arms and a long neck then this is the perfect pick for you; it brings all the attention to your neck and shoulder. They might look floppy and loose but when paired and worn correctly, it looks stunning.
Choosing the Right Design!
Off shoulder suits should be picked according to your body type. If you have broad shoulders, choose something that does not look like a hanger or drools. Opt for straight cut suits that will create the impression of small shoulders. However, if you have narrow shoulders and a toned neck, the off shoulder suit looks amazing. The large, extended neckline attracts all the attention to your neck and arms. Choose bright colours, bold prints and quirky patterns that are easy to wear. The suit falls all the way down to your bust. Loose of shoulder or three quartered sleeves kurta with palazzos and pants are quite in trend.
If you are conscious about showing off even your shoulder but want to bare a bit a gorgeous net dupatta is all you need. Drape the dupatta on the bare side and flaunt your hidden shoulder. Style your off shoulder suit with slim fit jeans for casual, day look. For a glamorous evening look, pair your suit with a trendy legging or a salwar. Wedges and heels look fetching! To complete your sophisticated look combine with a pair of solitaires, a stylish clutch and funky jewellery.
Dress up in your favourite styles and show off your style statement. Be admired and envied!