Some fashion trends are evergreen. One classic example is the growing inclination towards designer embroidered saris. These saris look appealing on a commoner and a fashion diva alike. Their charm and elegance is recognized not just in India; these saris make for an exclusive show at international red carpet functions and award shows as well. Whether it is the 'butis' originating from the Mughal period or the 'khatla' pattern from Uttar Pradesh, every embroidered sari displays the authenticity and cultural heritage of a place and era.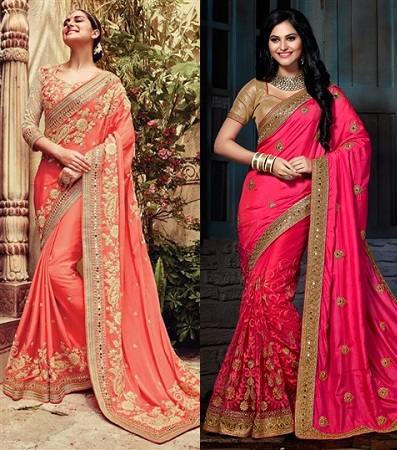 The idea of getting a designer embroidered sari with unique artwork is now in vogue. The objective is to give this traditional style a modern touch. Often, more than one type of artwork is used in a designer sari to give an exclusive appeal. For example, now there are thousands of designer embroidered saris available that feature an elegant combination of different patterns and dyes that are highlighted with hand-stitched beads, gems, motifs, sequins, or mirrors. If pleated properly, these saris in spite of being heavier than other designer saris are easy to drape.
The Saris Industry
Fashion designers and embroidery artisans who have been in this profession for years work together to create gorgeous designer embroidery saris that stay evergreen for years to come. Every sari differs from another in terms of fabric, colours, borders, pattern, and design. There is an impressive variety of designer saris featuring internationally acclaimed thread-work and embellishments such as Sitara, Phulkari, Murri, Gota, Kanthi, Zari, Chikankari Shadow, Pipli, Aari, Resham, Mokaish, Kundan, Jaali, Zardosi, Shamilami, Kasida, Toda, and Badlaa. A plethora of options are available in terms of the fabric itself ranging from designer net saris, mimosa silk, Kanchivaram silk, and cotton silk to chiffon, georgette, cotton embroidered, and jacquard prints.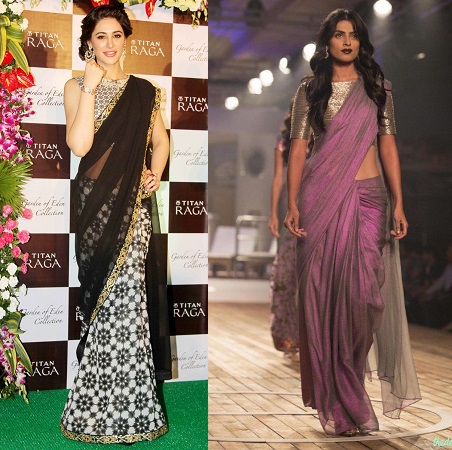 Designer saris are broadly classified into two types – machine embroidered and hand embroidered. With recent technological advancements witnessed by the fashion industry, it is now possible to achieve mass production of saris, each with a unique design of its own. Moreover, the process itself has evolved from using simple-coloured threads for embroidery to employing pearls, zari, beads, pipes, and semi-precious and precious stones to further decorate a sari. The most attractive and exquisite designers are ones that feature hand embroidered designs. Those with machine embroidery are lighter on the pocket and can be used for everyday wear.
Types of Designer Embroidered Saris
Every state in India has contributed in numerous ways to the industry of textiles and handicrafts. Every region flaunts a unique style of beautifying and decorating saris. This cultural heritage is thus passed down from one generation to another through exclusive techniques of designing saris with beautiful embroidery. Not surprisingly, every embroidered sari seems has a distinctive style and aesthetic appeal to it. Uttar Pradesh, Gujarat, Rajasthan, and Jammu and Kashmir are especially known for the production of gorgeous embroidered saris that are distributed all across India and also exported in the international market.
Gujarat is one of the leading states in India to produce some finely embroidered designer saris. These saris are known for their extremely complicated and intricate embroidery work that differs from one sari to another. Silk threads in different colours are used along with extensive mirror work to give the sari a beautiful and vibrant look.

In Gujarat'sneighbouring state Rajasthan, colorful and thick pattu threads are used to create gorgeous embroidery patterns on saris and give them a rare ethnic look. Some designer saris will also feature patch work on their borders along with delicate embroidery that covers the entire sari.

Uttar Pradesh is another state popular for its highly coveted designer embroidered saris. Banaras in Uttar Pradesh is known for creating some of the most stunning designs that combinetraditional patterns from the age-old Mughal aesthetics and Hindu customs. The famous 'Zari' work achieved through beautiful gold and silver threadwork is a classic example of the traditional embroidery inherited from Uttar Pradesh.

Another style of embroidery given to us by this culturally rich state that is commonly used in saris is 'Zardosi' work. Some of these are heavily influenced by the very appealing and artistic Persian aesthetics.

Another stunning contribution towards Indian legacy of designer embroidered saris is the well-known Chikankari work from Lucknow. These saris are known all over the world for their three dimensional embroidery and are produced in soft, light colors that bring out the beauty of this embroidery in a spectacular way

Punjabi saris are famous for their Phulkari work created through floral designs covering the entire sari.

There are also designer saris from the southern parts of India that have prominently embroidered mythological scenes or characters from epics.
Styling Your Designer Embroidered Sari
Designer embroidered saris are considered lavish as well as elegant because of the amount of style and variety they offer. This is because they signify an era when art was encouraged and patronized by royals and nobles who invested a significant proportion of their earnings on clothing. In addition, a sari itself looks extremely graceful especially when its beautiful embroidery is displayed throughout the garment. However, regardless of how gorgeous these saris look, their use is not restricted to festive events.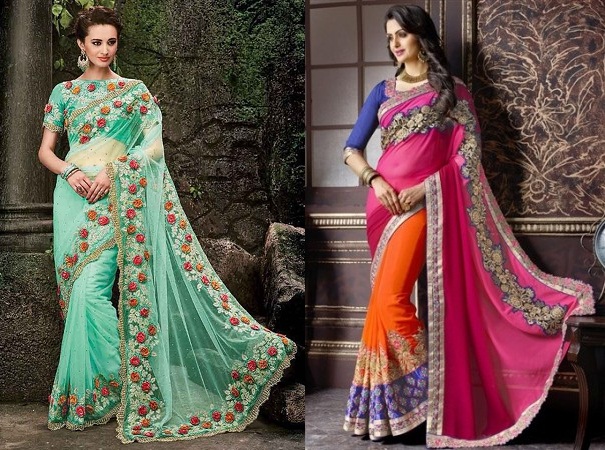 Although designer embroidered saris are mostly purchased for special occasions such as festivals, they can be used for casual wear as well. The sari design and the way the sari is draped depends on the event at hand. For example, the heavy adorned Banarasi saris are usually preferred for opulent occasions such as weddings. Their elegance is augmented with heavy gold or Kundan jewellery that brings out the exquisiteness of these embroidered designs. On the other hand, various options in designer saris are also available for semi-formal occasions. For instance, white saris with Chikankari work look extremely sophisticated for evening dinners and formal office get-togethers. These are usually paired with some elegant jewellery like crystal or pearl sets. Some of these saris designed from a casual-wear point of view combine the traditional patterns with a western touch by using crochet, sequins, and lace designs.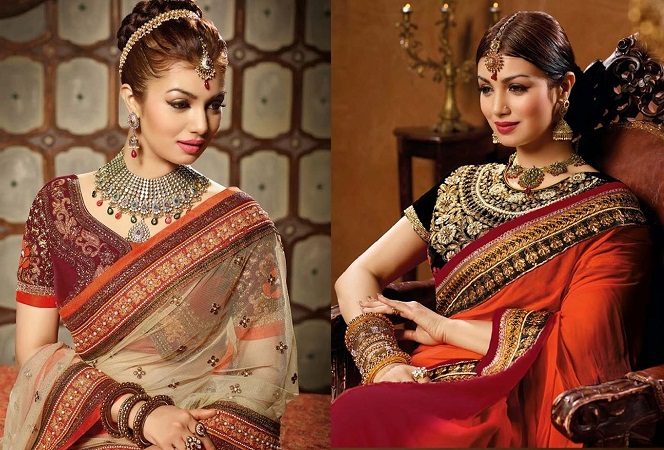 Getting One Online:
Given the increasing popularity of designer saris with varying embroidery designs and patterns, you now have the option of getting one at a retail store or buying one online. Purchasing a sari offline makes sense since you want to feel the fabric and see the design for yourself before making any kind of investment. However, many websites these days offer the option of returning your order in case you are not satisfied with your purchase.
If you browse through an authentic site and order an embroidered sari, chances are you won't need to return it because everything about the sari including its exact fabric, colour, embroidery type, and price is mentioned along with its picture. Online purchase also makes it convenient to browse through different options by selecting a colour or price range of your choice. Another huge advantage of getting a designer sari online is the possibility of availing a discount, which is close to nothing in case of offline stores. With the online market growing competitive each year, it is easy to compare prices of different saris across two or more authentic websites and then taking an informed decision based on the price and estimated delivery date. You can also choose a sari online and gift it to a loved one by changing the delivery address.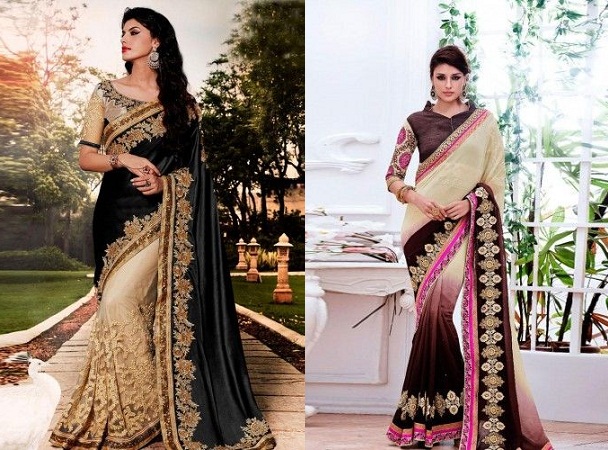 With Diwali, Dusshera and the wedding season being so close, make sure your closet boasts of at least three or four designer embroidered saris. In fact, you can choose saris based on your existing jewelry collection so you do not need to invest more in matching your attire with your accessories. These prized possessions look fashionable any time of the year and help you create an ever-lasting impression on all the guests in any event.