When it comes to looking for a perfect blend of onscreen talent and an impeccable sense of style, Deepika Padukone certainly fits the bill. This stunning actress is much more than just a Bollywood Diva. Right in the beginning of her career, Deepika stunned her audiences with a phenomenal performance in 'Om Shanti Om'. From debuting with the great Shah Rukh Khan to acquiring many accolades every year, Deepika has certainly shown the world that she's got the perfect skill set and figure to flaunt any kind of outfit – ethnic, western, and even a simple desi saree! She's one of the few style icons in the industry who can carry off the Indian traditional outfit of saree in such a flawless way that exhibits a supreme and unique sense of fashion.
In her movie 'Cocktail', Deepika was seen wrapping herself in a beautiful black lehenga sari designed by the respected Sabyasachi Mukherjee. The gold trimmings embellished in a delicate fashion all over the sari certainly complimented Deepika's glowing skin tone. She was seen sporting a black sari at the Umang Award function as well. This time, the saree was that of net and paired with a Banarsi blouse. The overall appeal of the attire was enhanced by resorting to simple accessories and make-up so that the saree remained the focal point.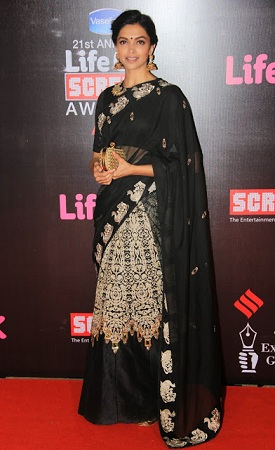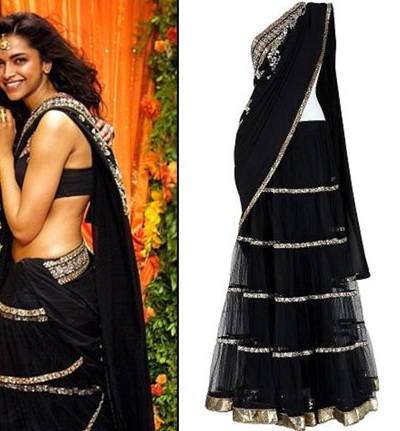 Recently, Deepika had everyone bowing to her confidence and elegance when she was seen at the Cannes Film Festival in a traditional Indian outfit. People from all over the world were glued to their television screens to see this iconic figure walking the red carpet gloriously in a gorgeous Indian saree. Another recent sari look of Deepika that is currently doing the rounds can be seen in the promotion of her yet another movie with Shah Rukh Khan – 'Happy New Year'. Deepika Padukone is certainly this season's flavor as her fans as well as fashion designers all over the world seem to be getting inspired easily by her ability to drape sarees with exclusive designs and look stylish and elite every single time!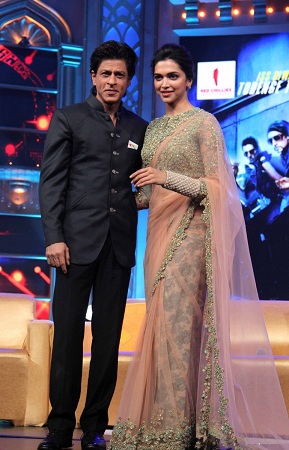 Deepika Padukone's Latest Sarees
In the past couple of years, there have been numerous occasions when Deepika was seen posing confidently in a gorgeous sari. This has certainly brought sarees back into the fashion industry with everyone trying to imitate her ravishing appearance. Some examples of Deepika's latest sari appearance have been described below:
Earlier, during the promotion of her movie 'Chennai Express' at the Zee TV show Dance Indian Dance – Supermoms, Deepika looked simply irresistible in a bright neon green sari with a contrasting and equally vibrant border. Another time she was seen in a bright color was when she carried off an orange sari during yet another promotional event of 'Chennai Express'. Through such non conventional choice of colors, this vivacious beauty sent a message all across the world that she can handle any attire!

Deepika draped herself in a beautiful pink sari when walking the red carpet at the Filmfare awards with the very elegant Madhuri Dixit. This net sari with some detailed embroidery was contrasted well with a green blouse, minimal make-up, and a simple pulled-up hairstyle.

She continued to look sensational in an all-embroidered sari with a blue lace for a promotional event of Fiama Di Wills.

She was again seen flaunting an Indian queen look in a royal sari designed for her especially by Ms. Neeta Lulla. Enhancing this opulent look was her excellent choice of traditional jewelry and her stylish ramp walk with the popular designer herself.

During the promotion of her recent movie 'Ramleela', Deepika's cream sari gathered much attention and applause from Bollywood fans all over the world. This net sari with self-parshi work designed again by the famous Sabyasachi Mukherjee further augmented Deepika's graceful and elegant body language.
Deepika's demure look with a desi 'tadka' in a white sari at the Star Plus show of Nach Baliye is going to stay imprinted in our minds for years to come.

For her recent press meeting during the promotion of her movie 'Rana', Deepika went for a vibrant red sari with an embellished and embroidered pink blouse. A simple pair of earrings and bindi gave her a flamboyant and yet sophisticated look.

Deepika Padukone's Love for Sarees
It has been well-established by now that Deepika adores sarees, especially net sarees and those with some embroidery on them. Combine the two and you have Deepika Padukone's personal favourite – a net sari with some elegant, intricate embroidery. She usually combines her sari with a contrasting blouse and simple jewellery. It is this unpredictability of wearing a stylish, traditional outfit in a non-conventional, inimitable manner which seems to give Deepika her unique sense of fashion.
Once she paired her net sari with a graceful blue blouse with a distinctive net design and beautiful embroidery on the back. Recently, she seems to have shifted from her preference for neutral shades to vibrant, eye-catchy colours. For example, she was seen carrying off a pretty copper sari with heavy embroidery and golden embellishments. In another picture of hers posing for a photo shoot, she wore a red sari with a distinctive gold border and discreet embroidery. On another occasion, she carried a green net sari with heavy embellishments and teamed it perfectly with a stylish neck-piece. Black and white seems to be her natural choice of colours and she loves highlighting them with some exclusive jewellery which automatically becomes the focal point of her attire.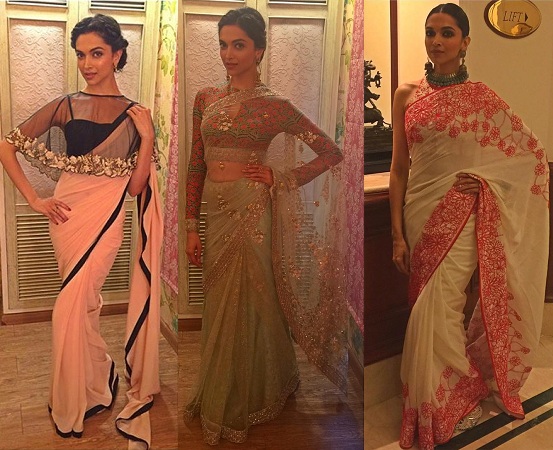 Time and again, Deepika Padukone has been seen telling reporters that she absolutely loves this six-yard, traditional wonder. Well, everyone including the press, common masses, as well as those from the film fraternity absolutely love Deepika for her ever-evolving sense of fashion and innumerable ways to look glamorous in this Indian outfit. It is safe to say that when it comes to sarees, Deepika makes a fashion statement every single time she wears one and very soon the entire country is seen following her footsteps.