The high waisted shorts are mostly synonymous with music festival style, but in a conventional manner this type of shorts is completely a summer staple, irrespective of the venue. High waistlines are definitely more popular and comfortable than the low-slung predecessors and therefore these become the ideal pairing in case you prefer to achieve the seventies avatar, which is a complete rage now.
More on high waisted shorts…
These shorts are also popular as these can successfully cover the midsection of the user's body while cinching the midriff into feminine shapes without the requirement of corset, hiding all the unwanted bulges and offering the right shape and the hint of vintage glam to the wearer's body, which is lacking curve. So, as a whole it can be said that high waisted shorts are now the business.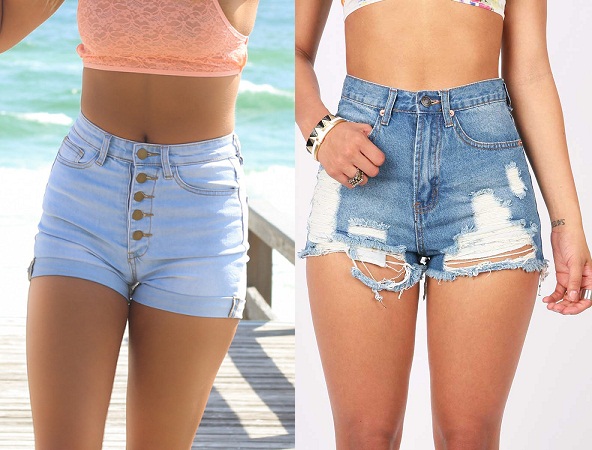 What are the things you need to consider?
The best thing about these high waisted shorts is that these can be worn to almost everywhere if worn and styled it right. Often people assume that these shorts can only be worn by tucking in the top. Though this option looks the best, but still these can actually be worn like regular shorts. Here are some other options that you can consider:
Go for the boho avatar by pairing these shorts with super long sweaters and loose tank tops. Adding humongous heels are optional here.

This is probably the easiest method of wearing high waisted shorts. Pair these shorts with plain tanks, some cute accessories and flat sandals. This look is just perfect for the hot and humid summer days.
If you want to flaunt a beach cover up look, then pair the shorts with cute bikini tops while hanging by the beach or pool.

To have a rock inspired, super casual look, wear a graphic shirt along with the shorts by front tucking it. Therefore, complete the entire look by adding booties.
In case of cool weather places, pair the shorts with thigh- high socks to get a cool look. To complete the look add a beanie and scarf.
You can also continue wearing the shorts in your workplace by pairing it with formal shirts during the spring days. In case of winter time, you can add a little warmth by combining the shorts with little sweater and comfortable sneakers. This look will be really cute while being uber casual.
Combining the high waist shorts with crop tops is one of the commonest ways to look good without overdoing things.
If you are daring enough to flaunt a bralette top, then pair this top with the high waisted shorts to avoid looking like that you are in a bikini. To convert your look in a boho look, throw on one light cardigan.

In case you want to show off just a bit of your tummy by wearing high waisted shorts with tie front shirt. This will make you look more like a pinup girl.
To get a feminine look, tuck the shorts in a leacy shirt and accessorize your shorts with a belt.
In case you want to make your high waist shorts apt for workplace or any other formal function, then tuck a button up blouse in the shorts and therefore throw on a fitted blazer.

In case you don't prefer to get revealing attire, then pair the shorts with one boxy crop top, which will look both sexy and chic.
It is possible to make bustier or corset tops look more casual by combining those with high-waisted denim shorts.
In case you want to make the button-down look effortless and tucking, then tuck that into a pair of high-waisted denim shorts.

To get a rocker chic look while being effortlessly cool, then pair the high waisted shorts with tucked in flannel shirt and complete the look with a pair of boots.
Want to make the button up pair dressier? Then tuck that in a beautiful looking blouse and complete the look by wearing heels.