Ladies Kurtis have become a mainstream fashion that every woman chooses to wear for casual as well as formal occasions. Choice for Kurtis is not limited only in India or Asia but around the globe as women are looking for various dressing options that they can wear that is trendy, comfortable and acceptable.
In western countries women wear Kurtis with pants, denims or skirts but here in India women have larger options and they wear Kurtis with Salwar, legging, Jegging, denim, pants, skirts etc. Kurtis are special because they are designed in the way that they look good with all kinds of lowers without compromising on current fashion and looks. Another great advantage of Kurti is that while Salwar kameez requires a woman to wear a dupatta at all times, with Kurti there is absolutely no compulsion of a dupatta and is solely the choice of the woman wearing the Kurti.
Kurtis have become a popular dress amongst women and girls of all ages throughout the globe because kurtis can be worn in all types of weather conditions. If it is cold one can wear a jacket or coat on top of a kurti and the combination looks good while in summers one can wear the same kurti without anything over it.
Kurtis come in a wide range of colours that depend from season to season but white is season neutral colour and sought after all through the year. White Kurtis are a hot favourite for women of all ages as white has a completely different appeal from all other colours. It looks bright and vibrant and reflects well on the complexion. Apart from this white allows you to team up with lowers of so many colours that it provides the choice of using one Kurti with many lowers at different times?
Kurtis come in a variety of colours, designs, cuts, styles and lengths but you need to use the kurti in an intelligent manner so that the kurti presents a completely new ensemble every time it is used and does not become a boring repetitive dress like all others.
Kurtis can be worn in Different Ways
Kurti is one dress that looks good on women with any kind of body. However women need to watch carefully the style, cut and length of the kurti so that the kurti does not look like a mere formality but rather enhances your beauty and looks. Hereunder are the different ways in which women with different body types can wear the kurti to give the desired effect.
White Kurti with Leggings
Kurti with leggings as lower is the most common way that Indian women dress for their casual or formal outings. However, most women do not take notice on their looks because it is advisable for women with heavy bottom and legs not to wear very tight leggings. They should also make it a point to wear a fitting kurti rather than a loose and comfort fit as a loose upper will make her look heavier than she actually is.
On the other hand a slim woman with well toned lower limbs can wear a fitting as well as a loose kurti because a little comfortable fit will show an enhanced figure making her look beautiful.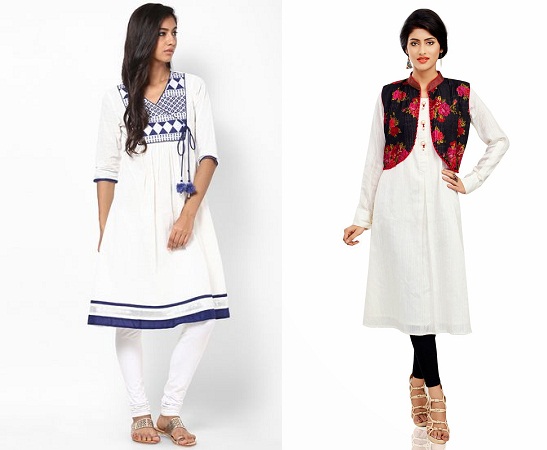 White Kurti with Denims and Trousers
Young girls want to try new types of dresses every now and then and kurti with denims or parallel pants is their favourite outfit. Instead of wearing western tops, most girls and young women prefer to wear kurtis as these kurtis cover them much better than the western tops and because kurtis look much prettier and trendy as compared to western tops.
Girls and women wearing trousers or denims with kurtis must take utmost care on the length of the kurti as most of the trousers or denims come in tight fitting showing all the contours of their lower body. Females having heavy lower body should try to buy or get stitched kurtis that are long enough to cover their hips so that much of the heavy portion is not visible.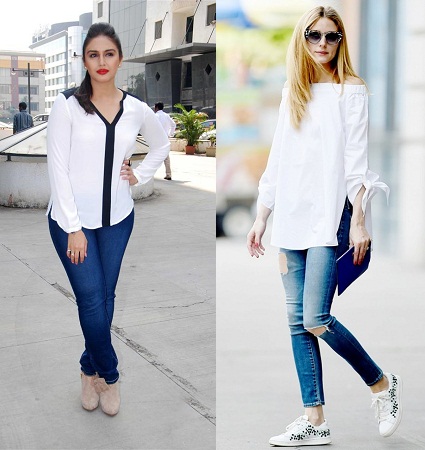 White Kurtis with Flare Pants
These are the latest in women fashion and most young girls and women want to wear their white kurtis with these pants. These pants are voluminous from the top to bottom and much like the salwars except that they are made in pant cut. White Kurtis are a big hit with these pants as these pants come in floral or solid colours which go very well with white kurti. These flare pants are very trendy and allow even heavy weight ladies the liberty to flaunt their white kurtis.
These flare pants look very good on women with well toned body as they give you a perfect shape and figure to show your body and assets.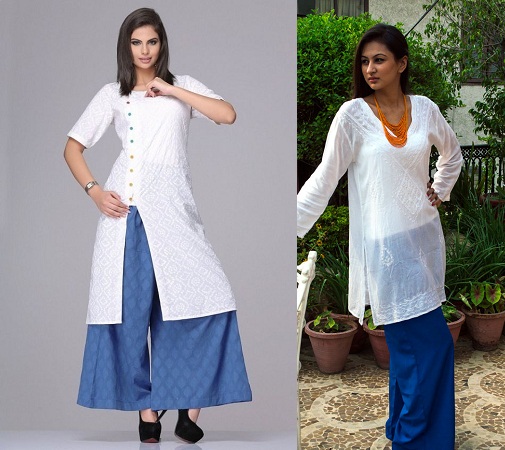 White Kurtis with Collar Neck
Although most of the women kurtis that are stitched or that come readymade are U cut or V cut on the neck. However, necks with collar are also in trend and many women buy collared kurtis as they give a formal look to the garment. This type of kurti is suitable for women with long and thin necks and ones which expose the neck bone.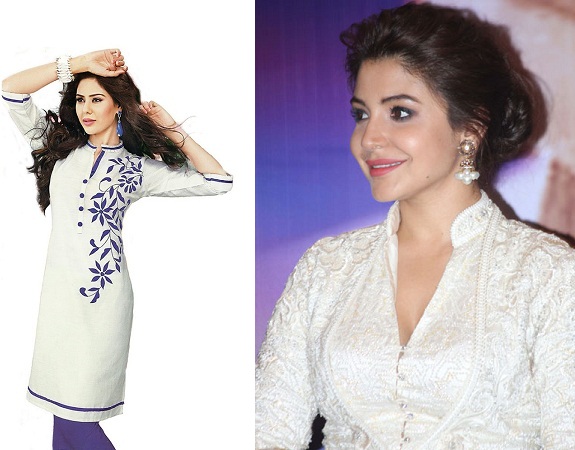 White Kurti with solid colours
One of the greatest benefits of wearing a white kurti is that it goes perfectly with bottom of any colour. Although the combination of black and white is an all-time favourite, even then white kurti looks beautiful with any of the solid colours. Therefore, if you are wearing a white kurti, you can just relax and take out a bottom of any solid colour that you wish to wear on the day and you can just look dashing.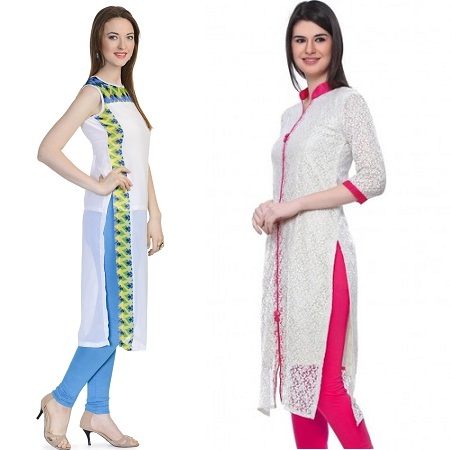 White Kurti with Floral or Design Bottoms
In today's trend floral designs, self designs, embroidery and solid, everything is in fashion provided you are able to mix and match your combination well. White kurtis are a big hit with embroidered and printed bottoms. The only catch in the entire ensemble is the length of the kurti which should be according to your body type and the kind of bottom that you intend to wear for the day.