Festive season is something for which everyone eagerly waits throughout the year and this season is just round the corner. Diwali is amongst those festivals which are celebrated with great enthusiasm and joy. This week long festival calls for various events and gives you ample opportunity to showcase and adorn various attires, styles, jewellery and your dressing sense. You need to focus on some key areas to get yourself a complete look of the festivity and make your friends and relatives go awe at your unique and distinctive style. Flaunt your own ways and be the trend setter this Diwali season.
Key areas to pay attention to
Many of you may be wondering regarding the key areas on which you need to pay attention to attract the eyes of everyone. Besides your overall glow and confident attitude, you need to focus on your jewellery, outfit and makeup so that you are not in much hassle on the d-day. Approach the fashion bloggers or designers for the required assistance and guidance to make the best choice that suits your tastes and preferences.
Jewellery to be adorned
Jewellery is something that sets you apart from others, be it in gold or any other metal such as silver, diamond, etc. The demand for various jewellery designs has been hyped to such an extent that artisans and jewelers are constant on-the-go in introducing new patterns and ideas. Every accessory like neckpieces, bangles, earrings, maang tikkas, kamar bandhs, anklets, etc. need careful evaluation and search of a unique piece which will make your apparel look stunning. But make sure that you do not accessorize yourself so much that will give you gaudy look.
Famous designers and jewelers suggest that the decision of what type of jewellery to wear must be planned according to the type of attire you wish to carry. If you are planning to adorn a traditional saree or lehenga, then you must choose traditional jewellery like that of gold or temple jewellery. On the other hand, if you are planning to wear Indo-western attire, then choose modern and designer jewellery made out of platinum, silver or diamonds.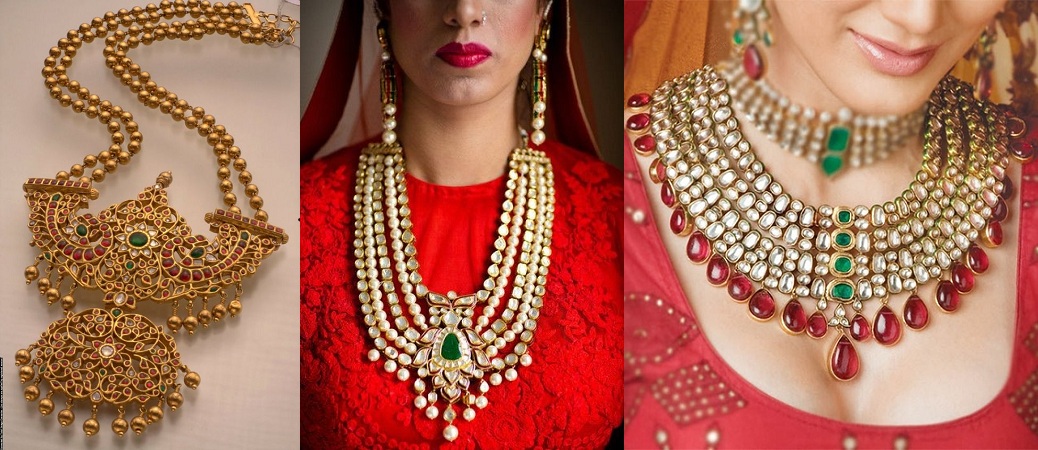 Various types of jewellery that you can try are as follows:
Golden or temple jewellery: Golden jewellery or temple jewellery has been in trend from long time. People love to adorn such type of jewellery on auspicious and festive occasions. The intricate designing of such jewellery adds glamour to simplest of the attires.
Kundan jewellery: This type of jewellery looks amazing and beautiful when paired with saree or lehenga. The boldness and purity of Kundan jewellery catches the eye of everyone and makes you appear outstanding.
Polki jewellery: Since gold and diamonds are not affordable by everyone, polki is something which can be tried by many. Nowadays, the craze for polki has shot up and women love to adorn this type of jewellery studded with colorful stones and gems.
Outfit ideas for Diwali
Your outfit and costume is something which defines your personality and gives the first impression about you. Festivities bring along with them the craze for adorning various attires and dresses specifically designed by the best designers. Everyone wishes to capture the gaze of the masses, so this is the time when you can pull out best of your ideas and present yourself in the most unique and elaborative way. This Diwali season, lehengas are the most preferred among women and they carry these in different styles and patterns.
Following lehenga styles will help you to make the correct choice for your Diwali and add your own designs to the fashion blog to present a new fashion statement: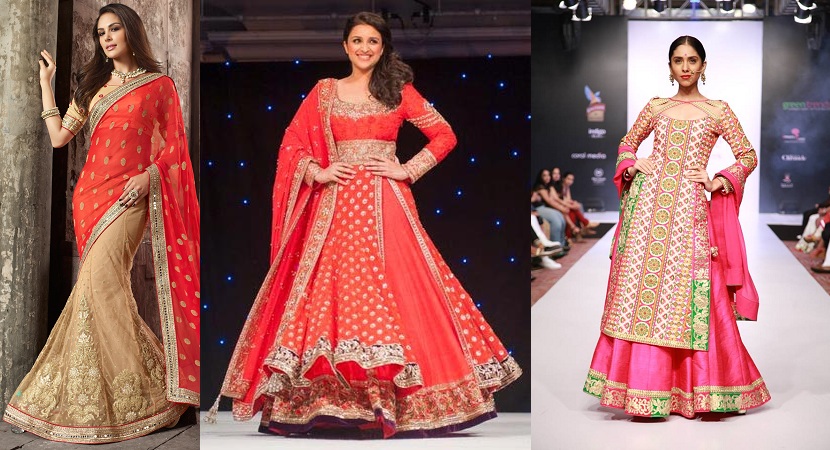 Lehenga saree: This type of attire is perfect for those who are looking for the mixture of both lehenga and saree. This will give you a perfect chic and traditional look for the festival. Easy to drape, lehenga saree has been in vogue recently, not only among ordinary people but among the Bollywood divas too.
Anarkali lehenga: When you wish to have that comfort yet look elegant, go for Anarkali lehenga that has won many hearts at the festive fashion week. With a perfect flare at the bottom, you will love to dress in this attire this Diwali and stun your guests.
Kurta lehenga: For those who love experimenting and do not wish to leave their midriff bare, this style is perfect for you. Giving the absolute traditional look, Kurta lehenga is something unique showcasing a very high comfort level. In this outfit, you can get away with hassle of adjusting your attire time and again.
Apart from this, try for bright and lively colors this Diwali. You can also wear saree with sexy designer blouses and be the centre of attraction.
Make up tips to set the festive mood
Since your outfit will be bright, carrying intricate embroideries and patterns, you must go light on make up. Prepare your skin for the festivity by hydrating it through facials, massages and moisturizing. Just let your skin breathe. This will help you look fresh, keep your spirits high and set you in that perfect festive mood.
Following tips may work well for you and help you get that perfect look this Diwali season:

Absolute lip color: Invest in that lip color which suits the shade of your skin. Try going for light lip shade like the nude one, if you your attire is of bright color. Shimmer or matte, the choice is yours.
Bold eyes: In order to highlight your eyes, apply perfect eye shadows, eye liner and kajal. Darken your brows with the exact eyebrow pencil and blend the color under your eyes with the color of the rest of your skin so that there are no dark circles.
Perfect hairstyle: You can tie your hair to avoid any mess in a perfect bun or ponytail. If you are fond of keeping your hair open, go for perfect beach curls or straightened hair with centre partition.
With the above mentioned styling tips, hope your Diwali rocks with lights and glitters.