Diwali is the time when men, women and the entire family wants to look their best as you meet so many people. Also, Diwali is a happy festival and you show your happiness in the form of wearing new and bright colored dresses along with the latest accessories to compliment your style.
You tend to wear western outfits for your daily wear as well as your semi formal outfit throughout the year and hence want to change the way you look on the special Diwali day by wearing an outfit that gives you a modern look and yet is very Indian and traditional.
The task is arduous and takes a lot of brain storming to decide the right type of dress that gives you a great look, is modern in concept and style.  At the same time, it should be traditional giving the impression that despite being a fashion conscious woman, you are well connected to your roots.
Here are some very good ideas on the kinds of dresses that you can wear that are traditionally Indian but have a modern twist.
Lehenga Sari
One of the most beautiful dresses that can give you the perfect look of a traditional yet modern woman is the Lehenga sari. This outfit is a perfect mix of a Lehenga choli and a traditional sari in the sense that the outfit has a choli or a blouse which is the same as worn in a Lehenga choli and has the same kind of embellishments or embroidery along with a Lehenga sari.
The outfit is very popular for formal dressing as it gives you a formal look and is very versatile in nature. The attire comes in a variety of designs and can be draped in different manners. The attire is extremely comfortable and can be draped faster than a traditional sari.
One great thing about the attire is that it comes in stitched and unstitched form. You can get the material and get it custom made according to your size and design so that the attire is unique. You can also get it readymade from any one of the many online stores on the internet.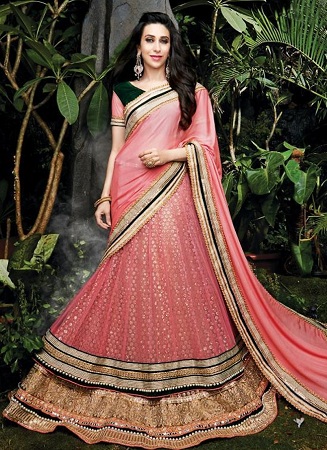 Half Sari
This is one of the latest styles of designer saris that are extremely popular with high profile and fashion conscious women. The attire is also very popular amongst many Bollywood actresses that love to wear a sari for their formal parties and functions.
The designer sari gives you the look of a modern fashionable woman that is aware of the latest trends in the fashion industry and is connected to her roots. The sari is the perfect attire for Diwali celebration as it is light in weight and therefore, extremely comfortable. While there are few embellishments on the sari, its style and designing give it the traditional touch.
The sari is usually made from light weight fabrics like georgette, sheer, net etc. and comes in a multitude of vibrant and pastel colors. The attire gives you the option to choose two types of fabrics for the sari as well as the colors that you wish to wear.
The sari has become a rage in recent times as it suits women of all ages and body structure and it can be worn for formal as well as semi formal outings.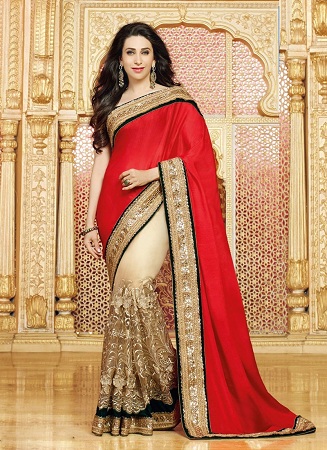 Net Sari
This is very popular attire amongst the upper class and high profile women. A net sari is perfect for a Diwali celebration party as it is very light weight. It allows you the freedom to move around without much discomfort while at the same time it gives you a sensuous look that is bound to turn many heads in the party.
Net saris come in a variety of styles and fabrics. You can choose the fabric of the net according to your budget and the size of the net. The attire also comes in a number of colors and in white. The white net can be dyed to get a color of your choice.
A great feature of a net sari is that is gives a sensuous yet classy look to your personality, something that you require for your Diwali celebrations.
Anarkali Dress
Anarkali dress is an evergreen Indian traditional dress that has been a favorite of celebrities and high profile women for ages. The attire is a frock style Kurta that can be made from various fabrics with the most popular being net and cotton. The fabric is a matter of personal choice but the dress is usually heavy with embellishments or embroidery.
Most women prefer to have the dress fully embellished back and front and the length of the dress is usually some inches above the ankle. A fitting churidar pyjama is worn as the lower garment of the dress along with an embroidered or embellished dupatta which again can be custom designed according to your need.
An Anarkali dress looks gorgeous for festivals like Diwali because they are created for formal parties like Diwali where you should look formally dressed while you are comfortable enough to run errands to make Diwali preparations and at the same time enjoy the festivities.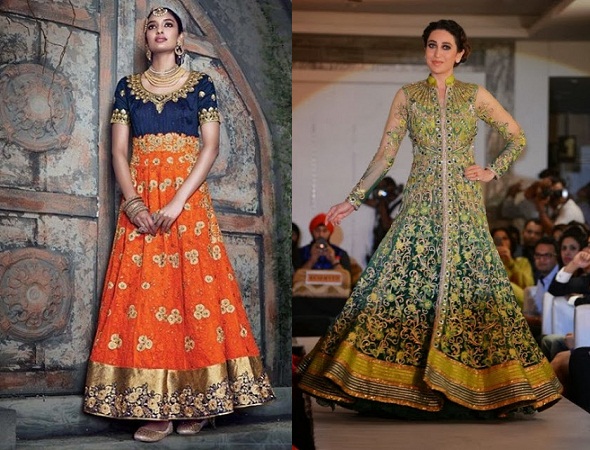 Designer Suits
Some of you may not be keen on wearing saris or heavy Anarkali suits yet want to look formally and aptly dressed for Diwali parties. For women like you there are designer suits like the ones from designers like Manish Malhotra that are designed in such a way that you stand apart from the crowd due to their cut and dress design.
These suits are very popular amongst the younger women as they want to stay comfortable to do the household chores while making merry with friends and family at the same time. These suits come in a wide range of colors and fabrics to suit the pocket of every individual. Therefore you can easily choose a designer suit from an online store from a wide variety that is shown on their website and it can be delivered at your doorstep.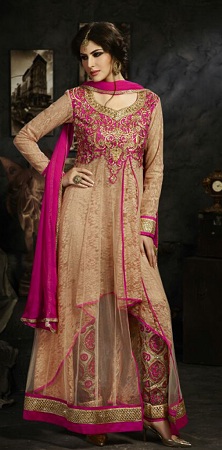 With these traditionally Indian dresses, you can get ready for Diwali, the big Indian festival.