India is a country where you can find diversified people of varying caste and culture living together exploring each other festivals. Here you can find different people wearing different clothing. Most of the women can be found in sarees draped, salwar kameez as well as half sarees. The sarees and half sarees are the traditional out fits most commonly used in India. The half sarees are particularly worn by girls who have crossed their puberty and are yet to get married. These are seen worn by women who are in southern part of india. The half sarees are known as langa voni in Telugu and langa davani in Kannada. Nowadays these half sarees are not just restricted to girls but even women of any age group ranging from 25-45 are also wearing the beautiful sets of half sarees.
The Indian Bollywood and other cine field women and celebrities are mostly going for these wonderful half sarees that would make them look much younger than their actual age. Now a days with the latest trends and changing cultures you can find several options when you are looking for the best attire which would be suitable for any kind of occasion. When you look at the half saree outfit it would actually come in three parts i.e. the lower skirt which is called as langa which can be tied to the waist with a string. A blouse and a dupatta which would be around 2.5 meters in length and which can be draped as saree is also known as voni. These langa voni or the half sarees are mostly worn on any kind of special occasions whether it is a marriage or any festival or a traditional day. You can check out the huge list of half sarees which you can find in the market and buy accordingly.
The origin of half saree
The outfit actually originated for those girls who have achieved puberty and are yet to get married. These girls will not be able to manage sarees at a stretch and hence to make them used to the way to carrying the half sarees have been originated. The children are usually habituated to wear the less complicated skirts and top and hence to make them adjusted and feel comfortable the half sarees have originated. You can even say that these have been used for age ceremony as well. During such occasions the girl is gifted with a half saree by her maternal grandparents. This outfit or the half saree will be worn by the girl for the first half of the ceremony and then she will be gifted with a proper saree by her paternal grandparents which she needs to wear it for the second half of the ceremony.
So the half saree is actually considered to be worn by those girls who are about to reach their adulthood. Most of them even gift the half saree during the naming ceremony as well. Whatever might be the reason the half sarees are most commonly used in India irrespective of the cultural variation among the people living here. When you are planning to buy the half sarees you can find a wide range of collection of half sarees of varying color combinations and fabric as well. Based on your interest and requirement you can choose the best one that you like the most. You can even go through the various clothing stores which you can find in the market so that it would be easy for you to buy the best suitable half saree that would come within your budget.
How the half sarees are made
Usually the half sarees are also designed and manufactured the same way as that of the sarees which you can find in the market. earlier half sarees were bound just to the pattu and silk fabric but now with the latest changes in clothing trend and fashion, you can find different unique and variety of half sarees which can be worn for any kind of occasion. You can find the combination of different fabrics and colors together, can find embroidery works over the half sarees which is done using the hands and few are made using machines as well. The outcome of the half sarees would always depend on the time period which you have, resources as well as the price. Depending on your requirement you can either go for the heavy worked half sarees which can be worn for sangeet function during marriage which is one of the ceremonies, reception which will be after marriage, can be worn for an engagement ceremony and much more.
With the increase in number of stores that can provide you huge collection of half sarees, which is not restricted to a particular design. This is the only traditional pattern in which you can find excellent patterns and designs which would range according to your affordability. You can either find the cotton half saree, silk, satin cloth, chiffon, georgette, netted and much more. Nowadays most commonly used fabric is the netted one which comes with other combination of fabrics such as brocades or any other think material under the net for the purpose of skirt. With the increase in number of stores where you can find customized half sarees it would be possible for you to buy the one which would come within your budget and would best suite your requirement.
Various styles of half sarees
As you can find number of designer stores in the market as well as online, it would be very easy for you to choose a good and best suitable half saree. With the increase in demand for the half sarees you can find wide variety and patterns of half sarees so as to meet the varying needs of customers. Earlier the half sarees were being worn just by those families who were very traditional. But now you can find most of the latest and modern half sarees which would give you the most stylish and elegant look as well. There are different styles and designs of half sarees that would be priced according to the heavy work which it contains. The half saree comes with a three piece set and from blouse to the skirt everything will vary from one half saree to another.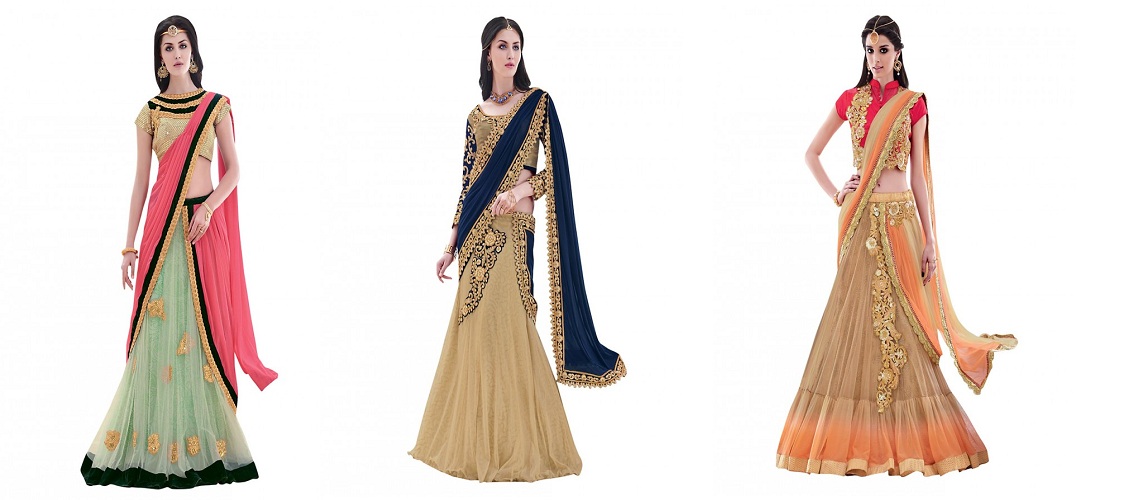 With the western ideas being implemented in designing the blouse as well as the skirt many of them are opting for these modern half sarees that are less traditional and more stylish. The skirts can be found in different patterns that might include the mermaid cut, A- line, umbrella cut, straight cut, peacock cut, and much more. You can even go for different neck designs for your blouse such as u shaped, v shaped, square shaped and much more. Collar necks have also become very famous popular for the half sarees which come with huge neck work which would add more elegance to you. Before you buy one go through the various half sarees that are available and choose accordingly that would be affordable and suitable for the occasion which you need to attend.
Conclusion
With the increase in number of designers in the market you can now find huge list of half sarees from which you can buy best and most suitable for your occasion. You can even find several online sites where you can find exclusive collection of half sarees of varying color combinations and designs. If you want to buy a good quality half saree that would look best and would last for a longer period of time then it is very much essential for you to choose a reliable and genuine online source. This is possible only when you are able to do some market research to find a good online source to shop the most amazing collection of half sarees. The half sarees would add more beauty and classy look to the wearer. You can find different sized half sarees which can be suitable for girls of any age groups.
Whether you would like to buy a half sarees for your teenage girl or a very cute little princess, everything can be found online. Just go through the huge collection of online half sarees which have been designed by experienced and professional designers and buy accordingly. You can buy a simple and elegant half saree or can even go for heavily designed bridal half saree. Based on the heaviness of the half saree the price might vary. You can even find that several heroines in various movies also wear the half saree as their costume. With the recent changes in trend the half sarees have come back in to the fashion trends for the womens wear. Based on your interest you can even go for the any fabric of your choice along with the color combination for your half saree. You can either go for two color combination or three colors of varying fabrics. Visit the best online source for right choice of half saree.