Diwali is round the corner and each one has already started planning for the grand Diwali celebrations, the events to organize, the merriment that they are about to make and delicious foods and drinks that are going to be served.
However, the most important part of all the celebrations that you are looking forward to have not begun as yet because the weather conditions have become so unpredictable that it is getting harder with each passing year to decide the attire we all are going to wear for Diwali.
Diwali the Festival
Diwali is not a single day affair but an almost month long affair that starts from Dussehra and goes on for 3 days after Diwali. This month long affair has all the ingredients of a grand holiday where you enjoy every single moment of the day and do not want to sleep. It starts from morning where you plan for the night sojourn at some friend's place, the dinner menu, the drinks menu and all the fun that is in store for the day. Then you work the entire day and wait anxiously for the evening to meet your friends and start off to another late night affair.
The best part of each day is that each and every person that attends the party comes decked up in his or her best dress. While some people keep their best dresses safe for the Diwali celebrations and do not wear them often, many people get so crazy that they even go out shopping for special dress for Diwali parties.
In the yesteryears men were not considered avid shoppers that would go out shopping new dresses for Diwali celebrations, but not today. The perception of festival and celebration has changed for men as well and they want to look their best at all parties and want to try new style of dressing and even try to change their looks.
Women are always looking to buy new dresses and clothes for an occasion. Men have limited styles and limited choices and therefore little problem in deciding their style and choice of dress. However women have a wide variety of styles and dresses to choose from and therefore a big problem of choosing the right style for the day and occasion.
It is understandable that you may be in dilemma over the style to adopt and the dress to wear for the parties. Here is the ultimate outfit guide for this Diwali so that you can look your ravishing best and collect many compliments from all your friends and family in the celebrations.
Traditional Saris
Saris have been the formal outfit for Indian women for ages. You would have seen your grandmother, mother and every woman that you know wearing saris for their formal functions and festivals. Today Indian women have the option of wearing many other outfits. However they still look most beautiful when they wear traditional Indian saris.
You can choose from a variety of traditional and designer saris to wear for Diwali celebrations. If you love to wear the traditional sari, there are many types of silks from which to choose. However if you like to stay light to run about and enjoy the festivities together with traditional look, you can choose from a variety of modern designer saris that are available both on the offline as well as online stores.
The best part about purchasing a sari from online store is that while you can choose from a wide variety of collection available, these stores also deliver the sari at your doorstep without much extra cost and even have a return policy with no questions asked.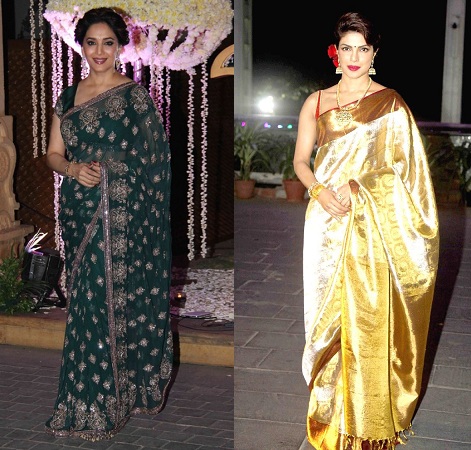 Salwar Suits
Salwar suits are the modern and comfortable Indian outfit that most women prefer to wear for casual as well as formal functions. Although salwar suits are more popular in North India, now they have taken the fancy of the entire country as they are comfortable and look classy on women of all age groups.
You can choose from a variety of designs, colors and materials to suit your style and taste. The good thing about a salwar suit is the fact that you can get it tailored as per your style and design. Having a salwar suit custom-fitted will surely be more comfortable while giving you a unique look.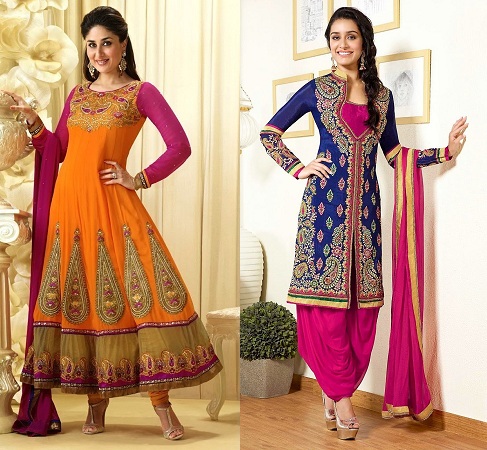 Anarkali Suits
Anarkali suits never cease to be out of fashion. They have been in vogue for many years yet they always attract the attention of young and smart women that vie for attention. These are also suits but have more volume and they are floor length as against knee length or ankle length for salwar suits.
Anarkali suits are more of a formal wear as they usually have heavy embroidery or embellishments on the full suit. These are most suited for women that are looking to wear a sari but want to stay comfortable like a wearing a salwar suit.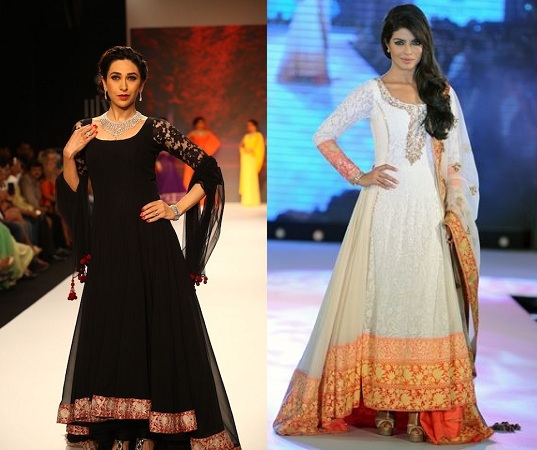 Half Saris
Half saris are a very beautiful innovation from sari designers. These saris come in a variety of styles, colors and fabrics. You can choose colors and fabrics of your choice and get it made from your personal designer. These saris can really turn heads and allow you to make a strong statement amongst all present in the celebration if you can carry it well.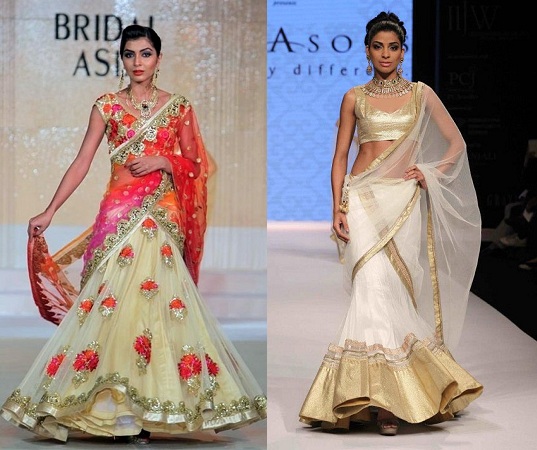 Kurta with Palazzos
This is an indo western dress that has a Kurta like a salwar kameez and the lower like a western pant. Kurta with Palazzo has become a big hit amongst women because it allows the fitting of a pant with the comfort of a Salwar on one hand and the magic of Indian Kurta on the other hand.
This is a very versatile outfit that you can wear on many formal and informal occasions with a different look. For a formal function you can choose a heavy Kurta that is embroidered or embellished while for an informal get together you can combine it with a plain, printed or light embellishment.
These are some of the outfits that you can try out this Diwali.