Lehenga is an Indian traditional dress which is worn not only by the Indian women but is quite popular in other countries as well. The way this dress has come forward is noteworthy. Worn with designer blouses or cholis, lehenga is a royal bridal dress. Gone are the days when this traditional dress was worn with body covered blouses. Nowadays there are a variety of options to choose your blouse designs. From neckline and sleeves to creative back designs, blouses can be modified in many ways. Renew your wardrobe with the best styled and trendy blouses designed by the top designers from across the world. By wearing designer lehenga blouses, you can take fashion to a whole new level.
The lehenga blouse is no longer just an accessory. In fact, its contemporary version has brought about a twist to boring blouse designs. Recently fusion fashion is in high demand. A simple lehenga with less detailing can be paired with fancy blouses like popular backless blouses, halter necks or fashionable sleeves, designer neckline, one shoulder strap blouse and many more.
Here are some selected stylish blouse designs that can be worn with your favourite lehenga to look glamorous and ultra-modern in desi outfit:
Backless blouse: For those who wish to have safe necklines, backless blouse designs are in great vogue. For all those bold ladies out there, try tacky and sensuous cuts to flaunt your flawless back. Drape a saree or lehenga which is not rigid in fabric and you are ready to rock the ramp with your perfect hourglass figure.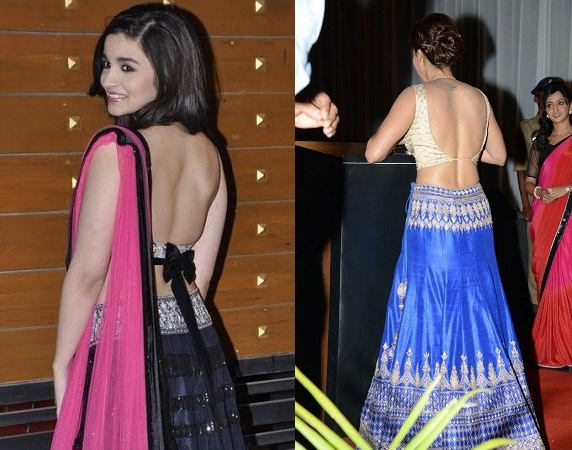 Halter neck blouse: Halter necks look classy and elegant. Modern women try these types of neck designs with net or designer fabric to show off those toned shoulders. Slender women, in order to have that girly and trendy look, adore such blouses. Pair them with lehenga or saree and stun the evening with your mesmerizing gaze.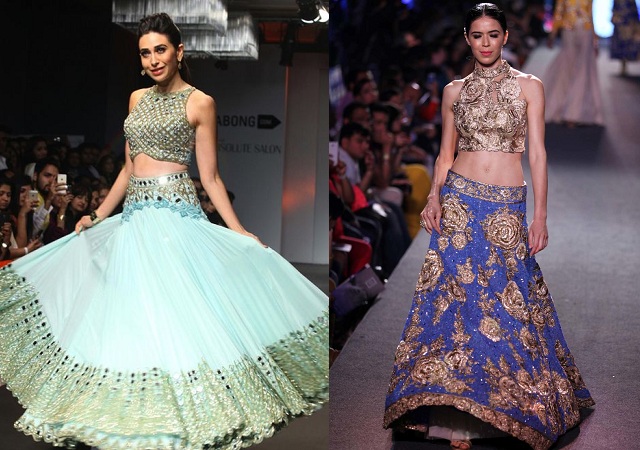 Asymmetric blouse: You can opt for any type of neckline with various cuts and ends to give that ravishing and funky look at the same time. Pair it with designer embellished lehenga of bright colour to steal the show.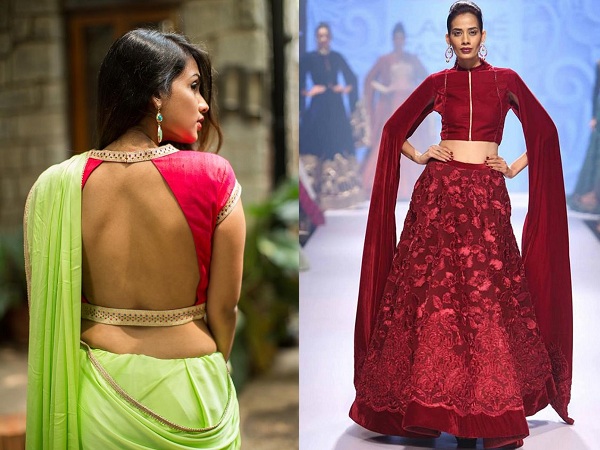 Knotted blouse lehenga: Knots in your attire make you look all the more chic and sexy. Knotted blouse have a knot at the back. This knot can be at your back neckline or if you wish to try a bolder look, go for a strapless blouse with just a knot at the back. This is sure to blow up the mind of the onlookers.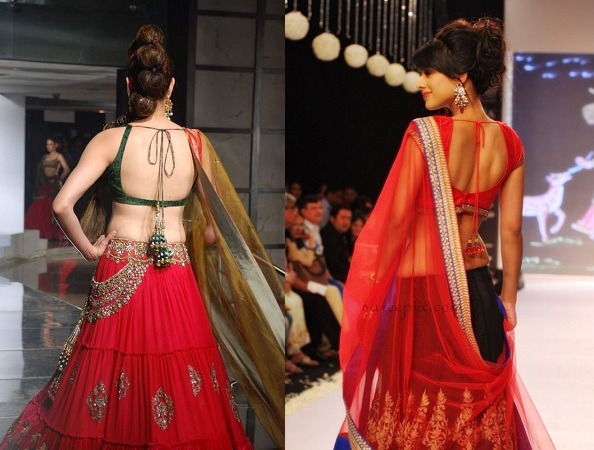 Simple U-shaped neck blouse: If your lehenga or any other drape is over embellished or fully embroidered, it is advisable to opt for simple U-shaped neckline. You can experiment with the length of the sleeves of your blouse but playing on the necklines will divert all the attention from your graceful lehenga.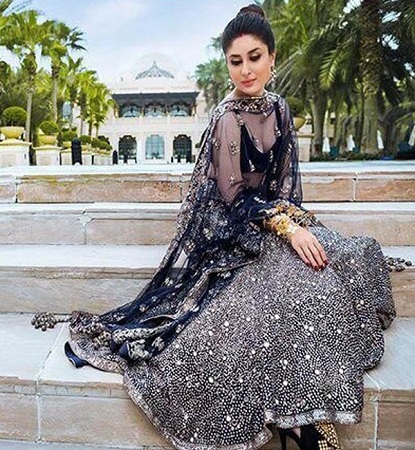 Full sequined blouse: In order to add to the glam of your lehenga or saree, a fully sequined golden, silver or black blouse contrasting with your drape works wonders. A simple plain pastel coloured or bright coloured lehenga is sparkled up with the shimmery elegance of sequin work.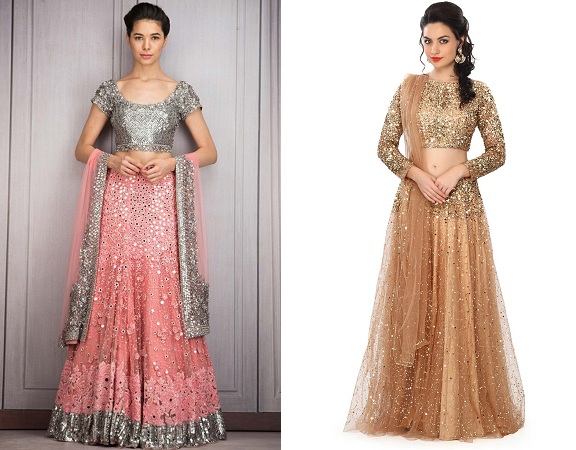 These simple yet amazing lehenga blouse designs are sure to take the breath away of the onlookers and you are ready to turn the heads of the masses and leave everyone awestruck at your stupendous gaze. Even a traditional wear can acquire much attention without being trashy and appearing utmost elegant and classy. Blouses add to the glam and charm of the lehenga or saree and should be paid equal attention. Try experimenting and playing with varied borders, cuts, necklines to have your own customised piece.