India is a country having a long-lived clothing design practice, yet an emerging fashion industry. Bollywood has always been the biggest fashion trendsetter in the country, there is no Bollywood without their fashion and there is not fashion without Bollywood. A different trend has been set in every era. Initially, more simple clothes like plain sarees were preferred. Further, western dresses came into the picture and Indian traditional outfits were unattractive and not much famous. But Now Indian attires are gathering more attention and lehenga is one of the most talked about designer clothes in trend this season.
History of Lehengas:
The origin of lehengas is as interesting as the outfit. Lehengas is the traditional clothing of women from the Indian subcontinent which is also known as chaniya choli and lehenga choli. Indian lehenga choli is the key and vital Indian attire. This outfit was worn by every woman during Mughal era but today it is worn in function, parties, and weddings mostly and is designed in a variety of styles.
Best Lehengas Designs to Flare Your Look:
Redefining elegance and style, the lehenga is famous for making girls and women look pretty. Made of elegant fabrics, ornamentation, colours, styles and designs, this sophisticated ethnic wear can make any woman centre of attraction. Nowadays, Lehengas are available in various styles and silhouettes. Designers are twisting the concept to give the traditional outfit a new age touch. You can now wear a tube top with a lehenga, lehenga skirt with shirts, Lehengas with a jacket instead of choli and keep yourself modern with a hint of ethnicity. Lehengas are also designed in a new form, with an attached can-can skirt to give a ballroom kind of feel, making the look more royal and grand for the occasion.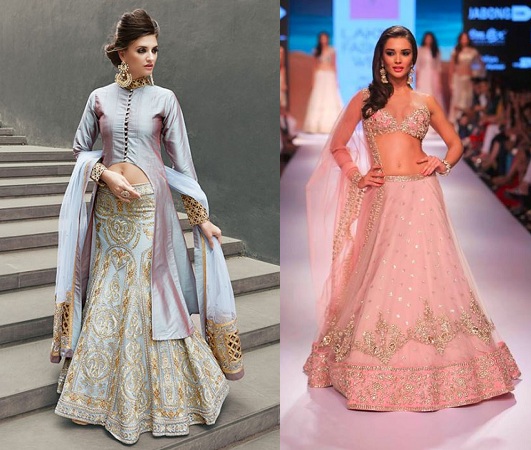 For a bride, the craze for lehenga is a whole other level altogether. Bridal wear isn't just about reds and whites anymore; colour is playing a major role in bringing out a modern bride's Blush. The season's lehengas for bride look are eye-catching in the stunning colours. Wear matching accessories and stunning heels with your lehenga to complete your outfit.
Type of Lehengas For Your Body Type:
Occasions and festivals to dress colourful tradition attire are always around in our country. Whether it is a wedding, Karva Chauth, Dussera, Diwali or Eid, lehengas is a preferable option for most of the women and lavish ensemble amongst all traditional wear. Listed are the types of lehengas you can select according to your body type.
Mermaid or Fish Tail lehenga are fitted from waist till knee and flares out at the bottom giving fishtail shaped that is suitable for pear shaped and hourglass body types.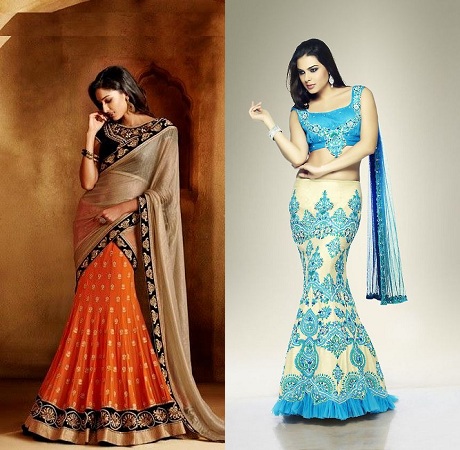 Circular/ Flared lehenga forms a complete circle and has a broad flare which suits well for straight and hourglass body.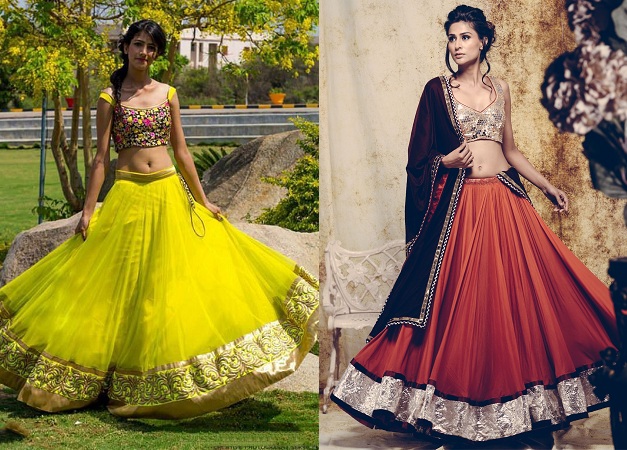 Panelled lehengas that consist of panels attached together along the flare of the lehenga. This is the best choice for rectangular body shape and can be opted for parties.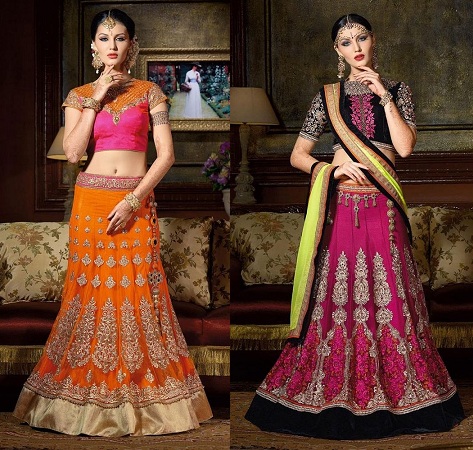 A-Line lehengas form perfectly 'A' shape as it flares from hip to hem with minimum flares. It is suitable for both party and casual wear and suits for pear-shaped body types.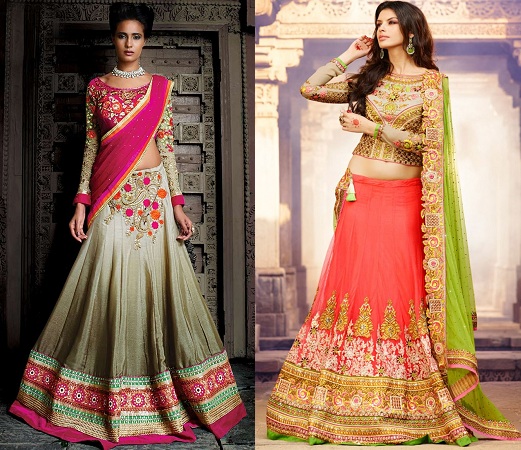 Straight cut Lehengas has a straight skirt that flows along the body curves and doesn't flare out like the usual lehengas. It goes well for all the body types.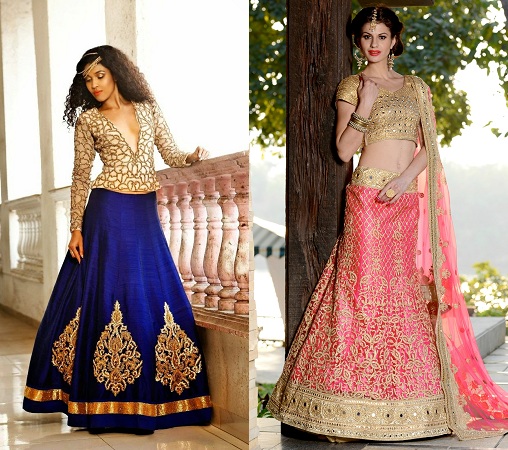 Lehengas in Bollywood:
Bollywood celebs always give major fashion goals to every girl. Now a day's Bollywood actress are mostly spotted in different styles of lehengas to look traditional. And lehengas, the must-have outfit in your wardrobe are the trendiest things happening in Bollywood.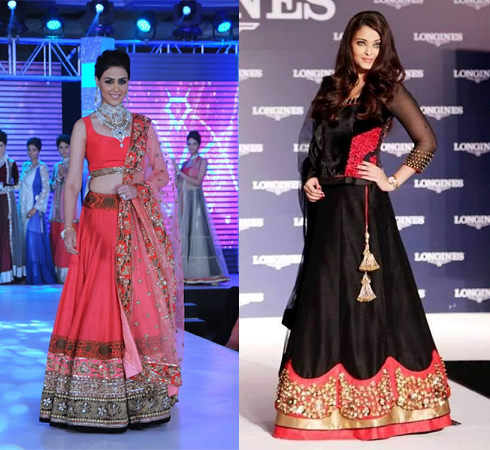 Buy Lehenga Online:
All styles of lehengas including wedding lehengas for the bride, party wear lehengas to Lehenga style sarees are available online with wide range of designs and at most affordable price. Lehenga choli online shopping has become easier than ever! You will find the most exquisite and a variety of designs to choose from.