Dressing up is an integral part of any event. If you are going to an event where you have to meet new people, you can draw your first impression upon them by your dressing sense. Obviously, you would want to look your best and capture the gaze of the masses. Picking up an ideal dress adds to your beauty and points towards your tastes and preferences. A well dressed person is believed to be well mannered and organized person. Choosing your outfit is taken to be one of the most difficult tasks when it comes to going for an event. The most important decision while selecting the outfit for a special event is deciding the color of your dress. The choice of the color of your dress should complement the color of your skin.
Many people are fond of varied colors and neon colors have also made their way into the hearts of many people. But black has been all time favorite for most of the people. The elegance, gaze, royalty and formal look all comes as a package if you are fond of adorning black outfits and dresses. Black has always been in vogue not only among women but men too have been preferring black in their outfits. Be it a business get-together, ball party, formal social gathering, cocktail party, wedding or any other occasion, black colored dresses can be seen worn by many.
You can wear black in any kind of attire, be it suit, saree, gown, mini dress, maxi dress or tuxedo; any kind of material- lace, georgette, chiffon, satin, cotton, etc.; the color is enough to draw all the eyes towards you and other things become secondary. Black gives you a bold look and makes you look perfect diva. Among men too, there may be varied options that are being adorned these days, but your personality outshines when you wear black suit for any occasion.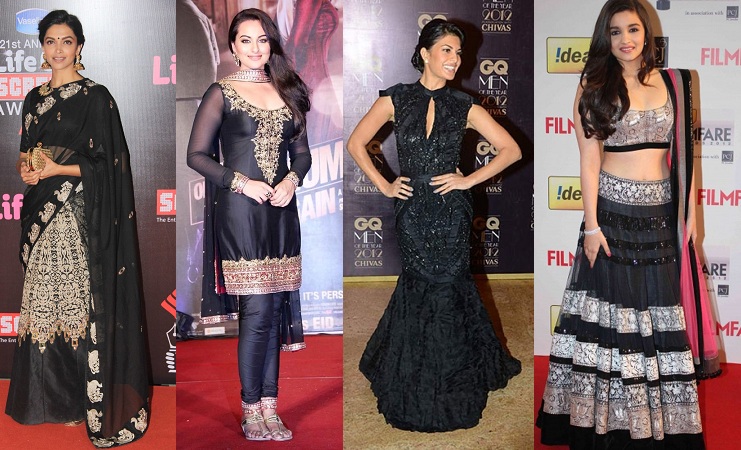 Craze for black outfits among actors and actresses
Black color has been the favorite not only of the general public. Even the Bollywood and Hollywood actors and actresses have been spotted wearing black at many social gatherings and events such as award functions, live shows, daily soaps, etc. Since these actors and actresses are the trend setters for many people, the demand and craze for wearing black has been hyped.
Emma Watson, Hollywood actress has been recently spotted in a cut-out black maxi dress. Priyanka Chopra was also seen wearing sexy black dress at one of the live shows. Among male actors, Hritik Roshan and Bret Lee (Australian cricketer) were sighted in black suits and tuxedos.
Types and styles for women preferring black
It is your choice regarding the kind of outfit that you wish to wear and what suits your body shape and size. But here are some of the styles that can help you design a perfect black dress for yourself for a special event:
If you are blessed with perfect lower body with curves at right places, you can go for black pencil dress with deep V-neck. Adorn it with beautiful and elegant choker and pumps.
You can try wearing beautiful black maxi gown in chiffon equipped with sheer overlay and neckline for evening ball or cocktail party. Pair it with a perfect and attractive belt to give proper shape and flare to your gown.
Chic tight black shimmery mini dress is ideal for your disco parties and cocktail dinners. You can opt for halter neck or tube dress and pair it with strappy heels.
Floor length black suits perfect intricate golden embroidery and detailing at right places is ideal for family occasions and get-togethers. Add matching jewelry to complete your traditional look.
Black sarees with beautiful borders of stone work with heavily embellished blouse works best for a jaw dropping gaze. If you cannot carry a saree properly, opt for perfect drape dress to stun at any event.
A full sleeved black frock that ends slightly above your knees is sure to give you a super chic look for birthday parties, kitty parties, etc.
You can also choose to wear fish cut black lacy dress for an elegant yet stylish look. This appears ideal and perfect for family gatherings, wedding parties, cocktail parties, etc.

Events when you choose to pick black
There may be numerous events when you wish to turn to black clothes in your closet. Some of them may be listed as follows:
Cocktail attire or semi formal one: For men, it is advisable to stick to the black suit but you can play with colors in terms of bowtie or necktie.
Women, you can bang on the event with your short or long black dress in which you feel comfortable. Picking up the perfect pearl neckpiece and strappy heels will do wonders to your outfit.
For a business or professional party: For gentlemen, black is always a preferred choice with white shirts and of course a neck tie. Don't forget to pair your suit with correct pair of shoes. Black leathered shoes such as oxfords are the best and the most preferred ones.
For women, it is preferable to wear black or navy blue pant or pencil skirt that ends below your knees along with white or cream shirt neatly tucked in. Go for toe covered shoes or stilettos.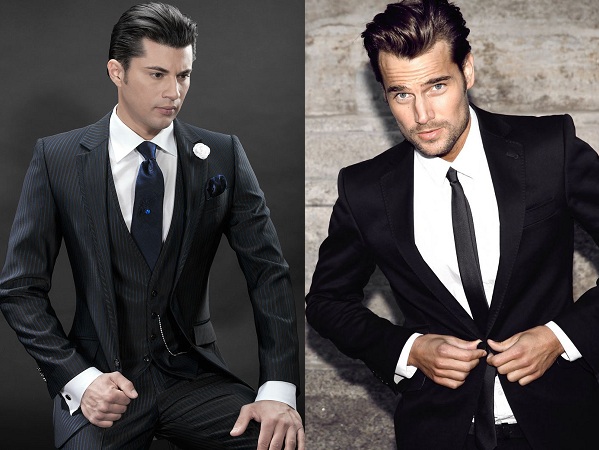 Fresher or farewell parties: Boys, you cannot afford to choose funky attire here as it calls for an official function. You can always choose your black suit or tuxedo and pair it with a light colored shirt. Complete your formal look with well polished shoes.
Girls, you can bling on in various colors but black is something that gives you a royal, elegant and chic look. Plain black saree or gown can work wonders to grab the attention and steal the show.
So, you all will agree that black is the most preferred and perfect choice for most events. It suits every skin color and gives illusion of thin and lean figure of a person. May be for this reason, many people have an eye for black while purchasing their special outfits.