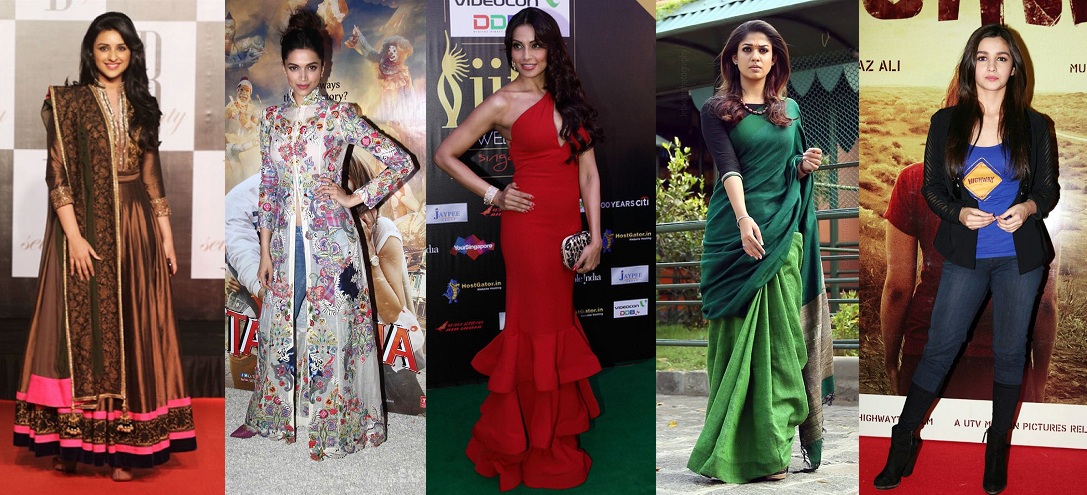 Fashion is all about noticing a new pattern or fabric that had never captured your attention earlier. It's about rediscovering an old design or colour you loved earlier and had now forgotten about. It's about trying an extraordinary accessory like jewellery or bag, which you never suited your personality, with an outfit that redefines your look. A new year brings in a hoard of new fashion styles, thereby giving you an opportunity to become a new you!
Bollywood's fashion trend for the year 2016-2017 is about bringing in fresher perspectives while also respecting and celebrating the existing ones. For example, frock-styled dresses have been reintroduced in the market with a modern and classy touch to them. Famous Bollywood icons including Deepika Padukone, Juhi Chawla, Aishwarya Rai, Sonali Bendre, Sonam Kapoor, Parineeti Chopra, Karishma Kapoor, Shilpa Shetty, Preity Zinta, Katrina Kaif, Sushmita Sen, Shraddha Kapoor, Manisha Koirala, Malaika Arora Khan, Madhuri Dixit and Jacquline Fernendaz have all been spotted wearing sophisticated frock-shaped traditional and indo-western dresses.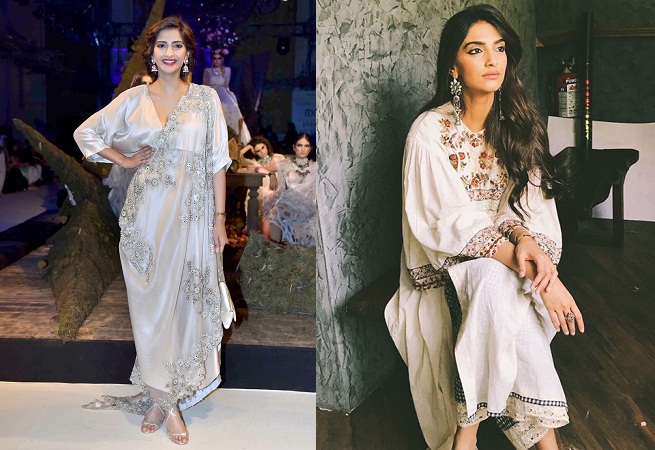 The passionate fashion blogs, influential editorials, ever-evolving retail industry and powerful catwalks this year all focused on new fabrics, colours and shapes. The sense of fashion is more global than ever before and transformed the existing perceptions and attitudes of fashion lovers. Both fashion designers as well as fashion lovers have focused all their energy and attention on adding a new psychological dimension to the current understanding of fashion. This year is about combining the global with the local, embracing and expressing your thoughts and emotions, accepting your body shape, and going eccentric.
Choices need to be carefree and reflect your fashion sentiment. Fashion designers and shoppers are ready to accept the minimum and the maximum. Simplicity is as much in vogue as is the embellished. There is space for those that love to conform to anything and everything right next to the space made for the rebellious and the unorthodox. There is mutual admiration among designers, sellers and buyers for going 'artsy' in a simple and effortless manner.
Top Ten Fashion Trends
Below given is a list of top ten fashion trends in the year 2016-2107 that will definitely leave a mark on you and everyone else in your presence:
Art marks this year's fashion trademark. From new shapes, washes and crafted textures to a variety of 3D prints, the new fashion statement is all about wearing art. Art-inspired jewellery and clothing have given rise to a timeless edition of the mix-and-match fashion trend.

Perfect sequins, romantic laces, and sheer dresses are now back with a bang in block patterns and solid colours. The lesser, the better it is – not just for casual dressers but for brides and Bollywood divas as well.

Many Bollywood personalities admired for their sense of fashion were seen making a unique style statement in dresses with a metallic tint. All it took was a silver lining in a leather jumpsuit, jacket, pants, or cuffs to do the magic. Being trendy this year is about adding a little bling of your own to your outfit in a way that will suit your personality.

Just when everyone believed that denim was an archaic piece of choice, the 2016 collection featured a range of denim apparel from denim shirts and dresses to denim skirts and bags. The runway was flooded with models flaunting an impressive collection of denim outfits with dense prints and embellishments on them. Time to throw all your denim assemblage back into your wardrobe!

Colours this time have been used in a more innovative style that goes beyond the established standards of colours used in terms of skin-tones, gender and clichéd palettes. 2016-2017 fashion movement for both men and women features a remarkable use of bright and vivid colours. Also in vogue are some fun tones that had never been given an opportunity to make their mark like snorkel blue, peach, red, coffee, rose, and green.

Robes no longer belong to the bedroom now. They are out in the open to create a perfect luxurious look. Fashion designers have started focussing on experimenting with different ways in which robes can be designed and worn to set a romantic tone to any place at any time.

Organic fashion was trying to make its way into fashion and has finally managed to do so. Designers have been spending a lot of time contemplating its production, existence and demand in the consumer market, and how it is slowly being equated with luxury. Tie die is undergoing a range of experimental strategies to be used for a more sophisticated and simpler look. Comfort is being prioritised over 'fitting in'. This year will see more of fine and coarse khadi to recreate the notion of simplicity and elegance.

Sportswear is the new cool, featured time and again on a range of popular Bollywood magazines. Bomber jackets, football sweatshirts and crop tops have found their way back into this year's fashion statement. The more comfortable, casual, and cooler your appearance, the more chic you are perceived to be. Youngsters particularly have taken a special liking to this inclination towards sports and casual wear.

Add-ons and accessories have obviously been reinvented and redesigned to go with this year's maximalist style of clothing. Sculpted chokers, chunky sandals, half-mood shaped earrings and bags, platform heels, headgears, laced-up flats, crystal-clear and oversized bags, clutches in distinctive sizes, shapes, and patterns have all taken the fashion world by storm.

2016-2017 marks the beginning of unisex fashion style. The boundary between fashion trends for the two genders had been getting fuzzier with every passing day and it seems to have disappeared this year. The idea of androgyny has redefined the way fashion is perceived by everyone and given it an extremely cool quotient. Following Bollywood, various designer stores, retail hubs, boutiques, and fashion weeks all over the world have fallen in love with this exquisite change.
Make free and confident choices and continue to discover more styles from the plethora of fashion trends introduced this year. 2016-2017 is offering a fun and rejuvenating experience to help you discover your unique fashion sense by experimenting and playing with these path-breathing fashion inventions.