Sarees are what every Indian woman is known for her traditional and Indian look. Leave alone bollywood celebrities, International stars are also seen draped in designer sarees at social gatherings. Since beginning, Bollywood actresses have been acclaimed for draping sarees for different occasions. A saree is the only attire that gives you a sensuous look when worn in chiffon fabric and in bold colors, or a very dignified image with a Banarasi silk saree. Sarees have always been seen as garments that promote fragility, femininity and sensuality. Sarees have always been flaunted, but now Bollywood actresses flaunt blouse designs more than the sarees.
What are Blouse designs?
Blouses were always worn as a supportive garment that was selected or chosen according to the color and material of the saree. Tailors got orders to stitch blouses according to the comfort of the women and not to design it, as it would mar the grace of the saree. However, over the years leading designers have given a different story to the monotonous blouses and have made them stand out. Now the trend has reversed. Women first shop for a blouse and then go for a suitable saree that would complement the blouse.
No matter how beautiful the saree is, its beauty is enhanced only when it is worn with an appropriate blouse and one that fits perfectly. The blouse materials range from chiffon to net and from crepe to cotton. There can also be lace blouses, embroidered blouses, net blouses, high neck blouses, chiffon blouses and so many others.
There are plenty of designs of blouses that you can choose to complement with your saree. However, you also have to pay attention to the accessories that you wear with the blouse to enhance its look, the hairstyle you sport to show off the design at the back and the embellishments that you choose for the blouse style.
Therefore, blouses being an imperative part of the ensemble have to be chosen carefully so that they add to the style and look. They not only complement your persona but also the occasion to which you are wearing it.

Bollywood and Blouses
'Choli' and 'daman' have been an eternal part of Bollywood. Yesteryear superstars were known for their hairstyles and sarees that they used to flaunt in the movies. Recall the hairstyle of Meena Kumari or the bun of Hema Malini. The celebrities used to simply flaunt the sarees experimented in different shades and prints. But the look that made them different was the style and the design of the blouse. Either it was sleeve cut where the Bollywood actress would reveal her thin arms or the full wrist blouses that made them elegant and classy. Bollywood has always experimented with the designs of the blouses and it is with this experimentation only that the tailors used to get huge orders according to the trend set by the celebrities.
Why do Bollywood actresses flaunt blouse design than sarees?
Bollywood actresses have always been open about their animosity owing to the popular styles that used to get labeled with a particular star. The Blue kundan worked blouse worn by Madhuri Dixit in Hum Apke hein Kaun, got so popular that every Indian women wanted to have one blouse worked and stitched in the same fashion.  It was the very reason that the song was picturized with Madhuri's back so that the audience can notice the intricate work of her blouse. Another example would be the movie Devdas where both Aishwarya Rai and Madhuri Dixit wore different collection of blouses and flaunted them more than their sarees.
Flaunting Blouses More than Sarees gives a sensuous Image.
One other reason for the bollywood actress to flaunt their blouse more than the sarees is because of the reason that they want to look more sensuous and suave when compared with their counterparts or leading actress of their time. Actually saree prints, designs, colors work will always enhance your image in terms of the occasion and your choice. But the design of the blouse can make you look really hot and saucy. This is the very reason that today lots of stars tell the costume designers to design special blouses for them, which cannot be easily replicated or duplicated. The correct design of the blouse will give perfect shape to your cleavage that will further enhance your personality and appeal.
Bollywood actresses never like to wear plain blouses.
It has been noted well with all the designers that Bollywood heroines never wanted to wear simple and plain blouses. They have always emphasized to try out something different and therefore have proved to be successful trendsetters for a number of their fans. Since people associate their celebrity name to a particular design, cut, print or blouse type, it has been a craze amongst the bollywood heroines to wear something new and different. This comes only with experimenting in blouse designs.
Choosing Blouses Like the Bollywood Actresses
The silver screen has always mesmerized. No matter what era you pick, you are sure to find trend setters in each one of them. In the present times, there are not one but many actresses that are seen wearing sarees with rather heavy blouses. However, women are crazy for such designs and want to wear exactly the same type of sarees and blouses that the actresses wear on screen or for parties.
With the presence of several online stores that offer designer blouses for sale, you can easily find one of your choice and matching with that of your favorite celebrity. You can try out different designs, neck patterns, sleeve patterns and other designs to add elegance to the saree.
While there are different blouse designs that are flaunted by the Bollywood actresses, the back design of the blouse is what gives you a stylish and sophisticated look. The back designed blouses come in different cuts and designs to give you a classy look. Square neck, V-neck and round neck are the basic neck patterns. However, you can get embroidery done on them to make the blouse look heavy. Getting them embellished is also an option.
Bollywood Designers with their Collection
Designers like Manish Malhotra and Vikram Phadnis have revived the contemporary designs. They have contributed highly to taking the embroidered blouse design concept to a different level. That is the reason why Bollywood actresses love to flaunt blouse designs than sarees.
Lehenga Style Saree Blouse
One of the designer blouses that has been very popular and is the newest design is the lehenga style saree blouse. This style not only exudes charisma of a lehenga but it also gives the elegance of a saree blouse. And that is the reason that it is perfect for grand festivals or weddings. The lehenga saree blouse is not only easy and comfortable to wear but is also very much in trend.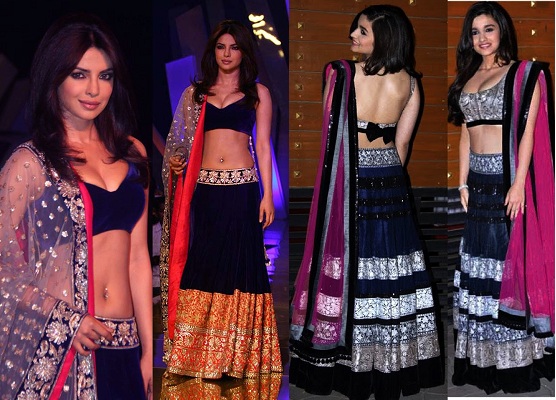 Embellished Blouses
Heavily embellished designer blouses paired with a heavy wedding saree looks gorgeous. The style of blouse has been flaunted by Bollywood actresses that include Priyanka Chopra, Sridevi, Kareena Kapoor Khan, Malaika Arora Khan, Anushka Sharma, Deepika Padukone and Sonakshi Sinha.
Sleeve, Back and Neck Customization
Bollywood actresses have also flaunted blouses that have the sleeves, neckline and back design customized. These areas have been customized with beaded straps with kundan work, shimmering stones, layered crystal embellished straps, plunging necklines, colorful sequin work, and use of fabrics like georgette, chiffon, brocade and net have been introduced.
Now that you know how Bollywood actresses have flaunted blouse designs rather than sarees, you might want to wear a similar kind of a blouse. You can easily get one of these blouses through many of the online retail stores that ape the designs worn by the celebrities. However, there are a few things that you must remember before wearing designer blouses.
Tips to Keep in Mind when wearing a Deep Back Blouse
Ensure that your back is clean and waxed and can be flaunted
Ensure that the hooks or strings of the blouse are fastened tightly
You must choose the right kind of bra for the deep back blouse as it should not show up and mess the look
Sport a hair style or hairdo that complements your look and give a good view of the back design of your blouse.
The Latest Bollywood Blouse Designs
The latest trends in Bollywood blouse designs are as follows:
Princess Cut Blouse Design: Sported graciously by actresses like Genelia D'Souza, Vidya Balan and Sonakshi Sinha, this is the most popular of the contemporary designs that has been doing the rounds of the fashion runways in the recent times.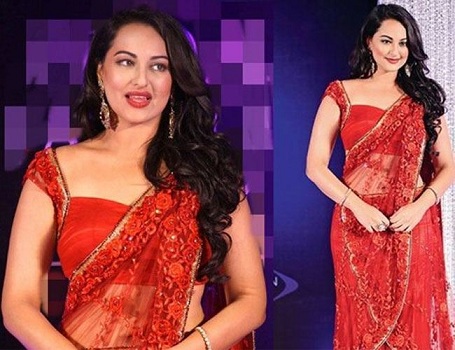 Noodle Strap Blouse: Mandira Bedi, with her well toned arms has adorned this style graciously. Here bold and sensuous look has been accentuated by the noodle strap or spaghetti strap blouse.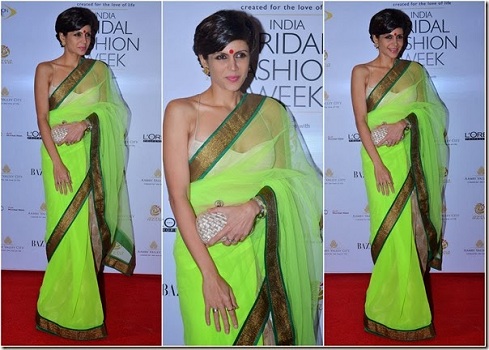 Blouse with Back Strings: Although the pattern was much popular during the 90s, it has made a comeback. The pattern has strings at the back that go criss-cross. Madhuri Dixit has successfully made this blouse style very popular.
Transparent Full Sleeve Blouse: Adorned by Kajol, this blouse style has made it to the list of fashionable blouse designs for its style and sophisticated look. The sheer fabric on the sleeves hides and reveals the skin. The full sleeves cover the fat while giving you a sensuous look.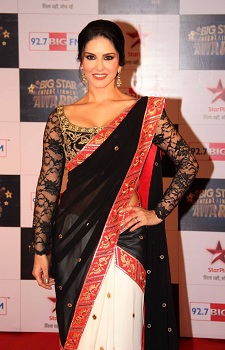 High Neck Design: Lastly the high neck design has been added to the list as there are several Bollywood actresses that have successfully sported this design. Sridevi, Dia Mirza, Deepika Padukone and Nargis Fakhri are some names that have worn and flaunted the high neck blouse design. The one thing that these actresses have in common is there long and thin neck on which this blouse pattern looks the best.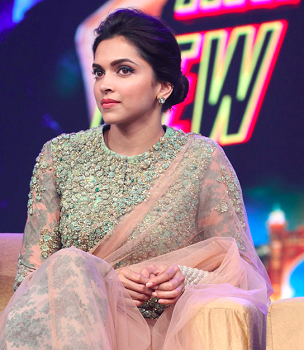 Flaunt the blouses just as your favorite Bollywood actresses do. Get yourself a designer blouse and show off your style.