The sari and blouse combination is considered as the traditional wear of Indian women for casual as well as formal requirements. It is being worn by Indian women for centuries and is considered as the most modest as well as the sexiest dress for women in the world.
It is the most dynamic dress in the world as it is the only dress that can transform a girl into a woman and transform the looks of a woman from very conservative to very sexy in a matter of minutes with slight change in the manner of dressing and styling. The dynamism of sari and blouse combination can be gauged from the fact that while wearing a saree, Sita is considered as a role model for household woman, wearing the same dress Menka the apsara could charm one of the most learned sages while in devotion of Lord Shiva.
The Changed Fashion
Naval is an important part of woman's body, the sight of it generates sex appeal in the mind of men and enhances the beauty of women to a great extent.  Women have become bold and have no hitch in showing off their skin. They in fact choose designs that show their skin instead of covering it. Low waist sarees and denims are a classical example of the same. The fashion has caught the fancy of one and all starting from top Bollywood celebrities and actresses, fashion designers, the elite fashion conscious women and the Page 3 socialites. All women are lining up with dress and saree designers to choose a low waist saree of their choice along with a sexy looking backless blouse to look the best and most sexy woman in the circuit.
Low Waist Saris and Backless Blouses
Low waist clothing has become a big rage today with men and women both looking to buy low waist lowers for themselves whether it is denims, pants, skirts or even sarees. There is a small difference between normal and low waist saree and that is of the width of the saree. The normal saree is wider than the low waist saree therefore all normal sarees cannot be worn as low waist sarees and you have to get new low waist saree if you are hooked to the fashion.
Blouse is central to the overall looks of a woman. It can do wonders to her beauty by transforming a normal looking woman into a hot, sexy and desirable person which is why all saree and dress designers concentrate more on blouse than the saree. The style of below naval saree is fascinating and demands an equally sexy and fascinating blouse to hold the fascination of people in a party.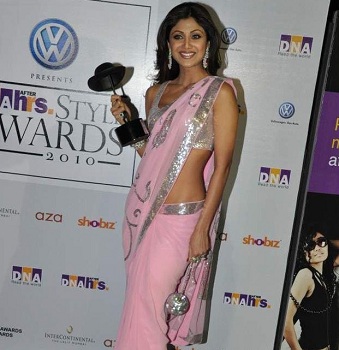 Backless blouses with low naval saree notches up the beauty and sex appeal of a woman by taking her way ahead of all other women present in the party. You easily become the center of attraction with all the eye balls following you where ever you go. Backless blouses are refreshment from the boring type of old model blouses that you see many women wearing in a party. They rejuvenate you, make you look way younger than your actual age and allow your skin to breathe as well.
Backless blouses are a deadly combination with low naval sarees because while the saree is worn at least two to three inches below the naval, backless blouses are short in length leaving a big room in the midriff region to show the skin. As the name suggests, some backless blouses are very bold and show lot of skin while there are some that only give a hint of the skin.
Hereunder are some of the backless blouses with low naval saree notches up the beauty and sex appeal:
V- Shaped Backless Blouse
This is a very sexy and bold backless blouse that is sure to create a furor in the entire party. It can be designed using any fabric that goes well with your sari. The blouse can be worn with or without a bra showing off the skin. The blouse is very short in length and the back can have different cuts for different designs to suit your style. You can get an oval shaped back or a deep cut U shaped back or a matching V at the back as well.
This type of backless blouse with low naval saree is very popular amongst models and Bollywood actresses and you may also have seen some of them wearing the design in films as well.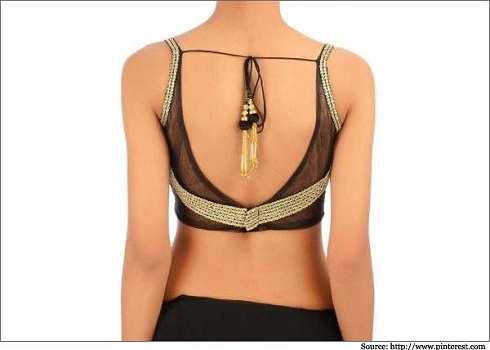 Halter neck Backless Blouse Design
Halter neck blouse design is a very popular design not only in India but worldwide. It is a very exotic, elegant and sexy design that is used to design dresses, t-shirts as well as blouses. Halter neck blouses are worn with many kinds of western dresses apart from being worn with a saree. A halter neck design blouse is a kind that gives elegance, trendy look and when worn with a low naval sari, a very sexy look to the woman.
Halter neck backless blouses are very popular amongst Bollywood as well as Hollywood actresses as their party wear. You can get a deep cut halter neck blouse made from a number of fabrics but the most preferred fabric for this style of blouse is the net or sheer fabric. Sheer or net fabric has the quality that it is almost transparent and allows you to show as much skin as you want while covering it at the same time. The fabric is very stretchable and very comfortable therefore making a backless blouse from this fabric gives you a high degree of comfort.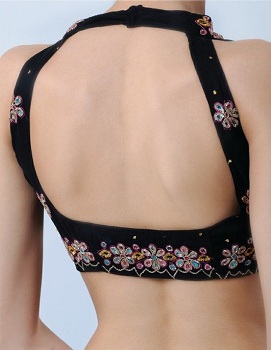 The best part of this design is that it allows you to move your hands without any restriction while keeping many parts bare. The blouse is supported by the neck and you have the option to show as much skin from the front as well as the back. Halter neck blouse comes in many variants and you can try all or any variant that suits your style.
Noodle Strap Backless Blouse Design
Noodles strap backless blouse design is also a very sexy blouse design that will make you a super hit model in the party. A noodle strap backless blouse is a very bold blouse design for many ladies because most ladies try to hold their saree with the strap of their blouse. As the name suggests, the strap of the blouse is as thin as a noodle making it virtually insignificant but it creates the sex appeal for the on lookers.
You have many choices to explore with this design. In some designs you cover only a small portion of the breasts while the rest of it is bare along with your bare back. If you are a little less bold, you can opt for a sheer on the top to feel secure while enjoying all the attention in the party. In another design the front can be made in any design while the back can be tied with criss-cross noodle straps.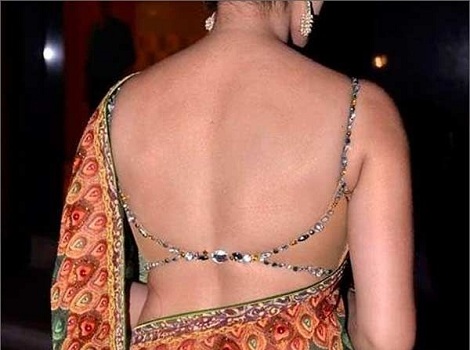 Boat Shape Backless Blouse Design
Boat shape backless blouse design is one of the most popular and sought after backless design in Bollywood fraternity as well as the elite fashion class and party going women. Indian women are bustier and many of the blouse designs are designed keeping in mind the perfect body of a woman.  The big plus of this design is that women that are little broader can also easily wear blouse of this design and flaunt her skin and assets unlike many other designs that look good only on women with lean frames.
Boat shape backless blouse allows you to try many types of backless designs like deep cut round backless, deep cut v- shaped backless, deep cut oval backless and many more. Sheer or net is the favorite fabric that is used with this design along from with the main fabric of your choice. You can use sheer on the sleeves or on top of the boat neck or on the back.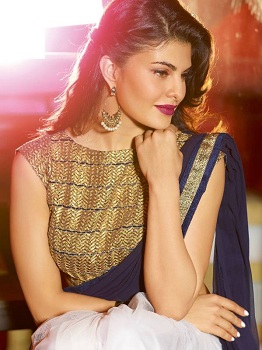 Boat neck blouses notches up your beauty and sex appeal when you shorten the length of the blouse. This way the blouse hangs on your breast and leaves a big portion in the mid-rib region uncovered. When you drape the low naval saree with a straight pallu that covers only a part of the middle region and leaves the other half uncovered, creates a lot of interest amongst the onlookers and turn you into a super star.
Apart from the backless blouse that your wear with your low naval saree, the style with which your drape your saree also raves up your beauty and sex appeal. Even a low naval saree draped in a conventional style with an uninteresting blouse can be boring, therefore the style of saree draping is very important.
In order to drape a low naval saree you need to choose a mainly plain saree or a designer saree that is plain, printed or scarcely embroidered. A designer saree is more apt for low naval drape as you can get a saree designed for the purpose and they know the kind of sarees that look sexy to drape low naval.
Then again you also need to understand your flaws and your assets. You need to cover your flaws like heavy bottom and expose your assets like heavy breasts and slim body. Pallu is also a major eye catcher and if you can place the pallu at the right position, you could become the center of attraction of the entire party with all the eye balls behind you.