Spinsters got together and discussed for the forthcoming engagement of one of their close friends. What a lucky lass. She was able to manage a magnanimous man with haughty looks and a charming attitude. It has to be an elite gathering. The soiree would encompass the who's who of the town and then came the obvious question. What are you wearing for the day? It kicked off the conversation. From Collar neck designs to cigarette pants, everything was discussed. Everyone discussed the popularity of collar neck designs that the celebrities were often seen posing their pictures for national tabloids. So let's finalize, our clan would go for Collar neck in the party.
What is Collar Neck Design?
Collar neck designs were earlier limited to men clothing. Usually we could trace collar neck with men kurta, Casual T-shirts or even shirts. Gradually the pattern was aped for women dresses which became a trend and got popular within few days. Collar neck design relates to a deep cut in the collar with embroidery or buttons stitched on both the sides to enhance the look and design of your clothing. The deep neck with embroidery or accessories on both the sides makes the modern age women be more comfortable and break the stigma of wearing boat necks, high necks, or oval cut dresses only.
What kinds of dresses are suitable for Collar Neck Design?
Formal, casual, office wear, party wear or even western modern day women can wear collar neck in any of these dresses. Top designers are experimenting collar neck in attire meant for different occasions. Smart kurtis with collar neck design have become the fashion at office and have even entered the boardroom meetings. Women donning a collar neck shirt with pleated skirts or straight trousers are being noticed for their keen sense ion fashion. Casual T- shirts and tops with a collar neck are also popular amongst modern age girls as they give them comfort and an opportunity to experiment with different accessories.
Accessories for Collar Neck Design
The best feature of a collar neck design is that lot of knick-knacks can be adorned with the ensemble. Be it metallic or oxidized jewelry, trendy earrings, chain buttons, ornamental or pearl neckpieces, everything goes chic with this design. Say for example if you are wearing a high neck, you cannot wear a long neckpiece, as it would look a bit overdone or gaudy with your dress. Moreover, a deep neck cut always make you wear something small that covers only your neck but not the dress. However, a collar neck cut gives you the liberty to experiment daily with what you want to mix and match.
Best Color for a Collar Neck design
White or pastel color would be recommended for all collar neck designs. It suits most of the dresses as collar necks are meant for experimentation and maximum attempts can be made with only neutral or pastel shirts. Florescent, neon or bright colors would rob the actual feel of the collar neck as they would dominate the entire couture. The main purpose of wearing a collar neck is to be able to try different styles and other shades that complement the entire dress. If you are planning to go for a wedding then a collar neck salwar kameez in pastel color would do extremely well with a bright shining laced dupatta and lot of jewelry would surely enhance your entire attire.
Ideal length of Collar Neck Design
The length of the collar neck is very important. If the collar is too short it would give a very clumsy look to the dress and if it gets too long it would look very awkward. So before you get your dress ordered you need to be very prompt and clear about the length of the collar neck. Usually the designers prefer to keep the length according to the height of the client. Customized length is always better than the standard one's. So it is advisable to get the correct length according to your figure and height.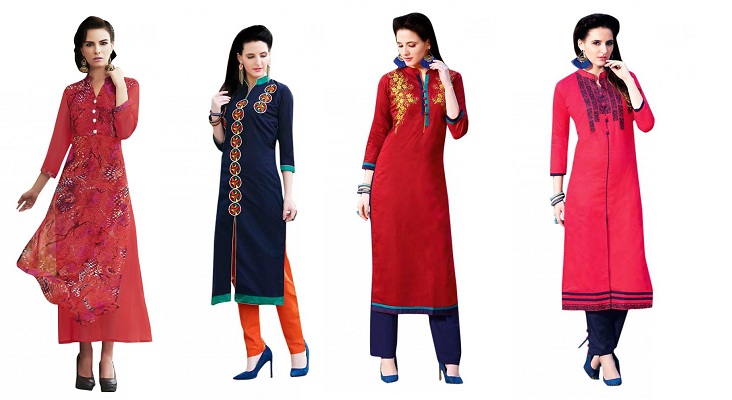 Collar Neck Design With or Without Lace
This is again a trifle question that comes to the mind of designers when they opt for a collar neck. Modern age women are bolder and confident about their selection so they prefer to go for collar neck designs sans a lace or fancy lining. The raw or asymmetrical look that a non-laced collar gives to the dress comes out to be more in vogue and parallel to the aura of the modern day girl. Those women who prefer to keep the collar neck as traditional and wear it as an ethnic ensemble would like to have fancy lace or lining done. Contrasting fabric and color surely accentuates the design of the collar that justifies the use of lace or lining.
What is making Collar Neck Design so Popular amongst modern day girl or women?
Simplicity, ease of carrying oneself with grace and the possibility of wearing the design in any dress is an obvious reason for the popularity of this design. Few noted designers introduced this concept in their summer prêt line that got acceptance with stars and celebrities. Following the dressing sense of favorite celebrities, the collar neck design became instantly popular amongst the modern day women.  Wearing what you see on big screen and television sets, give a sense of euphoria that not only enhance your self-esteem but also gives you an additional glow. That is mainly the reason why modern day girls and women love to wear this design.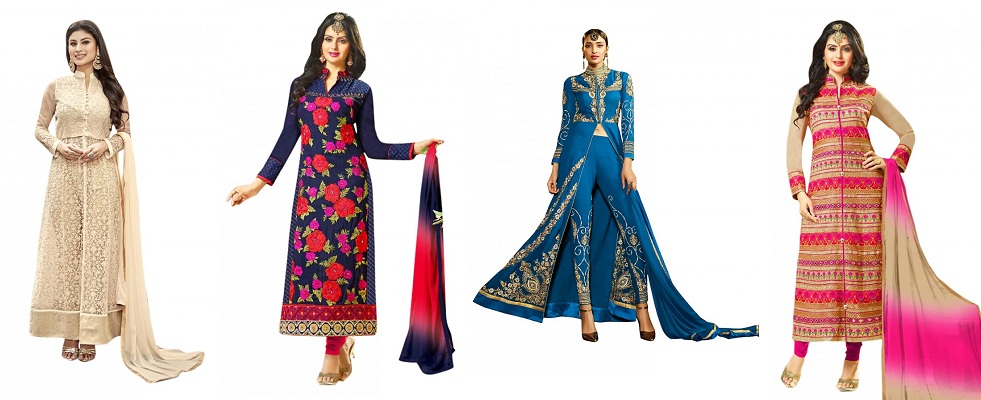 How to get Collar Neck Design dresses?
Dresses with a collar neck design are available in all the leading showrooms. Designer boutiques have elegant pieces on their display. If you are not comfortable with the fitting or size of the readymade dress, you can always go for a boutique option. You can get a customized outfit for yourself. Online stores are also giving many collar neck designs where you can browse several options and select the one that you find most attractive.
Affordable Design
Collar neck designs are simple cut designs that do not require any specific skill to stitch or make the dress. Moreover, this design looks elegant when it is simple and not adorned with too many accessories. This makes the design cost effective and very affordable. Modern day girl is looking to wear something which is not too heavy on her purse and can give her a suave image without overspending on her clothes. This is also one of the reasons for the growing popularity of the collar neck design. When women find that, the dresses made up with the collar neck design are not too expensive they readily purchase one or two kurtis or tops that they can mix and match and try for their next outing.
Which fabric suits the Collar neck Design the most?
Collar neck design reflects radiance, bravery, vitality and elegance. It should definitely be made from a fabric that is a little raw and has a steady weave over something which is very smooth like silk or chiffon. Tusser Silk, khadi, cotton and other materials which are strong enough to give the design a proper shape are best suited for collar neck designs. If you would use very soft fabrics like linen or silk the collar neck might not stand out as bold as it is meant to be as the fabric would not be able to hold the grip of the collar. Even the lining beneath may not synchronize with the fabric leading it to be a bit clumsy and out of shape. Therefore, the choice of fabric is very important when you wish to get a collar neck design made for your dress.
The collar neck design is also well suited for those that are looking for a slightly suave look. The collar gives the wearer a dressy look with the least possibilities of any skin show. This type of design is popular also because it keeps away the sun from tanning your neck and shoulders which are otherwise exposed in other types of Indian dresses.

Finding the right type of collar neck design should not be too difficult these days with the number of websites offering them at highly affordable prices. Moreover, you can now compare between the various websites to ensure that you are getting the best deal on whatever you are buying. Online stores offer different styles of collar neck designed apparel that look good with different lower garments. You will have to choose the right type of bottoms that would enhance the look of the entire ensemble.
Fashion keeps changing and you are on the outlook for wearing the latest. As it is not always possible to buy new clothes every time, you can make it possible by trying out new permutations and combinations of what you already have. Try out the collar neck designed shirts and kurtis with pants, churidars and salwars. Get yourself a new look with collar neck designs.