India is famous for its deep routed heritage, culture and attire. As you move across from one state to the other, you would find that not only the language, but the dialect, food and even the attire changes. This diverse heritage of India is what attracts the world. Talking about the Indian attires, the saree is the most revered of the dresses that attracts and enthralls all. Women, especially from the western countries are appalled at the way the Indian women carry their nine yard wonder.
Saree is a dress that is typically Indian and that has some sort of mysticism which enhances the beauty of the wearer. The best thing about sarees is that of the several types of attires, it is the most adaptable. You can find sarees for all occasions, for all types of women and in so many different materials. Probably there is no other attire that can be so diverse, yet so subtle. You can choose different sarees for different occasions such as for parties, evening functions, day time events, weddings and other such events.
With so many varieties of sarees, it becomes imperative that you choose sarees according to the event or you may look completely out of place. Here we are discussing how to choose sarees for traditional day in office:
Office Purpose Sarees
Offices have become quite liberal with their norms on what the employees can wear to work. While formal wear is always preferred for men, offices have relaxed the norms for women as they can wear skirts, tops, shirts and trousers, jeans and one-piece formal dresses to office. However, there are times when offices have traditional days and you need to wear a saree. It could be a national festival or a religious occasion or any other occasion. If you are confused as to how to choose sarees for traditional day in office, here are some tips:
Choosing the right colors
When you have to spend the entire day in office, you must choose light colors such as cream, light pink, peach, green, off white, light blue and other light colors. Dark colors like black, blue or maroon look good for evening parties and functions. Moreover, in summers, light colors look much better than dark colors. However, if you to attend a business meeting and you have to meet business dignitaries, you can choose to wear slightly dark colored sarees considering the fact that the meeting would be indoors. A traditional day in office would be spent well if you wear sarees that have light prints and light embroidery work that does not pulls you down with its weight.
Different Office-wear Sarees
As mentioned, sarees are the most adaptable of the Indian attires and therefore, you can find a large variety of options when you have to choose sarees for traditional day in office. With the availability of designer sarees in contemporary designs and colors, even younger women like to wear them as office wear. Here are some types of sarees that can be worn for a traditional day in office: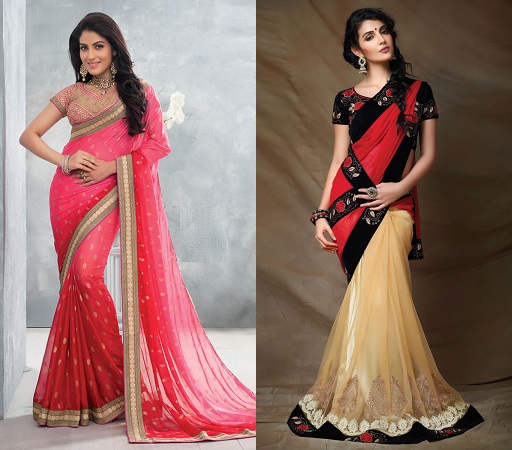 Raw Silk Saree
Although silk is considered an expensive material and mostly suitable for wedding type sarees, its raw silk variant is very popular as office wear. Raw silk has a certain kind of grainy feel and look. It is available in great colors and prints and is very suitable for all types of women. It is comfortable and easily manageable making it ideal for a traditional day in office.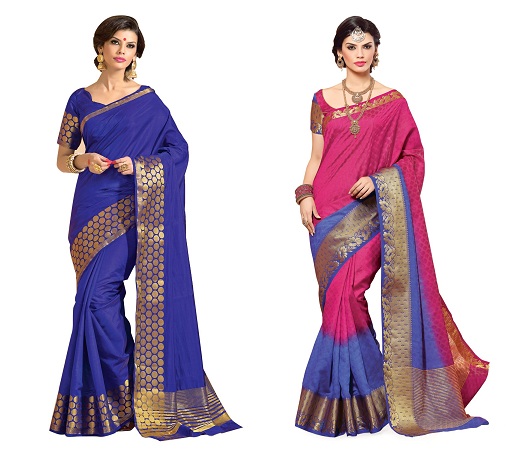 Madhubani Saree
The printed saree is probably the most preferred of the office wear sarees. Easy to carry and manage, the printed casual sarees have distinctive Indian prints. The printed sarees are usually made of thin materials like georgette, cotton or chiffon. As these materials are slightly porous, the prints are better visible. Designs or prints in these sarees could range from fruits, birds, flowers, mythological figures, trees or warli prints. As the trends change, the prints could also change to simple lines, abstract shapes, geometrical figures, polka dots or lines. While the hand printed sarees are surely of a superior quality, office going women prefer the machine printed ones as they are durable and affordable.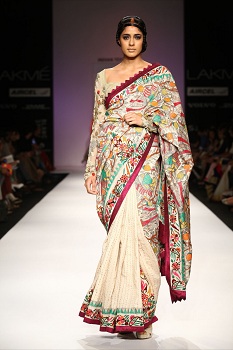 Georgette Saree
While some people might think that office saree collection must be simplistic and toned-down, it is in fact the opposite. You can find such exclusive sarees with nice prints, motifs, colors and designs to suit the taste of different types of women. It isn't that you cannot wear a modernistic type of saree for a traditional day at office. Georgette being a very nice and thin material looks good when worn in summers. You can wear a nice georgette printed saree to office. A georgette saree is easy to pin and manage. It accentuates your figure and therefore, you must choose one that looks good on you and not leave your colleagues ogling at you.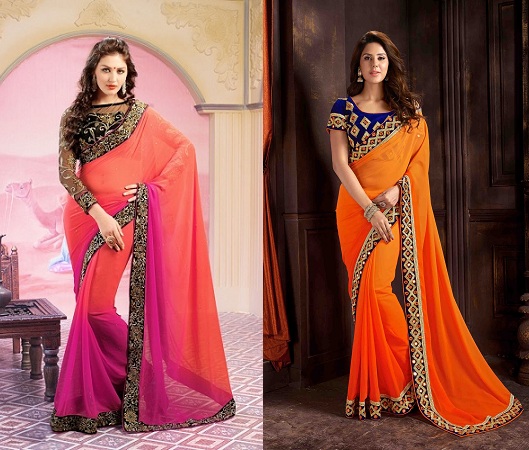 Batik Saree
You can also wear batik print saree to office. This type of saree not only looks very elegant and sophisticated but it also enhances your image as batik is a very Indian type of print that is liked by all and suits all occasions. You can have borders in the batik saree or there could be light embroidery work.
As can be gathered from the discussion, the best choice for office wear is the handloom saree. The texture of handloom is rich, comfortable and looks sophisticated and elegant. If you are a person that wants to have a dignified demeanor, try a light shaded saree and accompany it with a cotton blouse as the combination gives a superb appearance. If you are the type that wants to look smart in a saree, try out a black handloom saree and team it up with a printed blouse.  You can also choose sarees as per the weather and usually people like to wear light colored cotton sarees as they not only look good but they also keep you cool. Cotton kalamkari sarees, the Bengal taants, Kerala cottons and khadi sarees are the ideal choice for office wear.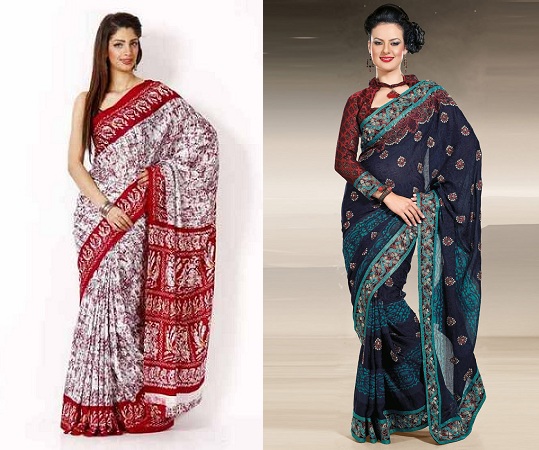 Accessorize your Look
The best thing about wearing sarees is that you can accessorize your look by adding a few things. As office wear sarees are usually less showy or subdued to say, you can enhance the look by wearing a trendy blouse. Just as sarees, blouses too come in a variety of types. However, they need to be chosen carefully. Blouses with spaghetti straps or halter necks are suitable for office wear. You can instead wear the traditional blouse with a border, sequins work, light embroidery or a lace. Getting the right cut and fit is very important for the blouse to look matching and enhancing the appearance of the saree.
You can also accessorize your look by wearing light jewelry. Both Indian as well as western light jewelry looks good with sarees. You need to find the right kind of jewelry such as small earrings, a wristband or a simple bangle and a chain with a small pendant. The one thing that you need to pay a good amount of attention to is the footwear that you must wear with a saree. Only the right kind of footwear would enhance the appearance of the saree and therefore, must be chosen with great detail and attention.
Your makeup and hair do are also important things to take care of when getting ready for a traditional day in office. You can either make a simple bun if you have long hair or leave them open. Makeup for office should be light. Just dab your cheeks with some simple face powder and put on a subtle colored lipstick.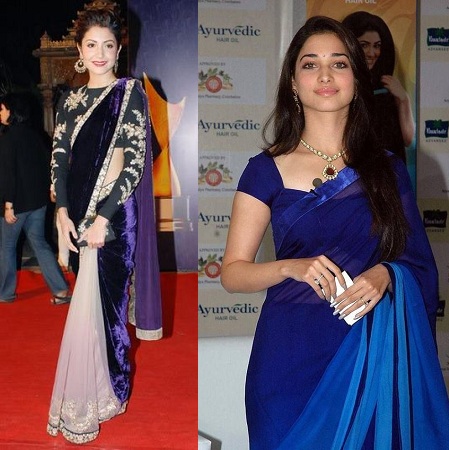 The Right Way to Wear Sarees for a Traditional Day in Office
Whether you are wearing sarees for the first time to office or are a regular wearer, you need to drape the saree in the proper way so as to enhance its look rather than make it look vulgar. Pinning up the saree properly to the blouse makes it more manageable and gives the wearer a decent as well as a sophisticated look. Similarly, the pleats of the saree should be properly made and tucked. Properly made pleats enhance the look of the saree and avoid the saree from opening up.
You must also iron your cotton and silk sarees before wearing them for office. Cotton and silk sarees normally tend to show up wrinkles after being washed or after being worn once. So, to keep up your image and your saree, you need to be upbeat about the appearance of the saree.
Another of the considerations when you set out to choose sarees for a traditional day in office is to choose sarees according to your body type. While sarees can be worn by anyone, there are some saree materials that look good on thin women while others look good on women that are slightly overweight. So, choosing a saree as per your body figure is also essential to get a sophisticated look.