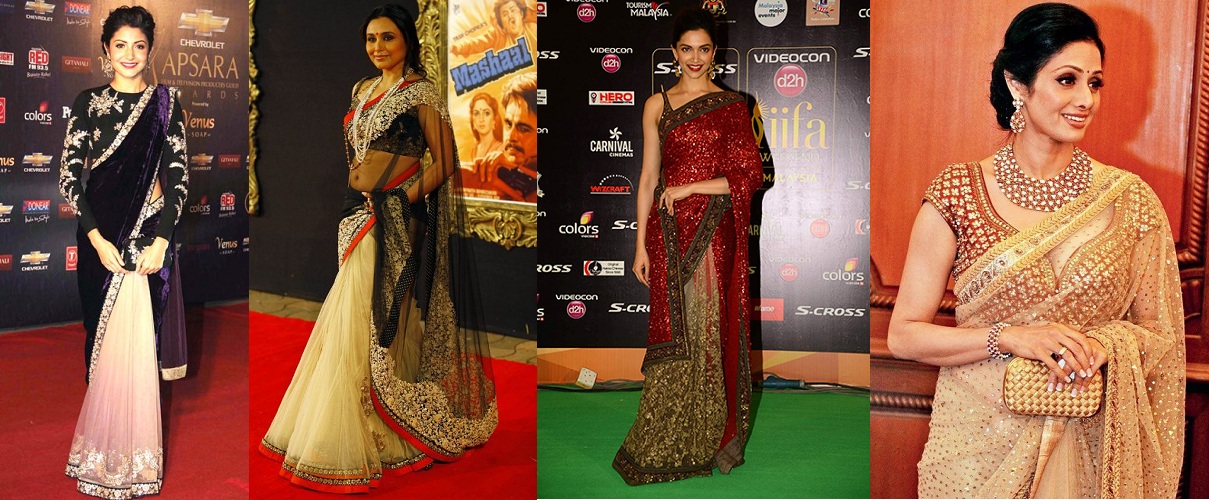 Saree Day or the farewell day is always one of the most memorable days in every woman's life because it marks the end of one stage of life and starting of another. Some girls get emotional but the fashion conscious get goose bumps because this is their day to make a statement about what and how much they know about fashion.
Saree is the most elegant Indian attire to wear and as the name suggests Saree day, all girls irrespective of their age and class is required to wear a saree. Each and every girl wants to show off herself to the college students how they look in their choicest saree and also with their prized possessions. The competition amongst the girls is so high that except for a few girls that are either less conscious of their looks or they have their mother's or a relative's saree; all other girls go all out to get themselves the latest and the best designer saree so that they steal  the spot light for the day.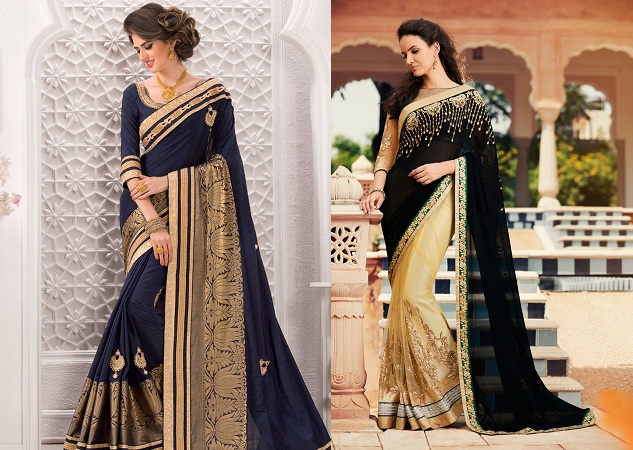 When the competition is so intense and the fashion fever is so high, choosing a saree for the "D" day becomes highly important and tough as well. Choosing a saree is not a cake walk and can often take days or even weeks before you can really get what you want. It is possible that you get so worked up with all the designs and cuts that eventually you end up buying the wrong saree for the big day.  But before going to the real thing, you should understand the basics of buying the right and the best saree for you because what is good for you need not be good for the other person and vice- versa.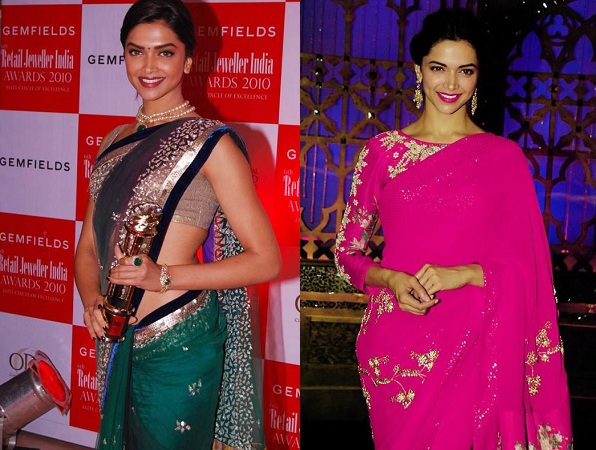 A saree is a very elegant outfit that shows the beauty of a female body by covering some of it while exposing part of it. It is not just a 9 yard cloth but an attire that has the might to catch the attention of the least interested. Sarees come in different colors, designs, aesthetics, materials and cut. Each saree is distinct and looks best on women that fulfill their criteria. Designer sarees or the sarees designed by big designers that have completed their course from popular institutes like NIFT or PEARL are in great demand because they are a big brand and girls can brag the brand name even if the saree does not completely go with her structure and color. Therefore even if you are looking for a designer saree, the idea should not only be to have a saree with a big name but a saree that compliments your body structure and body color. For this you need to go and check out the colors that suit your body color and the material that suits your body style.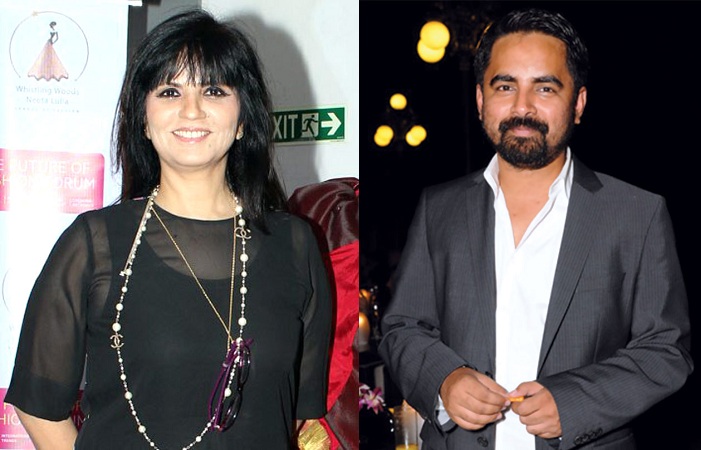 Saree for Different Body Types
For Pear Shaped Body
Women that have a pear shaped body or ones whose lower body is heavier than their upper body look best when they wear georgette or chiffon saree that is bright in color and take a "seedha" pallu. For an apple shaped body or one whose stomach and bust are heavy; silk saree looks the best and they should comprehensively avoid net sarees. Women with such body structure should take ulta pallu or the regular pallu.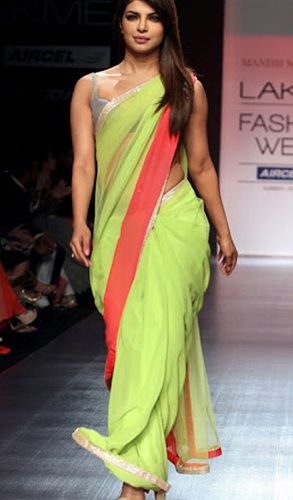 For Slim Body
If you have slim body, the best would be to try materials like silk, tussaar or brocade because these materials will correctly accentuate your body and you can use a variety of colors. You can even carry backless blouses, tube blouses; halter neck and sleeveless blouses. While if you are plump, the right material would be georgette, crepe and chiffon as these materials sit close to your body and give you a slimmer look.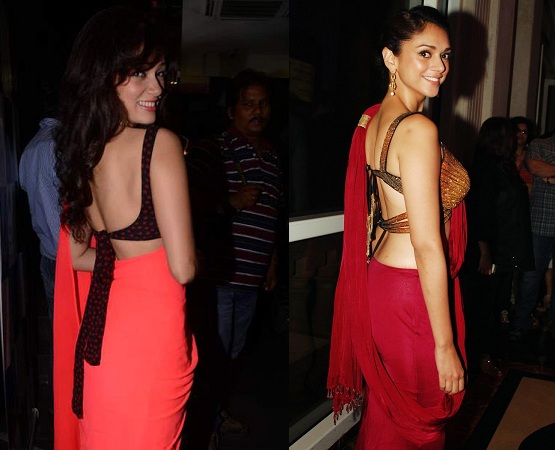 For Apple Shaped Body
For those who have a heavy stomach and bust, silk sarees are the best choice and such women should avoid net sarees. Further they should drape the saree with an ulta pallu with the saree being tied a little higher than the usual height.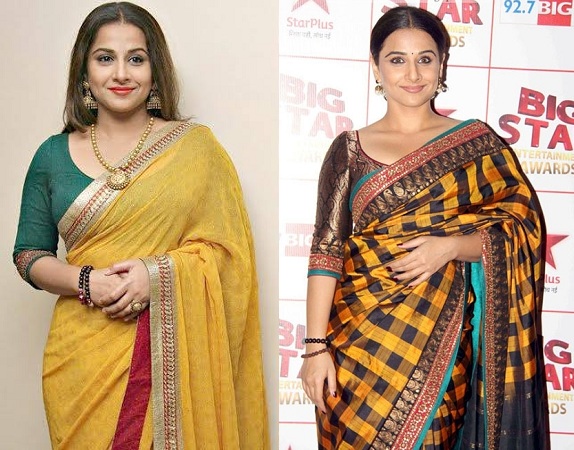 Sarees for plump women
For those girls that are a little plump lightweight sarees like chiffon, crepe and georgette will give you a very gorgeous and enticing look. Such girls should stay away from fabrics like cotton as they would look fatter. Such girls should go in for fabrics that have a good fall as such fabrics will give them a slimmer look.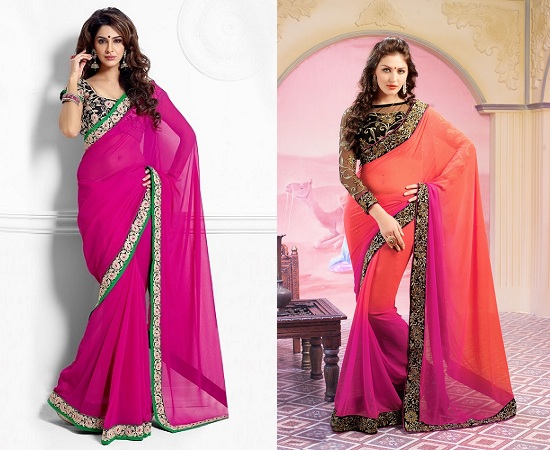 Sarees for slim women
Girls that are slim should go in for heavy sarees like silk, brocade or Tussar as these materials will accentuate your figure. Such girls can go in for designer blouses like the cut sleeve, backless, halter neck or the tube blouses.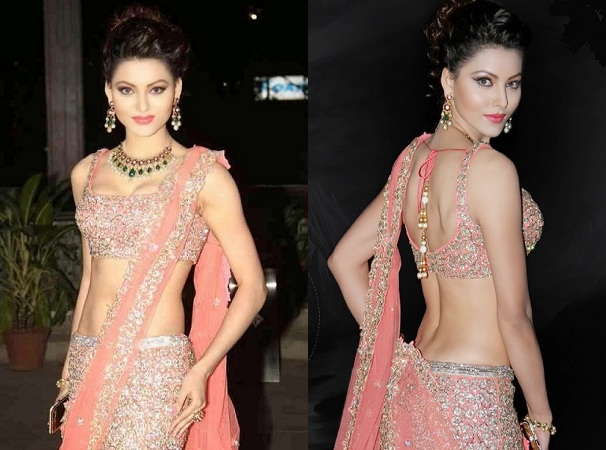 Sarees for tall Women
Girls that are tall should go in for almost any saree because they will look good in every saree they wear. However, Kanjeevaram sarees are perfect for you because they are longer and are easy to drape.
Sarees for short Women
Girls that are short should go in for sarees that have narrow border and sarees with softer fabric like georgette and chiffon as heavy fabric will make you look even shorter and will be difficult to carry.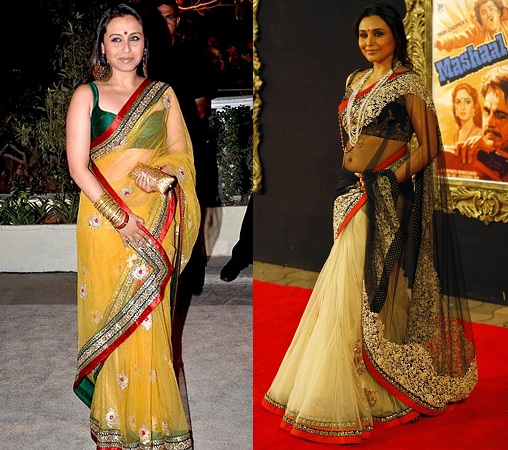 Another way to choose a perfect saree for the big day is to choose a saree from the range of the most popular types of sarees that are available in India. These sarees have been here for long and are ever green sarees and they are never out of fashion no matter the latest trend.
Type of Sarees in India:
Banarasi Sarees:
Banarasi sarees are made in Banaras and are considered to be one of the finest saris in India and are known for their work of gold, silver brocade or zari and embroidery.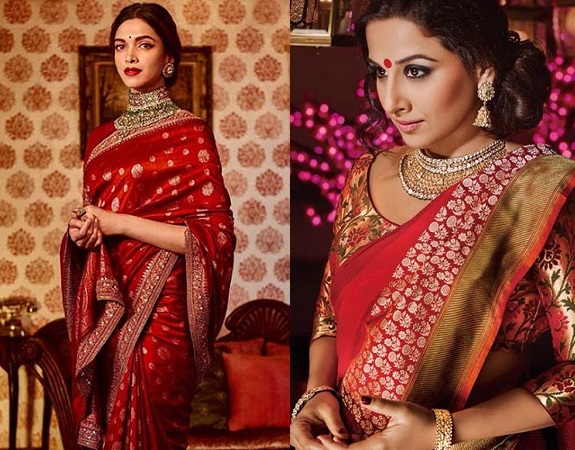 Silk Sarees:
Silk Saris are one of the most attractive saris in India and are popular not only in India but throughout the globe for their designs, fine texture, vibrant colors and embroidery. These saris are usually worn during festivals, marriage or formal functions in India. These saris come in variations like the Mysore silk, Kanchipuram silk, Bhagalpur silk and available in textures like printed, silk cotton, cotton raw silk and pure raw silk.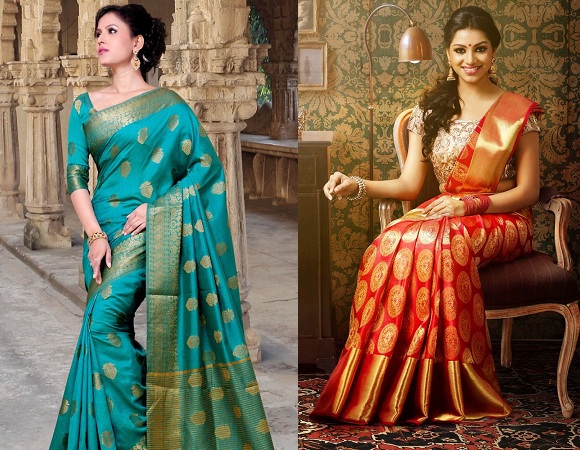 Chanderi Sarees:
Chanderi silk is one of the most popular silk amongst Indian women and come with a mix of cotton and silk. These saris are light weight and easy to carry. Chanderi saris come in the variation of chanderi silk and chanderi cotton.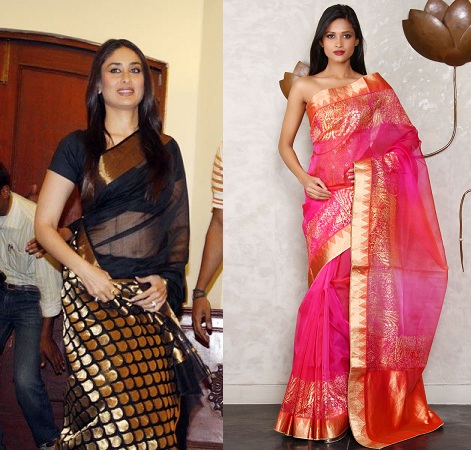 Tant Saree
This sari is the first choice of all Bengali women and comes in an array of beautiful designs and colors. This sari is famous for its vibrant colors and comfort and can be worn both as a casual wear or a party wear.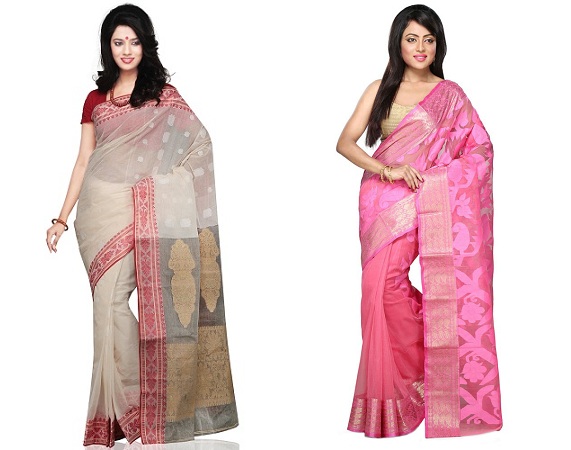 Sambalpuri Sarees:
Sambhalpuri sari is a pure handloom wear that is made from Tussor silk or cotton and is the pride of Orissa.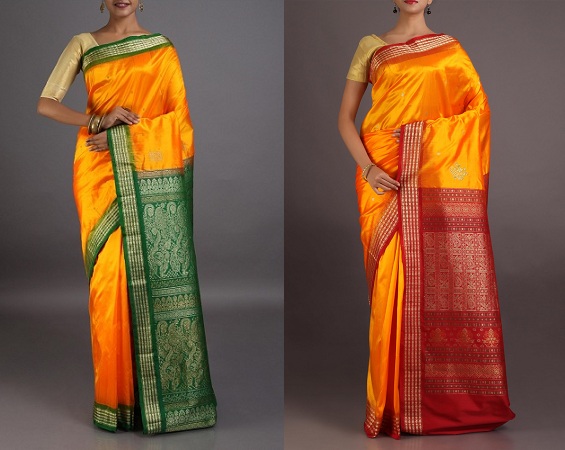 Kosa Sarees:
This is a sari that gives royal look on wearing and comes in an array of designs and color. The sari is made from the silk found in trees like Sal and Saja and its price depends on the purity of silk and handwork.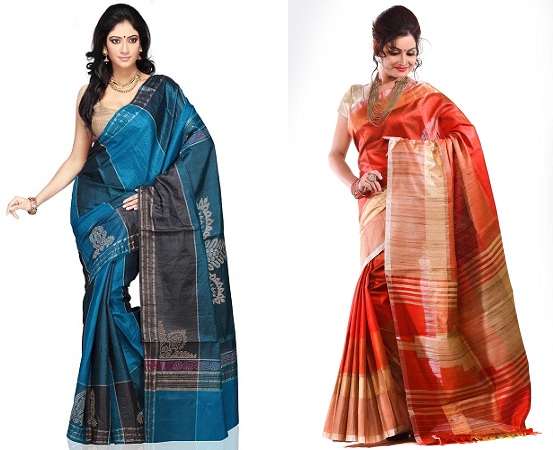 Nauvari Sarees:
This is a traditional sari from Maharashtra and is worn usually by the Marwari women from the state. The unique feature of the sari is that it is draped without a petticoat and in a style different from the regular ones.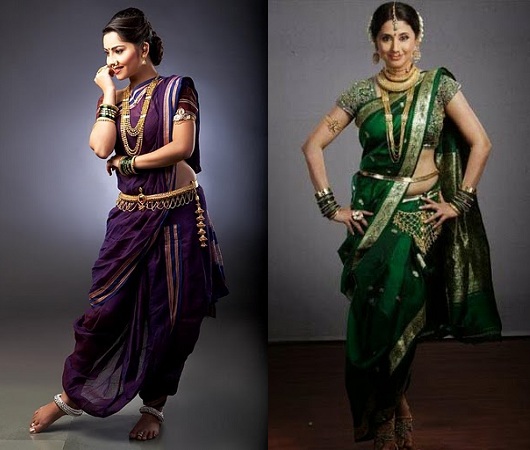 Chiffon Sarees:
This is one of the most popular sarees for all Indian women irrespective of their age and state. The best thing about this sari is that it comes in silk, cotton and synthetic fibre and in an array of designs and colors. This sari can be worn both as a casual wear and party wear.
Georgette Sarees:
This saree is on the highest preference with all saree makers, designers as well as Indian women as it comes in a wide variety of colors, embroidery, prints and fabric quality. The sari comes in a varied price range and suits the pocket of each and every woman that wants to wear this sari.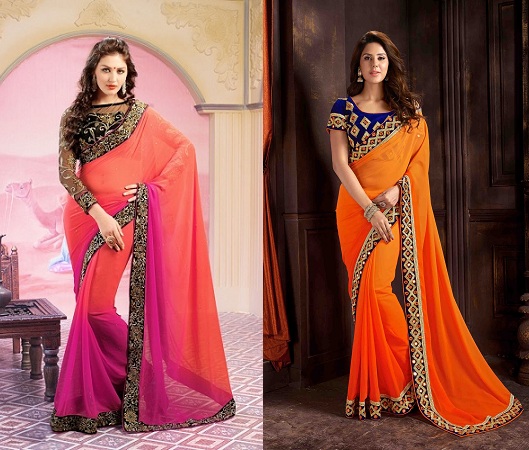 Net Sarees:
This is the hot favorite amongst all girls and women in India. This sari is available in a variety of nets ranging from synthetic, semi pure to pure fabric nets. The best feature of the sari is that it is light weight, comfortable and glamorous. It is an instant eye catcher for women in parties and formal functions.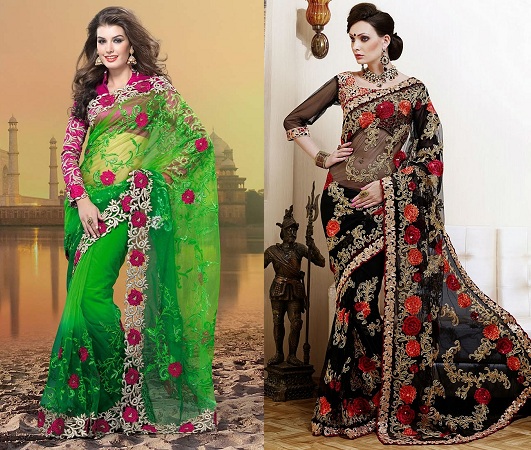 Bandhani Sarees:
This sari is very popular in the states of Gujarat and Rajasthan and comes in a variety of designs and colors. It is a form of tie and dye practice of designing patterns on a saree.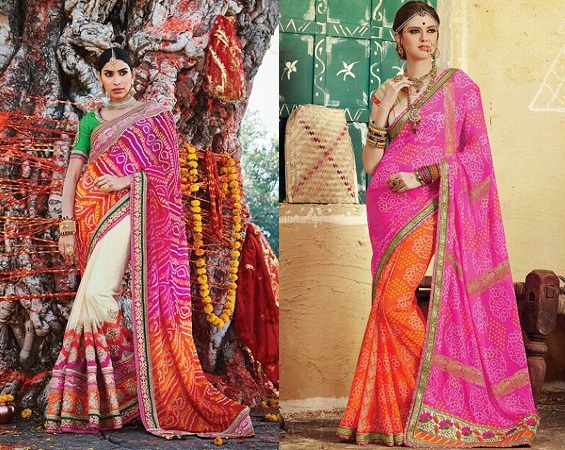 Although the love for saree has never disappeared from hearts of young girls, it did significantly come down a few years back but now the craze for the 9 yard is making a great comeback with new and modern designs, lighter materials that are easier to carry and that can catch instant attention. In the yester years college girls either wore their mother's saree or some relative's saree for the grand day but not today. Today the mindset is entirely different. Girls want to look different or like their idols and are ready to explore different ideas to know what looks best on them or what makes them look the best. In the yesteryears limited options were available and the college girls had little choice to look beautiful but now with the use of internet and online market, practically everything and everything is available at the click of the mouse irrespective of your location.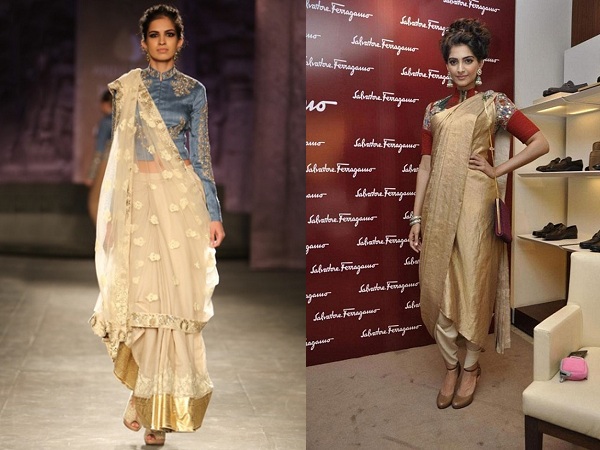 Today each and every saree maker, designer has an offline dealer outlet as well as an online website from where you can choose from his catalogue the design of your choice and select a color of your choice. Te designer or the saree company will send your product to your door step. Now technology has greatly improved that you can virtually have an exact idea as to how the saree will look when it reaches you at home. Apart from the online option, the traditional option of purchasing the saree from brick and mortar shop is always there. Here you can drape the saree and see for yourself, the way the saree turns out for you.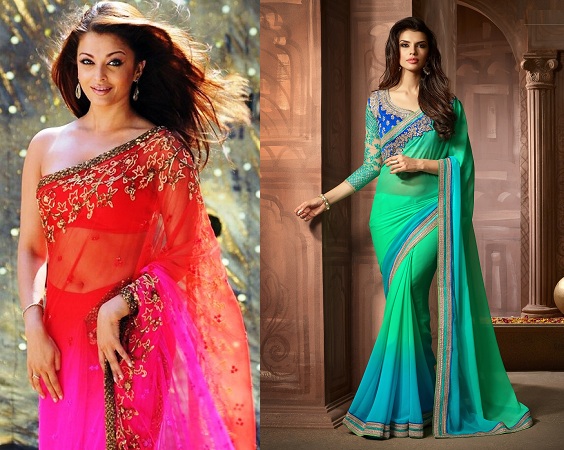 Young girls look fabulously gorgeous when they wear a saree and there are a whole lot of styles and designs from where to choose your favorite one.  These days Bollywood sarees are a big rage and almost all girls want to wear a saree worn by their favorite heroine in some latest movie. You can get these designer sarees with adornments of your choice that suit your body and style and become an instant hit with your fellow students.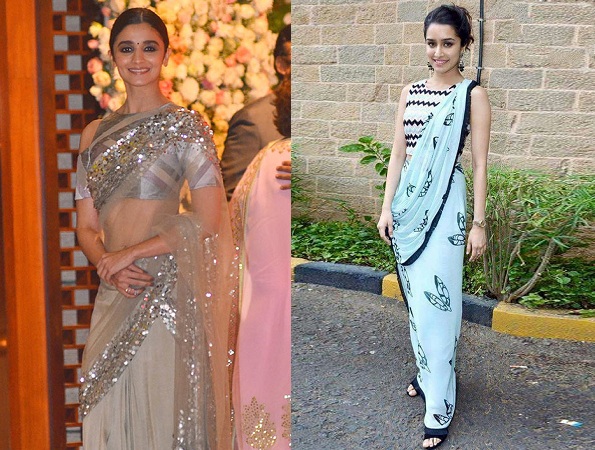 Therefore now choosing a saree for saree day in college should not be very difficult.