The fashion industry has been under rampant evolution and the trend setters and fashion designers have put their step forward to present a variety of clothing for their prospective buyers. The want and craving for adorning something different and unique has pushed and forced the designers to extend their imaginations beyond salwar suits, sarees, etc. The inflow of western culture has significantly impacted the youth and especially young girls are in a constant search of wearing something sexy, good-looking and stylish that not only makes them look pretty and beautiful but also gives them slender look.
Keeping in mind the latest desires and upcoming fashion trends, the designers have brought forward the concept of crop tops with bandaged skirts. Crop tops have come in varied styles, patterns, designs, etc. that grab the eyes of the onlookers. Following are some of the ways in which you can style your crop top with a bandaged skirt:
Off-shoulder crop top: Off shoulder crop top looks super cute and sexy at the same time. It calls for much show of skin. These days not only young girls demand for such the crop tops but even the older strata of the women society are fond of adorning such fashion.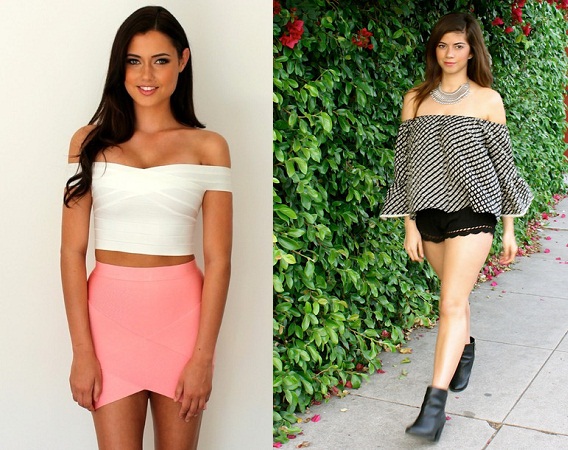 Crop tops with smoking border: The crop top with smoking border highlights your waist area perfectly and is ideal for slim and trim girls. Smoking top adds grace even to plain fabric perfectly highlighting your midriff.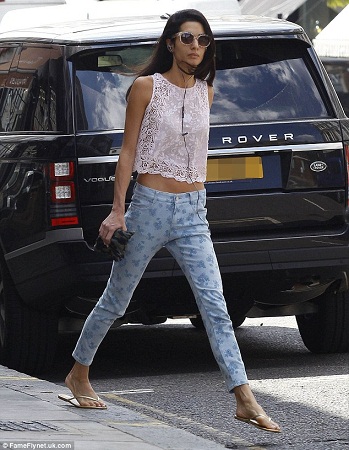 Crop tops with lace: Lacy thing adds charm and beauty to the outfit. You can get your crop top customized with lace and rock it at any party.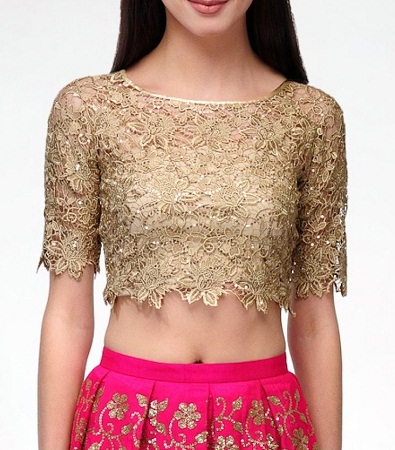 There are many other styles in which you can wear your crop top. It all depends upon the shape and size of your body as to which type and design will suit your structure. Pairing your crop top with right bottoms is very important. If your lower is not apt, the whole gaze and glance of your crop top is spoiled. So, fashion designers and stylists have come up with a variety of options to suit the tastes and preferences of the aspiring target group. This has led to flow of variety in the market and innumerable options for the public. The lowers with which crop tops can be paired beautifully are as follows:
Circle skirt: These skirts are flowy and pleated. These give a flirty and trendy look with crop top. You just need to pair the correct colour of your crop top and circle skirt and alter its length as per your body shape and size.
Midi skirt: Midi skirts have been in fashion since long. These shin length skirts may look outdated now, but when paired with correct crop top gives amazing and astonishing gaze.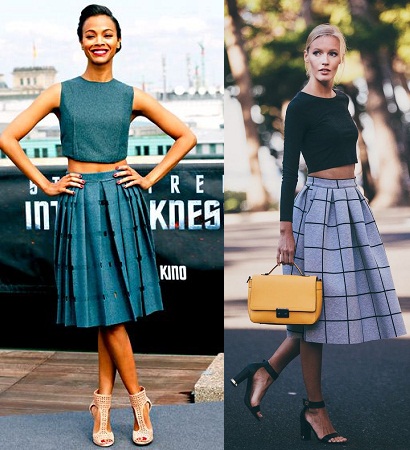 Long pants: Those that do not have slim and slender body can opt for long pants with crop tops to hide that extra skin. This also looks super cute and stylish when paired with sleek belt.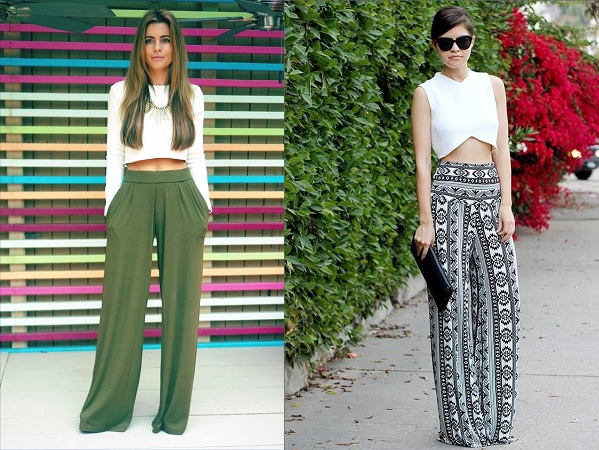 Bandaged skirt:This gives super slender and slim look when adorned with crop top. Perfect for clubbing and other youth parties, this funky and trendy look is latest fashion and all those that have worn it have rocked the party, capturing the gaze and stare of every individual.
More about Bandaged Skirts
Bandaged skirts suit everyone and anyone. Even if you do not have thin legs, your heavy thighs look slimmer as they are held tight just like a bandage. For this purpose, these skirts are called bandaged skirts. These skirts are of various types and mostly available in stretchable fabrics. Following varieties can be found among bandaged skirts:
Criss-cross bandages: This type of bandaged skirt requires criss-cross bandages. The skirts cover outer side of the thigh more than the inner side and forms an inverted V. This type of bandaged skirt looks super sexy and gorgeous when you have lighter skin of your inner thighs and not much heavy thighs.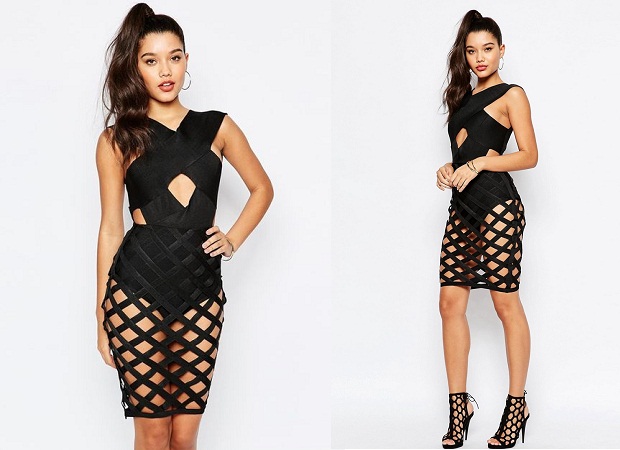 Horizontal lined bandaged skirt: This type of bandaged skirt looks pretty and does not exposes much unlike criss-cross bandaged skirt. This type of skirt makes your hip area look small and does not give you a bulky look.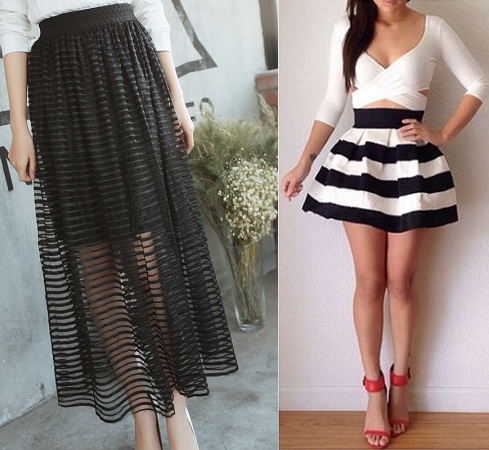 Long bandaged skirt: Long bandaged skirts are least preferred. Usually girls prefer short bandaged skirts as these are comfortable and do not act as hindrance when you are to sit. Long bandaged skirts appear tight at your shin area when you wish to sit.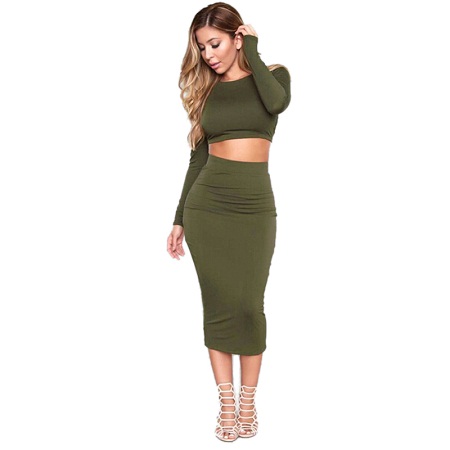 Below the belly button bandaged skirt: Bandaged skirts which form a V at your belly button, i.e. it is high from the side waist and bellows your belly button from the centre, appear stunning and make you look drop dead gorgeous.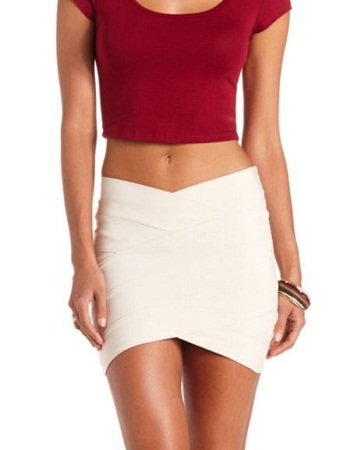 As they look funky and stunning at the same time, these have gained momentum among fashion freaks and makes everyone go awe. When paired with perfect crop top, it looks astonishing and mesmerizing. Following combinations can be chosen when you wish to make such appearance:
Tube crop top with horizontal bandaged skirt
Strappy crop top with just above the shin ending bandaged skirt
Crochet crop top with criss-cross bandaged skirt
Net crop top over vest like top (layering) with short bandaged skirt making V at belly button
High waisted bandaged skirt, covering belly button with denim crop top
Lacy bandaged skirt with plain crop top
These may be few options that can help you get dressed up nicely in your perfect outfit of bandaged skirt and crop top. Ideal for any occasion, you can be sure of compliments and get all the eyes glued to you in a gathering. If you wish to go with the trend and wear something that is not so common, this is the exact outfit and combo that you will not want to miss.
Available on any fashion store or online fashion stores, you can pick one for yourself to rock the upcoming event. Get your customized bandaged skirt and crop top and flaunt it confidently at the party.