There has been constant evolution in every field in the recent times and when it comes to clothing, people are even more playful regarding their selection and choice of clothes they wish to adorn. With the drift of traditionalism over modernity, people especially the fashion icons and bloggers are finding out new ways to set the trends and rock the ramp with their ever-stylish looks. This calls for continuous change in the pattern, design and fabrics that make up a new master piece every time ready to skip the heartbeats of the millions.
Crop tops
Realizing the need for change and break the monotony of long tops, the trend and fashion of crop tops has swayed and flooded the markets and girls are ready to hit the floor with a bang showing off their midriff. Various types of crop tops with different patterns, styles and designs have crept into the fashion industry and girls have a special place and liking for such tops in their closets. Crop tops can give you sexy, chic, gorgeous and cute look all at the same time. It all depends on the way you style and carry your top with matching bottoms that suits the shape and size of your body.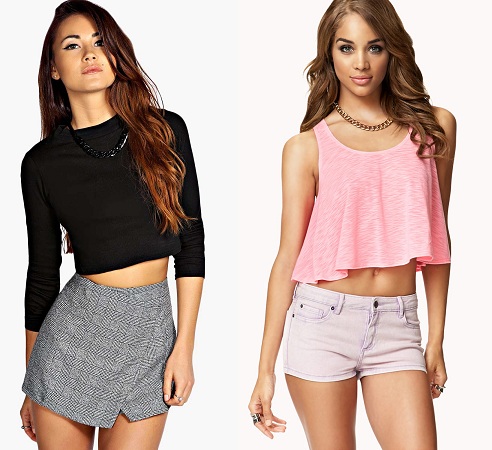 Ways of wearing crop tops
Precisely, you can wear crop tops with anything and you are ready to maze and stun the masses around you. But the art of carrying such a piece is equally important. Here are few ways in which you can pair your crop top correctly and become a fashion icon:
Pairing with high waist bottom garment.
Wearing it with loose fitted garments
Carrying a cardigan or any other layer to prevent much show of skin
Accessorizing is very important when you are wearing plain and stylish crop top.
Styling with maxi skirt gives incredible look.
Circle skirts give the perfect flirty look when adorned with trendy crop tops.
Circle Skirts
Circle skirts are usually pleated skirts that fall in great pattern and design. They look super sexy, hot, chic and elegant. The grace of the pleats looks completely ravishing and mind blowing. You can experiment with circle skirts based upon their prints, waistline, borders, colors, lengths, etc.
Following are some of the ideas that can help you rock a circle skirt at any and every occasion:
Choose the correct length
The length of a circle skirt if of great relevance. Depending upon the size and fitness of your body, the length of the circle skirt must be ideally chosen. If you have slender and not-so-long legs, you can go for short circle skirt that ends covering your upper thigh. For long legs and heavy thighs, prefer the circle skirt that ends just above your knees.
Consider the occasion
Circle skirts look super cute at every occasion. A cocktail party or club party would definitely require a short circle skirt with elegant and comfy crop top. If you wish to adorn your circle skirt for casual wear, then you might prefer slightly long circle skirt so that you are least conscious while doing your daily chores.
Go for blingy patterns
A well patterned circle skirt does perfect justice to plain crop top. Choose different colorful patterns and you are ready to grab the attention of everyone around you. Floral and geometric patterns have never gone out of fashion and make a perfect style statement when worn gorgeously and pleated accurately.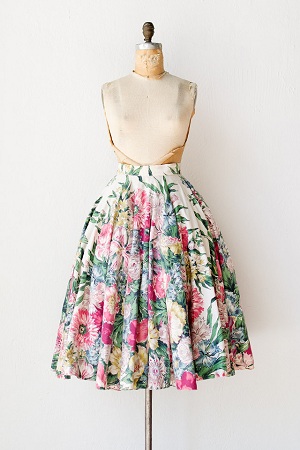 Select a unique waistline
Circle skirts with perfect waistline not only appear stunning, but they actually work to grab the eye on your midriff. Adding a stylish belt made of lace, leather, ribbon, etc. will double the grace of your circle skirt. If your circle skirt is short, don't go for big bold belts. Instead choose a sleek and slender one that complements your gaze.
Opt for stylish border
Borders are something that adds to the overall grace of the outfit. A lace or crochet border does wonders to the simple and classy circle skirt. Don't overdo the border part of your skirt as it will grab all the attention of the stalkers to the border. The main aim of crop top with circle skirt is to highlight the midriff portion which is overlooked with gaudy borders.
Don't do much with embellishments
A circle skirt is meant for simplicity and sexy look. If you do much with embellishments and embroidery on your circle skirt, the whole look and gaze of your circle skirt sways and vanishes. Keep it short and simple.
Choose fabric wisely
The fabric of your circle skirt should be such that which supports pleats accurately. Apart from this, most important is your comfort level. Crochet or cotton or silk are the widely used and common fabrics that appear most graceful and give you absolute gorgeous and stunning look.
Circle skirt and crop top
This deadly combination makes everyone go jaw dropped and gives the wearer a spectacular and astonishing look. Admired by the young blood, crop top with circle skirt is perfect for clubbing, hanging out with friends and even for wearing at home to keep you cool in the warmer weather. You can pair plain crop top with same colored circle skirt and adorn a neckpiece to give that absolute chic gaze. Style up with pumps or strappy heels or block heeled sandals and be ready to have everyone's eyes glued to you.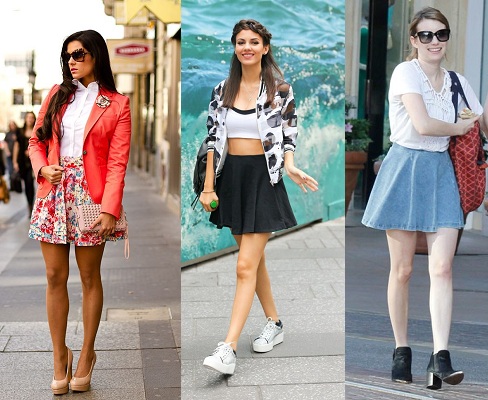 Circle skirt with crop top is the latest preferred choice and the pickers have absolutely bagged the show with their unique, sexy, gorgeous and pretty look. Just choosing the right colors and styling perfectly is all what is required. You should be confident with the show of your skin and wax and moisturize the exposed area properly so that you make a stunning chic out of your outfit. This simple and comfortable combo is real fun and must have for every college going girl. You should make sure that your circle skirt has all the essentials as per your requirements.