Crop tops are known for their versatility outfits as they can be worn along with different kinds of outfits. In recent times the designers and leading brands are coming up with crop tops of various designs to help you enrich your collection of cropped outfits. There are a variety of crop tops available on the market each of which goes with different kinds of wears. You can wear it with skirts of different kinds such as long skirts, midi skirts, pencil skirts, bandage skirts and so on. You can also pair it with shorts, culottes, bell bottoms and skinny jeans. But one of the most beautiful ways of wearing a crop top is by outing it over a dress. A crop top over a dress is a combination of the cool and the elegant. The elegant or formal look of the dress along with the cool and trendy look of the crop top creates a nice blend.
Wear It over a Tight Dress
Wearing a loose crop top over a tight dress can give you a slimming effect. The contrast of the tight dress underneath and a loose crop top over it creates an attractive and cool combination. It is also suitable for those who want to wear a tight bodycon dress and is at the same time don't feel comfortable wearing something that tight. They can make it up by throwing a loose crop top or a tank top over the dress. This can be a nice way of presenting one's self irrespective of body types.

Throw It over A Midi Dress
If you are the kind who always prefers comfort you can choose a more comfortable dress such as a casual shift dress and throw a crop top over it. The cool and casual daily-life-look can be ensured with this combination and this probably would be a preferable outfit to go out for shopping with your friends or a weekend trip in the summer. This is indeed one of the coolest ways in which you can make your comfort outfit look stylish and unique.

With Side-slit Dresses
One of the most sensuous ways to wear a crop top is to wear it over a side-slit dress or a side-slit skirt. Most women tend to wear a crop top in order to give themselves a cool and informal look. But that is not the only way to present yourself in crops. There are several ways in which you can experiment with your crop tops and give yourself varied looks on to suit varied occasions and moods. You can try out a crop top over a dress with split sides. You can choose a dress of the formal look and wear it underneath a crop. The blend of the right crop top over a dress with a split-side will give you the sensuous look you want. This can be a unique style statement in any occasion where most women tend to wear dresses. You can follow the dress code wearing a full-length dress in such an occasion and at the same time prevent yourself from being one with the crowd. Wearing a crop top over it will make your look unique and sensuous at the same time and you will steal away the show at once.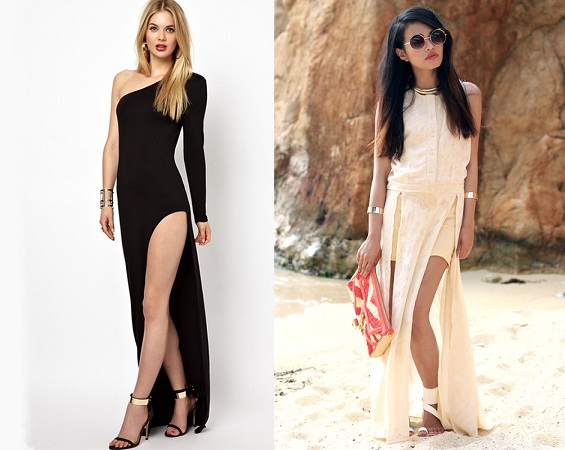 Are You Up For Layers?
If you like multiple layers in your attire, one of the basic tools to bring about the needful is the crop top. Wearing it over a dress will give your outfit two distinct layers. You can experiment with these layers by contrasting colors or texture of the fabric worn underneath and of the crop top worn over it. You can also create multiple layers by wearing a full-length dress with a crop top over it and a sheer long jacket to over it. There are several other ways you can create two or more layers. Wearing a crop top over a dress is the most basic of the ways you can do it. So, if you love layers of outfits on your body, you must get crop tops to wear over your dresses.
Cropped T-shirts over a Dress
If you are always up for the coolest and most casual looks, you can try out a cropped T-shirt over a casual midi or short dress. When the casual look that is inherent to T-shirts is added to the stylish appearance of short and midi dresses and skirts, a very innovative look can be achieved. It is a no-brainer look that suits everyone and is appreciated by everyone. Moreover, this can have experimented in many ways as T-shirts are available in almost all colors and shades you can think of and in various fits. You can also strike a contrast by wearing a sporty cropped T-shirt over a knee-length dress.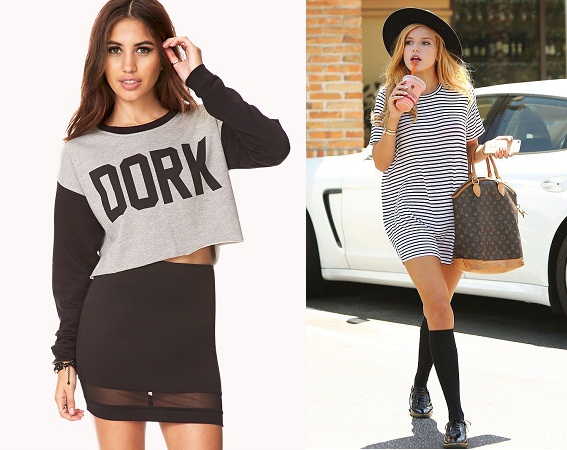 Explore Ideas Online
Since crop tops are back in the present day attaining a widespread reception and popularity all over the world, it goes without saying that a huge number of women ranging from commoners to celebrities are exploring this new trend with a lot of zeal. The numerous experimental and innovative renderings of crop tops are overcrowding the pages of the fashion blogs and social networking sites. Both celebrities and their fans are coming up with new ways of wearing crop tops with various kinds of outfits. One of the most popular styles is the one with a dress underneath. One has a lot of room to explore new trends associated with wearing crops over dresses as crop tops are available in many colors and varied textures. The pages on Pinterest and Instagram are filled with various renderings of cropped outfits over dresses which not only add to the style statement of the person uploading it but also inspire the viewers who scroll down the list. So, if you are planning to step out with a new style statement the next season, it is high time that you check out your favorite celebrities and the fashion pages online in order to steal away the attention of your friends and acquaintances.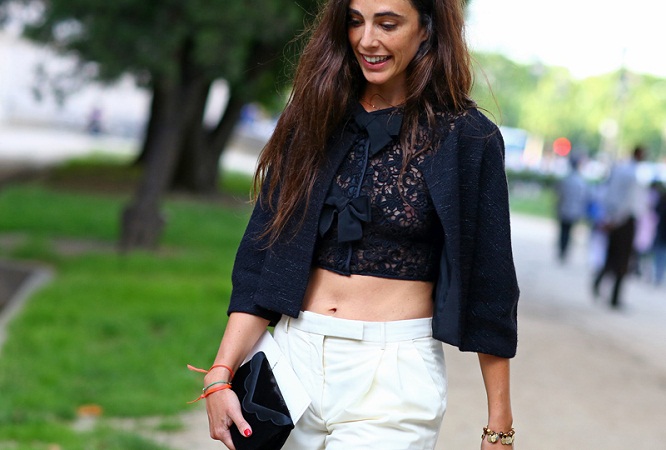 Buy Your Dress And Crop Tops Online
If you are not the kind who has the patience to walk past the windows of several shops and check out all the sections in each to find out the right outfit for yourself, you always have the option of buying outfits online open for you. On one hand when you can be inspired by the ways in which stylish people across the globe have worn crop tops over dresses, on the other hand, you can choose the right crop to for your dress online. So, you can get the best crop top to wear over your dress with just one click on the mouse button.
Make yourself stylish, cool and worthy of attention with the various designs of crop tops to be worn over your dresses. Experiment the way you want to, as there is a lot of scopes to do so. Dresses of numerous kinds are always available in the market. Added to that, the several colors, designs, and textures of crop tops available can make numerous stylish combinations to give you a new look each day.