The fashion technology has completely transformed. The inflow of western attire in India has paved way for wide opportunities and brought variety to the fashion freaks. The mix of traditional and western, so called, Indo-western outfits have been in great trend. Thus, midi skirts may appear a bit conventional due to their length but when carried with sexy crop top, gives completely amazing and mind blowing look.
In the recent past, markets have been flooded with such type of skirts and ever girl desired to own such piece and give a perfect style statement. Due to their not so short length, they are very comfortable and relaxing. They give the absolute look at every occasion. You can flaunt them at birthday parties, kitty parties, dance parties or even at home. Your perfect stylish look is enhanced by adorning such type of dress.
To avoid the monotony of boring and plain knee length skirt, midi skirts come in variety of variations that can be customized as per your requirements. Fashion designers and trend setters have made all the successful efforts to come up with designs that best suit the tastes and preferences of the target audience.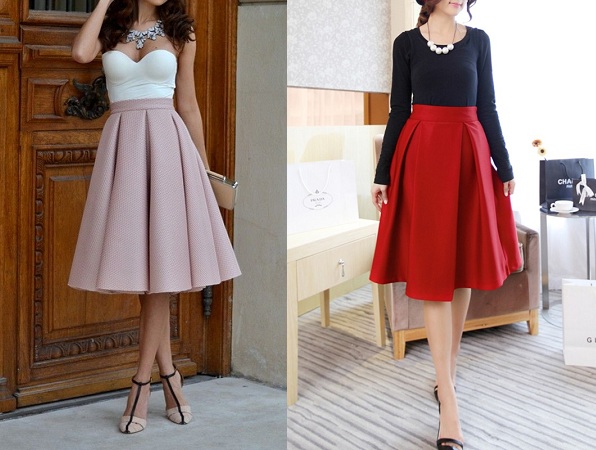 Some of the variations that can be made in midi skirts to make them appear all the more sexy and classy to wear are as follows:
Front slit midi skirt: The midi skirt with a from slit appears cool and stylish when worn with crop top. It allows to show peeping skin from the slit which makes very elegant, simple yet sexy.

Side slit midi skirt: You can choose this type of midi skirt if you are not comfortable with front slit. One side slit has been in fashion and appears evergreen on anyone and everyone.

Front button or grammatic skirt: Front button skirt looks drop dead gorgeous and fashionable at the same time. You just need to be careful while choosing one because the need to be properly placed and tightened so that you are comfortable while sitting or doing other important chores.

Pencil midi skirt: This type of midi skirt works well to show your curves at the right places and make you look slimmer and give you the absolute chic look. This up to date trend has much to offer when it comes to styling along with dressing. Pencil midi skirts give you perfect corporate look.

Pleated midi skirt: Pleated midi skirt gives you that perfect school going girl look. The ever young and astonishing gaze is promised. This type of midi skirt gives you formal look and can be appropriately chosen for various occasions.

Midi skirt ending with fringes: Fringes are in great trend these days. These give you funky and modish look. This work well when you do not wish to keep the length of your midi skirt too long and at the same time want to show some amount of skin.

Play with fabrics: You can choose to wear your midi skirt in any kind of fabric depending upon your comfort level and your taste. If you are heading for tight fit midi skirt or pencil skirt, you must choose any stretchable fabric like lycra or something. If you wish to wear flowy midi skirt, you must choose stuff such as georgette, etc.

Net or crochet midi skirt: Skirts are something very sexy and appear very cute when worn. To add to their charm and elegance, you can go for fabrics such as net and crochet that look chic and super graceful when paired with correct crop top.

Go for stripes: Stripes have never been out of trend and girls have tend to show much more liking for stripy fabrics nowadays. So, you can opt for striped midi skirt with a plain crop top to capture the eye of everyone in a gathering.

Customized length: Midi skirts can be made available in various lengths. They can be shin covering or ending just above the knee. Both ways they look awesome and elegant when worn correctly and suitably for the occasion. You can have the length of midi skirt according to your comfort.
You have a wide and innumerable choices when it comes to midi skirt. You can get your own customized midi skirt and stun the stalkers and the gazers. The trend for adorning midi skirts is not new. It can be traced back to Bollywood style of early 1980s. But what gives new look to these midi skirts is the right pair or perfect crop top. If you feel that your crop top is plain and the midi skirt goes boring with it, you can accessorize as much as you like.
Midi skirt can be accessorized with plain belt, or half hanging chain belt. You can wear strappy heels to add to the overall look and grace of the outfit. Midi skirts with front zip also seem cool choice. All you need to do is choose the right colour of zip if you want to give a funky look.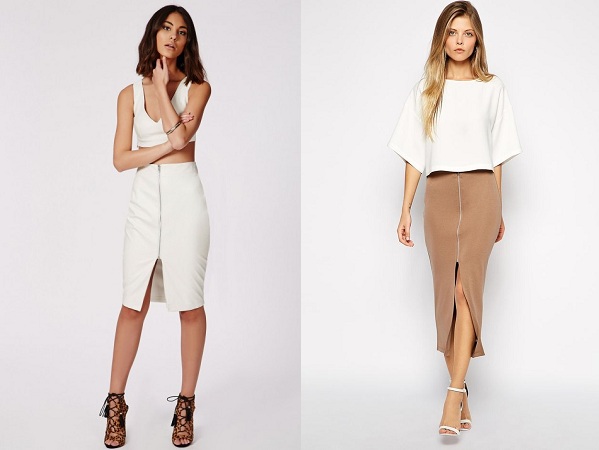 Your crop top can be plain with a printed midi skirt or you can pair printed crop top with a plain midi skirt. If you go for plain crop top, give the cuts and designs at the right places or accessorize it with right neckpiece.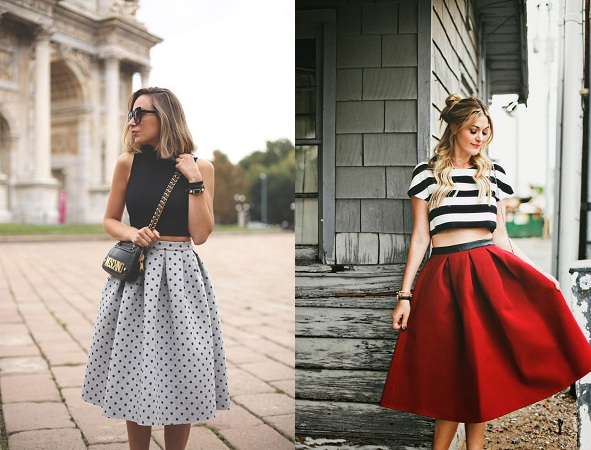 You can have a variety among crop tops as well that are perfectly suited with your midi skirt. You can customize your buttoned shirt or old top if you do not have a crop top or do not wish to buy one. Girls have a special place in their wardrobes for crop tops these days and there will be hardly any fashion freak today, who doesn't own one.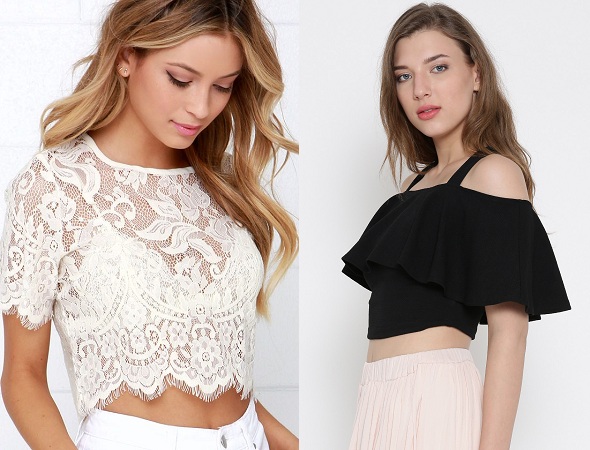 Midi skirt and crop top works as a great combination as it shows the right amount of skin, not being overly exposed. Conventional look blended with modern gaze comes out resulting into something extraordinary and out of this world. Suiting every body type, the combination has much to offer in terms of simplicity, elegance, style, uniqueness, personalization and customization.