Thewa jewellery comes from Pratapgarh district of Rajasthan in India. It is an intricate work of art that is used in the making of fine jewellery depicting Hindu mythology, Mughal art and culture, the folklore of Rajasthan and its natural beauty.
The art of Thewa jewellery making was invented by a local craftsman called Nathu Lal Sonewala around 300 years ago and was patronized by the Kings of Rajasthan and the Mughals as well. The process of making Thewa jewellery is very complicated and involves a lot of hard work, intricate designing, and number of special tools and around one month to complete a single piece of work.
Thewa jewellery is a traditional type of jewellery the makers of which are only found in Pratapgarh district of Rajasthan. The jewellery brings out splendid colors and sparkle as a result of fusion of multicolored glass with 23K gold sheet, that cannot be found in any other kind of jewellery. The jewellery is a very fine fusion of multicolored glass and 23k gold that shows the romance and valor of Rajasthan along with nature and happiness.
Process of making Thewa Jewellery:
Making of Thewa jewellery is a very lengthy and complicated process. It involves fusing multi colored glass with 23K gold. This glass is treated by a special process to give glittering effect. The process of making a piece of Thewa jewellery starts with a broken piece of terracotta which is finely grounded and mixed with chemicals and oil to produce a thick paste. This paste is then spread on a wooden base that has a 23k gold sheet set on the mixture. Then the required design is etched on it and then black paint is spread over it that highlights the design.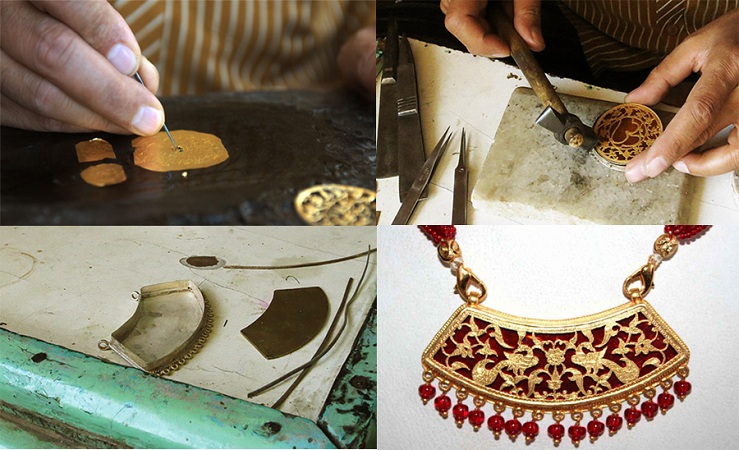 The entire process takes lot of time and hard work from well trained and perfect artisans for a beautiful piece of Thewa jewellery to come out.
Style of Thewa Jewellery:
The style of Thewa jewellery is inherently traditional. This style of the jewellery has been the same for over 300 years and dates back to the times of the Mughal rulers. The basic nature and style of jewellery depicts the art and heritage of the state of Rajasthan in India along with the grandeur of those times. Even today most of the good and tasteful Thewa jewellery is very traditional and shows the opulence of the yester years.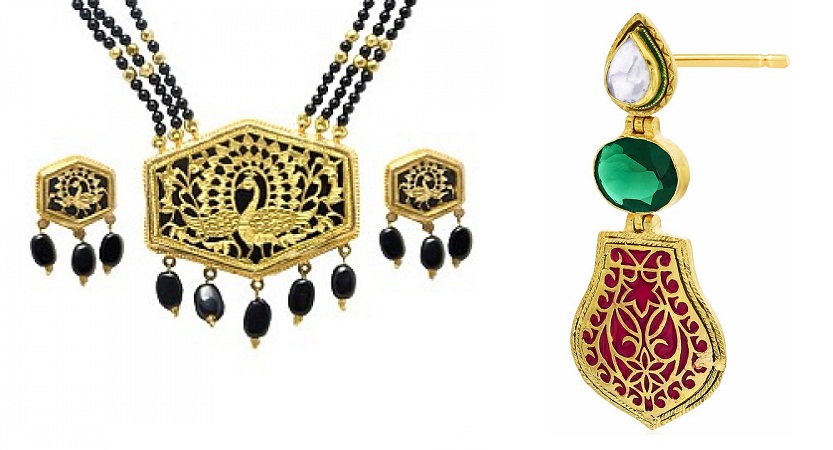 Although some changes have come about in the form of introduction of some other items that have not been a part of Thewa jewellery making, even then the basic style and nature of jewellery remains the same.
Innovation in Thewa Jewellery:
Initially only gold was used as the metal in the making of jewellery. However, with passing of time and demand of the people, today many Thewa jewellery makers use metals like silver, copper, white gold etc.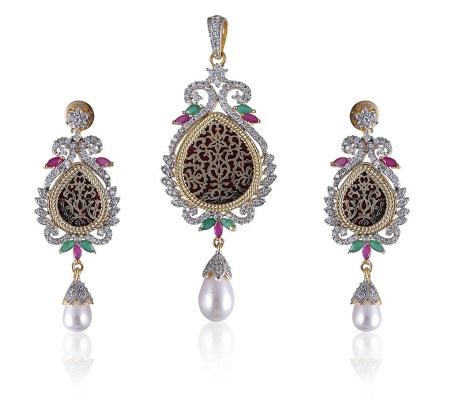 Today vibrant and rich patterns are made using precious stones, rubies, pearls and diamonds. Today modern Thewa jewellery has incorporated modern designs and styles in the pieces which were not present in the original jewellery.
Modern Thewa jewellery is very different from the original Thewa work because today many Thewa artisans have started to incorporate several designs that have never been a part of the original concept. Today you can find modern innovative designs and paintings that are not a part of Rajasthan culture.
Themes of Thewa Jewellery:
Usually Thewa jewellery depicts Hindu mythology and also narrates the courage and romance of Rajput kings in the form of visuals. Theme of jewellery is very wide and could depict anything ranging from the battles of Rajasthan, portraits of its famous rulers or portraits of Hindu gods like Lord Krishna.
Thewa jewellery draws its inspiration from rich heritage and culture of the state and also from the flora and fauna of the surroundings. This way Thewa jewellery depicts the way of life in the state.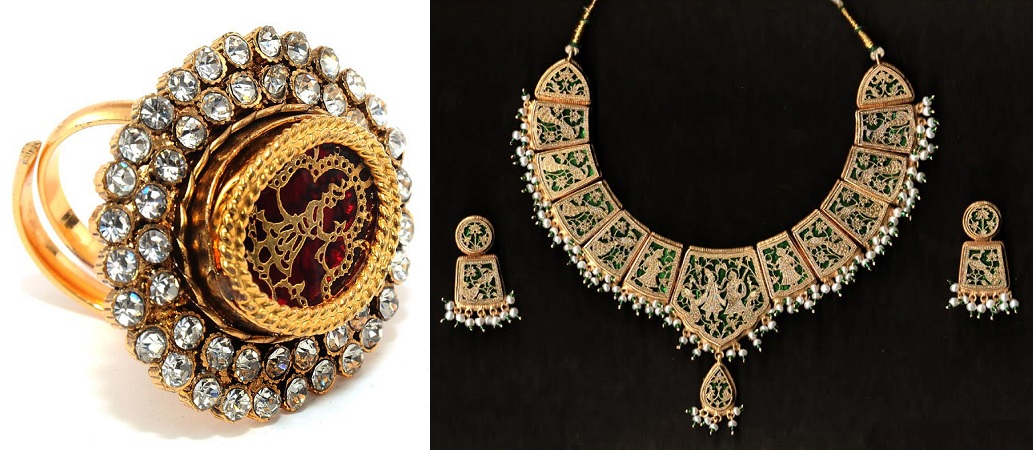 Global Influence of Thewa Jewellery:
Thewa Jewellery is very famous throughout the globe. During the British period many Europeans that came to India and visited the state got things small jewellery items of Thewa from the state as a token. However, now that Thewa jewellery has become very famous and known throughout the world because of its intricate and fine work, people all over the globe seek the jewellery from Indian suppliers and dealers of the work.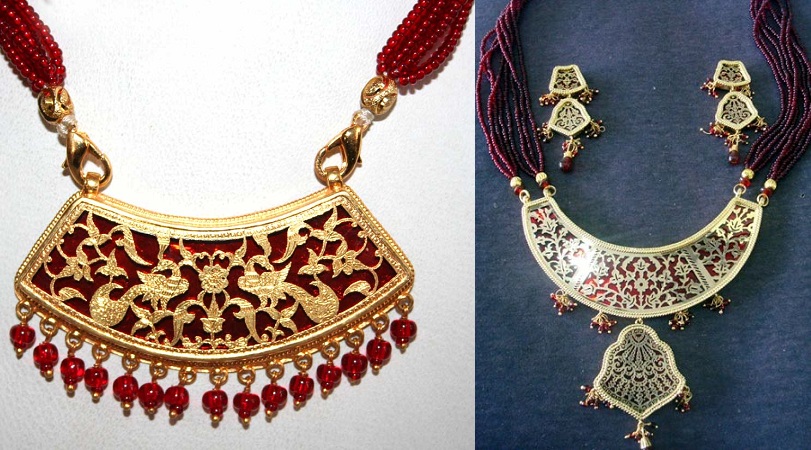 Some European dealers also sell Thewa jewellery after importing the same from India but you can find a number of imitation Thewa jewellery on the internet. Famous bollywood actresses like Madhuri Dixit Nene, Sridevi, Vidya Balan and Aishwarya Rai Bachhan have also donned Thewa Jewellery in their movies and also in several red carpet events.
Availability of Thewa Jewellery:
If you are looking for genuine Thewa Jewellery in the market, you have to be careful as very few jewelers stock the item for it is very expensive due to the involvement of heavy labor, use of intricate designing, gold and gemstones and the number of days to make a single piece.
Even a single piece of Thewa pendent takes a minimum of one month to complete, therefore, is very expensive. However, you can find genuine Thewa work at affordable price only in Pratapgarh district of Rajasthan.
You can also order you Thewa jewellery over the internet. There are many online websites selling genuine Thewa jewellery at very reasonable prices. A great thing about internet is that you can see a number of designs and styles on the internet and then order the same from the cool confines of your home to get it delivered at your door step that too at very reasonable charges.
Wearing Thewa Jewellery:
Thewa jewellery is a very traditional piece of work and is usually worn in traditional and formal functions like marriage etc. This jewellery adds grace and beauty to the traditional sarees and Lehenga in the marriage and also makes you a centre of attraction amongst all the guests.
Thewa Jewellery is not very common like other gold and diamond jewellery as this work is limited to a very small area and most people are not even aware of such work.