As per reports, Bollywood has taken over the biggest film industry in the world if the quality is taken into concern. Not only has Bollywood been able to override Hollywood in terms of the number of movies it has produced but also Bollywood stars now have made their way to Hollywood. Prominent stars such as Amitabh Bachchan, Anil Kapoor, Aishwarya Rai Bachchan, Om Kapoor ,Priyanka Chopra and Deepika Padukone have already appeared in many Hollywood films as the lead while as of recently Irfan Khan and Ali Fazal have been cast for two upcoming Hollywood ventures. Though you may argue that Hollywood outrides Bollywood when it comes to the question of originality of concept and innovation but you also cannot miss saying the latter overshadows the former when it comes to the question of fashion.
Bollywood gives Hollywood a tough fight when it comes to Fashion
Bollywood possesses its own legacy and style to which Hollywood hasn't been able to provide a match. People who are fond of Indian culture are always keen to know more about the latest Bollywood fashion trends. If you look back to the era of the 60s, you will certainly find that the Anarkali dress was worn by legendary actress Madhubala became popular among Indian girls and Madhubala became everyman's dream girl. With dream girl, did you remember someone? Well, of course, no Indian can forget Hema Malini's movie Dream Girl. The saree she wore in the movie then became a must have for every Indian woman who loves adhering to Bollywood fashion trends. Though some of the fashion trends evolved then, are faded but the new ones have made up for them.
Fashion Queen Kareena Kapoor Khan
Then popular Hema Malini, Madhubala, Nargis, Helen is now replaced by actresses like Deepika Padukone, Kareena Kapoor,AliaBhatt and Sonam Kapoor. Their style statements are popular for creating a buzz in the fashion world. Well to help to gear up your fashion statement here is a brief about 5 famous looks by the royal lady Kareena Kapoor Khan.
1. Kareena Kapoor Khan at Soha's Wedding Reception
Beautiful begum looked stunning at the wedding ceremony of a sister in Law- Soha Ali Khan's wedding. It was definitely Bebo giving a tough fight to the bride with her style statement. In her light pink champagne colored saree embroidered with a white border and white blouse complimented by light accessories at the wedding and white decorative lehenga and silver choli for the reception, Bebo did reflect her sense of giving how to give any eastern outfit a western touch. In her favorite designer's outfits, she looked glamorous throughout these 3 days. Her better half too complimented her in a pure white sherwani with a pink turban for the wedding and at the reception with a navy blue sherwani. Together they resembled a royal couple in the true sense.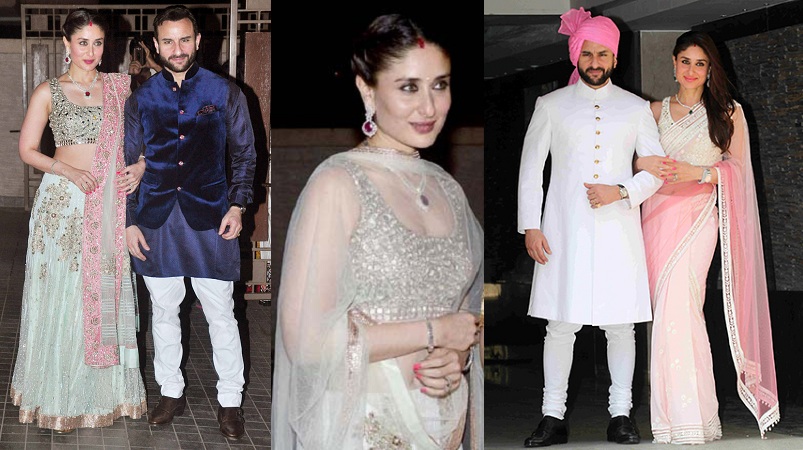 2. Kareena exposing her Zero figure in Tashan
Though Tashan didn't not stand up good at the box office, but it became a hit truly in terms of fashion and the credit goes to Kareena who completely transformed herself for this movie. She lost her curves and rocked her zero size physique. And she did look hot! She enjoyed being styled by fashionist Ali Narula who tried different looks on her to enhance her sex appeal. From being dressed in a black lehenga in the song Falak Tak Chal to wearing a stunning green bikini and exposing her zero figure in Chaliya Chaliya; she made the film enticing. Both in Indian and western attire Bebo looked elegant. When interviewed, she said that "it is Aki Narula who owes my change".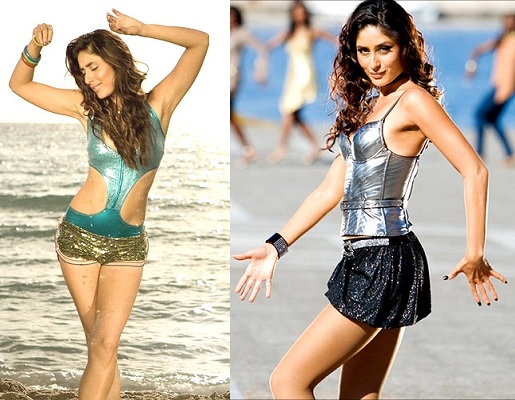 3. Kareena looked flawless in Heroine
Bebo looked exceptionally gorgeous in Heroine-A Madhur Bhandarkar's film. She portrayed the character of Mahi Arora-an arrogant superstar and lived up to the expectation of her fans. Heroine will forever be remembered as one of Bollywood's most stylish films because of Kareena who was dressed in about 130 costumes designed by Manish Malhotra. It was reported that charges for her costume amounted to a sum of Rs 1.3 crore. Manish later in an interview said that it was the first time in his life that he made this many costumes for just one actress. Kareena also added that it is Manish whose costumes I feel comfortable to put on. Whether it is her western outfits in the film or the traditional look in bright pink saree bordered with black in Halkat Jawani, she retained the lively spirit throughout the film.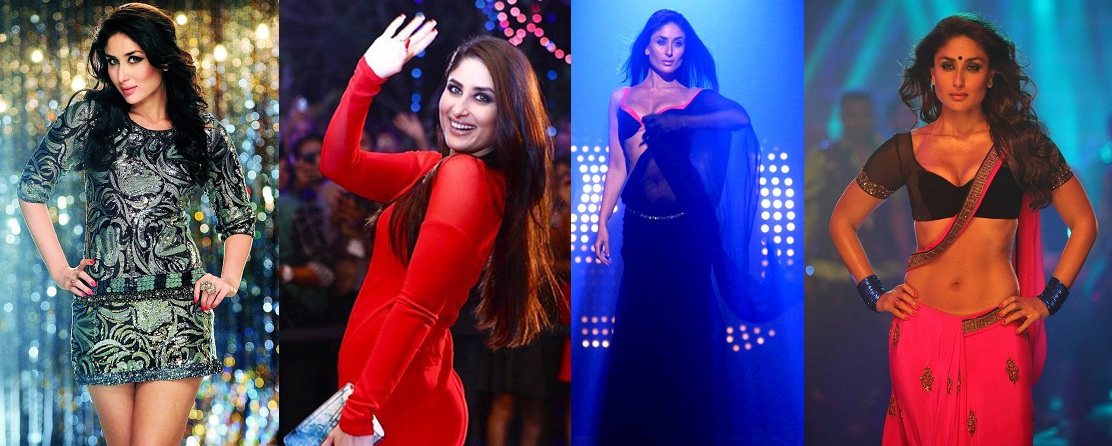 4. Fashion conscious Kareena at IIFA 2014
When it's IIFA 2014, how can one miss talking about Kareena who looked undeniably elegant in a black gown with plunged neckline? Accessorized with just the wedding ring and her watch, she perfectly resembled simplicity. Her dress from the 2013 collection of Giorgio Armani helped her in being the center of attraction of the event. Bebo was complimented by her husband who was dressed up in a black suit. It seems like fashion conscious wife has been able to enhance husband's fashion sense quite well!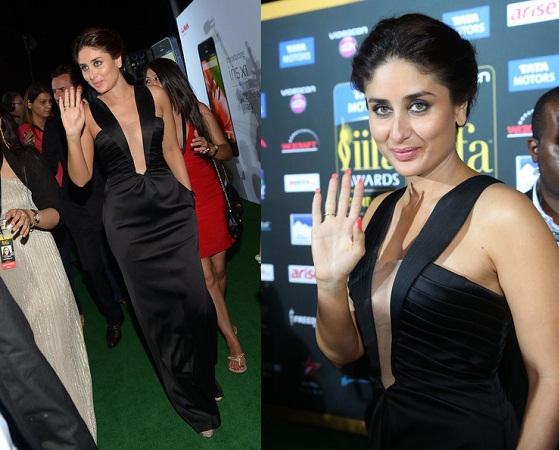 5. Kareena retains glam in her maternity phase
Barely with just a few months to go for delivery, Bebo has created history which no other Bollywood divas dared to. She reinvented maternity style. She looked simply classy in the silver lehenga designed by Sabyasachi Mukherjee and walked down the ramp as the showstopper at Lakme Fashion week 2016. While at a stage where pregnant ladies stay relaxing at home and hiding the baby bumps, Bebo said that it is the motherhood which she is enjoying in style. The actress was also spotted at various events without making any attempts to hide her baby bump.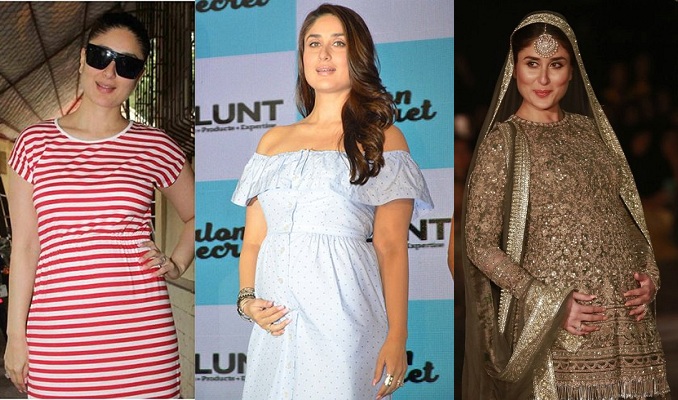 Summing up
Definitely, only these 5 looks are not just enough for presenting Kareena's fashion sense. With a span of over 15 years in Bollywood, she has brought to light many matchless looks preferred by most Hollywood fashionistas. Always known for her elegance, Kareena will definitely come up with more to live up to the expectation of her fans who have always considered her as the goddess of fashion. Well till this Bolly queen comes up with something new, you need to keep patience and stay tuned.