Metallics are considered one of the major trends of 2017. But even in case, these are not, it is just difficult to ignore the charm of gold shoes. The metallic gold shoes offer a glamorous and fun vibe to the wearers and therefore these can become the important piece quite easily. Besides, there are the gold heels that look super stylish and fancy. Other options are gold sneakers that are for a more put together look. Apart from that, you can choose to wear flats and oxfords that would elevate the casual styles to a unique one from boring. So, if you are also attracted to this style, then here are some more details about the golden shoes.
As the metallic golden shoes are here to stand out, these are perfect to mix with the neutrals and basics. But never pair these shoes with some other bold pieces. But in case you are taking the risk, then you try out. Shoes are often counted on the best fashion accessory to play around as these are really versatile and happen to also change the overall look of the wearer. Opting for the pair of Oxford shoes or gold sneakers are a better option here as these are easy to mix and match and also really comfortable.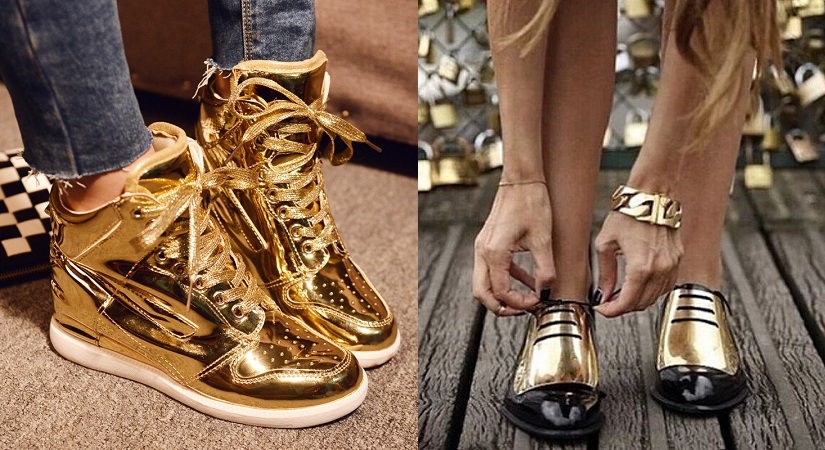 Different types of golden shoes from which you can choose:
Golden toe shoes: So, you are planning to buy golden shoes as these look trendy, but you don't prefer wearing the flashy bright shoes! In this case, there is a great solution that you can choose and it is the golden toe shoes. These shoes are basically combined with the stricter hues like white, black or any other neutral shade. Or you can also choose beautiful floral printed shoes with a decent heel and gold closed toe for a different avatar.

Golden pumps: These shoes are not just trendy, but these are very comfortable. In fact, these shoes just look ravishing if you can style these properly. For instance, pairing these golden pumps with a beautifully cut white and black trouser would make up the perfect attire for a professional yet fashionable business woman look. Carry a jittery purse with this combination for a perfect after office party look.

Golden sandals and stilettos: Golden shoes can't be considered as a type of versatile footwear. In fact, these are basically worn to parties and sororities. But the golden sandals and stilettos are a bit different. You can choose to wear plain or bejeweled golden sandals to offer a spark to your entire attire. Besides, the golden stilettos can be worn with the beautiful and delicate gowns and prom dresses. Dresses of golden, black, red or green colors look just perfect while these are paired with the golden stilettos.

Celebs flaunting the trend of golden shoes:
So, forget the trend of metallic nails. This year, wearing metallic golden shoes is probably the coolest method of letting the style shine through. The trend of wearing golden shoes is popping up the international runways for a while and therefore this style is endorsed by a number of fashion forward celebs. Bollywood is not much behind. Celebs like Sonakshi Sinha, Alia Bhatt, and Manish Paul have already spotted flaunting this style. Besides, Sania Mirza – the tennis star has also seen making a style statement with beautiful golden shoes. Even though this style has not become that popular these days, but people are slowly adopting this style.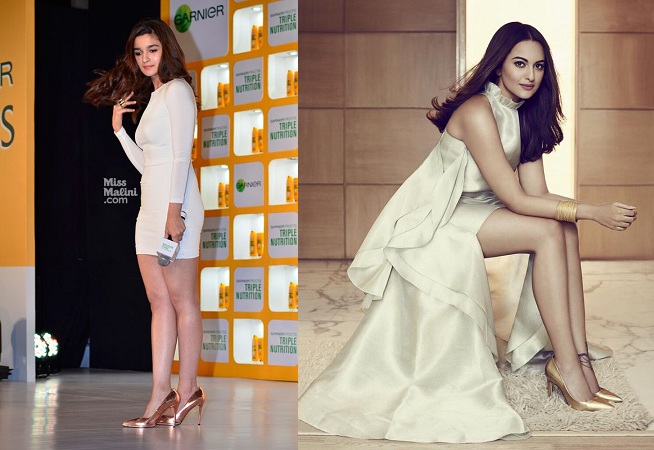 Tips to wear golden shoes:
The golden shoes are in trend these days as these can give the wearer a complete sophisticated look. But one should take some precautions while wearing these shoes. As the golden shoes make a great style statement, therefore these don't need much accessorizing. So, before pairing these shoes, take a look at the dresses, with which you want to pair these. For instance, wearing floral with golden shoes is a complete no. Rather, choose dresses in plain colors for a refined look.
Want more inspiration? Then follow the tips mentioned below regarding the ways to team up golden shoes successfully with different types of outfits.
Wear golden loafers with a neutral colored dress for more fun.

Wear bold colored socks with golden sneakers or shoes. Red can be a great choice in this case.

Black and gold are great combinations. So, wear gold shoes with the complete black outfit. The overall look will be chic and will also be very easy to arrange. Besides, you can also combine gold heels with a completely black outfit with golden details to look more gorgeous. Apart from that, gold shoes also look great with black tights in the winter weather and gold sneakers with a beautiful black dress for any casual event.

Want to show off your golden shoes? Then wear these with little-cropped jeans.

Shiny and gorgeous gold shoes look just unexpected with something basic like as black pants and chambray shirts. This is the thing that makes this look work.

Another great option is to match the gold shoes with a shade in the outfit. This will make everything flow and will also look great together.
Choose rose gold sneakers for a more stylish look. This will look good with light wash denim. For an unexpected mix, you can even pair these booties with the variations of gray. These can even make the casual outfits more stylish.

Gold booties can stand out and these don't need much else. For a sleek look, wear these with all black outfits.

Pair a gold metallic sweater with the gold sneakers to follow the trend. Gold shoes also look great with the winter white shades like cream sweaters and white jeans. These break up the monochromatic look in a completely subtle manner.

Another great tip is to pair gold colored bold flats with bold striped pants
You can also choose to wear gold oxfords. These look great with blazers and button down shirts. Show your socks for a more creative look.
Opt for a more casual and boho vibe by pairing gold shoes with graphic tees and mom jeans. This combination works either way.
Wear pointy toe golden flats with a knit sweater and jeans to look really chic and glamorous.