When it comes to wedding nothing can beat the heat and grandeur of an Indian wedding. Yes, wedding in India is just not a ritual anymore it has taken the shape of a festival within family and friends. The bigger the wedding is the grandeur it exudes. Just like all other weddings in the world, the bride gets the maximum focus and she is the center of attraction for the whole occasion. In India people do take this another level of celebration. The preparation begins almost a year ago and the bride starts getting ready for her big day six months ahead.
The wedding dress
She goes through month long beauty treatments, dieting, exercising and even visits an image consultant. However the most important thing for the bride is her bridal wear. Some brides choose to wear a saree whereas some wear lahengas and few other, especially Punjabis wear salwar kameez on their wedding day. Wedding dress holds an important place in every girl's life. That is why they take great care in planning choosing and making of the dress. Generally in India it is seen that girls who are wearing lahengas for their wedding starts planning for their bridal wear much before than the ones who choose to wear a saree.
How to plan when you are wearing a lahenga?
North Indian brides and especially hindu brides prefer to wear a lahenga for her wedding. It is because of the fact that lahengas look fabulous and it can be really gorgeous. Lahengas for the bride and generally made to order and thus it requires time for planning, designing making and fitting of the outfit. Brides who are having a big event would prefer to go to a designer who will help her plan everything from the lahenga choli to her jewelleries.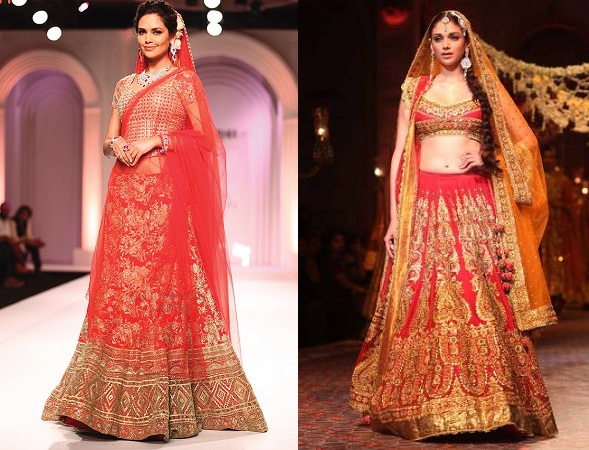 Planning for a lahenga will begin with the bride's body type, height and complexion. Choosing the right colour is very important. While shades of pink, red and green is majorly used, other colours like white, orange, teal, blue and magenta are also seen on the bride's lahenga. Intricate zari, stone and bead work is a must. Heavy embroidery adorns the bride's choli and the lehenga. Bridal lahenga are made on different types of fabric but the most that is used silk, satin, net, georgette and chiffon. The cuts of the lahenga will depend on the body type and whatever looks good on you. You can also buy ready to wear lahengas from a good boutique if you are in a hurry.
How should you choose the best saree for your D-day?
When it comes to saree for a bride nothing else can compete with the luxury of a kanjivaram silk. This silk from the south is the mother of all wedding sarees. It is hand woven with the best quality silk. These sarees are heavy and contains intricate zari work. Often these zari threads are made from pure gold and silver too. These are one of the most expensive sarees found in India. Apart from this Benarasi sarees are traditional and quite popular. Georgette sarees with heavy stones and bead work are also worn by brides on their wedding.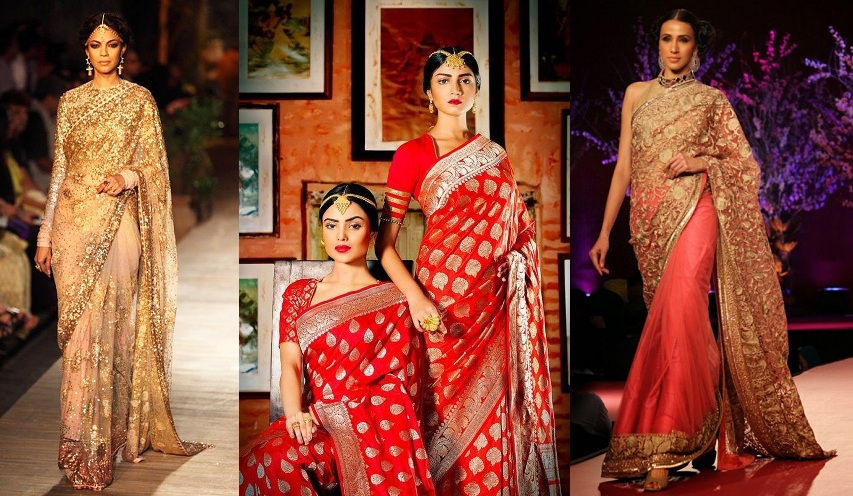 Are you wearing a sharara or a salwar kameez for your wedding?
Muslims in India typically wear sharara for their nikaah. Sharara looks really beautiful and feminine and the bride can get her sharara deignes and made according to her wish. Just like a lahenga shararas are also made the same way with heavy stones, beads and zari work. Embroidery is also quite common on shararas.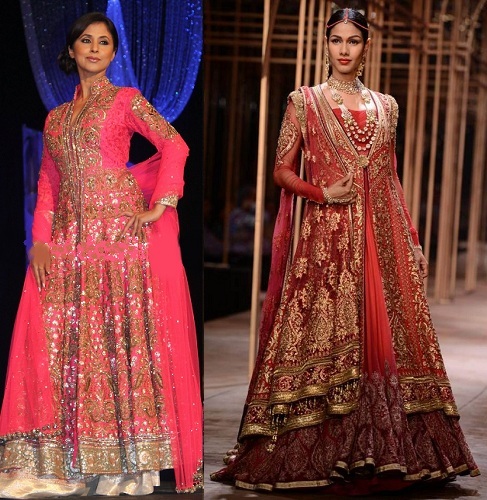 Punjabi brides who wear salwar kameez have their typical styles and cuts. However they also use embroideries and lots of zari work on the kameez. The salwars are generally made in the style of Patiala pants.
Conclusion
With so many options for an Indian bride to choose from, no wonder they look stunning and gorgeous in the most important and auspicious occasion of their life.  Colours of happiness are used on their wedding dress and matching jewelleries are also worn for the ultimate deck up. It is surely a grand occasion and thus the bride must dazzle and sparkle on the biggest day of their life.