Symbolizing affluence, splendour, beauty, and majesty, floor-touching anarkalis are the latest trends in the town.
From young girls to young and old ladies, everyone just loves wearing the floor-length anarkalis at weddings, parties and social gatherings. While these majestic suits add elegance and appeal to your personality, these are completely easy and trouble-free to carry and maintain. Unlike saree, it doesn't need one to manage the pleats or make it difficult to walk.
Anarkalis – Taking the Indian Community by Storm
For a few years now, Anarkalis are a rage among Indian women and the fashion is nowhere close to fading away anytime soon. Though, knee-length anarkalis offered a perfect traditional look. The floor-touching anarkalis have created a perfect balance between tradition and modernism. Striking a chord with the modern Indian women's fashion sense, these floor-length anarkalis have made their place among the favorites in one's wardrobe due to their royal look, outstanding designs and intricate embroidery work.
Body Type is No Concern
The sophisticated art work, amazing designs, heavy brocades, and heavy flowing fabrics of floor-touching anarkalis make them irresistible. Evening gowns have got a tough competition with the introduction of these regal anarkali suits. Not only in India, but floor-touching anarkalis that look more like evening gowns have a huge demand across the whole globe.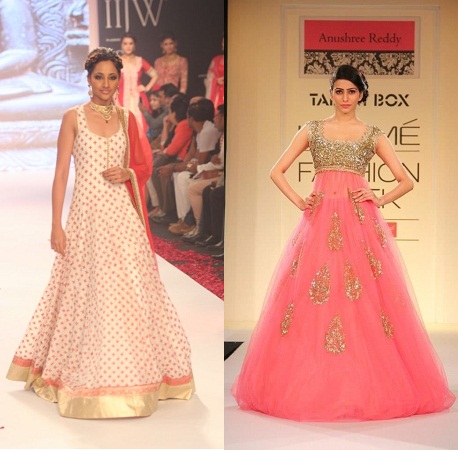 Well! Nobody literally does that, but it is really hard to get a glimpse of the under worn churidar when one is wearing these long anarkalis. Yes, these are that long and so is the name. Also, body type is hardly a thing of concern when it comes to wearing the floor-length anarkali suit. It fits any body type and looks good too. In fact, any flaws are hidden when one puts on an anarkali. Even fatties or healthier women get an improved silhouette when they get into a floor-touching anarkali. Since, these suits are voluminous and have a ghagra style flare. Besides, these fit the body so well and their magnificent necklines add to their appeal. The wearer appears taller, better, and straighter in these flared suits.
No Longer Do You Need to Carry Yourself in Those Old Traditional Outfits
Without doubt, an evening gown has always done its job of making any woman feel no less than a princess. But, more often than not, Indian weddings demand women to follow their traditions and leave them with no other option than to wear something out of the old traditional dresses. With floor-length anarkalis, this is no longer a problem. You can say goodbye to that old, boring look and dress yourself in something that is traditional and not-so-traditional at the same time.
Trend Straight from the B-Town
People, especially women, remain crazy to chase the Bollywood styles and trends. They want to look like the B-town divas. The good news is that the full-length or floor-touching anarkalis are inspired straight from the dresses these divas and those in daily soaps wear. And you can find these anarkali suits everywhere, including online shopping portals, and malls in your area. If you pay a little attention, you will find almost every other Bollywood actress in floor-touching anarkalis with splendid necklines, whether they are at an award function, a movie launch, or a promotional event.
Endless Variety in Fabric, Style and Design
Though, elegance and charm are some of the primary reasons for the notable demand for full-length anarkalis, these outfits are also loved widely for the choices they offer in terms of style, fabric and neck designs. There is absolutely no end to the fabric which ranges from net to chiffon and georgette to brocade. Also, there is no dearth in case of designs, which may include anything from zari-work to zardozi stonework, and from embroidery to patchwork bordering and sequin add-ons.
Floor-touching Anarkalis – Suits that Suit Any Occasion
For every occasion, there is almost a clear picture in people's minds as to what to wear to the same. But, for many people, it is a question mark if they can wear the floor-touching anarkalis to any other occasion apart from the wedding functions. The answer is an absolute yes. In fact, floor-touching anarkalis solve the problem for every occasion. If you cannot think of anything else, you can always pick up your full-length anarkali and wear it gracefully to any occasion. If you are planning to go on a casual outing like for watching a movie, you can still pair your anarkali with matching leggings.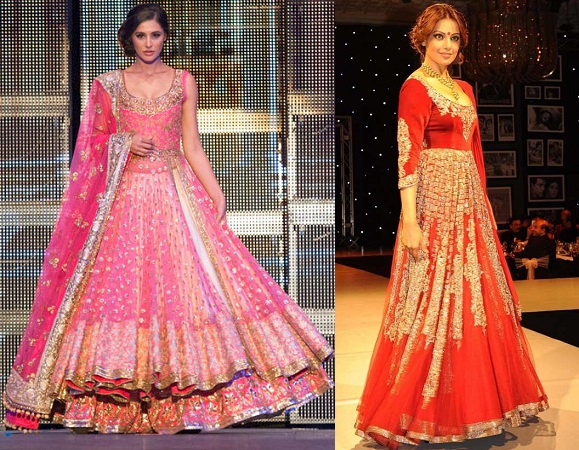 The heavy-flowing, heavy work anarkalis can be worn to high profile gatherings and parties or marriage receptions. These are a perfect outfit for a puja or any other traditional function too. For a simple occasion like a friend's birthday, there are other styles of anarkali such as frock suits that are light in weight and carry simple neck designs, and yet, enhance your look and give you a wonderful feel.
Wear With or Without Dupatta
Like it has been stated earlier, the floor-touching anarkalis are no less than those evening gowns. And these fit all body types. Above all, their designs are such that they look complete with or without a dupatta. This is why you can flaunt your style in a unique manner and remain hassle-free. Even if you don't like carrying a dupatta, do so and nobody will give you those awful looks of having come without a dupatta. Especially, if you are wearing the high neck anarkalis that give you a real imperial look with their coat-like design, bodice and flared ghaghra.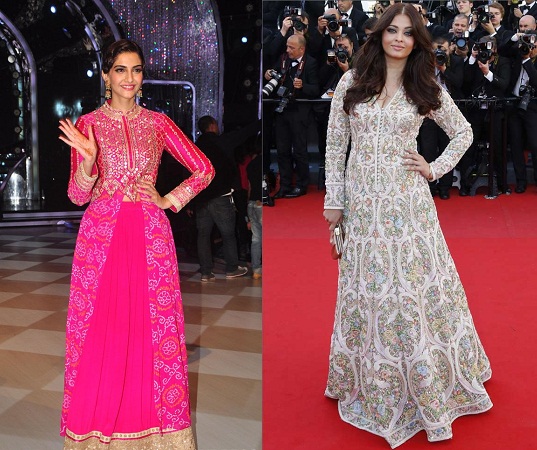 A Must for Every Woman
Looking at the royal feel and look that the designer floor-length anarkalis offer, even the popular fashion designers suggest keeping one in your wardrobe. Their pattern, design and unique cut make them worth it. Carry yourself with confidence while you wear the floor length anarkali outfit, and see every head at the party turning at you. That is the true beauty of this traditional-cum-modern outfit. And now, the best part! You can go completely without any elaborate jewellery. Just a pair of matching earrings and heels, and you will be all set to attend the occasion!