With the emergence of new fashion trends in the country, there is a substantial change in the dressing pattern of Indian women in the recent times, making a drastic shift from salwar kameez to Patiala suits. Patiala suits as the name suggest hail from the city of Patiala in the northern part of Punjab in India and are a form of female trouser. The root lies in the royalty as the king of Patiala had its royal dress as Patiala salwar. It has a very close resemblance to the pathani suits which have a similar pattern on its lower side. There have been many changes that have been made and are now worn by women in different parts of the country and outside.  The new cut and design has drastically caught the attention of many modern women in the recent times.
The reason for its preference:
There are many reasons why Patiala suits are preferred over other similar kind of ethnic wear. It is mostly worn by women who hail from the Northern part of India (Punjab) and other close areas due to its durability and comfort mainly in summers. As it is quite loose and stitched with many pleats, it is quite comfortable as an outfit. The main distinguishing character of the wear is that it has many folded clothes stitched together that meet at the bottom of the wear. There is a requirement of double length clothes materials so that it could be stitched nicely (generally of 4 meters in length). The pleat fall is such that it gives an amazing draping effect overall. It is also called by different names, such as that of Patiala 'shahi' salwar as it was earlier worn by royalty of Punjab. It has a traditional feel to it and is worn by many varieties of clothes which include, long shirt, short shirt, T-shirt (which is a new trend) and gives a mixed Western and Asian look altogether.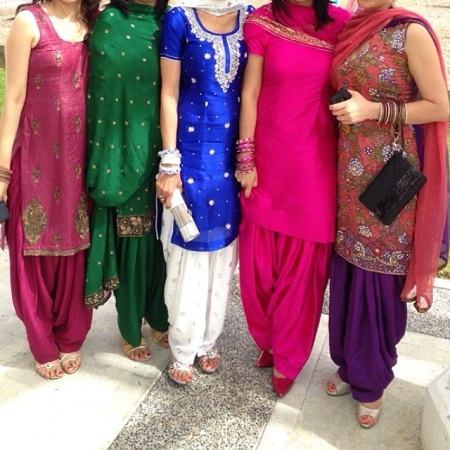 Latest designs and collection:
There are many latest designs and trends that are emerging in the recent times. With heavy beads work and crafts done on the front part of the suits, Patiala kameez looks absolutely gorgeous and amazing. It is considered to be synonymous to salwar kameez, Patiala suits are considered to be one of the basic dresses that are worn popularly by most of the Punjabi women. Patiala suits are consisted on three different sets. The upper portion is called the kameez, the lower pant is known as salwar and there is a need of a third part which is fulfilled by the presence of a dupatta. Thus these three is combined to be one set of clothing and is popularly called the Patiala suit. There are so many different varieties of suits available online and offline, trending from luxurious ornamented stuff to ultra-traditional.
Straight cut dress:
One of the recent designs is the straight cut dress. It is one of most versatile and stylish dresses and can be teamed up with varieties of handbags, jewelries and shoes. One can easily choose the outfit designs and fabric according to the special occasions for which one actually wants to wear it.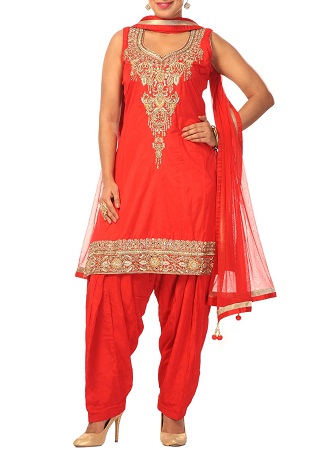 Floor length kameez:
This is quite famous among the ladies and is earning popularity in the recent times. It actually gives a new look to an evening gown, albeit more traditional and ethnic. It is said so because of the length of the kameez which comes all the way to the touch the floor, but with a sheer twist of ethnic wear. The most preferred fabric that is being used here is quite thick and heavy which also include the organza, velvet and brocade. The type looks absolutely elegant and classy.  It comes with high neck and full sleeves which gives a lot more gorgeous look to it.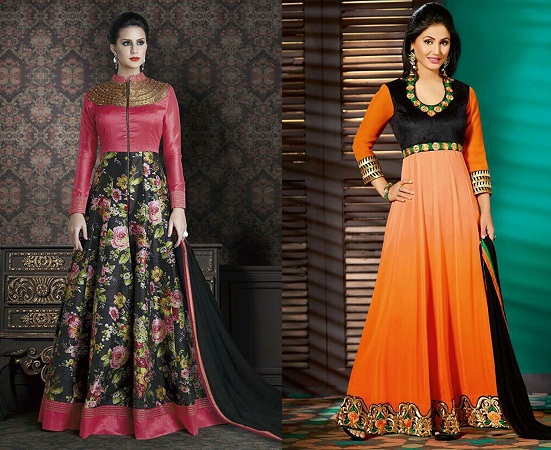 Semi-Patiala salwar:
It is such a type of cut which could be worn with Patiala dress and is quite perfect when it comes to office wear, daily wear, and such kinds. It is a semi-tight one with much less flare. It has quite a classy touch to it and is thus selected mostly by women. It could also be worn in any parties giving a stylish and elegant touch to it. Most of the designers are said to prefer this kind of dress in satin, silk, some shiny materials like chiffon with quite rich embellishments to make them look even more special and unique.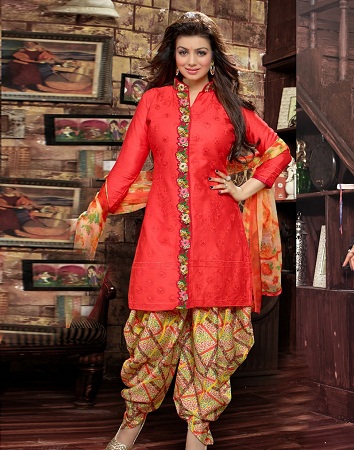 Comfort and trendy:
It is worn by Punjabi women mostly and now by most of the Indian women due to its comfort and unconventional looks. When it comes to fashion, all that is required is comfort and ease and both could be achieved by wearing a nice and stylish Patiala. The traditional neck design and Patiala suits were quite popular among the Pakistani as well as Indian ladies and is coming back to rule the fashion trend. It war earlier thought to be the all-occasion outfit and with passage of time new trends and designs have been introduced to the already present trend. It is not only suited to wear in informal occasions, but is a great outfit for formal conferences and official purposes. It is also trending high at the parties, business functions and weddings. There is a touch of this trend in Bollywood as well. It basically looks fashionable and traditional, depending much upon one's individual choices, requirements and personalities.
Increasing popularity:
The dress is increasing in popularity day by day. It looks quite cute and is designed with different fabric and designs. It is also called by the name of Dhoti salwar and is one of the latest trends of Patiala suits. It is best suited for young girls and quite comfortable for middle-aged women as well. Mostly seen among the sigh community, this dress is emerging in the popularity chart. The latest designs also include the use of laces, prints and embroideries. Much beautiful and elegant embroidery are also done on the shirts with wide Patiala salwar along with a dupatta. It is mostly seen by girls who wear them on specific occasions like Holi to match up with the beauty of the festival.
Colors used in the recent trends:
There is a use of various bright colors when it comes to the Patiala suits. Vivid hues and bold are contrasted with much darker shades to make the attire look more fashionable and gorgeous. These different suits are used on online stores to attract visitors and are one of the most favorite attires. Such dresses help in keeping up the tradition alive even when the individuals are placed away from their homeland.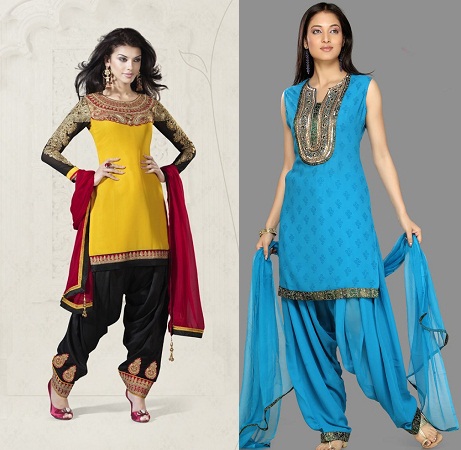 Suits all body types:
As the structure of the Indian people living in the Northern part of India is quite heavy, most of the dresses will not suit their body types. Thus Patiala suits are one trending option, helping women to look gorgeous. It suits all body types and there is no age limitation of wearing a Patiala salwar. As it is all about comfort, Patiala suits help in keeping up with the trend. They are economic and come within the set budget. If compared with other dresses, Patiala suits do not require extra care of folding and ironing, like other dresses like lehenga and saree.