This season, go ultra-modern and fashionable with the trendy asymmetrical suits. Style it with designer bottoms and lots of accessories for that diva look.
Clothing in India is always bright and colourful especially when it comes to women's collection. Indian dresses are known all over the world for their dazzling beauty and contemporary neat finish.
The Indian outfits have always been charming and stylish. Whatever the occasion be, your best friend's wedding or an official party, you will have plenty of superb options to match your style persona. A wardrobe is incomplete without any Indian collection. For weddings, you have heavy sarees with interesting blouses, awesome vibrant lehengas for a glamorous avatar, designer suits for festivals and get together and classic suits for casual evening occasions, dinners or everyday affairs.
An Inspiring Trend of Indian Suits!
If we talk about comfort and chic, Indian suits are the first thing that comes to the mind. Suits in trend are not the boring three piece outfit but a modern reinvention of the basic style. Suits are simple and light, easy to carry for every day, routine work. Plain or embellished, with or without dupatta, sleeveless, strapless or off shoulder, the choice is endless in suits. The style and trend is ever evolving and what better inspiration than Bollywood! Designers today are experimenting with conventional colours, quirky patters and funky designs and prints. The urban Indian clothing is at par with the global fashion and the same time, maintains the essence of the core.
The Evergreen Fashion of Indian Ethnic Wear
Indian ethnic wear can be better described as amazing, contemporary attire that connects to your roots. With a myriad of styles, shades, patterns and hues, the true grace and simplicity of the Indian dresses is unbeatable. And being the festival season, these are essential must- haves. They have a certain aura and splendor that makes them creative and unique.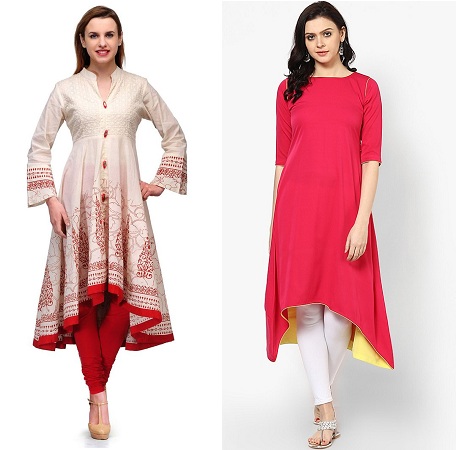 The Must Haves for Your Wardrobe
Comfortable, Classic Salwar Kameez
Graceful and Glamorous Saree
Casual Kurta and Leggings for every day wear
Traditional, Flowing Anarkali
Hottest Trends in Indian Suit Styles
Chic Indo- Western
Fresh twist with Side Slit
Classic Salwar Kameez
Graceful floor length Anarkalis
Formal touch with High Neck and Collar
Among these, the most fashionable in trend is the Asymmetric suits.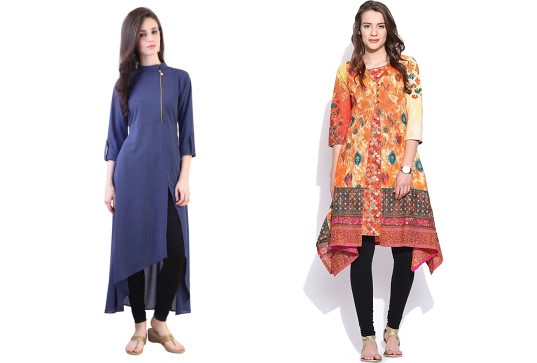 Asymmetric Suits are In!
The asymmetric design gives a modern, chic look especially if you have broad shoulders and a long neckline. If you get bored of normal, straight hemline suits, try this stylish trend. It gives an illusion of height and a feminine touch to the attire; the front hemline is shorter than in the back. It gives a different and a fun change to the conventional style of suits. They are mostly available in monochrome hues but contrasting colours can add more drama to your look.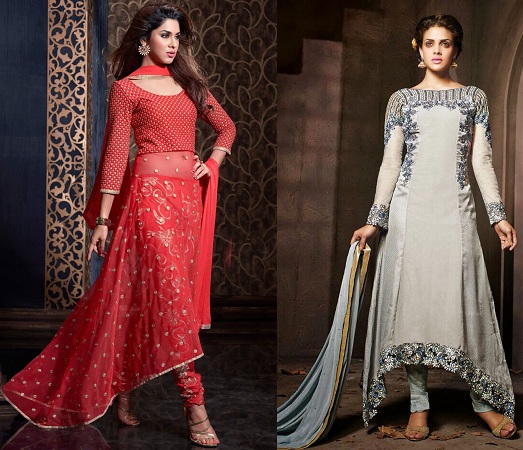 Patch work suits with bold colours like blue, grey and black gives an alluring look. You will find them mostly in light fabrics like crepe, chiffon and georgette for that glamorous flow. It looks best when paired with designer bottoms, leggings, skinny jeans or jeggings. You can also look out for Chinese collar, intricate embroidery, add on lace work, quarter sleeves or sleeveless which are some of the super interesting elements in your suit.
What Makes Asymmetric Style So Popular?
It adds on tan artistic vibe to your simple ethnic outfit
Quite edgy and classic, they add a young and hip element
The vertical asymmetric lines creates a slimming and an elongating effect if you have a petite body frame
You can wear it with simply anything like jeans or skirts and is a great way to camouflage that tummy that you so want to avoid being seen
Asymmetric suits are perfect layering pieces as they allow the other layers to flatter
The Popular Asymmetric Designs
The Colour Block Patterns– These suits are quite eye-catchy as they make a vibrant impression. Dark colour block print kurta with matching salwar is a classic combination. You can also go for block print in a single colour – light or dark depending upon the occasion and preference.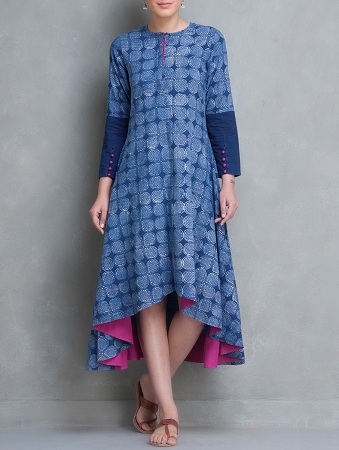 Asymmetric Anarkalis– Perfect for casual parties and dinners, the light and flowy asymmetrical anarkali gives an ethereal appearance to your look. The floor length at the back and short in the front looks quirky yet stylish. Team it up with matching churidar and dupatta in bright shades.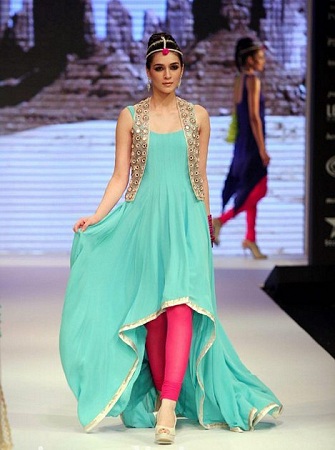 Exquisite Asymmetric Kurtis – The unbalanced and the high low shape of the kurti gives it a unique look. Kurtis look perfect for casual wear and asymmetric design makes it look out of the box. Wear it with palazzos, colourful legging or various kinds of salwars and get set for your event.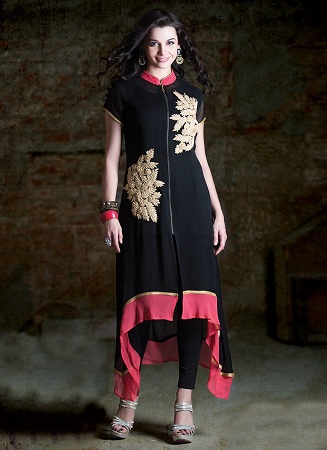 Asymmetrical Kurtis with Skirts- These look lovely with skirts too. Long gown like skirt adds flare to the design of the suit. This smart fusion of western style with traditional Indian grace or as we call it indo-western gives a bold sense of style with a carefree, bohemian look. Large motifs and sequins makes for a pristine ethnic look.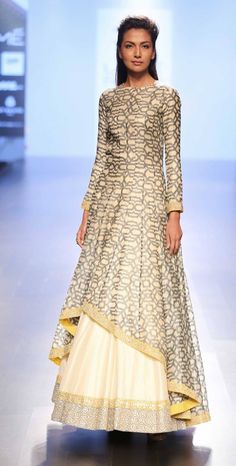 Asymmetric Neckline Suits- The necklines are made up of beautifully cut uneven patterns at either one side of the shoulder. This uneven pattern adds a ladylike charm to the suit and makes your boring and simple outfit, appealing. Be it cotton or georgette, the design adds to an element of sensuality. Add on elements like lace, sequins, stonework or embroidery makes it more creative and an aesthetic flavour. Choose the correct colour combinations and fabrics according to your body shape and personal style.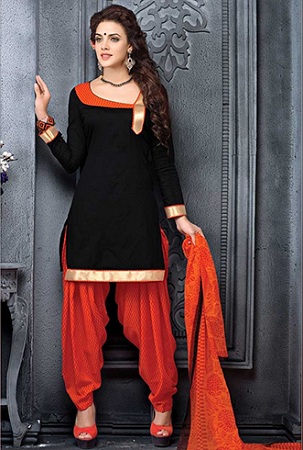 Get the sophisticated look with a pair of stylish stilettos. If you want to look casual, go for wedges or flats. Ruling the fashion world, this hot Indian suit trend is perfect to add to the glam quotient. To complete your traditional look, simple, elegant jewellery pieces like pendant or danglers and minimalistic makeup work wonders. Add a bit of zing and shine with a designer clutch bag.