[fusion_text]Kurtas and kurtis are an integral part of the wardrobe of any person, and for all the right reasons. Firstly, a Kurti can never go wrong, if worn properly, basically make it fit to the body type and by literally, pulling it off. Secondly, they are super comfortable, because a kurti can be fitted or just a little bit easy going, it depends on the preference and thirdly, they are available at affordable prices and one can alter the size and design as per their taste, unlike the readymade shirts or tops, which should be fitted or made with a certain precision.
Anyway, without deferring from the topic at hand, here are some of the ideas that can be paired with a kurti, because the bottoms are of immense concern as it can break or make the look. Here are 11 bottom ideas that go well with kurtis:
1) Ye old salwar:
A salwar kurta combination is hard to beat because this is the conventional pair that makes complete sense. Yes, it does not necessarily mean that this combination cannot be altered and nothing can be brought about that would be a little edgier. Let us first take into consideration the small changes that can be done, to bring about a new look.
a) First thing is that one can always make the kurta a little shorter to give them a little height that would ,make sense and also show off a flashy kurta in case one is wearing a better designed kurta.
b) Second is, if the kurta is on the plane side, it can always be paired with gorgeous and extremely elaborately designed salwars, to give off a sense of combination which is unexpected.  The salwar is the showstopper while the Kurti goes hand in hand to minimize any chance of being over the top.
c) The salwar may or may not have the cringed bottom. These cringes provide a sense of length, but it is not always that one requires the cringe.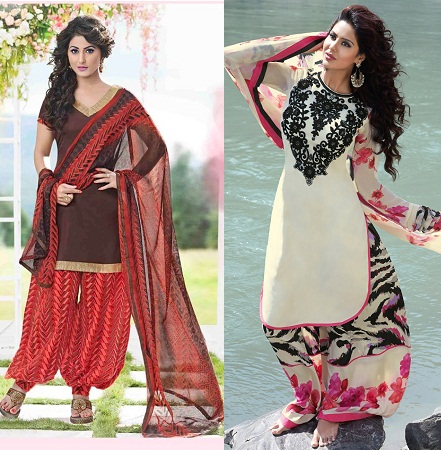 2) Skirts:
Kurtis and skirts are a gorgeous combination if one takes precaution and also can make attire out of it. The skirt, if is longer in length, the kurti should be shorter than any normal kurti of knee length and if the skirt is short one can wear a slightly longer Kurti. Now, this is not the Holy Grail that has to be followed. If the kurti has a front slit which shows off the stomach or abs areas and it gives a sense of the structure of the body, then you can elongate the length of the kurti and make it up till the ankle. The material can be sheer and the skirt of ghagra or anything alike can be gorgeous and have all the intricate details, while the kurti might just be plain, of a solid colour or it might put emphasis on the design of the skirt in question.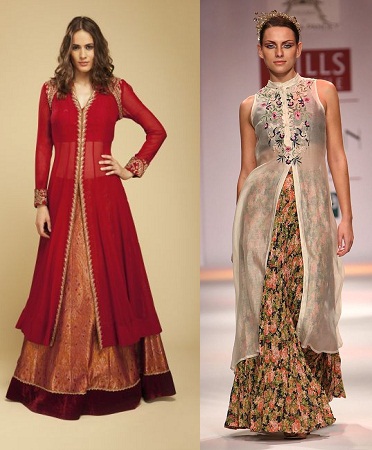 3) Aladin salwar or the slit salwars:
Harem pants have been in the trends for long, now what is ruling the industry is the aladin pants, or what can be said to be the pants which would have a slit down the side of the lower half. These are usually made of a sheer material with a short pant up till the knee and this gives a silhouette of the structure of the leg of the person wearing it and then the kurtas can be of any length, it is advised for it to be up to the waist and not longer than that.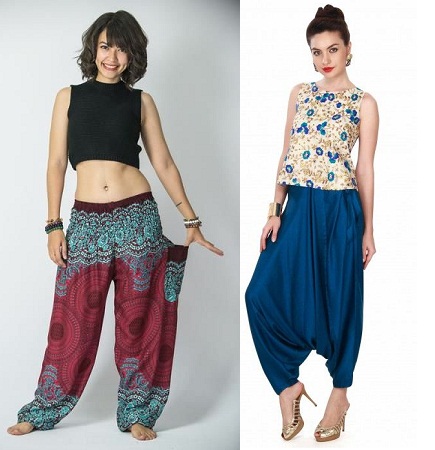 4) Harem salwars:
The harem salwar is not anything that needs a proper introduction, because it was a raging trend, as every celebrity has beaten it to death by wearing it in every possible way. It is unisex and that is the best part. Now, pro tips that should be given is that, the kurti should not be too long or it will ruin the entire look.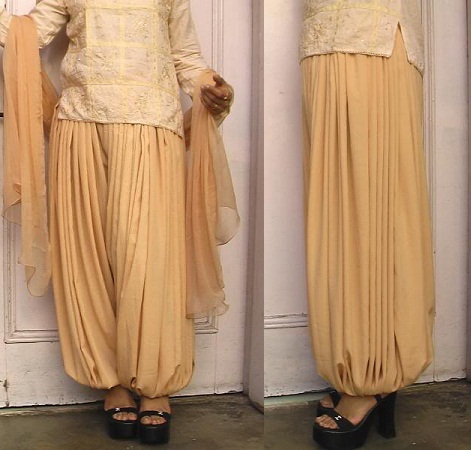 5) Afghani Harems:
These harems are shorter in length, with a little more flair and are basically what ankle length jeans are in the jeans family. It gives a lot of length to the person who is wearing it. The ballooning silhouette makes all the difference, but any conventional afghani pant can be of the ankle length or a little below that, but it won't be too much to handle.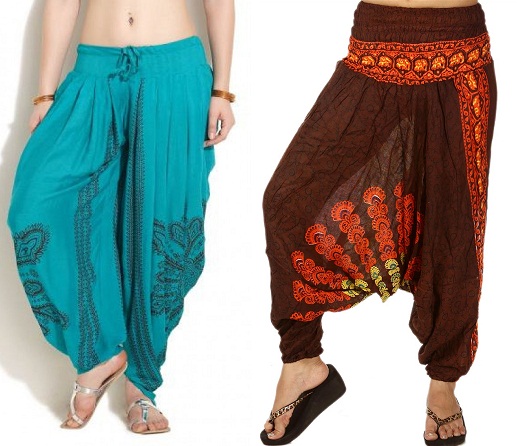 6) Palazzo Pants:
Palazzos are all the rage in today's world and one can take their kurti palazzo combination to a whole new level. They can wear a very short kurti with a flaring palazzo, or to make the look a little mope on the sophisticated side, they can wear a long kurti with a straight cut palazzo, this is more uptight and very conservative, but it does not mean that there is nothing playful about this look, because the kind of kurti will determine the look and what the wearer is intending to rock with this combination.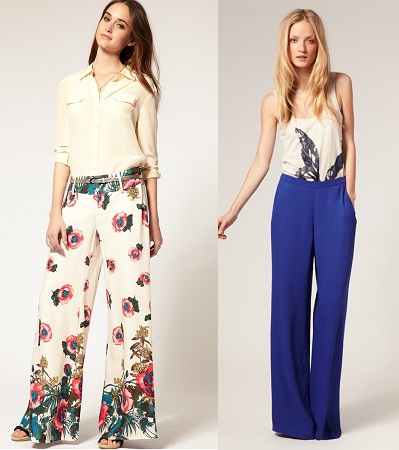 7) Cigarette pants:
Cigarette pants are unlike the parallel pants or the palazzo, but these are straight cut pants, which are a look alike of the formal pants. These have panache, when paired with the right kind of kurti. One can experiment with the length. What is usually seen is that people are wearing long kurtis with these pants, but again, one can always have a front slit kurti that would show off the riffs and the abs and this way they not only up to the ante in the kurti game, but also bring a very sophisticated change in their attire.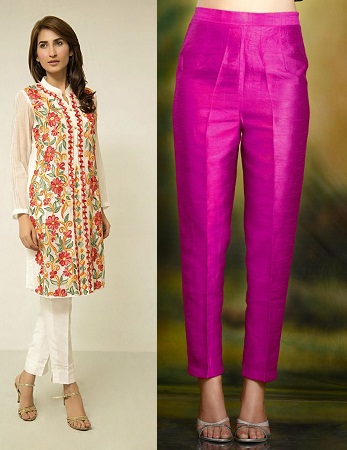 8) Dhoti Pants:
Dhoti pants are very unique and nothing like the harem pants which has been spoken about. Although the way one must style their kurtas with harems are quite similar to that of the dhoti pants, but there is something so unique about dhoti pants, as the drop in the crotch area and a chandelier like flair makes it playful yet, easy to work with.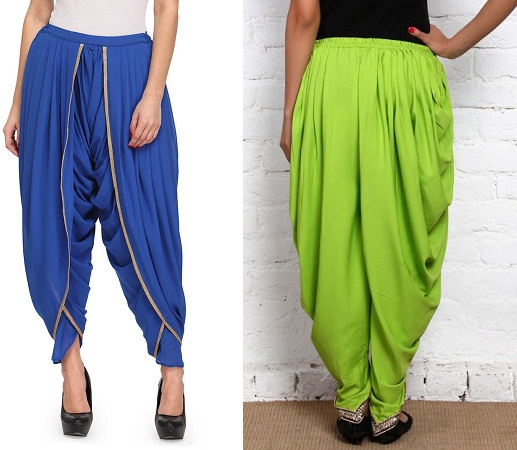 9) Jeans:
If there were anything that can replace the jeans and kurti pair, and is as comfortable as that, it must be tailor made from heaven and something that is completely unknown. The jeans can not only give a neat and trim look when worn underneath a kurti, but it can be multitasking. One can always make a good ankle length jeans work with a short kurti or even a long one.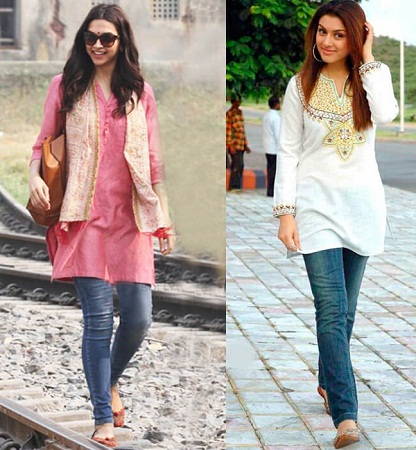 10) Leggings:
Leggings are the elastic material made salwar like pants, which are usually body hugging and comes in various shapes and styles and with various types of prints. Just pick a leggings and make sure to mix and match with everything that one gets to work with and the leggings game can be taken care of, in a matter of time.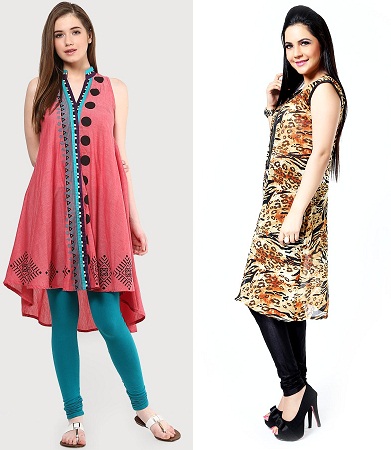 11) Wide legged pants:
Wide legged pants are exactly what they sound like. Bell bottoms but not made of jeans material. They are simply wider in the ankle area and are narrower down the rest of the length. Thus, it flairs out in a very uniform manner. Thus, the length of the kurti should not be very lengthy or else it will be very distracting to look at, with a lot going on.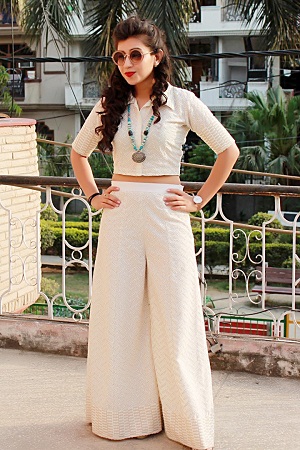 [/fusion_text]