Fashion is one of the most important factors that rule a woman's mind while choosing a dress to wear for a formal function. Anarkali suits and Patiala salwar kameez have long ruled the fashion world as party wear dresses especially in north India where these dresses are very popular. However, the scene is changing fast as party wear designer sarees and blouses are taking over the Patiala salwar kameez and anarkali suits as a party dress.
Saree and Blouse for Formal Events
Anarkali suits and Patiala salwar kameez undoubtedly give the impression of a formal dress with a small change in the choice of material for the suit and also by getting it embroidered or embellished. However they lack the charisma and grace that a sari and blouse offer as a dress for formal functions and festivities.
Sari and blouse have been the custom and culture in India for as long as anyone can remember. Women of yester years have been seen wearing sarees and blouses for festivities and special occasions. With the advent of Patiala salwar Kameez and anarkali suits things certainly became easy for them as far as comfort was concerned. However they lost the grace, charm and the sensuality that a sari and blouse offered.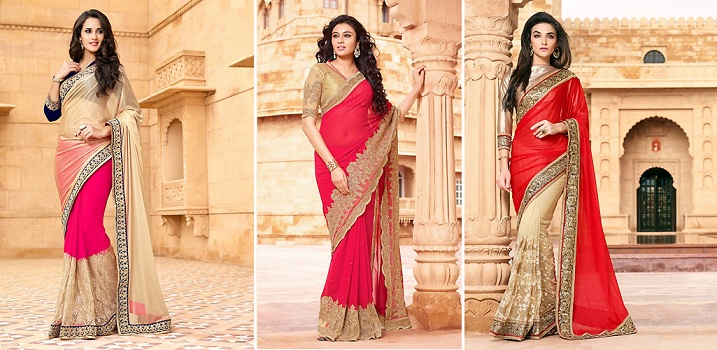 Change is the law of nature and also a woman's mind. She wants to look different from others while at the same time attuned with the latest fashion. So the fashion designers are always in a look out to bring about a little change in the clothing every now and then to bring about some novelty in the dressing and stir a woman's mind. For a long time the designers have made minor changes in the different suit styles to make them popular dressing styles and now have turned back to bring sari and blouse back as a style statement in the fashion world.
Today, apart from the regular sari and blouse that women can wear for a party, designers have come out with a number of designer sari and blouse options for the women to choose from and wear them as their party dress. These designer sarees and blouses have the looks and class of a very good sari ensemble with the convenience of comfort, customization, fashion, money and availability of designs to suit the needs and pocket of every customer.
A sari and blouse defines a woman, exploits her various curves and provides sensuality and attraction to the woman body. The six yard fabric with the help of a blouse exhibits the completeness of woman and no other dress whether it is an Indian or western gives the look that a sari offers. Designers work long and experiment with different styles and fabrics to come out with a set of sari and blouse that can replicate the charisma and looks of the old sari yet be novel enough to be accepted by the modern women.
Advantages of Designer Sari and Blouses
Designer saree and blouse are designed by people who are trained to create dresses that look good and comfortable. These sari and blouses are designed in such a manner that they are both comfortable and give you the look of a traditional sari while at the same time are convenient to manage. Hereunder are some of the advantages of party wear designer sarees and blouses taking over the Patiala salwar kameez and anarkali suits.
They are Comfortable
Just like Patiala salwar suit and anarkali suit, these party wear designer sarees and blouses are equally comfortable. Just like these suits they are easy to wear.  Many of the designer sarees are pre-stitched which means that they have the pleats of the saree stitched beforehand making it easy for women to just tie the saree around the waist. There is no need to make the pleats. The pre-stitched pleats are neater and well-stitched giving the women the comfort of wearing the saree quickly. Some designers have also introduced zips to the sarees allowing you to zip them like pants instead of tying and holding them with an under cloth or petticoat.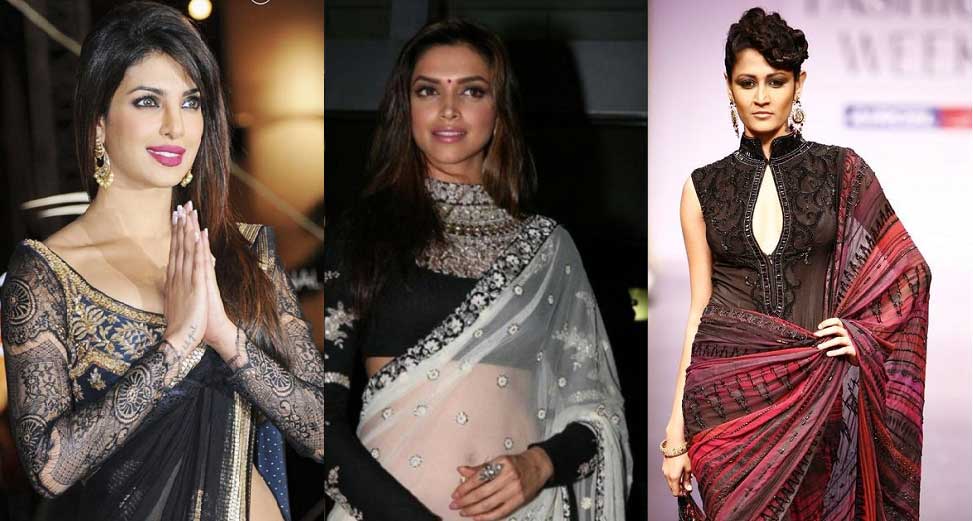 Zap up your looks
Party designer saree and blouse is a fashion statement that will enhance your looks more than anything else. They are the most selling items and every fashion conscious woman wants to wear a designer saree blouse for a party. With anarkali suit or Patiala suit you do get a good look but not anything like a designer saree blouse. A designer saree can do wonders for you and transform your entire looks from ordinary to high class by just the design and style of it. Its magic is such that people look at you with awe and ask you from where you have got it made.
Modern style
Every woman attending a marriage wants to look the most beautiful person in the entire party. You want that people look at you with awe and gush and that you stay the center of attraction for the entire time that you are there. For all this, you not only need to look beautiful but outstanding and different from the crowd so that people look at you.
Most girls and women wear heavy suits like anarkali or Patiala salwar kameez or heavy sari or lehnga. Of course you also want to wear a traditional sari and blouse but with a party wear designer sari and blouse you will not only get the looks of a traditional wear but also get the comforts of suit. Some of these designer sarees are in the design of a lehnga but are designed in such a way that you can wear them as a lehnga or a saree according to your mood.
Availability of designs
Modern party wear designer sari and blouses are available in ground breaking designs and colors. You can either choose from a catalogue of designs if you are buying online, or you can choose from a host of designs readily available with the designer. You can also get one made according to your choice of embroidery, embellishments and colors.  You can discuss with the designer and he will suggest you according to your body shape and attitude the best style of designer saree and blouse for you.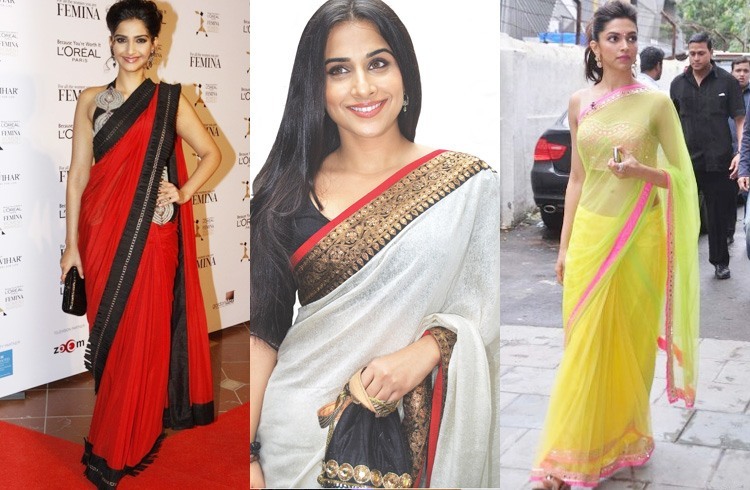 Available online
Party wear designer sari and blouses are available online at a number of popular websites and also on the websites of the designers. There are a number of small designers that have also come out with their designer sarees and have made them available on the internet.
There are many manufacturers also that have tied up with big and small designers and have come out with their party wear designer sarees in almost all kinds of material from cotton, silk, jacquard, crepe, chiffon to any material that you want. These manufacturers get the designs from the designers and produce them in bulk bringing down their cost considerably thereby making them affordable for women with all kinds of budget.
Quality
Apart from being traditional, trendy, modern, comfortable and affordable, designer party wear sarees with blouses are also quality products from the house of many reputed manufacturers and designers. They are guaranteed against all kinds of manufacturing defects and are easily replaced by companies manufacturing these designer sarees. The boutiques selling these sarees with license from respective designers also offer the same quality assurance and guarantee. The designers on the other hand take personal interest in all their customers and see to it that quality of each and every designer saree and blouse that is delivered to their customer is checked and satisfies the client entirely.
Customization
Although designer sarees and blouses come in standard size of six yards, however you can get it customized according to your choice. If you want the saree to be longer, the designer or the manufacturer can get it made for you at some extra cost while if you need it short, they can provide the same as well. These designer sarees can also be customized to any extent and you can even get your choice of color and embroidery or embellishment done.
As for the blouse, you get a blouse piece with the designer saree. However, if you want to get your blouse made from the designer you can get that also done for a minor or no charge at all. All you have to do is to select a design of blouse from their catalog and give your exact size and both the items will be delivered to your door step.
In case you are not able to decide on the style of designer sari, its embroidery, color or the design of the blouse, designers discuss with you and gauge your body shape, color and attitude and suggest you the best design that will not only fit you properly but also suit as if it was only made for you.
Therefore, now you can easily choose party wear designer sarees over Patiala salwar kameez and Anarkali suits.