Every woman loves to look perfect while going out whether to any social gathering or while going to the office. If you are a fashion bug then surely you will not like to wear the same pattern clothing again and again and will bring a change in your wardrobe. The world of fashion is changing constantly. A trend that you will go within the present month might become obsolete after a month or two. To look perfect it is highly recommended that you wear that outfit that is in vogue.
Suitable For Every Place:
Talking of peppiness and trend, a wide variety of kurti styles ruled the present world of women. A wide variety of designer kurtis is available in the market.  Kurtis can be worn everywhere and is no longer a casual wear. If you team your latest designer kurtis that has different cuts either with narrow or flared trousers for evening parties, social gathering and for attending any other occasion you will certainly become the center of attraction and will look like a diva. If you are not aware of the latest designer kurtis with different cuts then here goes the list for you.
Tail cut kurti:
This kurti comes with the layered pattern and is in vogue and appropriate for attending any parties or social functions. One side of the kurti is short and on the other side has an effect like tail. It is best western wear choice for women and young girls. If you want to have a glam look then wear it without a bottom. You can pair it up with Jeggings, Leggings, Treggings, and Jeans. This Kurti comes up to knee length, available in long as well as in short style. When it comes to accessories wear modern jewelry.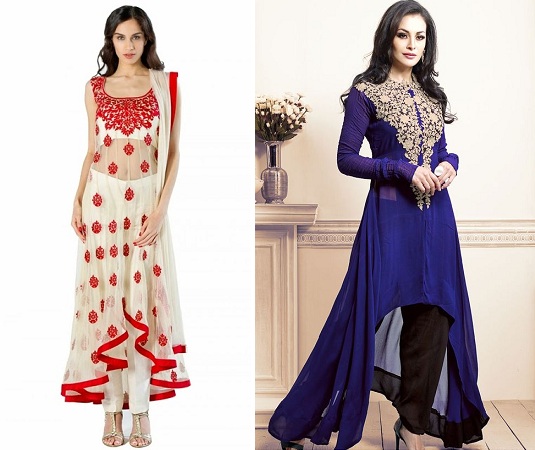 Anarkali Kurti:
For a traditional look with full of elegance and grace Anarkali kurti is the best option.  This kurti goes with any body shape be it is an hourglass, rectangle, apple or pear. You can wear this kurti to any traditional functions, wedding; best for daily wear, can be worn both as casual and formal wear. Pair it up with churidar or leggings. With this kurti wear ethnic jewelry, Indian juti and take a clutch. Your look will be as gorgeous as you want. Anarkali kurti is available in ankle length and in floor length. Take your pick according to your choice.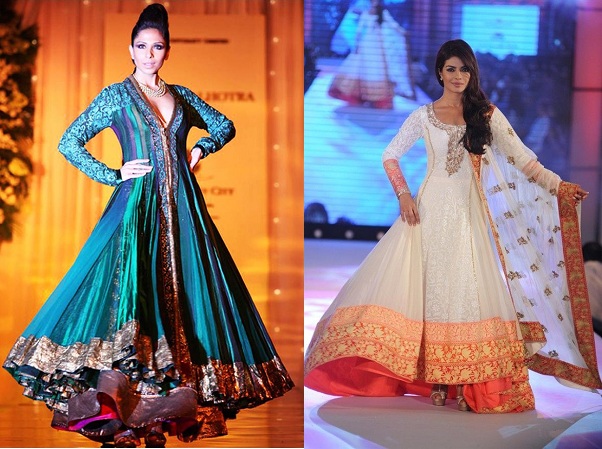 Angrakha Kurti:
Angrakha Kurti is in vogue specially the one with Anarkali style. The kurti when worn gives a stylish look. This kurti style has contrasts or two similar flaps that lay on each other and with straps tied at the side. For a traditional look tell your tailor to use beads or classy Pom Pom while stitching for you. It can be worn both as a formal and casual wear. This is best for daily and as party wear also because of the perfect comfort that a woman gets from wearing it. Team it up with churidar, leggings, and jeans. If you will wear to parties then wear long earrings, wear juti and take a classy clutch in hand.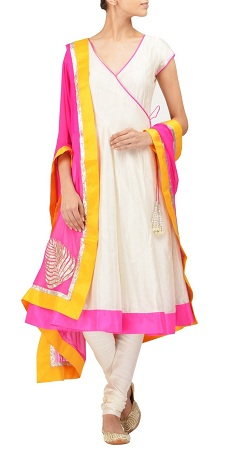 A-Line Kurti:
This kurti style is the most in demand among the young girls. It reaches the ankle or calf and has flair right from the waist that makes the 'A' shaped panel. Huge collections of A-line kurtis are available widely in the market and are fit to wear in any casual occasion. You can pair it up with leggings, Jeans, churidar etc. With this kurti make sure to wear chunky jewelry and this style suits the pear and apple shaped body. It is available in short, long and knee length.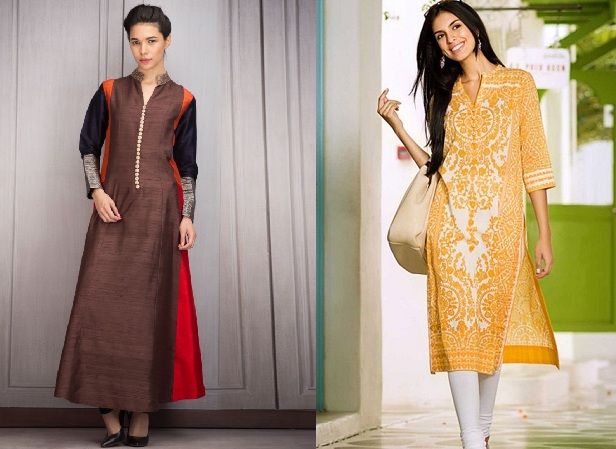 Dhoti Style Kurti:
Among the women, Dhoti style any outfit is high in demand. They just love to wear the contemporary version of the traditional garb. Dhoti kurtis are in vogue and is very comfortable and when worn gives a designer look and you can stand out amidst the crowd in any parties. You can wear it to any parties, weddings, and other social occasions. It can be worn without bottom also and when you wear it with bottom pair it with treggings, leggings, stockings, and tights. Wear bohemian jewelry and designer shoes. It is available in the ankle as well as in knee length.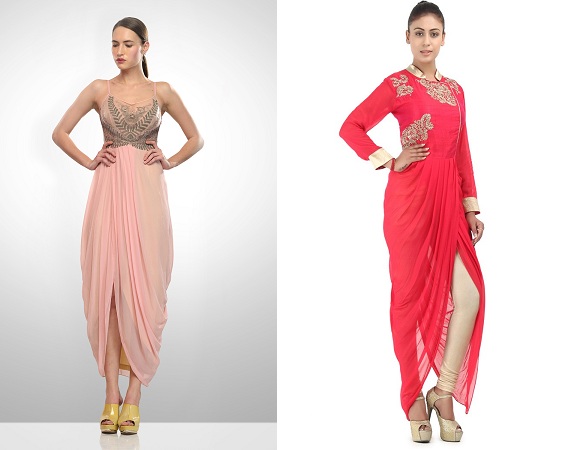 Flared Kurti:
Flares kurtis are another favorite among the women in the recent time. It gives a rich and gorgeous look. In the market, you will find both narrow flared and wide flared kurtis. It can be worn as casual wear; can be a good option for daily use and as formal wear. It can also be an ideal party wears option. The bottom that you wear with it must be skin tight and wear trendy jewelry accompanies by high heels to flaunt the beautiful flares. It is available in short, long and knee length.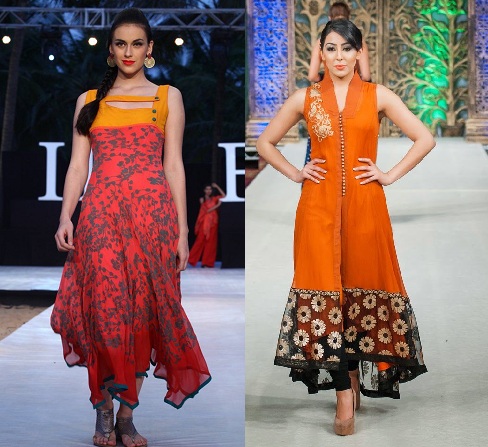 Indo-Western Style Kurti
Create a style statement of your own by mixing Indian fashion with western.  Special neckline, unique cuts, and sleeve styles give a western look. You can wear it in non-traditional events, office parties and in casual parties. You can wear it without the bottom for a gorgeous look and bottom like leggings and jeans can be worn. Wear casual shoes and chunky jewelry. It is available in short, long and knee length.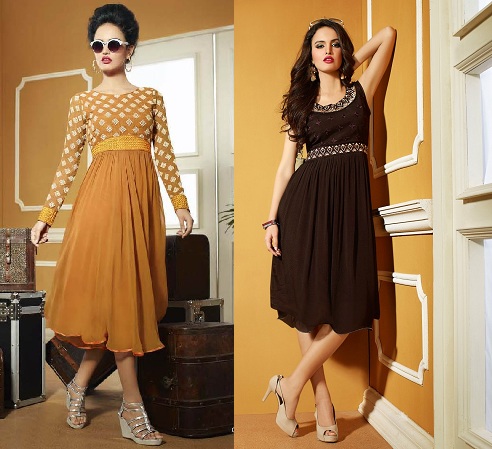 Long Straight Kurti:
This kurti style is high in demand.  The straight hemline gives a taller look to the petite woman. An impressive professional look is what you get when you wear it. Wear it to your office, attend parties and use it as regular wear. Team it up with leggings or churidar and wear only long earrings and either heels or flats. This kurti looks good on hour glass shaped and rectangle shaped body. It is mostly long and a knee length.
The above-mentioned information on a variety of cuts for the latest designer kurtis will help you to choose the right one for you and you will certainly look at your best for any occasion.  So look stunning by having different cuts of kurtis in your wardrobe.