Choosing salwar suits as per the trend? You are doing it completely wrong! Knowing which outfit compliments your figure is much more important than following the trend blindly. We all have unique body types with different physical attributes. If you do not know what goes well with your distinct features, you will never be able to doll up yourself. So, here we go with our comprehensive guide to selecting salwar suits as per the body type. Keep reading:
Rectangular Figure
Call it 'rectangular', 'column', or 'ruler', this is the most common type of figure you can ever see around. Nearly 46% women have a straight figure with a long torso, toned abs, well-defined limbs, and no significant curves. Precisely, a rectangular body is almost equal in all parts and hence, looks quite athletic.
If you are a rectangular diva, you might find it challenging to focus on a single part of your body while selecting salwar suits. Put it to your advantage and enjoy experimenting with your ethnic style. However, it is always good to find something unique that can easily create the illusion of a curvaceous body. Floor-length and perfectly fitted Anarkali suits are the best choices for you as they will make your lower body look sexier. Suits with heavy embellishments or rich embroideries on the upper section will add loudness to your bust area and make your waist look comparatively slimmer. You can also opt for strappy suits that will put emphasis on your wide shoulders and take the attention away from your body shape.
Tip:
Stay away from too loose or too tight suits.
Choose vibrant shades to complement your figure.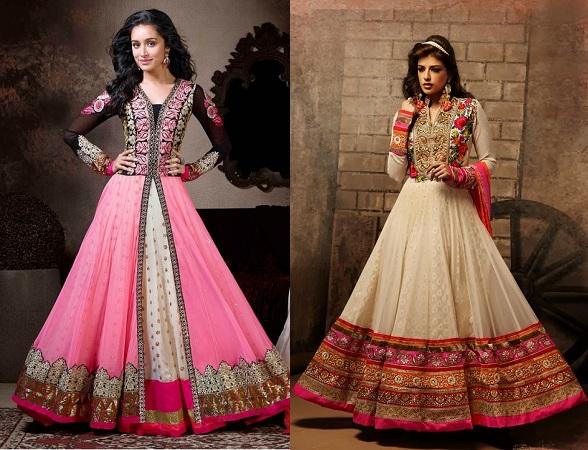 Pear-Shaped Figure
A pear-shaped body features a wide lower part and a narrower upper part. Almost 20% women around us have heavier bottom half with prominent hips and thighs, a lean middle section with a well-defined waistline, and a slimmer upper half with a comparatively smaller bust.
If you are a pear-shaped lass, pick salwar suits that can balance your look effortlessly by enhancing your slender waist and upper torso. Long, flowing Anarkalis will make you look graceful by accentuating your curves while hiding your bulky part. Other suits with flares from the waist down will also give you flattering looks. Short and well-fitted Punjabi suits paired with Patialas or dhoti pants will make your body appear more proportionate. You can even try slim-fit A-line suits having large prints or embroideries across the bust line.
Tip:
Avoid wearing clingy fabrics.
Skip too tight bottom wear.
Pick lighter shades for the upper half and darker tones for the lower one.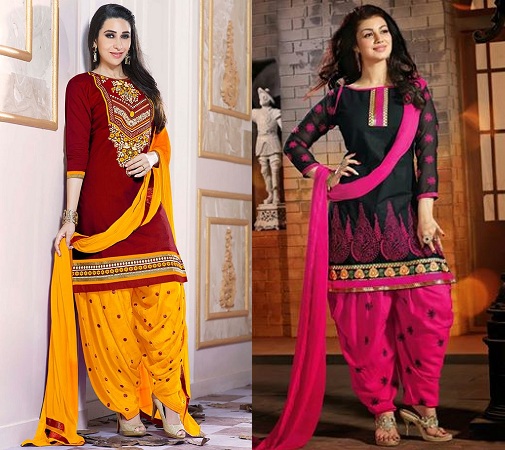 Apple-Shaped Figure
Nearly 14% women have an apple-shaped body with amazing curves. The figure is characterized by heavier bust and wider upper back areas with broad shoulders and well-toned limbs. The only trouble area is the tummy, which needs to be concealed tactically by choosing the perfect suits.
If you are an apple-shaped beauty, try to bring attention to the sexier parts of your body rather than focusing on your heavy torso. Loose-fitted, flowing Anarkalis or other salwar suits should be your go-to ethnic outfits. Punjabi suits will give the mid-section of your body a slender look while highlighting your lean arms and legs. You should choose ethnic wear with 'U' or 'V'-shaped necklines in order to camouflage your wide shoulders. Also, do not opt for suits with heavy embroideries or large prints across the bust line.
Tip:
Stick to fabrics like cotton and silk.
Steer clear of suits with Chinese collars.
Pair light-hued bottom wear with dark-shaded upper wear.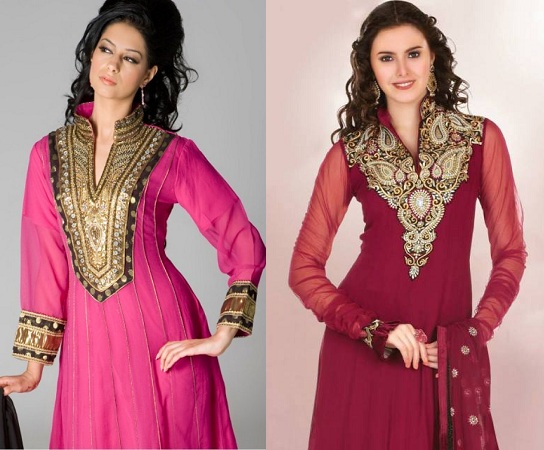 Hourglass Figure
Hourglass is the most desirable body type, but only 8% women are lucky to have it. It is mostly defined by curved bosom, rounded butt, narrow waist, and perfectly shaped legs. Equal bust and hip measurements make an hourglass body look super hot!
If you are blessed with a perfect hourglass body, simply choose anything and everything to flaunt your natural curves. Anarkali suits of any length will accentuate your attributes the best and increase your sex appeal to a great extent. Pick any other well-fitted suits that will highlight the flawless contour of your body. You are also free to experiment with your necklines.
Tip:
Stay away from too loose or too tight suits.
Play with vibrant colors.
Avoid considerably heavy fabrics.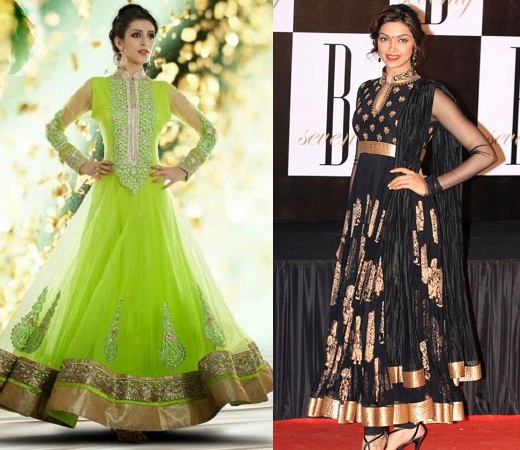 That's all, ladies! Hope you've found the much-needed tips to fill your wardrobe with the perfect salwar suits. So what are you waiting for? Start shopping right now!
Get, set, go!