[fusion_text]From the runway to the real life, thigh-high boots have come a long way. In fact, this footwear is having a major moment this year with everyone – be it a dazzling B-town diva or a bold fashionista – trying to look effortlessly stunning in it. Though a pair of thigh-high shoes seems a little tricky to pull off, you can actually take the challenge and make it a statement.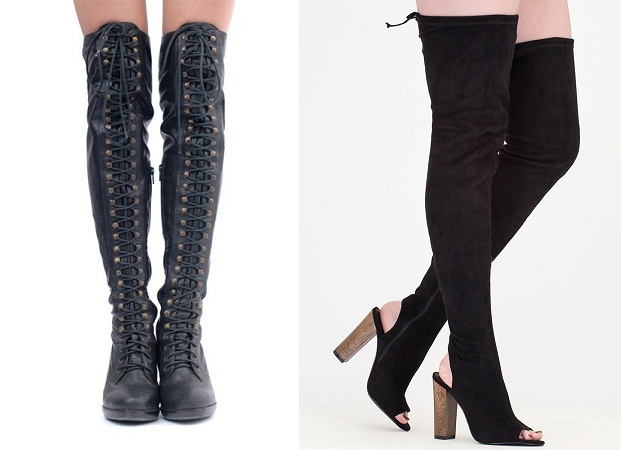 So, are you ready to take a fashion plunge with the hottest shoe trend of the season? Here is your guide to choosing, buying, and wearing thigh-high boots to look uber-stylish throughout the year:
Choosing Thigh-High Boots To Suit Your Figure
Let's start with the basics. Who can wear thigh-high boots? Well, the answer is 'anyone and everyone'. Yes, you read it right. If you dare to wear it, the type of your body or the shape of your legs matters the least.
Still need guidance in picking the right pair to suit your figure? Here is all the information to get you started:
Tall Lasses
Take advantage of being a tall, leggy lass by wearing thigh-high boots with a loose, sweater dress or an understated top. It will draw attention to your height in a beautiful manner.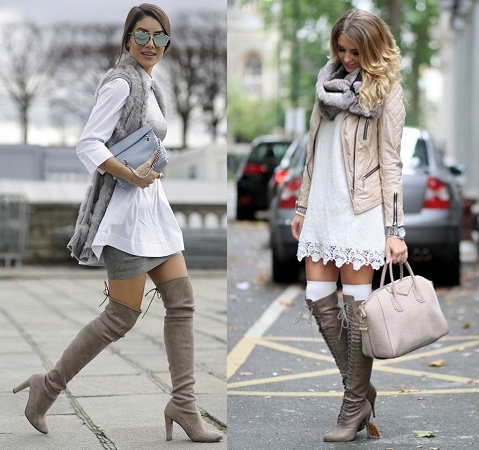 Petite Beauties
Find a structured dress, a short skirt, or a slim-fit denim to pair with your thigh-high boots so that your legs are highlighted and your frame is not overwhelmed. You will look super hot, gal!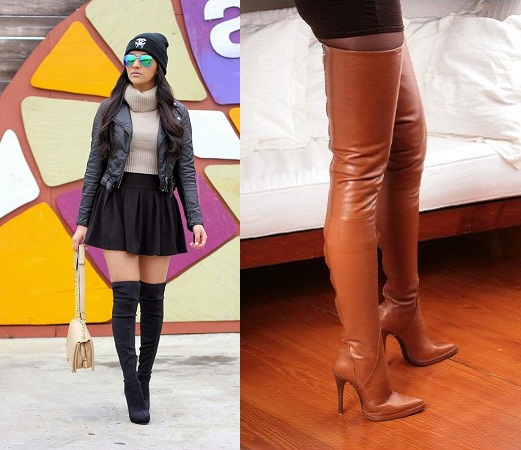 Curvy Divas
Embrace your curves with a long top and a pair of denim in the same shade or figure-hugging separates and a jacket. These will emphasize your leg line so that you can absolutely rock your thigh-high boots.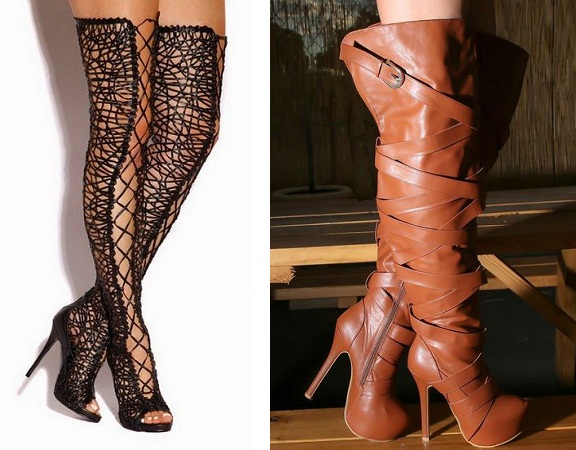 Athletic Women
If you have an athletic frame, thigh-high boots can accentuate your legs wonderfully. Opt for dark-colored tights or jeans and accessorize with a blazer, a scarf, and a waist belt to look slimmer.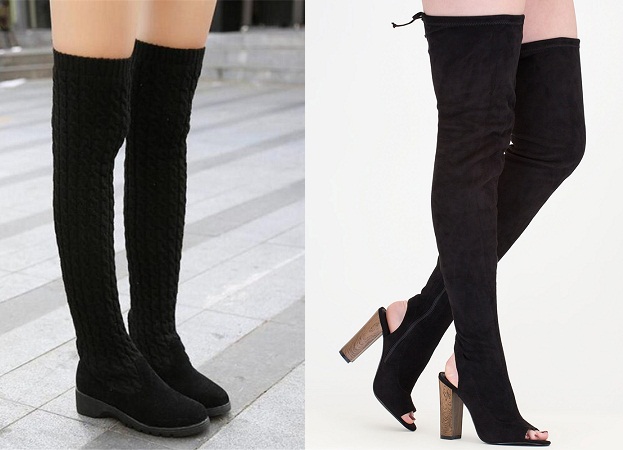 How To Buy Perfect Thigh-High Boots?
Picking the perfect thigh-high companions for your legs might turn out to be a little complicated. They are available in a huge variety of colors, materials, and styles, but do not be spoilt for choice. Consider the following factors to find the best pair and look chic from season to season:
Size
When it comes to picking footwear, size matters the most. A pair of thigh-high boots that is too large or too small will lead to sheer discomfort, and sometimes even injury during walking. It is also crucial to pay attention to the width of your shafts to prevent the boots from sitting too tight on your thighs or slumping down them. Hence, know your measurements first. Thigh-high boots are available in regular shoe sizing, but it is always good to consult the size chart provided by the manufacturer in order to find the best fit.
Heel
Heel height comes as the second important factor. From simple flats to spiky heels, thigh-high boots can be of different types and you must select your go-to pairs based on your levels of comfort and the places where you want to wear them. Find below the available choices:
Flat Boots: Need to wear your booties for a long time? Not very comfortable with high heels? Flat boots are made just for you! And there are hundreds of cute styles too.

Low / Wedge Heel: When you need to walk in your boots all through the day, a pair with low or wedge heels will be just perfect. For better stability, look for something chunkier.

High / Stiletto Heel: Choose a pair of thigh-high boots with spiked heels only if you are a pro at wearing heels. It is a bliss for short girls as they can easily look taller in it. In fact, a stiletto heel boot can give anyone a trendy and dramatic look in minutes.

Color
Though the color of your footwear is completely your personal choice, a gorgeous black or white pair, or neutral shades like brown, tan, gray, chocolate, etc. are quite common yet versatile choices for these thigh-high beauties. These can be worn anytime, anywhere, with any outfit. However, those who want to make a bold statement can opt for solid colors (red, navy blue, etc.), animal prints, patterns, and so on.
Material
If the price is not a constraint for you, find a classy and elegant pair made of pure leather. There are suede-leather and their lookalikes (made of certain synthetic material) in the market, which are also quite high in cost as well as style quotient. For budget shoppers, synthetic thigh-high boots are pretty good picks as they are strong and durable enough.
Tips To Look Super Chic In Thigh-High Boots
A stunning pair of thigh-high booties can turn even a boring outfit into a sophisticated one. All you need to style up the right way. Check out our best tips for you:
Team up your trendy thigh-highs with a colorful, long-sleeved sweater dress for a cool, casual look.
Wear a basic skinny denim and a cozy, furry coat with your suede-leather thigh-high boots to look ultra-chic on those chilly days.
A crop top, a miniskirt and a pair of bold thigh-highs is the ultimate combo for the sultry date night.
You can go to your office in your favorite thigh-high booties by pairing it up with a button-down and a pencil skirt.
Mix and match funky accessories to jazz up your look in your much-loved booties.
Thigh-high boots have undoubtedly become one of the latest fashion sensations with all its grandeur and glory. So, are you ready to start your hunt for the finest pair?[/fusion_text]