Saris are timeless. Days are gone when they were only the 'Indian ethnic wear'. Now they have become a factor of global admiration. Known as the ultimate symbol of elegance in the world of ethnic fashion, saris have never failed to win the hearts of fashion enthusiasts. No matter how much love you have for the western outfits, as an Indian woman sari is undoubtedly one of your most admirable outfits. But do you know that sari can be worn in dual styles? Drape the same piece with some touches of sophistication and seductiveness and you can grab the spotlight everywhere you go. Just like the diversity of India, it's truly something more amazing than you have ever thought of! Above all, you should thankful to the diverse culture of India that enables various dressing ideas, style statements, languages, delicious cuisines and so on. But draping saris in every occasion can be time-consuming, tricky and a bit problematic. That's why we are here with various styles of wearing sari like a pro in a few minutes and make yourself feel good.
We have listed 5 easiest but elegant style for you. Sit back and scroll down.
Nivi Draping Style
This long practiced draping style has been derived from the heart of Andhra Pradesh in India. Nivi style is also popular as 'ulta pallu' among the locales. They are too expert in this umber to create it in a few minutes. Want to try it? Well, it's easy. Firstly, pick a sari of your choice along with the matching petticoat and blouse. Now tuck your sari in from the opposite end. Drape it around the front, cover it from your left shoulder and create 5-6 pleats. Tuck these pleats inside your sari and put on your favorite jewelry – you are all ready for the occasion.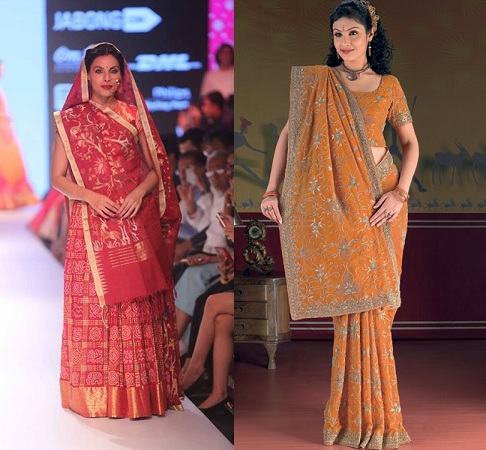 Bengali Style for wearing Sari
With rich embroidered border, bright color (yellow, red, turquoise blue or pink) and the sensuous draping style will help sum up the pure Bengali draping style. Being originated from West Bengal, this style has become a fashion spree of ladies throughout the world. Even if you are a novice in wearing saris, you can try this style within a couple of easy steps. How many styles you may try to wear a sari, this style will always be a bit different from the rest.
Take your sari in your right hand, tuck it from the right side of your waist and drape it completely around your body. Create solid pleats and hold it from the left of your shoulder. Now clip it aptly and make it round from the back of your waist. Look like a Bong and enjoy the feeling!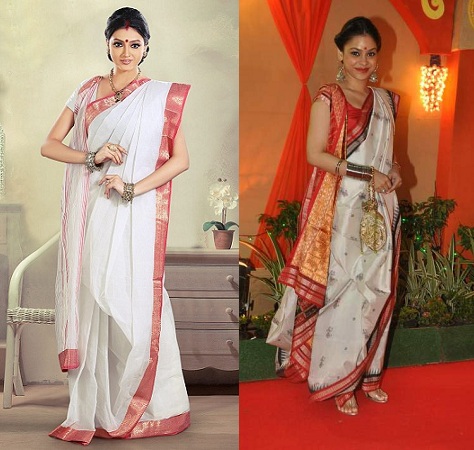 Gujarati Style Saris
Don't feel bad if someone calls you a 'Gujju'. They are not only famous for Dhokla, but their distinguished style of wearing a sari is also unique. Putting the pallu of the sari on the front in Gujarati style makes it call as 'siddha pallu'.
Before you try this style always keep in mind that for Gujarati draping style, pleats should be tucked to left once you bring it forth from your left shoulder. Clip the pleats and let the pallu spread over your body. To create a significant style statement, make sure that your sari has a heavy border to show off.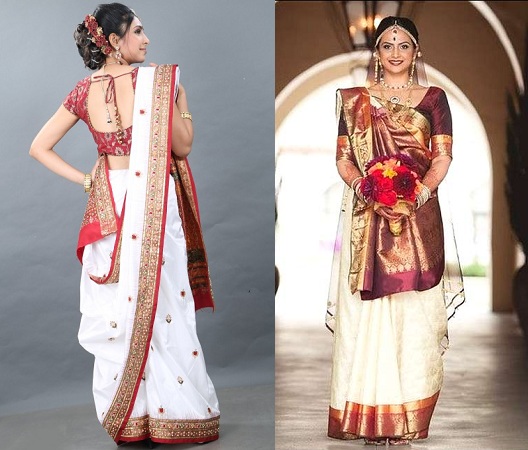 Marathi Draping Style
Let's bring this unique Marathi draping style to flaunt your curves in a more seductive way. With this Maharashtrian style, you can enjoy a perfect posture during any traditional occasion.
Wrap the sari around your waist and take the short edge of the bottom at hand. Tuck it to the center of your legs. Now take the leftover part of your sari to create at least six pleats and put it in the front. Make pleats for a perfect pallu as well and keep them pinned to the front of the left shoulder. You can wear traditional golden ornaments and a brooch to accessorize your look.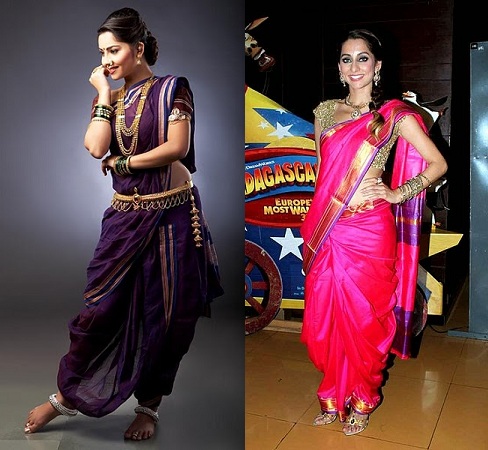 Lehenga Saris
Are you looking for the party zeal with ethnic wears? Then lehenga style saris are meant for you. Go for the chiffon saris or georgette ones so that the petticoats can hold them comfortably. The procedure is simple. Take the ends of your sari, keep moving it around your waist and tuck them inside the petticoat. Ensure that the fabric patterns are visible in the back. Now make pleats for the pallu and secure it with a designer brooch. Team up your entire look with some traditional pieces.
It's time to be Sassy in ethnic!