India is a place where you can hear the stories of various kings who lived here and provided us with various historical monuments along with their culture. In India you can find people from different religions and cultures who wear wide range of south Indian jewellery. The desire to wear the jewellery dated back to about 5000 years back and since then irrespective of gender or age everyone would love to wear jewellery. In India women show lot of interest and desire to buy the latest jewellery and look stunning. Here women take jewellery as a prestige issue especially when they need to attend any occasion. In south India you can find great collection of jewellery that would be suitable for any occasion. With the increase in demand for the south Indian jewellery the numbers of jewellery stores have also increased drastically.
In south India the art of jewellery is no more a craft and this could be proved when you look at the various jewellery options that you can find in south Indian jewellery stores. Now-a-days you can get number of jewellery stores which you can find in the market as well as in the online business where they make sure to deliver excellent jewellery with the help of well experienced and professional workmanship. When you look at the south Indian jewellery you can find uniquely designed and beautiful jewellery look at which any one could fall in love. You can now buy the most simple and elegant jewellery that would be very much affordable or the heavy jewellery sets which would be very expensive. Based on the occasion for which you need to attend you can now choose the best suitable one within no time. As there are number of jewellery stores it would be very easy for you to find the best and unique jewellery patterns.
The best south Indian collection
South India is a place where people give more importance for the royalty. And most of them believe that their luxury can be shown only with the right jewellery that you are wearing. Here you can find different people who belong to various cultures and irrespective of their religion almost all of them would show their fantasy towards wearing their jewellery especially when they need to attend a party or function. Whether you are wearing any traditional attire or a modern one, you can find the right and suitable jewellery over the best stores available. Jewellery is one of the most important things for Indian women especially if they need to go on any occasion. Jewellery would be the best option to gift especially for your loved ones. You can find variety of jewellery that include the antique floral choker, the gold coin necklace, imitation chand balis, diamond jewellery, kundan jewellery, czed jewellery, pure gold necklace jewellery, ruby ornaments, polki jewellery and much more.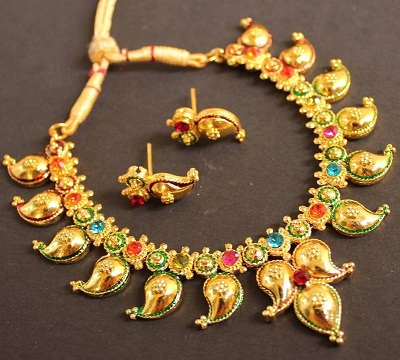 Based on your budget you can choose any one that would best suite you. If you are capable of buying the gold jewellery you can even go for the imitation jewellery that would just look like the gold ones. You can either buy the entire jewellery set that would come along with the necklace and ear rings or can just the ear rings. In south India women wear jewellery in different forms such as bangles, ear rings, long necklace, chokers, lockets, finger rings, waist band, hand band, head band, nose ring and lot more. The options of jewellery which you can find in south India is a never ending list. You can go with the pure gold jewellery with diamonds, silver, sterling silver or the precious and semi -precious stones or can even go for the imitation jewellery as well.
A status symbol in south India
South Indian women usually love to wear the beautiful and unique gold jewellery which has been made using various stones. When there is a marriage ceremony which they need to attend women usually wear maximum jewellery so as to look stunning and best as never before. It is women's general tendency to wear the heavy jewellery sets or the ornaments. As every women wants to get appreciated for their looks in which ever social gathering they are attending, they always wear the most uniquely designed and special jewellery. Among the elite class people wearing the most expensive jewellery has become the status symbol and it is a good way to invest your money as well. This is because you can get good amount whenever you sell off the jewellery. For this reason, most of them think that this is the safest way to invest your hard earned money.
Wearing of jewellery is not just confined to women but even men in India also love to wear it in various forms. They can wear them as bracelets, chains with lockets, finger rings and few of them might even go for a gold watch. It is a favorite for both men and women of south India. Parents even make their children to wear the jewellery when they are attending cousins wedding or any special occasion. Men and women in south India think that your status and standard of living can be shown with the amount of jewellery you wear. So the more you wear the more rich and elite you are. This is the reason why most of the women put on as much as gold jewellery as possible especially when they need to attend a wedding. Brides carry the maximum amount of jewellery as they would like to look like the real princess on their special day.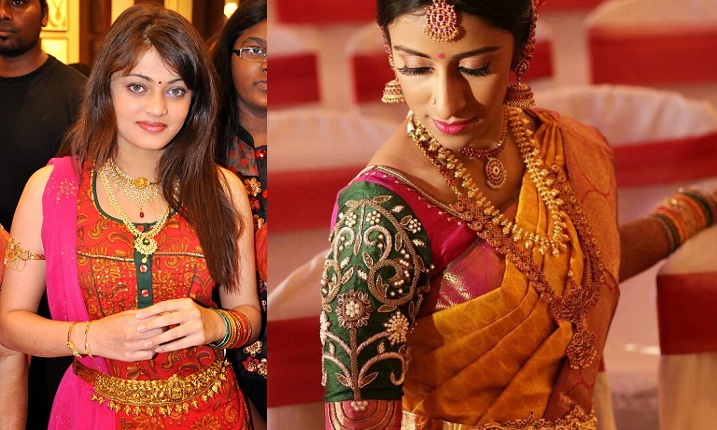 Where to find the right jewellery?
As the demand for jewellery in south India is raising so are the jewellery stores. With the latest changes in styles and trend, jewelers are also coming up with the uniquely designed and elegant jewellery that can be worn even on western wear as well. Earlier people used to wear jewellery only on their traditional attire but now with the latest models of jewellery which might range from very simple chain jewellery to the heavy sets, you can buy the thin and affordable chains as well which can be worn on any modern dress. Based on the attire and the occasion that you must need to attend you can go for any jewellery that you like the most. Your budget also matters while buying the jewellery. If you cannot manage buying gold or silver jewellery you can even go for the imitation jewellery. You can even find huge collection of imitation jewellery as well in various stores in the market.
Now-a-days with the increase in the number of online users from different parts of the world, you can even find number of online businesses where you can be provided with the huge collection of jewellery stores. Here you can actually go through the various online sources that can provide you with the best jewellery that you are looking for, compare the various sites and make sure to buy jewellery for the best price. There are several online sources where they provide huge deals and sales over the collections which they have. So if you want to save more on shopping, then you can check for such kind of online sites and buy from where ever you are. The best part of online shopping is that you can now buy any kind of jewellery from your home itself and no need to visit the various local stores.
Conclusion
Usually the southern region in India is well known for the heavy set jewellery as here women always prefer to wear huge jewellery such as the temple jewellery which can either be made out of pure gold or can even be made using precious stones. Keeping the day to day changes in the customer interests and their likes the craftsmen are also creating unique designs with various stones so that they can meet the needs of varying customers. Whatever might be your choice of preference you can find everything online but only thing you need to make sure is to choose a genuine and reliable online source. Once you are able find the best online source you can be sure to buy any jewellery whether it be the simple ring or chain or the heavy necklace.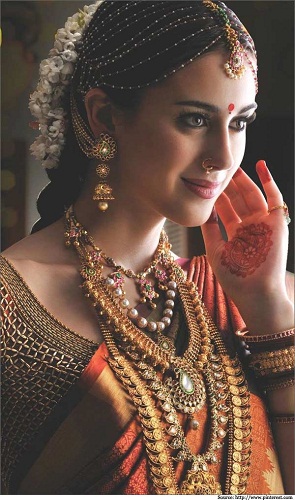 South India is a place where people would give more importance to their appearance especially when they would need to attend any party or function. After clothing the most important aspect which they consider is the jewellery. The more they wear the jewellery, the more prestigious they feel. All the jewellery deigns might not be suitable for everyone and one every attire. Before you buy one for yourself you need to make sure to try it out so that you would know which type of jewellery would best suit you. If you want to know more about the south Indian jewellery and how each design would appear, all you need to do is to visit the relevant online sources that can help you in this regard.