Don't you wish to flaunt yourself and create a unique fashion statement in front of your friends and collogues? If yes, then certainly, you need to buckle up and stay ahead in stress style. So far, street fashion has gained a lot of popularity for the obvious reason that is it keeps on changing to something better.
Street style has always been in existence since the mid-1950'. It is cheap, funky, looks cool and most of all it is extremely comfortable which is the main reason why it has influenced many people. If you take a look at some great fashion styles across the world, you will understand that street style wear is followed in every country.
Street style Wear: All Time Favorite
Street fashion is not born in studios but actually from the waged people or you can say the workers. Eventually, this pattern came into existence due to the lower class people's art of wearing cheap clothes. It is often related to the youth culture for a fact that it is quite comfortable. If you take a look at some of the major urban areas you will understand that this type of stylish clothing is preferred by everyone. In Japan, there is a street fashion which maintains and surprises the youth with a diverse fashion movements at any time.
Try Some Styles that are Ruling since Ages:
Hippies still trend in all the same way:
In this style, people usually wear casual jeans, have a flared trouser, a denim jacket to go with the attire, they grow long hair. Generally, such people wear loose clothes that are dark colored or have a flower print all over. Such type of style is often considered to be a comfortable one while you are traveling.
Punk fashion is trending too:
People who follow this style usually have T-shirts with provocative slogans, clothes are ripped off and there will be many bondage and safety pins as well. People usually go for a Mohican hairstyle to match up with this fashion.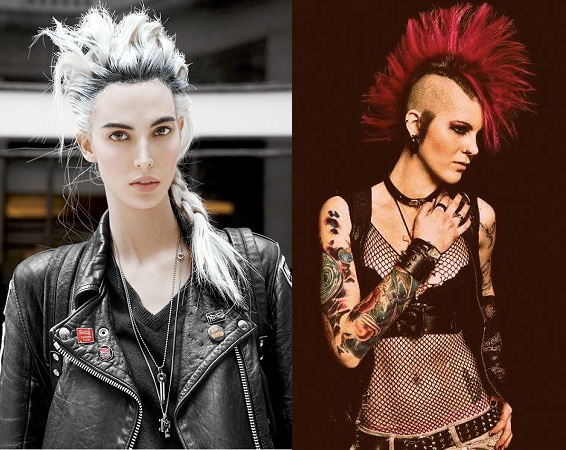 Teddy Boys is everyone's choice:
With drape jackets, crepe shoes and drainpipe trousers, this fashion is certainly ruling in street style store. It is comfortable, unique and best of all enhances the personality which you would have always been wanting.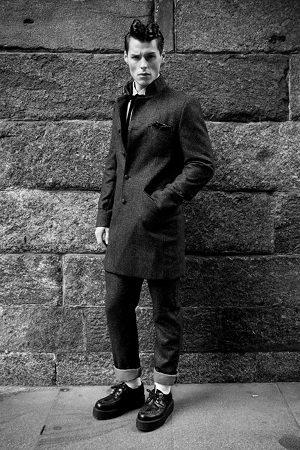 Skinheads work the best in all season:
This type of fashion has polo shirts of Fred Perry, Ben Sherman button-up shirts, well-fitted jeans, Dr. Marten's boots, and Harrington jackets that simply goes well and perfect. This type of fashion looks good with short-cropped.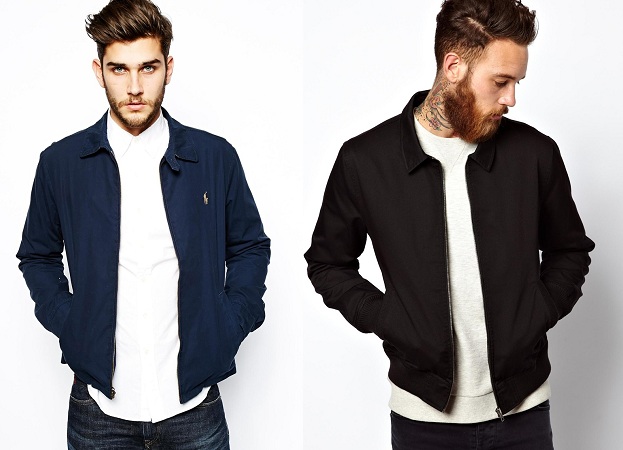 Try out Some new patterns of street wear too:
Moving ahead, there are also many other types of street style wear such as Rasta, Urban, Geaser, Kawaii to name a few. Such type of fashion is mostly featured in some of the popular magazines such as Elle and New York times. If you want to check out some fresh collection, then you need to visit New York once and get yourself surprised with some of the great street style wear.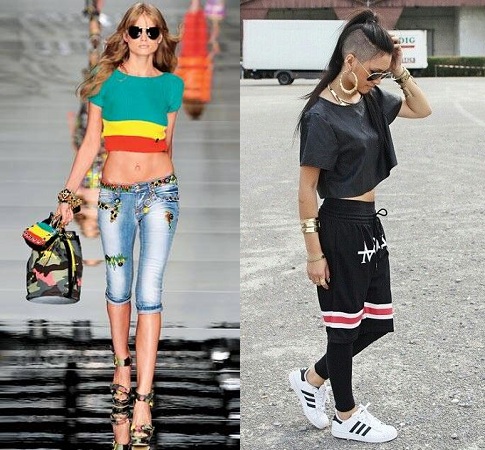 Crop top with high waist jeans:
Don't be surprised if you have seen people wearing a crop top along with high waist jeans to match with it. Well, this 90's trend is again in fashion with some little changes in it. In the 90s it was considered to be a festival go look but now it has become a street style wear look for routine. People enhance their look with a black choker with makes a perfect contrast.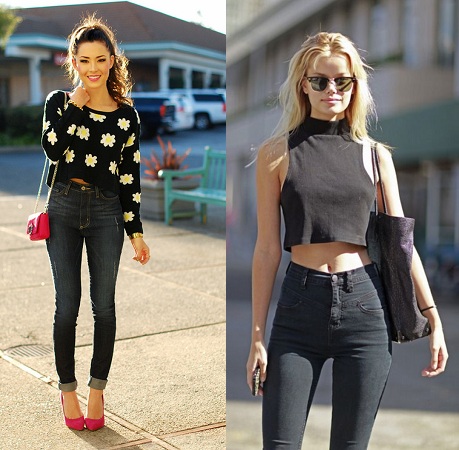 Enjoy the summer with matching set:
This is another older trend which has again come back in fashion. Wearing a top with a set of matching shorts has become all time favorite for many people's summer collection. It is usually paired up with a corn woods and cross body bag which gives the look a complete finishing.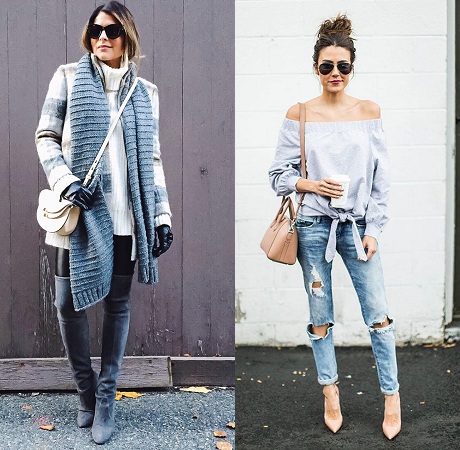 Go formal with street style wear:
Give yourself a feminine look with leather Moto jacket and a crisp white short and pleated skirt. Don't forget to accessorize yourself with a scarf and sunglasses that would enhance your personality even better. High heels can definitely go well with the attire.  This is one of the most comfortable street styles that you can wear when you plan for a sudden outing.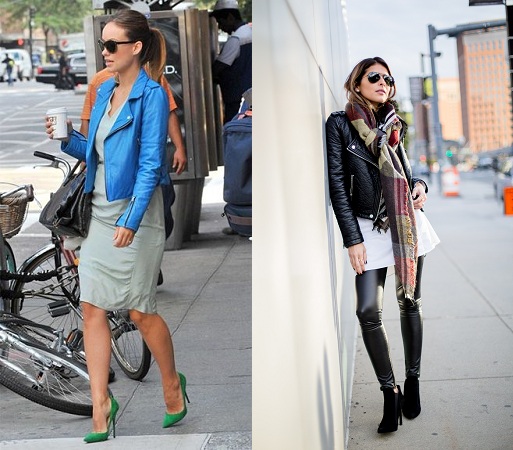 It's time for you to experiment yourself a little with something unusual but which is certainly trending. Team up your colored culottes along with a navy sweater and to add a touch to this look, put a wide leather belt with a neck scarf which would definitely enhance the entire look.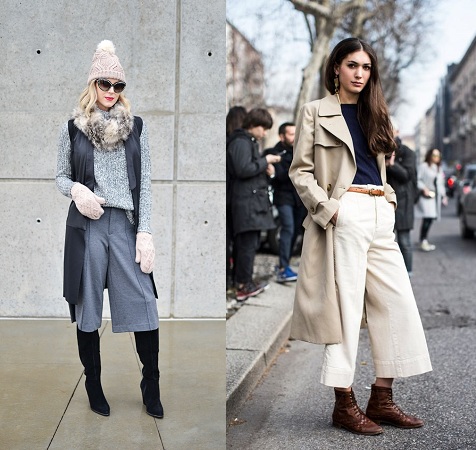 Leopard print is back in fashion:
Yes, you might have seen in many newspaper columns and celebrity sections where there are different types of one piece and skirts and tops with Leopard print. Well, this pattern is again back in fashion and which you can definitely try out for some party. To match up with it, a choker neck would look good and long boots or ankle length boots will definitely look fantastic.  Other than this, dark shades and leather platform boots will also look amazing.
With endless of inspiration for weekend and evening dressed, street style wear is certainly a must try. For people who feel extremely comfortable in such attire can also try out some professional combination with a blend of street touch that you can enjoy wearing it in office. Don't stay behind in the game of fashion and surprise yourself with new looks and styles of street pattern. Keep experimenting yourself with something unique and new and you would definitely fall in love with the fashion statements that you are creating on your own.
Street Style wear has always been valued and recognized. It is considered to be more than the fashion that people wear on the red carpet. It is currently one of the trending patterns in the market and if you want to be a part of it then make sure you choose from the collection that comforts you!
Good luck! Happy Shopping!