Get the gorgeous diva look with an exclusive collection of designer sarees. With many popular brands all over India, the choice is endless!
Look Gorgeous with the Evergreen & Classic Sarees
So you have a wedding coming up. Great! And you have to dress up your traditional best to look glamorous and elegant for the occasion bit a wedding, a casual party or festivals. Saree is one such attire that can never go out of fashion. It is not just a style or a trend but an ethnic ensemble altogether. Whatever be the fashion trend, a saree has remained intact and become versatile in designs and style. This seductive drape is an exquisite piece of clothing.
A Fashion Affair with Beautiful Designer Sarees
This traditional Indian outfit accentuates the beauty of women of all body frame and age. The designer sarees are crafted with detailed work and embroidery. Distinct fabrics like net, velvet, silk and georgette make your saree authentic and lovely. Beautiful crafting such as Zardosi, patch work, kundan look graceful! With a range of new shades like magenta, rustic black, beige, golden and other mix of hues with embroidery patterns, look stunning at your event. You now have a beautiful range of styles fabricated by skilled designers and top brands that highlight the beauty of a designer wear.
The Stunning Plethora of Designer Sarees
Heavy Sarees- The heavily embroidered designer sarees make a vogue statement like a red carpet look. The dyes and patterns using hand stitched mirrors, beads, sequins, gems make it very heavy and attractive to wear. The bridal designer saree has innovative design and shades to choose from like from maroons to pinks. It enhances the elegance and charisma.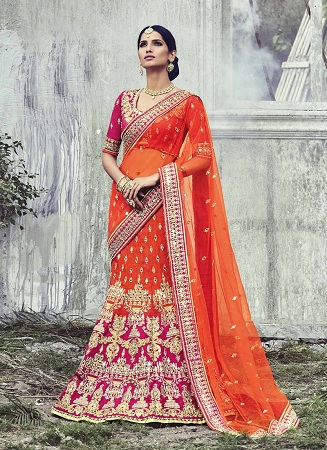 Net Sarees- Sophisticating appeal and a modern poise, net sarees are mostly loved by every woman in weddings and festivals. A designer net saree is made of the see- through net material which gives it a light and unique feel; the main attraction is the texture itself. Choose delicate embroideries, heavy embellishments and colours like blue, green or orange to enhance the look. A large border of zari or crystal work makes it reasonably comfortable and prevents it from being too light weight. Pair it up with a glittering and adorned blouse to add that glitzy vibe.
Silk Sarees- A gorgeous designer silk saree in magnificent colours like beige and brown is the hot favourite pick. The bright and shimmery appearance of the silk makes it a sensuous fabric which is comfortable to wear. They drape excellently; broad borders, printed work or heavy work sarees are perfect for wedding.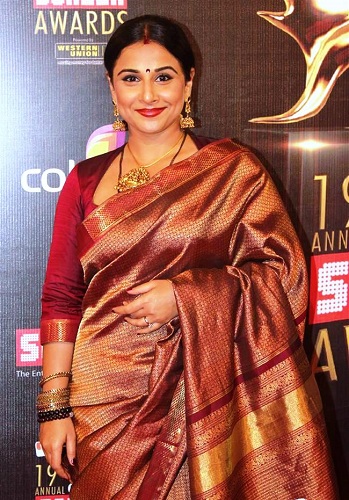 Half and Half Sarees- The half and half sarees are with pleats that are in contrasting colour compared to the rest of the saree. The dual shade is the most appealing factor in this saree. Traditional embroideries, motifs, patterns, give it a designer bold look. Go for colour combinations like purple and yellow, red and golden, cyan and black and many more to me your look stand out.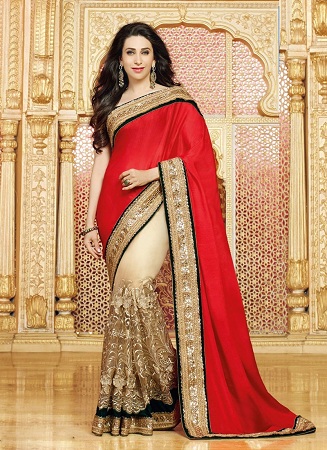 The Famous Saree Brands
Here, we bring to you some known good saree brands in India that you will definitely not miss for your next occasion. Quality and ethnicity remains a big promise by these brands and exquisite designs of the outfit.
Nalli Silk Sarees- It is one of the oldest and best brands of sarees established in Chennai in 1928. It is famous for heavy and designer silk sarees and a trusted name when it comes to a diverse range and tastes.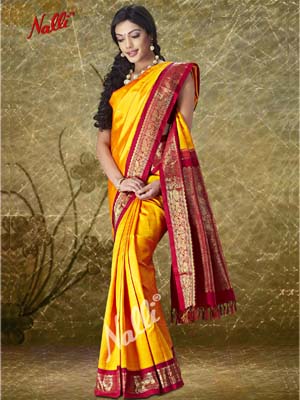 Meena Bazar- A very old Delhi based brand, Meena Bazar has established itself all over India. It has a wide range of designer sarees in rich fabrics at very affordable prices.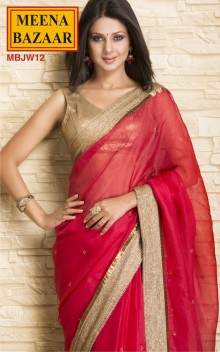 Prafful– It is known mainly for printed styles in sarees. With best ethnic designs and designer sarees, it is very popular throughout the country for its prices and designs.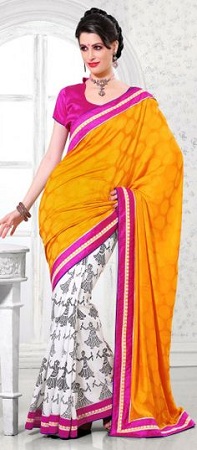 Satya Paul- He is one of the leading brands in the industry that has taken the concept of saree to a whole trendsetting level. The 41 showrooms in all over India display a collection of fresh and stylish approach to designer sarees in collaboration with the creative ace designer, Masaba Gupta.
Manish Malhotra- The name is enough! He has been titled as the 'Sultan of Sari'. Manish Malhotra is a brand in itself. He boasts of expertise in bridal designer sarees. His dens have improvised the style of Indian fashion to an international glamorous level.

Sabyasachi Mukherjee- He too is an exquisite brand when it comes to sarees. He has carved a distinct place within the industry. You may not find much of his designs in malls but his creations have been incorporated in other brands.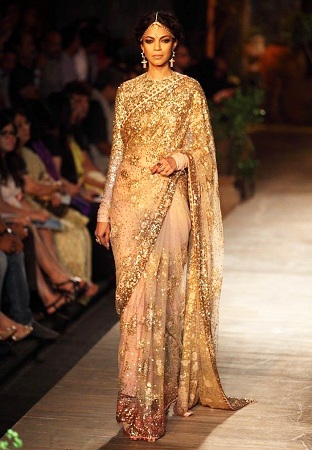 Ritu Kumar- Very renowned and popular in the trend of sarees, she is acclaimed for her bridal designs in both lehengas and sarees. Her collection is available in showrooms and malls easily.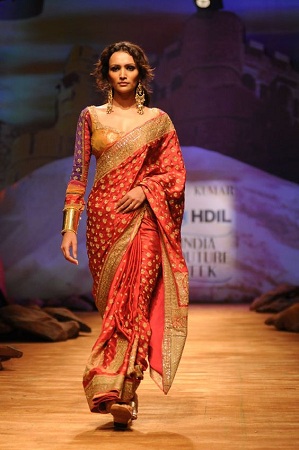 Anita Dongre- Born in the fashion city of Mumbai, she is one of the most sought after names in traditional, bridal and indo- western trend. She specialises in heavy embroidered and bridal sarees.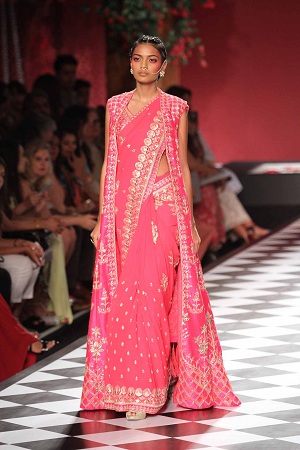 Anju Modi- Divine and spiritual, this is what reflects in her designs. She makes a woman complete and at her ethnic best. She is one of the most famous brands all over the globe. She has her magic touch in bridal and designer wear.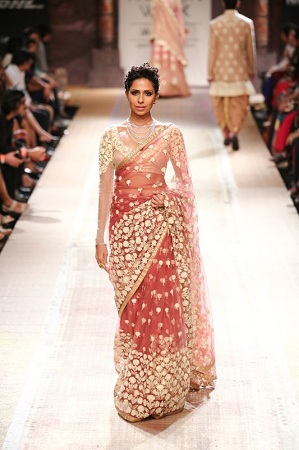 Rohit Bal- A creative fashion designer from New Delhi, Rohit Bal is in the industry since long and is now one of the top names in ethnic brands. His designs have a beautiful fusion of modern and classic traditional. His creations have been included in the new popular brand BIBA.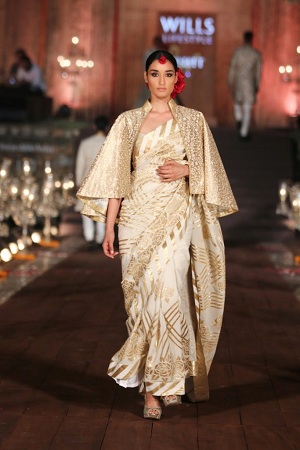 J J Valaya- Because of his exclusive designs and contemporary fashion trend, he has a distinct style in bridal and designer saree collection. He founded The House of Valya which is an international luxury brand. His fusion and mixing of patterns create an extravagant style that sets him apart.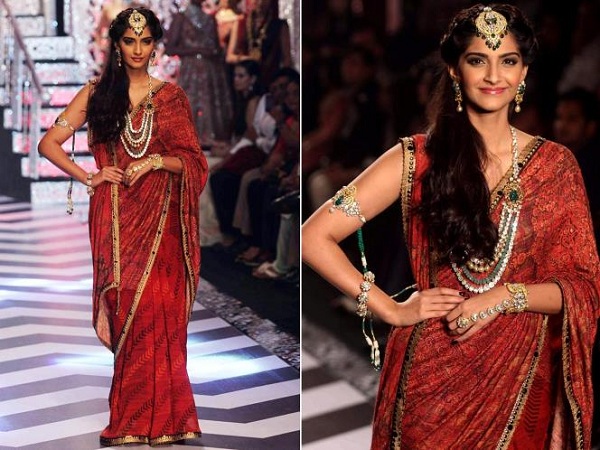 Other brands to look out for are Tarun Tahilani, Neeta Lulla, Manish Arora, Arpita Mehta, Payal Singhal and Gaurang Shah.
All these brands and their collection are available online. With just a click of a button, choose from a plethora of featured colours and designs that reflect reflect beauty, style and royalty in every drape.