Fashion and women are inseparable. You will definitely find the clothes new in trend in a woman's wardrobe. However, that is not same for all. There are some who have a preference for a specific clothing category. But whatever be one's choice, pants continue their reign as an important part of women's attire. They possess the capability of making or breaking your look and also can transform your casual look into formal instantly.  Applying your taste in selecting a contrasting top or shirt, you can enhance your look and become the center of attraction at any event or office.
Introduction to Mermaid Pants
As discussing pants, with the passage of years, the age-old trend has been replaced with modern ones. Jeggings, leggings, harems, and trousers are now ruling the market. Along with these, designers have added a new one to the range-mermaid pants. You all have read about mermaids in nursery classes. But despite knowing about them, a curiosity prevails in mind regarding their birth. Since childhood till date, you still might be searching for the answer. It is said that mermaids were born out of sexual intimacy between man and fish. However, this fact has not yet been validated. Whatever be the fact associated, these mermaids are quite appealing and beautiful to look at. And it is with their beauty that they have led the designers to get pants designed as per the shape of their body.
Free, water loving and seductive- three characteristics defining mermaid pants
Mermaid leggings though were introduced a couple of years ago but the pants are a recent addition. Free, seductive and water loving are the three terms which perfectly suit mermaid pants. These pants fit loosely from the waist line to the knee and flatter below that. Usually made of glossy spandex, these pants are holographic. They resemble a pattern which makes them appear scaly. Alike all other pants, they too come in various sizes and colors to fit your taste.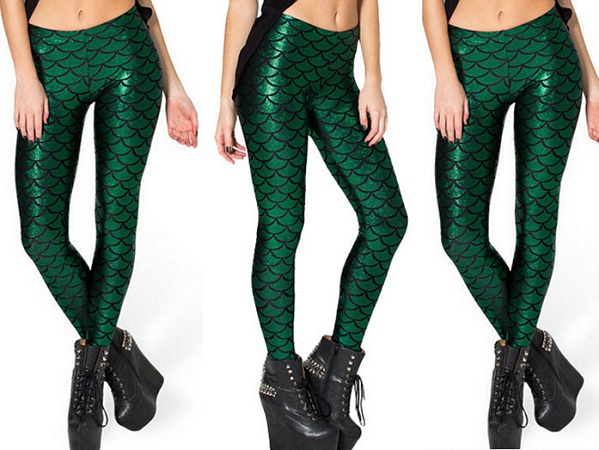 Various types of mermaid pants
Women today buy clothes that are meant for multiple events. Glossy and glittering stuff are what most prefer avoiding.  Keeping this in concern, unlike the mermaid leggings, these mermaid pants are made of plain chiffon or cotton so that you can wear them as office wear or college too. Further, you get different types of mermaid pants. While some are ankle length, some cover the ankle. They have been designed in a way to make you look stylish and appealing alike the mermaids in the sea.
Rendering you comfort- the basic aim of these pants
For the working women, it is important to strictly adhere to some specific norms regarding their costume.  But it is difficult rather uncomfortable to wear those skin tight formals trousers for long hours. To ease this problem, mermaid pants have been designed which you can put in comfortably. In fact, they are made solely to lend you comfort.  The waist design renders you the confidence to easily bend and twist to any extent without worrying about your tummy getting exposed. This is the prime advantage of wearing mermaid pants to corporate meetings and office.
Stands out to be called multipurpose attire
It is the longer length of these pants which makes them perfect for various other events too. You can wear them for your dance classes, ballet performance or yoga sessions. This is because you can make your moves easily and gracefully wearing them. You can slide them upwards a bit if required without worrying about them turning out to look inappropriate. They have been designed in such a way that even lifting them a bit won't lessen their appeal. They are also stitched both ways inward and outward which makes them reliable enhancing their performance.
Choose one keeping the purpose in concern
Coming to the design, they come with a waistline similar to that of the leggings and jeggings. This means you can easily tug on the shirt without having to put a belt around. This makes the pants more comfortable wearing because with them you easily enjoy keeping away the irritation of wearing belts and that constant feeling of something fixing tight around the waist. However, when selecting a mermaid pant, you need to first decide whether you want one too flattery or that simple enough. This choice depends on upon the purpose for which you are seeking it. In case you are willing to get one for regular office use, it is recommended to go with those mermaid pants coming with the bell bottoms touch. On the contrary, if you are seeking one for some party or corporate event, you can go with those heavily flattering ones.
Take care of maintenance

Whatever clothes you purchase, they need to be maintained adequately. Any compromise with the same will lead to their spoilage within a short span. The same applies to mermaid pants too. Though made from soft fabric, they need to be maintained properly. Make sure that you don't wash them in cold water. Also, don't expose to the direct rays of the sun for drying. Following these two tips will help you to continue wearing your favorite mermaid pants for a long duration. Also if you are getting yourself colored pants, dip them in lukewarm water with a pinch of salt in it. This will control the risk of the fabric color from coming up. Though branded pants come with a color warranty but it is better to adhere to precautions.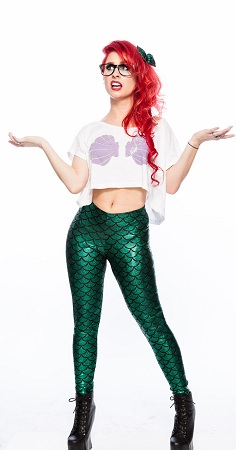 Getting a top for your mermaid pant
Before wrapping up with this discussion, what are your thoughts about tops? In order to make your mermaid pant look appealing, it is essential to pair the same up with perfect tops. Contrasting tops makes the best choice. Say you have got a white mermaid pant and now looking for a top or shirt that can best compliment it. Well, why running down sweat? Any bright colored plain t-shirt will perfectly go with it. Again apart from the color of your pant, it is important to keep into concern the season. While summers are apt for bright colors, winters go with a choice completely opposite. For winters, it is preferable to go with bright-toned pants and dull toned tops. You can also put on a simple jacket to enhance your look. Last but not the least; make sure you wear no junk jewelry with this attire. Mermaids stand for elegance reflected through simplicity and the same applies to you too if you chose to put in these pants. So get yourself a mermaid pant and try it out making your own fashion statement.