Modern and ethnic, suave and classic, the floor length dresses are a great fashion statement. Team it up with embellished jackets to add to the glamour quotient.
Contemporary Fashion with Indian Dresses
The Indian dresses are a wardrobe staple for every woman. They are perfect for any occasion be it family functions, festivals, cocktail party or social gatherings. The dresses are available in different styles, materials and colours to suit your frame and personality. Brimming with broad prints and colourful designs, traditional dresses are one of the most loved. Whether you pick a saree, lehenga, a salwar kameez or an anarkali, the intricate craftsmanship and detailed designs gives it an aura of splendour and richness.
They look super stylish and never go out of fashion. Designers keep experimenting with new patterns and designs and infuse stylish, chic elements to reinvent the classic grandeur of the Indian outfits. They have grace and sophistication written all over it. The different kinds of floor length dresses are suave and classic anarkali gowns, floor length suits, chic jacket style dress and many more for every mood, every occasion.
Make a Sweeping Statement-Floor Length Dresses
The latest vogue in fashion world is the floor touching dresses. This elegant fusion of western style in Indian wear is the latest innovation in the fashion industry. They give a look of grandeur and class. Most of the women and girls prefer the floor length dress to weddings and parties. Unlike the common traditional dresses like sarees or lehengas, they add a lot of glamour to the overall look. What makes it stand out is that it is hassle free; you do not have to carry a dupatta or keep looking for your pallu or struggle to walk in pleats. Choose heavy embroidered and quirky designs.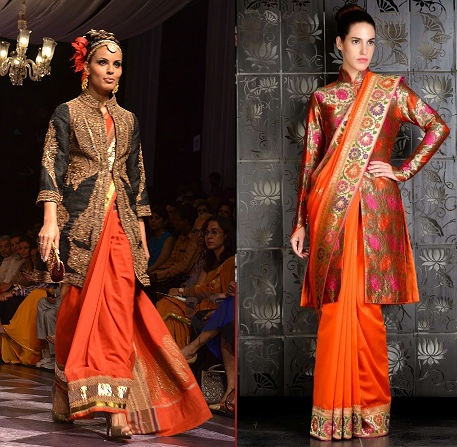 The great mix of bright hues and neat embroidery of the dresses makes you look perfect wherever you wear it.  The long, flowing single piece and its elegant look is what makes it trendy and popular. If you want to go a bit light and minimalistic, go for a bright colour dress with a heavy embellished jacket and if you have a wedding to attend, a heavy dress with the matching jacket is a glamorous option.
Flaunt Bright Shades and Rich Fabrics
These dresses usually have heavy brocade work on the neck and the long, flowing fabric has rich embroidery. They can go well on any body type. The well fitted bodice goes well on a petite frame whereas the voluminous ghagra style dress gives a sleek look to a heavy body frame. They look grand even without a dupatta. It adds a royal and classy look which makes you look glamorous. Go for fabrics like chiffon, georgette, net and brasso for that diva look with sequins, patchwork, laces and zari. Anarkali suit comes first to the mind when we talk of floor length dresses.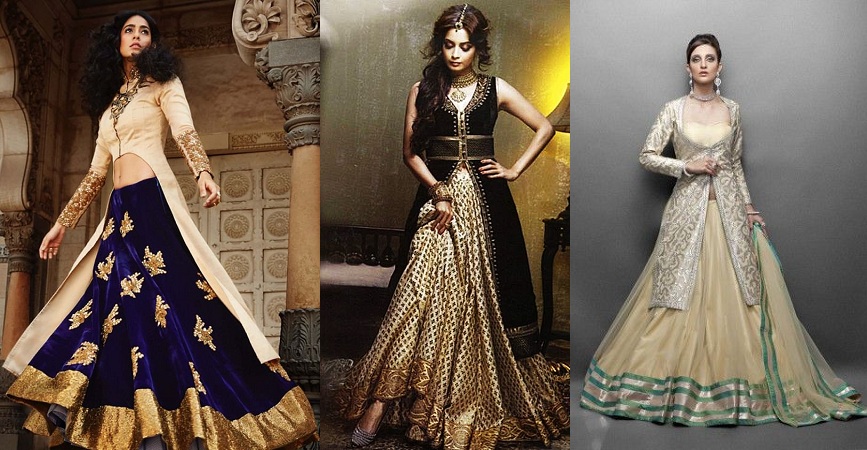 The Versatile and Fashionable Jackets
A great mix of ethnic and Asian fashion in floor length dress is the jacket styles. The style is quite prevalent from the late 19's but it is still in trend and looks stunning. The upper jackets look good on gowns and anarkali frocks. A designer, matching jacket adds an extra dimension to the dress. They cover the shoulders perfectly which is best if you have broad frame that you wish to hide. If you are the one who often feels chilly or too cold then a jacket is quite comfortable and fashionable. Do not choose a loose fitting jacket; it will be a big fashion blunder. It will make your shoulders look drooping and low. Pick according to your body type and arm shape.
It is basically a chic two or multi layered wear
Inner layer is a simple or an embroidered outfit, long or short and outer layer is the middle cut jacket
The jacket is covered with heavy, exquisite embroidery with precious stone or zari work
Cotton, silk, velvet, gotta, sequin and lace work on borders, sleeves or the neckline part looks attractive. The jacket part can either start from below paiti which is attached with the dress or can be a separate piece. With jackets, you don't need a dupatta to accessorize your ethnic wear.
Various Kinds of Jacket Designs
Button Closure- The buttons are the most common closure. You can have as many buttons as you want depending on the size of your jacket. You can have it above your waist or below as per your dress.
Hook Up Closures– Arranged in rows, they are perfect for a heavy bust line to keep you from busting out of your seams and look elegant. They function as invisible buttons and are a very secure closure.
Magnetic Button – This kind of closure fastens quickly than fussing over buttons. Being magnetic, it is strong enough to keep the jacket closed. It is perfect when you have a simple neckline with no print and you want it to cover up.
Lace Ups– Coloured, frilly laces are also quite creative and trendy fastener. It is best if you do not want to mess up with buttons or hooks.
The Stunning Radiance of Fusion Mix
The floor length dresses are much similar to Indian gowns silhouette. You will feel like a runway model in this graceful attire. You can pair up your kalidar lehenga with a jodhpuri style jacket which flatters your style. Length is the most important feature; they are so long that the churidar worn beneath is also not seen; they sort of hide all the problematic parts and give a unique personality. The body appears taller, enhanced and straightened.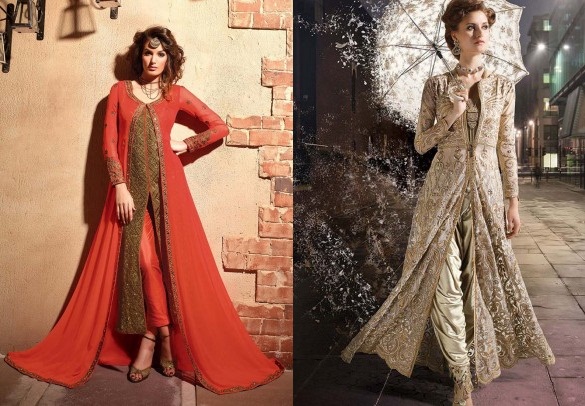 Complement your Style with Interesting Accessories
You do not need elaborate jewellery to match with these dresses. A pair of beautiful earrings with a bracelet or colourful bangles of you wear short sleeved or sleeveless. Wear heels to make an appealing impact. If you are short in height, go for asymmetrical dresses; they can accentuate your height and the look. Opt for pretty colours like golden, pink, green, blue and beige. Contrast your jacket with a shade dark of your dress to give it a charming touch.
Make the heads turn with awesome dresses! Feel gorgeous, look gorgeous.