At the present time, the harem pants have re-emerged as a popular fashion trend and it is here to stay. These trousers are really popular among modern men and women as these come with a wide range of styles, which fit with various occasions and environments. So, in case you need a conservative look in your workplace, then also these trousers can fulfill these needs. In this case, you can opt for the sleek harem pants in dark shades, which are fitted below the knee. In case you want to create a complete ensemble with these pants, then you can pair these pants with nice jackets or blouses. This way, by combining different pieces, it is possible to create appropriate looks for almost every work environment.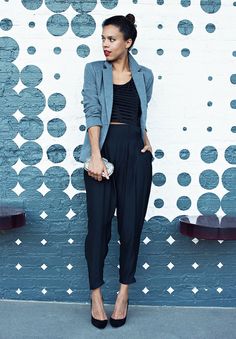 But before you get convinced to buy a harem pant, here are some other details that you must know.
What are these harem pants?
Harem pants are basically a type of loose fitting trouser gathered at ankles. Though this pant is a controversial international fashion creation, but the look closely resembles with the Indian salwar in style and cut, which is a popular clothing style among Indian women. The best thing about these pants is that these are comfortable for almost all types of body structures.
Generally considered as lounge wear, these days harem pants are worn by a number of celebs and pop stars across the globe. Due to the effortless but dramatic edge, these pants have become the strongest piece of fashion these days.
Best thing about using harem pants:
Wearing these pants can make people look very trendy
These pants perfectly mix with almost everything in the closet
The majority of the harem pants come either with elasticized waists or draw-cord that allow for loads of wriggle rooms in the size department
Harem pants can be worn differently. For instance, you can wear these pants at the waist or higher or low at the hips and there is no requirement of hitting the cuffs to the ankles
The majority of the harem pant designs are unisex and therefore these are just great as the couple wear. So, by choosing these pants, you can have a flexible wardrobe.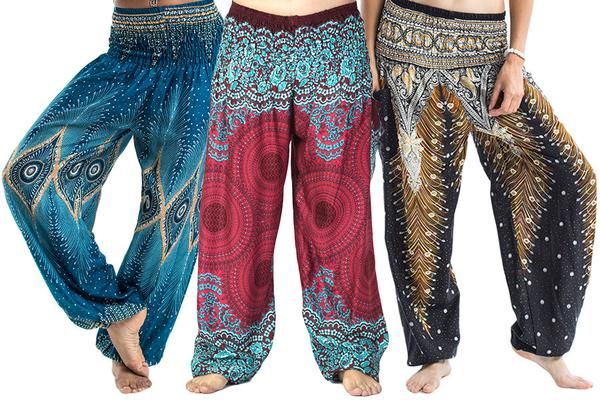 People, who can carry these pants perfectly?
These pants are just ideal for shorter people with wide hips or with athletic type body structure with muscular thighs. In the latter case, the pants will look flattering due to the roomy fit. But as a whole, these pants can perfectly fit with all types of body shapes and this feature makes these pants a type of fashionable and most forgiving garment.
Harem pants as daytime wear:
Daytime wears should be of casual styles and these need to be made of lighter fabrics. So, if you are planning to wear harem pants as daytime wear, then you should choose those, which are loose along the leg. This style is trendy as well as comfortable. Besides, for the daytime wear, you need to choose the pants in breezy, light fabric, which will keep you cool even while you are running around. In this situation, the harem pants can be combined with chunky heels, slight heels or strappy sandals. Heels will compensate for the bagginess of these trousers.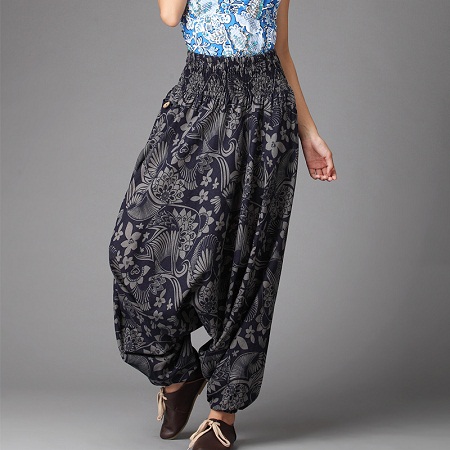 You can also experiment with the looks of harem pants even in your workplace. Top off the pant with a longline shirt, cropped blazer or knit top. Therefore, pair the outfit with a good belt and other matching accessories. Men can opt for a dark grey or black harem pant made of durable fabrics and therefore can team it up with fitted tee, fitted shirt or sweater or with a cropped jacket.
Harem pants as nightwear:
One can be really creative while it comes to wearing harem pants at night. The harem pants are mainly available in sparkly fabrics, vivid shades and fashionable fits. So, as the nightwear, the buyers will be able to explore all types of possibilities in the evening, while experimenting with the fashion is pretty common. In fact, women have more freedom while it comes to pair bold outfits with these harem pants. For instance, by selecting the right fabrics and perfect fit, the harem trousers can easily be worn in the flashy parties, formal outings and in many other night time events. So, if you are planning to buy harem pants as nightwear, make your decisions of the fit and fabric on the basis of personal preferences.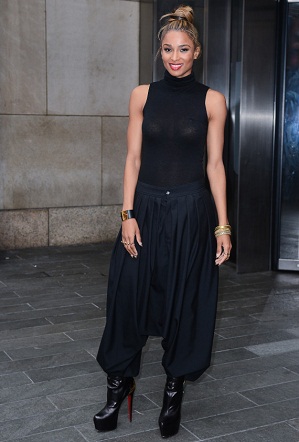 Harem pants for leisure time:
For the leisure time, harem pants are just perfect. Since these pants are so versatile in nature, therefore these can easily be worn while grabbing a coffee, while running errands, while partying or while attending a dinner. So, whether you want these pants for day or night leisure time, there are numerous options to choose from.
Other situations where harem pants are just perfect:
These pants are just perfect for hanging out on beaches, at the outdoor music night or at the picnics. To make these pants perfect for the situation, men can contrast the baggy hip area of these pants with slogan or tank tees and pair this attire with sandals. On the other hand, the girls can be creative with the prints like Ganado, paisley or tropical to bring a classic bohemian look. They can match these pants with distressed tees, fringed tops or sheer blouses. Then the attire can be paired with flip flops and oversized shades.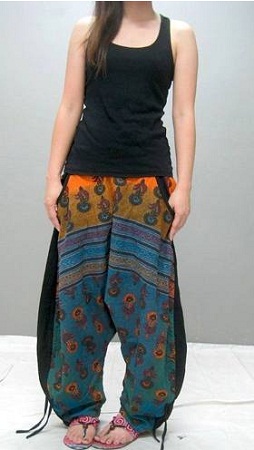 Apart from that, harem pants can also be worn in the dance classes. In fact, these pants are the perfect attire for parkour, hip-hop dancing, skateboarding or working out at the gym. In these situations, one should opt for harem pants made of stretchable, lightweight and breathable fabrics like Tetoron blend or cotton. In case of girls, the harem pants can also be worn in the yoga classes or at the jazz dance classes. Here one can team up the harem pant with sports top or tank top, denim vest, hooded jacket or plaid shirts during winter days.