Leggings can never be worn as pants. No matter how beautiful your favorite pair is, it looks ridiculous when combined with a frilly crop top or a short floral dress. Well, all those leggings-lovers there, we totally understand your pain!
But wait! Let us tell you the truth. Leggings as pants have already won over many hearts and you can actually sport it just like the way you wish. It is OFFICIAL! All you need to do is keep a few tips and tricks in mind.
So, are you ready to be guided to your goal of wearing leggings as pants? Here we go:
Follow The Basic Rule
Let's start with the basic rule, which is all about avoiding extremities. While replacing your pants with your leggings, you should not team it up with anything too tight or too short. You are trying to create a stylish yet comfortable look, which will certainly get ruined by your short, figure-hugging top that needs to be tugged constantly.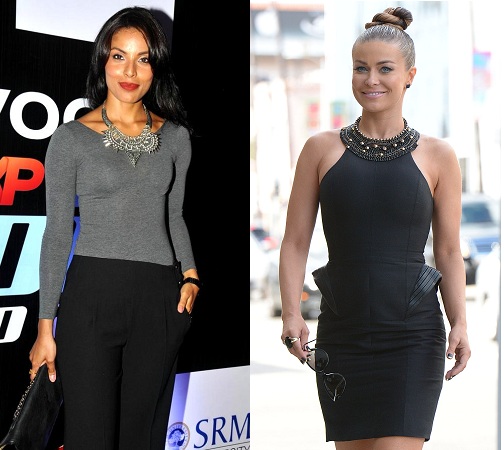 Choose Thick Fabrics
Forget see-through leggings made of sheer fabrics. You don't want your underwear to be visible, do you? So, go opaque. Also, the fabric of your leggings should be thick enough to stretch across your pelvis and hips easily without settling into your crevices. In fact, the thicker, the better.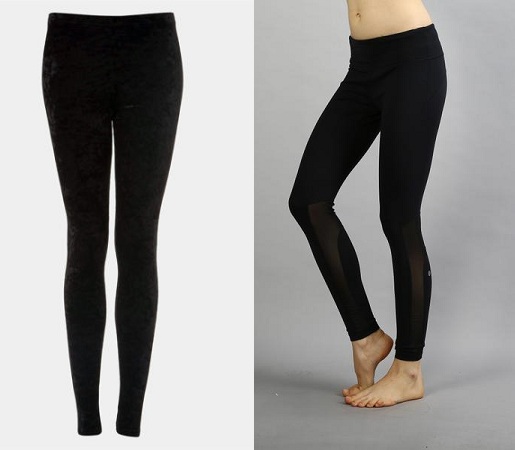 Opt for Matte Colors
If you are thinking of putting on a regular pair of leggings as pants, stick to basic matte colors like black, brown, grey, and their various shades. Experimenting with colors at the initial stage might result into blunders, but the mistakes will be less visible if you try out the basic shades.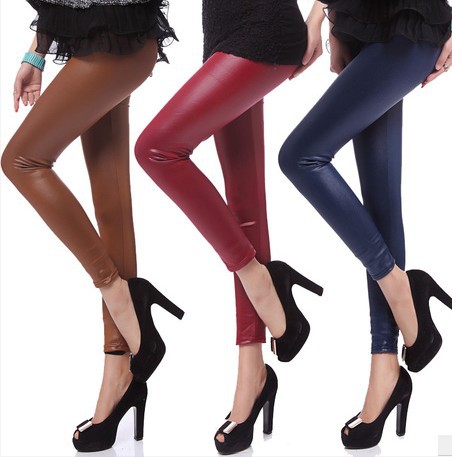 Give Colorblocking A Try
Love colors? Can't do without those bright, colorful pairs sitting in your wardrobe? Make good use of the latest trend of colorblocking. Combine your favorite leggings with a funky tunic or a roomy shirt in a solid contrasting shade and get your own color blocked outfit in minutes!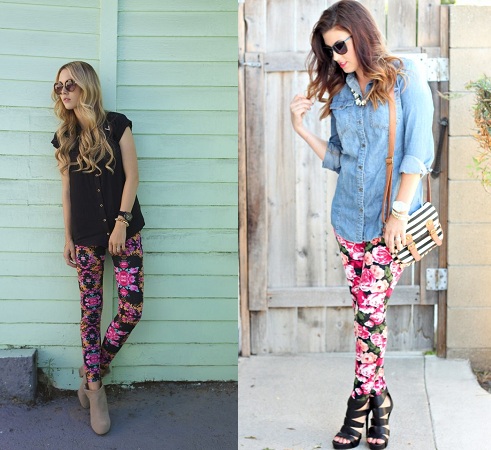 Pick Prints And Patterns
Printed leggings are cool, casual, and totally in vogue these days. However, the best part is that they can be worn as pants and that too without any worry. A pretty pair featuring beautiful prints or funky patterns can be rocked as pants while teamed up with long asymmetric tops.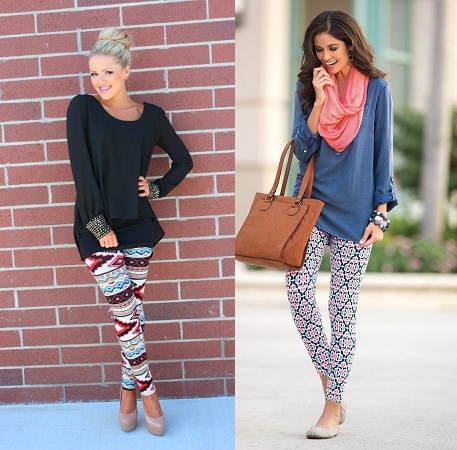 Opt For Leather Leggings
It is hard to find a fashionista, who doesn't love leather leggings. Let me give you one more reason to love it. Yes, it can be paired with a long sequined top or a cozy boyfriend sweater as per your mood in order to find a dazzling alternative to those boring regular leggings. Just go for it.
Go 'Velvety' In Winter
Who says that pants are the only way to stay cozy in those chillier months? Velvet leggings are the right choices too. Being thick and velvety, this attractive bottom wear never looks odd when worn as pants. Bonus? Get ready to feel super comfortable every time you wear it!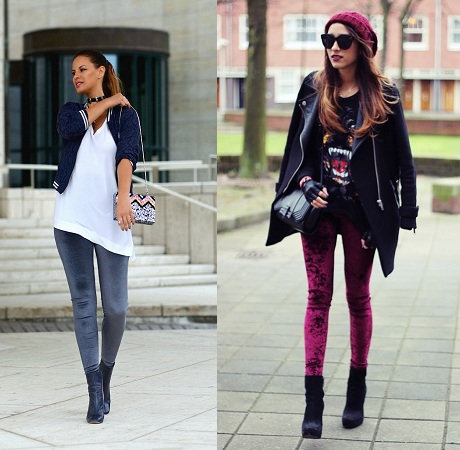 Freshen Up With Jeggings
There is no harm in freshening up your wardrobe with trendy jeggings while still maintaining the touch and feel of leggings. It is versatile, chic, and awesome to wear. But above all, you can swap your pants with this fashionable bottom wear effortlessly.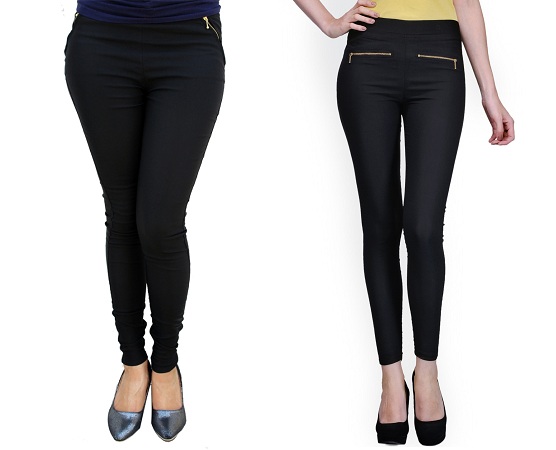 Stick To Long Upper Wear
Wearing leggings as pants without being too provocative is an art and you can master it by considering upper wear that are quite long in length. Be it a gorgeous top, a wonderful tunic, or an airy button-down, as long as it is covering your buttocks, you can go for it.
Find A Flowy Dress
Flowy dresses go very well with regular pairs of leggings. In addition, they do not make your booty-bounce visible to others. So, if you want to skip pants and embrace your feminine charm, turn your summer dress into the fiancé of your leggings and enjoy!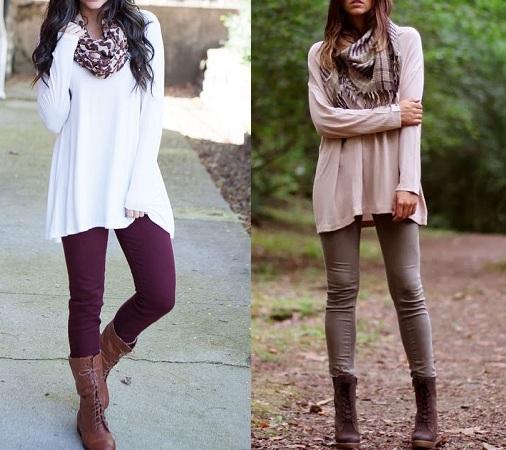 Attempt Athleisure Style
The athleisure trend is everywhere now and it is undoubtedly here to stay. If you are yet to attempt it, let us motivate you a bit. Wear your high-waisted leggings as pants along with a loose graphic t-shirt, a crop top over it, and a pair of sneakers.  It's time to go sporty, gal!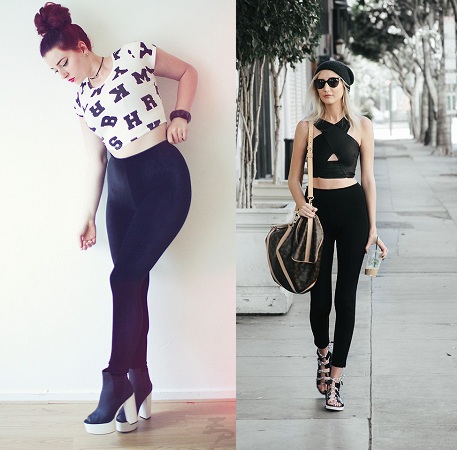 Layer It Up
When it comes to wearing leggings as pants with your short tops or sheer dresses, layering seems to be the smartest trick to follow. Simply throw an oversized sweater, a floral blazer, a solid-colored cardigan, or a sophisticated denim jacket over your upper wear and you will be good to go.
Keep these simple tips in mind and tons of ways to experiment with your leggings will open up for you. So, are you ready to ditch your pants and give leggings a shout out?